Slice, Slice, Baby
Three new(ish) places to snag some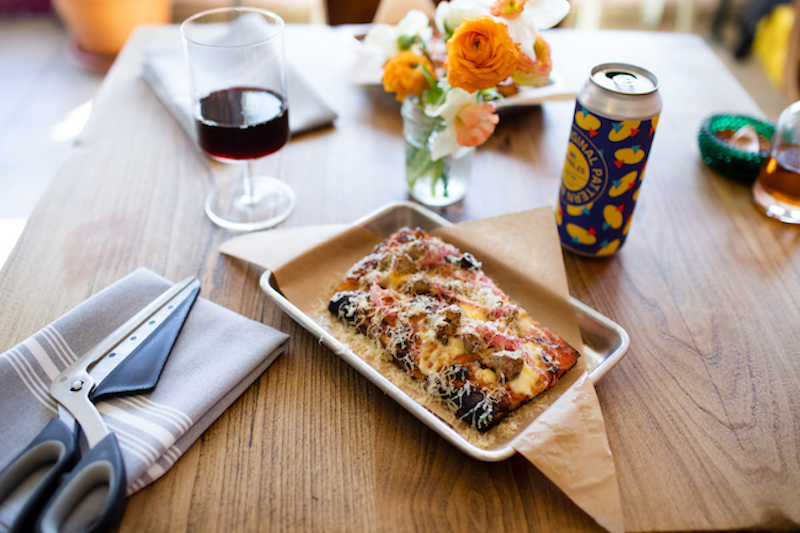 of the best pie in the county
by Ursa Born, Mark Fernquest, and Jess D. Taylor
---
Psychic Pie
Sebastopol
by Ursa Born
Spring has sprung at Psychic Pie, as evidenced by this week's creative specials, which feature ingredients like green garlic, thinly shaved radishes, Meyer lemon, and "fresh-as-hell" pea shoots. The crust, perfected by self-proclaimed "bread obsessed" co-owner Nicholi Clark-Ludlow, is a treat and a feat unto itself. A mixture of whole wheat, spelt, semolina, and rye flours and sourdough starter à la San Francisco, the dough is bulk fermented for two days before being baked in 18″ x 24″ sheet pans. The result is superbly crispy on the outside of its fluffy, chewy body with enough heft to hold multitudinous tantalizing, and sometimes surprising, local toppings.
Take, for instance, one of their vegetarian specials with carrots, fresh mozzarella and red sauce finished with Estero Gold cheese, hot honey, and parsley. Or this vegan offering: roasted cabbage (described as "GODLY") with tahini, olive oil, dill, and lemon zest. "It is so good that you don't even need cheese," co-owner Leith Leiser-Miller tells me—a bold statement, especially when talking about pizza, that raises an eyebrow but nonetheless turns out to be undeniably true.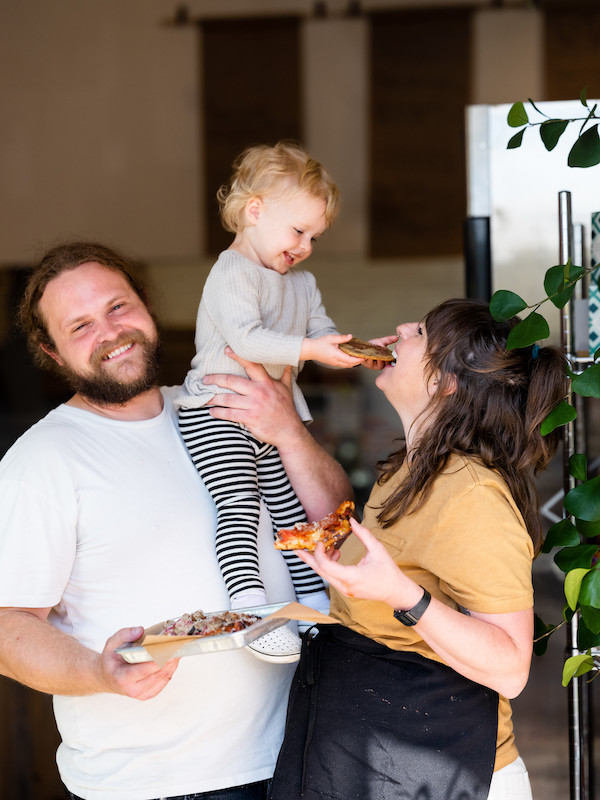 Thank goodness you don't have to commit to an entire pie because each of their options—whether they're rotating seasonal specials or traditionalist staples like pepperoni—are so tempting it is nearly impossible to choose just one. Their Roman-style pizza is served "al taglio" or by the cut, sold by weight and measured roughly in finger widths, allowing indecisive customers the freedom to try as many varieties as they can fit into their stomachs. And if your stomach has no more room, take-and-bake is always an option.
A true mom-and-pop shop, with their toddler Margaux often underfoot at the restaurant and another on the way, Nicholi and Leith's love for and commitment to their community is heartwarmingly apparent. All of their thoughtful ingredients and wines are from California, with the vast majority locally sourced from Sonoma County. "We pay a lot of attention to where our food comes from, who grows and produces it. We care about the impact we have on our environment and our local community while creating a uniquely tasty slice," they say.
"We want you to try something new," Leith tells me, adding, "Eat the cabbage pizza, just do it."
Thursday-Sunday, 11:30am-8pm
980 Gravenstein Highway South, Sebastopol
psychicpie.com
707.827.6032
---
L'Oro Di Napoli
Santa Rosa
by Mark Fernquest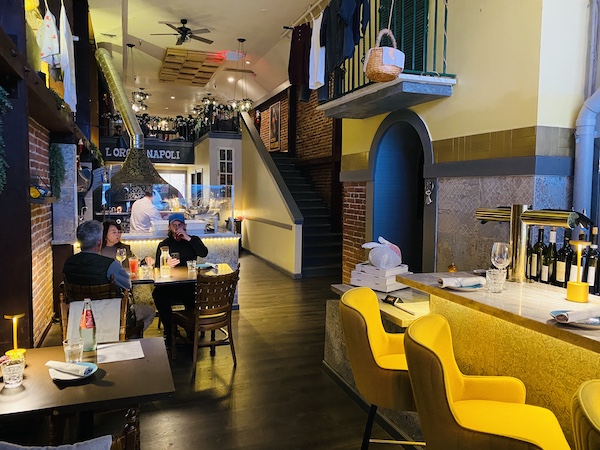 If you follow your nose through downtown Santa Rosa one of these evenings, you may just wind up at L'Oro Di Napoli. The aromatic new pizzeria is quietly gaining a word-of-mouth reputation as 4th Street's go-to Italian restaurant for both sit-down and takeout, with good reason: Naples-born co-owner and chef Dominico DeAngelis serves only 100% authentic Neapolitan cuisine. On a recent bustling afternoon, the burrata caprese was exquisite, the Margherita pizza exceptional, and the pistachio panna cotta nothing short of divine.
Chef Dominico cofounded the restaurant with a partner investor in early 2022 and opened it in late July. He sources the majority of produce seasonally—including beets, kiwifruit and mushrooms—from local farmers and imports all other ingredients, including San Marzano "paste" tomatoes, from Italy. He prepares and cooks his food according to time-honored Neapolitan culinary traditions he learned growing up and has practiced professionally in numerous restaurants internationally his entire adult life.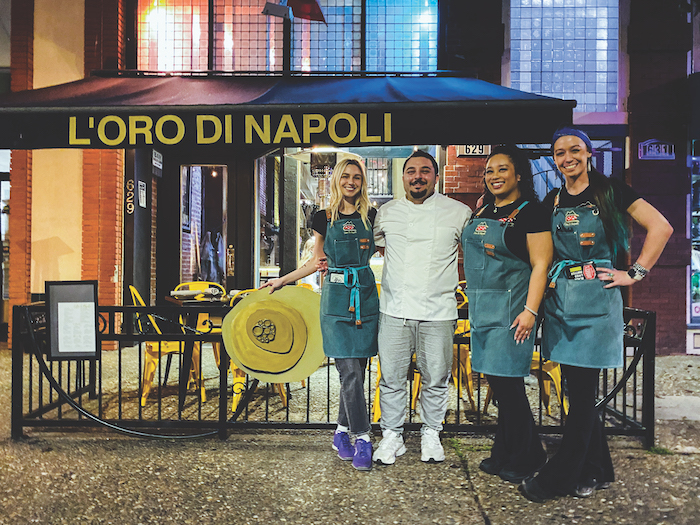 He mashes the San Marzano tomatoes by hand to make a thick pizza sauce, and he kneads the dough from finely ground "Tipo 00" flour and water, allowing it to rise for 24 hours without refrigeration, resulting in a light, fresh, spongy texture. Pecorino cheese, prosciutto di San Daniele, andouille sausage, anchovies and other choice toppings adorn the thin crust.
For Dominico, the presentation of the food is as important as the taste. "I'm going to eat first with my eyes," he said as he busily built a pie at his workstation next to the pizza oven—which can quick-cook dough at temperatures up to 1,000 degrees—while his wife, Taylor, and waitresses Tiffany and Zoe ran the floor. Business was brisk as the tables filled and a steady stream of customers arrived to pick up their boxed pizzas to go.
The restaurant itself is clean, colorful and impeccably designed, with numerous homages to Naples throughout: A walking tour of the Italian city plays quietly on-screen over the bar; an exact replica of the balcony from Dominico's childhood home, complete with drying laundry and a basket for lifting groceries, sits high on the wall; and projected black-and-white Italian films silently overlay the brick wall over Dominico's food-prep area.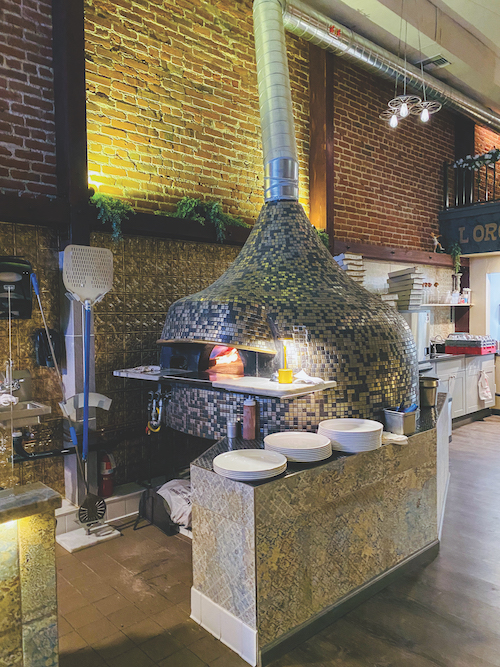 Taylor recommended the "simple and fresh" Margherita pizza for first timers, adding that the burrata caprese salad and focaccia pair well. Chef Dominico cooks with seasonal fruits and vegetables, hinting that gnocchi, beet salad and kiwi panna cotta make appearances at different times of the year.
Tuesday-Thursday, 4-9pm
Friday and Saturday, 11:30am-2:30pm and 4:30pm-9pm Sunday, 11:30am-8pm
Closed Monday
629 4th Street, Santa Rosa
707.541.6394
---
Pizza Leah
Windsor
by Jess D. Taylor
"Never roll dough angry" is but one bit of wisdom Leah Scurto's picked up from 25 years in the pie biz. "All that tension will affect the texture," the owner of the wildly popular Pizza Leah explains to me on a rainy Tuesday afternoon.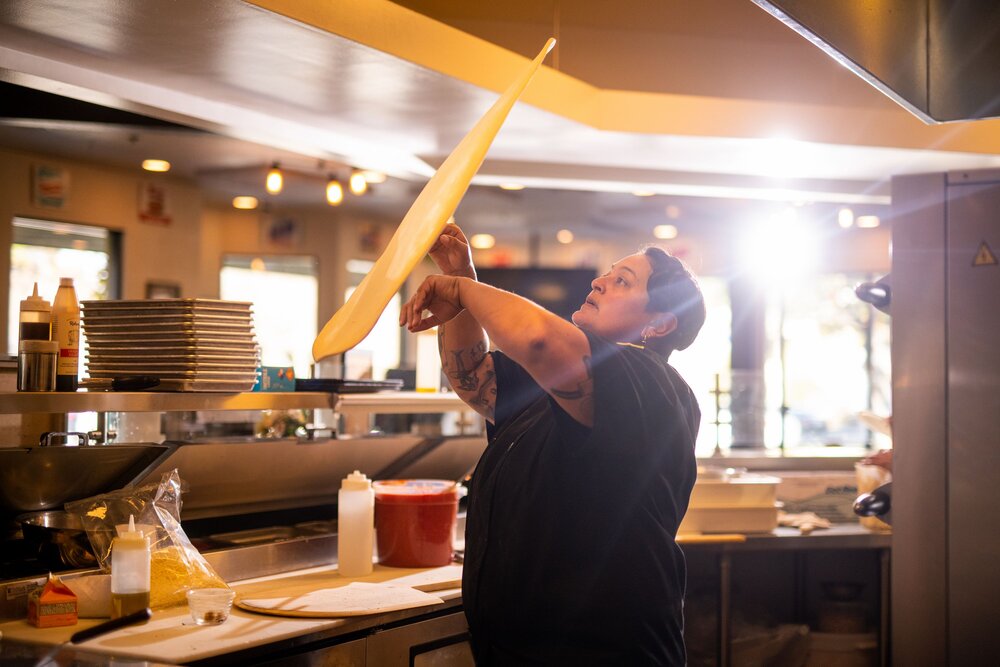 Here's another one: same-day dough lacks flavor and is "more of a gut bomb," which is why all of her pizza crusts ferment for about three days before hitting the oven. The process begins with mixing a 50-pound bag of high-protein flour from Petaluma's Central Milling with 25 pounds of water. The resulting 80 pounds of dough are split into two chunks that ferment for 24 hours before being rolled into balls that sit for another 36 to 60 hours.
On a Friday or Saturday evening, they're turning anywhere from three to eight of those dough balls into a pizza every five minutes. Waits can run up to an hour and a half for a table (no reservations), but trust me when I say this pizza is worth every second.
The hardest part is choosing what to order. The award-winning Old Grey Beard—topped with sausage, Calabrian peppers, hot honey, and orange zest—might be the most memorable slice I've had. Roasted smashed potatoes and bacon adorn the Po-Tay-To, while Scurto's Great Uncle Frank's meatballs join caramelized onions and pickled peppers atop the Scurto Pie.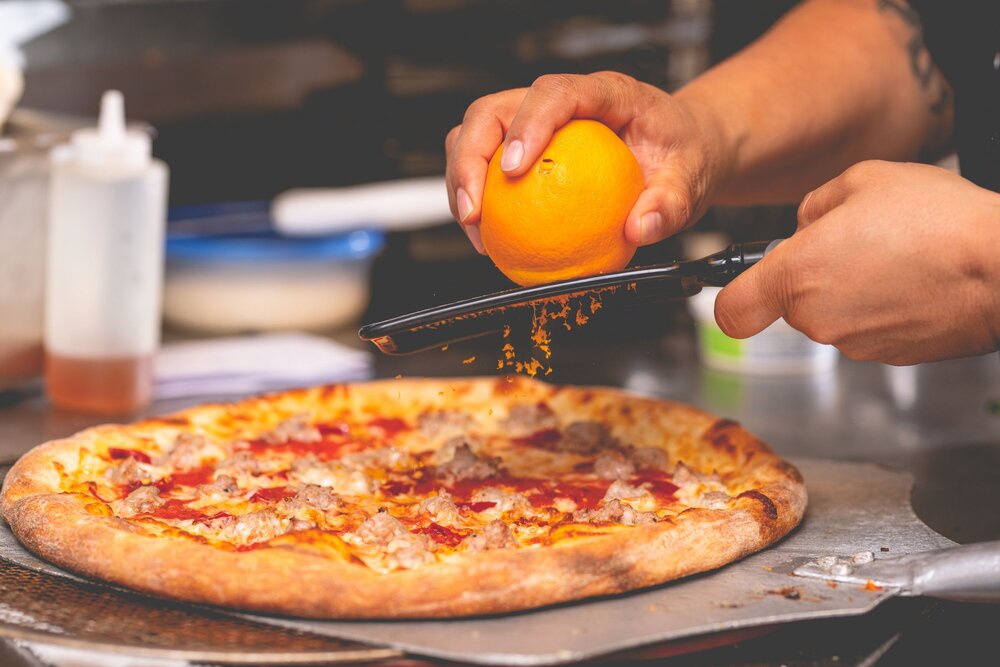 "There's nothing generic or traditional on my menu," says Scurto, who is nonetheless open to customers creating whatever veggie supreme or meat lover's pie their hearts desire (though you won't find green bell peppers in her kitchen because, she explains, not only does their flavor overwhelm, they turn a grayish hue once cooked that is not aesthetically pleasing.)
After commuting from San Francisco all over the Bay Area to various Pizza My Heart locations, for whom she made pies for decades, Scurto joined her parents, brother, and grandmother in Sonoma County a few years ago. Pizza Leah opened on March 10, 2020, and swiftly embraced the pandemic pivot: axing the cheeseboard ("It's all about presentation, I can't put that in a box!") and doing takeout, which is still some 65% of their business.
Invited to join the U.S. Pizza Team in 2013 and recently a contestant on Hulu's Best in Dough, Scurto has competed—and won—all over the world, from Atlantic City to Naples. And yet she is quick to point out that pizza chefs are a convivial, generous bunch, happy to share tips and ideas: "There are no secrets in pizza," she says a with a grin. Before I mention that we're including Psychic Pie in this piece, she mentions them as exemplary in sourcing locally (Scurto, too, buys mushrooms from Duncan's, eggs from Wise Acre, meat from Takenoko Farms, and sits on the California Milk Advisory Board) and says, "We're great friends, we spend our days off together." In fact, co-owner Nicholi Clark-Ludlow spent a couple months working for Scurto before launching their business.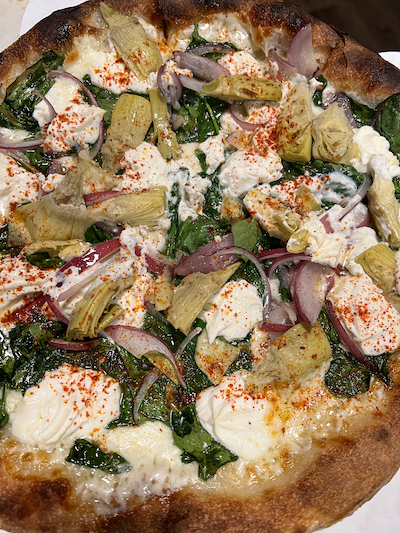 "Leah is an excellent boss; she creates a work environment that people want to come to," says service industry veteran Katie Dunn, who appreciates the 401K matching and flexible scheduling that Scurto provides. "This is my happy job."
Tuesday-Thursday, 11:30am-8:30pm
Friday-Saturday, 11:30am-9:00pm
Sunday, 11:30am-8:30pm
Closed Monday
9240 Old Redwood Hwy, Suite 116, Windsor
707.620.0551