Advertiser Information
It's All About Locals.
For 9 years running, Made Local Magazine is the definitive local print and digital magazine about our LOCAL food system and economy, produced by the folks at GO LOCAL.
Made Local Magazine has a pulse on the real food, beverage, and entrepreneurial culture of Sonoma County, with high quality content that's more on par with national publications.
Made Local Magazine tells the stories that people are increasingly wanting to be connected with. LOCAL farmers, ranchers, food and beverage producers, grocers, restaurants, and non-profits have a role in how our daily food makes it to our tables. We provide authentic LOCAL coverage that reflects the complexities of growing our local economy and feeding nearly a half a million people every day.
---
MAKE•GROW•EAT•DRINK
In addition to our longstanding feature story sections covering EAT, DRINK and GROW, in 2020 we added a MAKE section to spotlight stories on local manufacturing and artisans.
The magazine has built on established branding that's easily recognized by the logos and simple message: "Choose LOCAL First". GO LOCAL is 13 years strong and generates 500 million gross impressions annually.
---

from Steven Maass of Oliver's Market.
---
---
---
---
---
ADVERTISE & PROMOTE
Ads appear in a lively, authentic, down-to-earth environment.
Your message reaches true food and beverage lovers who, above all, support LOCAL.
---
AD RATES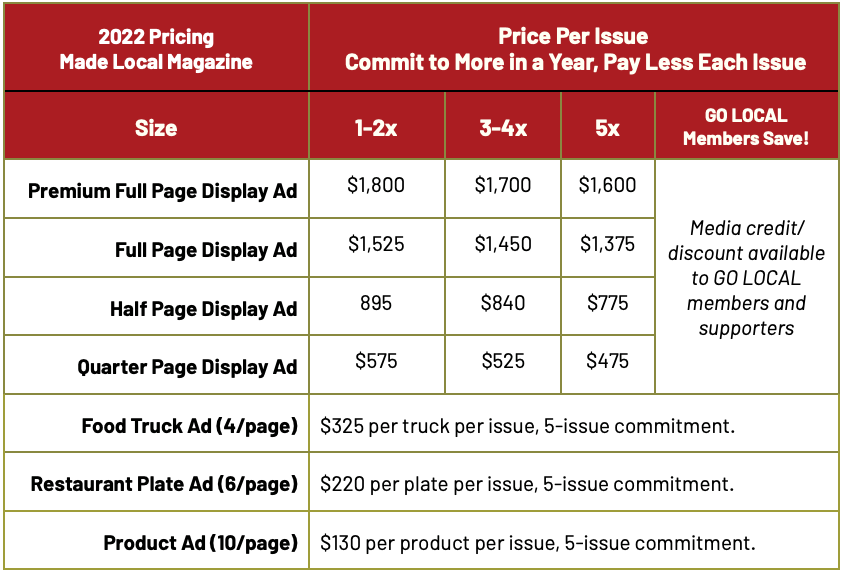 Commit issue by issue, or the more ads you commit to for a year, the less they cost.
Sign a 5x contract and be a member of GO LOCAL to get the lowest rate right out of the gate.
Add $150 for ad design by Ranch 7 Creative.
To Reserve:
Janeen Murray • j.murray@golocal.coop • 707-888-6105 ext.2
---

Restaurant Plate Ads:
Unique and very low-cost concept for restaurants in the magazine as an alternative to 1/4, 1/2, or full page ads —just like on the table! 6 plates per page.
---
---
---
---
---
"MADE LOCAL GOODNESS" Product Ads:
Unique and very low-cost concept for restaurants in the magazine as an alternative to 1/4, 1/2, or full page ads —just like on the table! 6 plates per page.
---
---
---
---
---

Food Truck Ads:
Here's a refreshing option for food trucks in the magazine as an alternative to 1/4, 1/2, or full page ads —use a photo of your truck or food!  4 trucks per page.
---
---
---
---
---
---
New in 2021: Co-op Ad Page with Northbay biz magazine and Made Local Magazine
Get a local presence year round with a new, cost effective, co-op advertising opportunity:
Reach North Bay business execs with 6 ads in NorthBay biz magazine
Reach Sonoma County specialty shoppers with 6 ads in GO LOCAL Magazines
If you're looking for a new and more expansive way to showcase your business for prospective and existing clients, reach a prime local audience with 12 print ads in our special joint advertising opportunity for a cost-effective, year-round North Bay promotion!
Acting alone, ad presence in these 12 publications annually would cost $3,750.
Working together, get more than a 35% discount: $2,394 annual commitment, payable in 6 installments of $399, and no ad design required.
Learn more about this co-op ad buy here.
---
---
---
---
---
GENERAL INFORMATION
PRINT MAGAZINE ISSUES
5 issues per year • 8.5″ x 11″ • 60 lb. Velvet finish • Full Color all pages • Certified sustainable • 12,000 copies • circulation of 60,000 issues annually, for an annual readership of 180,000 •
Distributed through GO LOCAL grocers, restaurants and other retailers • See distributors with magazine racks here.
DIGITAL MAGAZINE
Dedicated responsive website, with full magazine as flipdoc featuring all advertisers
• Additional feature stories include additional photography
• Promotion on instagram.com/madelocalmagazine & facebook.com/golocal
2022 ISSUE DATES AND DEADLINES
Mar/Apr 2022 – issue #42 -Ad submission deadline: Feb 4. Release date: Mar 1.
May/Jun 2022 – issue #43 -Ad submission deadline: Apr 8. Release date: May 2.
Jul/Aug 2022 – issue #44 -Ad submission deadline: Jun 10. Release date: Jul 1.
Sep/Oct 2022 – issue #45 -Ad submission deadline: Aug 5. Release date: Sep 1.
Nov/Dec 2022 – issue #46 -Ad submission deadline: Oct 12. Release date: Nov 8.
To Reserve:
Janeen Murray • j.murray@golocal.coop • 707-888-6105 ext.2
---
VIEW THE FULL MAGAZINE ONLINE AS A FLIPBOOK
---
Flip through the July/August 2022 issue online:
Flip through the May/June 2022 issue online:
Flip through the March/April 2022 issue online:
Flip through the November/December 2021 issue online:
Flip through the September/October 2021 issue online:
Flip through the July/August 2021 issue online:
Flip through the May/June 2021 issue online: