Barbecue, like so many American traditions, is rooted in Indigenous and West African cultures and practices—from the salting and seasoning that helped preserve large cuts of meat to the practice of cooking whole or parts of animals low and slow using green wood over indirect flames. Countless regional iterations have ensued, leading to debates over whether barbecue can be anything but porcine and whether sauce should be added during or after cooking.
What everyone can agree upon, though, is that barbecue brings people together for a feast. Though meat holds center stage, there are scores of side dishes for every palate and preference. Sonoma County is blessed with plenty of delicious barbecue—Sweet T's in Windsor and KIN Smoke in Healdsburg are two notable ones—but for our summer issue, Made Local Magazine decided to take a less-traveled road. Read on to discover two newly opened restaurants, one lesser-known mainstay, and one major deviation that will all, in their own unique way, deliver your hot weather, hot meat fix.
Saucy Mama's Jook Joint
Guerneville
As a kid, Yvette Bidegain hated her father's Louisiana home cooking. "Gumbo was called guck-bo, and I told him I wanted to eat the kind of food white people like!" she tells me, breaking into infectious laughter. But 50 years later, the seventh of Leroy Richardson's nine children is using all of his  recipes in her first brick and mortar, Saucy Mama's Jook Joint, recently opened in Guerneville.
Yvette was born and raised in Sonoma County, after her father, a New Orleans native, moved his burgeoning family from Mississippi to Santa Rosa in 1958—part of some 300k Black families who left southern states between 1940 and 1970 seeking a brighter future in the Bay Area. She holds El Molino high school's long jump record to this day.
Leroy, whose legacy pervades Saucy Mama's, started out with a food truck and catering business in the late '70s before opening three locations of his popular Richardson's Ribs in Santa Rosa and Sebastopol, which he ran until his passing in 1996. After 36 years working for CalTrans, Yvette is following a similar trajectory in her second career, transforming her catering company/ pop-up into a permanent place.
This wasn't always the plan. "After COVID we said, 'that's it, we've had our fun, we're done.'" Then she started serving once a week at Stumptown Brewery to consistently long lines. "We were scraping every last bean, afraid we'd run out of food!" Can't say I'm surprised given how rare traditional Louisiana cuisine is in this county. In addition to succulent smoked ribs and chicken, deep-fried catfish, seafood gumbo, and red beans and rice, Yvette even does the occasional crawfish boil, something this Louisiana native has never seen west of Texas. Generous portions of meat come with a cornbread waffle (I know!) and a slew of side choices that include okra, black-eyed peas, macaroni salad, and Cajun coleslaw.
"Our food is good for your soul, not necessarily good for your heart," intones her husband, Tim Kobus. Knowing her audience, Yvette did lighten up a few dishes, omitting the bacon from her succotash and adding kale and chard to the traditional mustard greens medley. The classic po-boy sandwich (something fried between crusty French bread usually slathered in mayo) can be made with fried shrimp, fried oysters, or fried tofu. Mayo gets upgraded to a remoulade with stone-ground mustard, capers, and parsley.
Yvette recalls the early days of her and Tim's courtship, when he came inside from barbecuing and she said, "What are you doing? You can't leave the pit. Dad never left the pit!" These days, they still cook over a 55-gallon drum pit when doing catering events but use a smoker outside at the restaurant.
"I'm not gonna lie, it's pure hell taking over a place that's been empty for three years," Yvette tells me, walking me through the beautifully renovated dome-shaped restaurant. Backer board covers the former occupant's colorful murals (she couldn't bear to paint over them) and now displays family photos, heirloom menus, even Tim's elaborate hand-drawn plans.
When I mention the similarities between her story and the origins of Everett and Jones, opening early July at the Graton Casino, Yvette tells me she used to eat at their restaurant all the time when she worked in Oakland. She adds, "We have the same finance guy, and that's exactly what he said!"
Photos: Paige Green Photography
Saucy Mama's Jook Joint: 16632 CA-116, Guerneville, open Tuesday-Sunday 4pm-9pm
Everett & Jones
Rohnert Park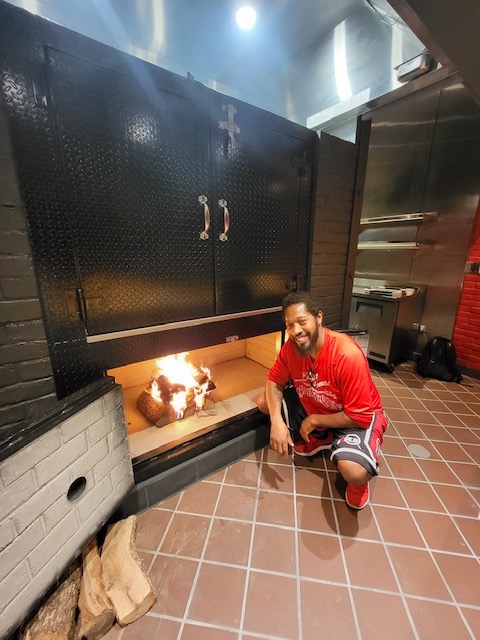 Shamar Cotton is the grandson of Dorothy Everett, whose 1952 migration to the Bay Area with her growing family was similar to Yvette's parents. Both families had nine children. But eight years after landing in Oakland from rural Alabama, Dorothy and her husband split. The single parent of eight daughters and one son started tending a barbecue pit to make money and in 1973, borrowed $700 to start her own barbecue restaurant in Oakland, followed by another in Berkeley the following year.
Nearly 50 years later, Everett & Jones (the surname of Dorothy's one son-in-law at the time) has become an iconic Bay Area establishment, and will now open its fourth restaurant helmed by Shamar at the Graton Casino.
On a Tuesday morning in June, Shamar has just picked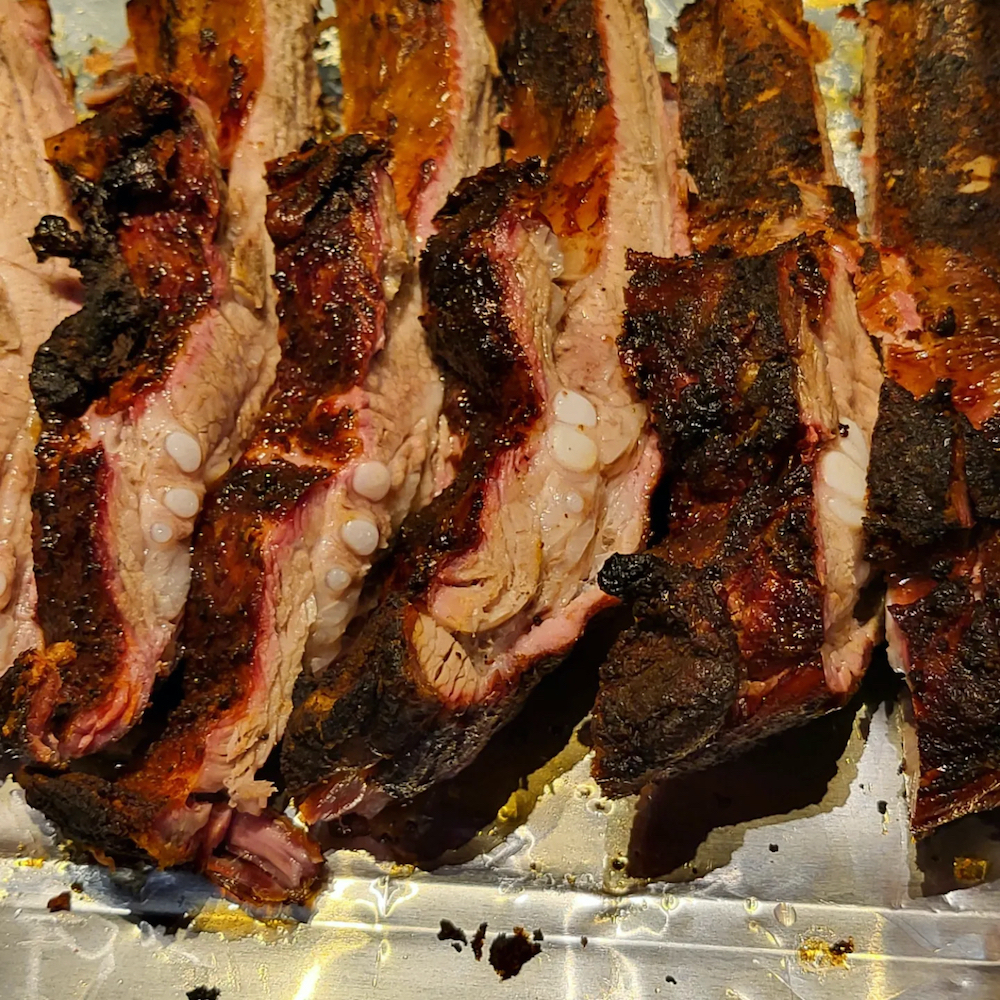 up a few pieces of wood to fire up the grill for the first time. There's meat for every taste, from oak-smoked brisket to their most popular tender ribs to the hot hot hot links that should be ordered with caution. Not even Shamar's wife Tibletse knows what goes into the top-secret seasoning or award-winning barbecue sauces—"sweet, kinda spicy, and very spicy"—    which can be found in mainstream grocery stores across the state. The new location will offer just four of their most popular sides—mac and cheese (Shamar's favorite, topped with barbecue sauce), potato salad, green beans, and barbecue beans.
It's a bittersweet opening for Shamar, whose 65-year-old mother Mary was taken by COVID this past September, leaving three surviving sisters and their only brother behind. "We were supposed to be doing this together," he tells me. "She was excited about it."
Everett & Jones: 288 Golf Course Drive W, Rohnert Park, open every day from noon-10 pm
Butcher Crown Roadhouse
Petaluma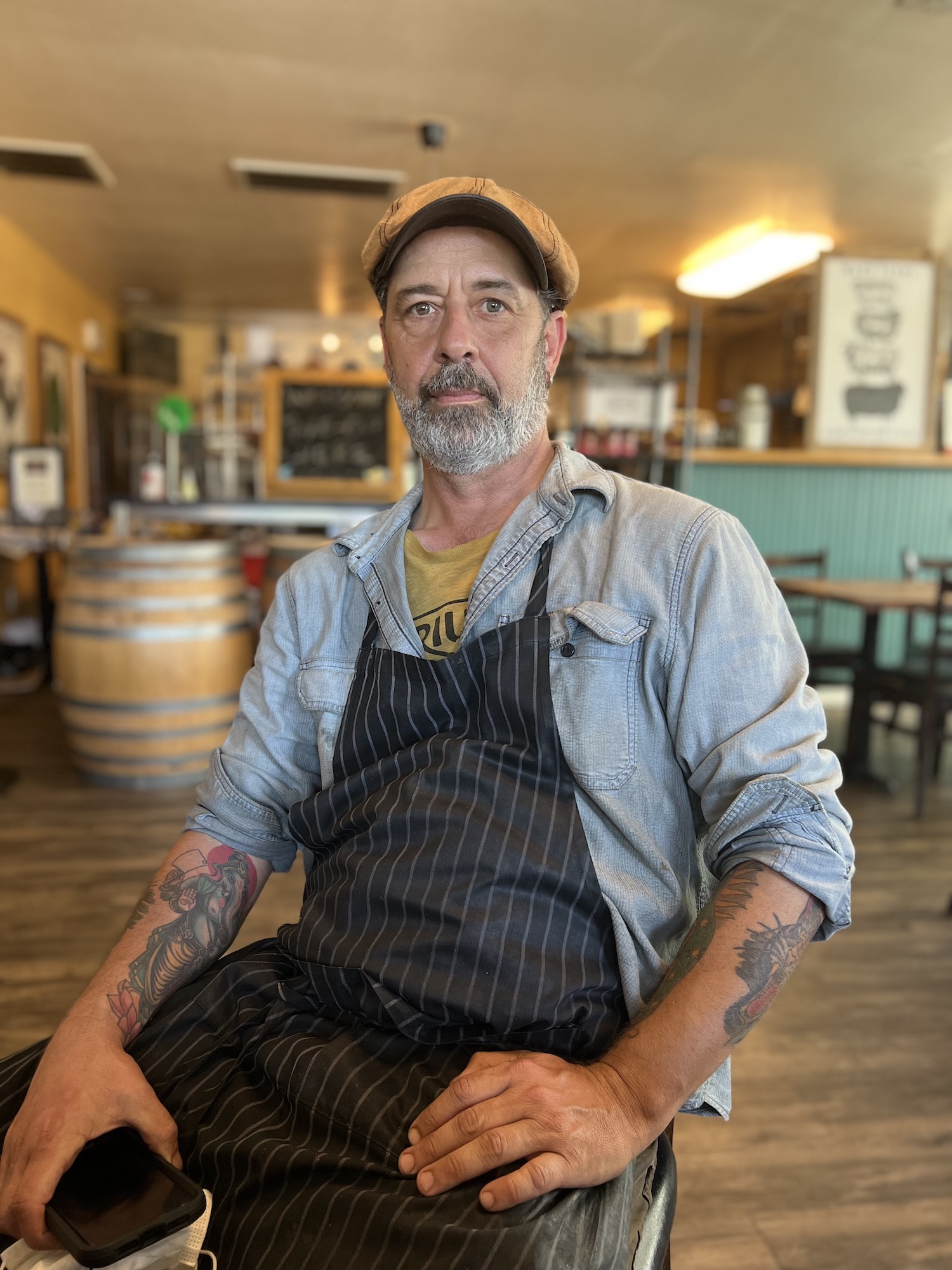 Opened in December of 2018, Butcher Crown Roadhouse's quaint, family-style restaurant and beer garden is located just outside of Petaluma on Bodega Ave. Offering a menu that falls under the wide umbrella of Southern barbecue, here you can find staples like Texas-style beef brisket and Carolina pulled pork along with classic sides like fried green tomatoes, hushpuppies, fries with Old Bay seasoning, and braised greens with hominy as well as playful departures like "tatchos": tater tots smothered in smoked pulled pork, brisket, chicken, or pork belly and loaded with fixin's.
Butcher Crown's menu changes often, and owner Pete Schnell insists that everything he serves is cooked fresh in small batches, meaning when it's gone, it's gone and there is no risk of being served yesterday's leftovers. Although Pete doesn't adhere to any certain region's specialties, opting for a pan-Southern experience, he is a purist about the foundational aspect of barbecue: crusty, juicy, melt-in-your-mouth meat smoked low and slow on their cozy outdoor patio unencumbered by heavy
saucing (it's served on the side here), allowing the smoky flavor to be the real shining star. Their sweet, silky, translucent barbecue sauce is perfect for dipping, and their au jus is thick, rich, smoky, and positively drinkable.
Dining solo is certainly an option—their burgers and sandwiches range from classic to artful and are filling and flavorful, pairing well with a curated selection of beers on tap. However, like any authentic barbecue experience, it is best to pack a table with friends to share a pound of brisket served family-style with choice of sides, Hawaiian rolls, pickles and sauce that generously serves four. Or, for even larger groups, the Backyard Bonanza feeds 8-15 with two pounds each of brisket and pulled pork plus two racks of pork ribs with sides and fixings. Gluten-free desserts from local Mad Batter Cakery Company like key lime and Mississippi mud pies and banana pudding are the perfect finale, if you have room for them.
1905 Bodega Ave, Petaluma, open from noon-8pm, closed Mondays and Tuesdays
HanBul Korean Barbecue
Santa Rosa
Locals rave about HanBul's Korean-style barbecue, which, admittedly, is a far cry from what American purists accept as the real deal. Although I know relatively little about it, I've been eager to try. My ignorance immediately clear, I told my wisest friend I was planning to dine there by myself, and her aghast expression gave me pause. An hour later, she informed me that she had taken the reins and made reservations for eight. "Trust me," she said, "you cannot do this alone."
She, as usual, was right. We ordered the "full set" and never in my life have I seen more food in one place. In fact, the dishes overflowed onto several busser's carts parked at the head of the table. We were inundated with plates heaping with various kinds of meats, mostly pork and beef. Waves of banchan—20 or so small side dishes in a vast array of colors, flavors and textures—included several types of kimchi, noodles, steamed veggies, and fish cakes, as well as others that we were left to speculate about. The meal also included rice, of course, as well as kimchi and vegetable pancakes, steamed egg omelets, and soondubu-jjigae, a uniquely Korean stew made with silky tofu, vegetables, and mushrooms—all vegetarian dishes that were a unanimous hit despite my fellow diners' carnivorous tendencies.
Unlike traditional American barbecue that favors large cuts of meat cooked low and long, gogi gui, a broad term that means roasted meats or barbecue, mainly features meats thinly sliced and marinated before being seared on the grill. The pork neck, tender and crispy and full of flavor, was everyone's favorite. Fresh green lettuce leaves serve as wraps for meats and condiments like scallions, spicy peppers, and sauces, to be eaten out-of-hand. After enjoying this veritable festival of food with good friends, we left with full bellies, high spirits, and several doggie bags of leftovers.
522 7th St, Santa Rosa, open every day from 10am-midnight