The Story of The Spindles:
Sonoma County Stalwarts,
Darlings of the
Nostalgic Futurama
My name is Henry Nagle. I'm a guitar player, born in Santa Rosa.
In 2001, I went to a party at my neighbors' house in Sebastopol. I quickly found my way to the bedroom where the music nerds were sequestered. The light was dim, and I'm sure the room smelled of marijuana. A couple guitars were circulating. Songs were being shared. I was a mere acquaintance among a group of friends, so I felt nervous when I was invited to play something.
As I was singing, I started to better observe the character in front of me who was curled into the corner where the floor and the door and the wall met. I'd seen him a few times before. He seemed to be folded slightly inward, like he was containing himself inside an imaginary sarcophagus that was a little too small. He had an impressive disarray of blue hair. He was always wearing a large white sweater, cable knit, Irish looking. I recall that I'd formed a vague judgment of him: "college boy." (This was my version of class warfare at the time.) His name was Coalmine. I finished my song and I handed him the guitar. He spoke a quiet word or two of encouragement to me, then he began to play a really beautiful song. I was blown away.
Not too long after that, I saw Coalmine's new band play at The Old Vic, our beloved pub and venue at that time. Jamie Voss was the bassist. He was already an old friend to me. A fellow named Dan Lindley was playing drums. They were called The Spindles, and they were a bit of a divine mess. No special care was taken regarding particular notes or steady tempos, but the intended feel was magically conveyed. The songs were coming across and every one of them was lovely.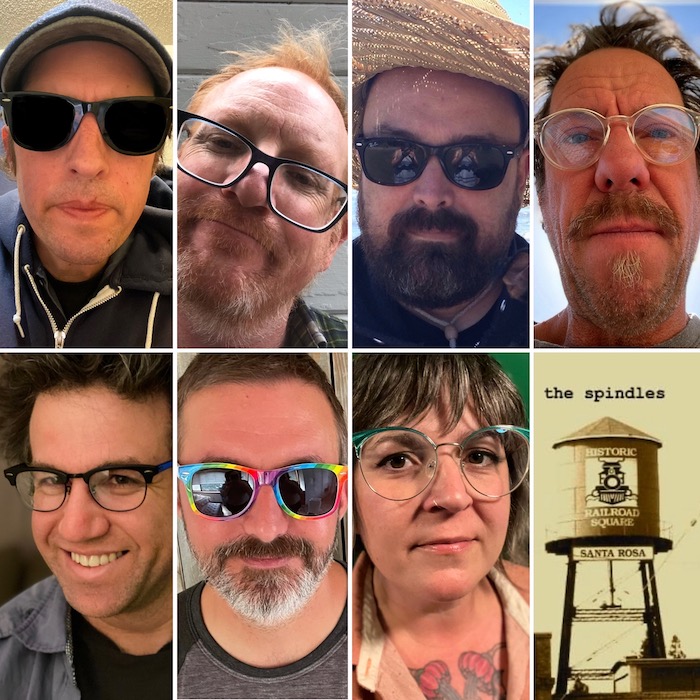 I joined The Spindles soon after. I'd just begun to learn to play pedal steel and that earned me an invitation. We began to self-record on an eight-track deck in the damp rehearsal space that we called Rosewood. Soon our friend Sari Flowers came to record some vocals. Andrea Jolicoeur added accordion. They both became band members. Over the years, we've had some changes. Andrea left after her first child was born, and Amber Lee Baker played accordion with us for a few years. When Dan quit, our friend Paul Hoffman filled in on drums for many shows. Jonathan Hughes eventually became our regular drummer. In 2007, we added Achilles Poloynis on trombone and Mark Philpott on bass clarinet. Sari left the band in 2012 or so. Ursa Born joined as co-singer in 2019.
Coalmine's chord compositions are melodic. The structures and progressions are not derived from theoretical knowledge so much as musical intuition. His progressions often hold counterpoint melodies that accompany and enliven the melody that he is singing. His hands are usually high up the guitar neck, making strange shapes that do not immediately reveal their names. His lyrics are a bit abstract, but you understand exactly what he means. My personal favorite example: "She wears . . . cat hair on her sweater."
The Spindles continue to be a band, and a group of friends, and a bit of a family. I feel like we inhabit this body of work that Coalmine has created, like an ecosystem that has developed to feed on a whale carcass in the deep sea.
We have released two records, available digitally from the usual sources, or on CDs for sale at shows. We have been working on a third for many years. This July marks our 20th anniversary.
The Spindles' Favorite Song Lyrics
Ursa Born: "Bought a one-way ticket to the Netherlands, but really he bought two. One for him and a seat for his lack of understanding for you." –Pen and Paper
Mark Philpott: "So what if we said that this could be good again, then it would, again." –God From the Machine
Achilles Poloynis: "Jesus, burned upon a thousand crosses, just to find that he had lost us, to a starched white shirt…man that's gotta hurt." –Sticky Sweet Jesus
Coalmine Spindle: "Save your explanation for this situation for your biography. Written in kerosene and ice, it doesn't smell too good but it's too good of a read." –Static Signal
Henry Nagle: "Except for census and aptitude no one cares for you. If you were lost we might look for you in a day or two." –A Day or Two
Jamie Voss: "He understands why you've come, the rain will always try to black out the sun and we soak it up, yeah, we soak it up." –He Fell