Borrowed Fire
Pop-up Restaurants Bring the Heat
Nearly a decade ago, a "pop-down" restaurant was created 262 feet underground in the Tytyri Mine Museum in Helsinki. Diner/spelunkers wore helmets for the trek to their $160 meal featuring roasted veal tenderloin and escargot flambéed in absinthe, which was booked solid for its two-week run.
The pop-up restaurants burgeoning in Sonoma County are not so exotic or contrived, but they embody that same inventive joie de vivre. As Chef Erik Lowe of the brand new Belfare points out, there's much to love about what's absent from a pop-up: overhead, set menus, food waste. "There are no real rules."
It's a win-win: chefs borrow burners or commandeer grills to make food they're excited about, and customers get what they can't always have. Read on to learn about three different pop- ups in the county, from the recently discovered to the recently launched.
The Holly and Tali Show
Locals know to come to the back door for trades. Sometimes it's a case of duck eggs or a few bags of lemons or freshly-caught seafood from local fishermen, in exchange for a bowl of salmon corn chowder or that night's chocolate cake to accompany the sunset over the ocean. This is the "messy loose fun" that occurs Monday through Thursday at The Holly and Tali Show, a longstanding pop-up restaurant at the Casino in Bodega.
"We are not control freaks," says Holly Carter, who worked for years turning garden harvest into meals at the Occidental Arts and Ecology Center, where she met then- intern Tali Aiona over a decade ago. "She let people do things their own way, and gave me more autonomy than I'd ever had," Tali tells me, recounting all the unfamiliar produce—cardoons, sunchokes, medlards— that they were tasked with cooking. Soon the garden interns could hear their hip-hop blasting from the kitchen, where they were dancing and making as many jokes as dishes: The Holly and Tali Show was christened.
The vibe here is warm, grounded, almost maternal; both women draw inspiration from the culinary traditions of their Japanese grandmothers, and both have mothers who are active in their business. Though their food skews Asian much of the time—poke bowls with tuna, ginger meatballs, pork belly yakisoba, you're just as likely to find things like spaghetti and meatballs or roast chicken with bacon herb spoon sauce, white beans, and asparagus. Their menus are varied, seasonally attuned, consistently surprising, and comforting like a warm hug; there are always at least three dessert choices.
"Evelyn uses a yardstick to perfectly line up the bar glasses," Tali confides of longtime Casino owner Evelyn Casini, who, at 94, still comes in around 4pm to tend bar. She and her late husband Art bought the iconic roadhouse back in the '40s (it's never actually been a casino) when the volunteer fire department would assemble on the back patio. Also working the bar is her niece Joleen, who played one of the screaming girls in The Birds, Hitchcock's disquieting film that was shot in town. Beloved veteran Chef Mark Malicki commands the kitchen on weekends.
Huge taxidermy deer heads preside over the pool tables, juke boxes, and arcade games (Ms. Pacman was recently getting serviced, but she'll be back). Yellowing photos are framed behind one bar, the stove visible behind the other. When I hear that this past Christmas was the first in 72 years that Evelyn closed the bar, I'm not surprised. This is the kind of place that breeds regulars.
"Our community shows up for us because we've been showing up for them," says Holly, who estimates that 75% of their customers are locals. Even in power outages, folks come in to sip beer in the glow of propane lanterns. In response to the initial blow of the pandemic, people would sometimes pay for two meals—one for whomever came in next—or leave a donation for the women on Venmo. Holly and Tali offered one free menu item every day for 10 months.
Originally from Kansas, Holly moved to Sonoma County for culinary school and worked for Alex Bury, who opened Sparks in Guerneville around the turn of the century, one of the county's first vegan restaurants. For years she cooked three meals a day for three months at a time on the Fruit Tree Tour, a group of seven veggie oil-powered vehicles that traveled from San Diego to Mendocino, planting trees and playing drums. Tali's experience farming garlic and potatoes on Whidbey Island led her back to her native Sonoma County, which, she muses, "is so fecund, the pinnacle of beauty."
These days, both women live close by: Tali in the tiny town of Freestone, to the east; Holly in a house overlooking the ocean. It's a Tuesday afternoon, Holly's second day in a row of being menu-planner while Tali works as prep cook; tomorrow they will switch roles for Wednesday and Thursday, giving themeach an opportunity to lead. This kind of natural symbiosis is apparent in everything they do (on hold for months, their catering business is slated to ramp up again soon; check their website for a dizzying array of cake options ranging from Bourbon bundt and orange olive oil to cardamom almond and homemade funfetti covered with sprinkles).
"We might have something on the menu two days in a row," says Holly, "or we might have something that never appears again," Tali chimes in. Just then, Tali gets a text from her mother: Should she get mangoes to top the passionfruit pie she's just baked? Together with black sesame cheesecake (Tali's take on her grandmother's original recipe), dessert is nearly taken care of for tomorrow night.
---
B o r o  B a b a
"I don't necessarily know Persian cooking, but I know my grandmothers' cooking," confides Navid Manoochehri, the Petaluma native who started a Persian pop-up in April.
Navid grew up in an extended family with aunts, uncles, cousins, and both sets of grandparents all in the Bay Area. His parents moved to the U.S. as teenagers and don't even really have accents; he's not yet been to Iran. "So I'm not trying to do anything traditional or genuine," he stresses. "I'm just doing what I like, with a twist." Case in point: he recently reinvented saffron rosewater rice pudding as a Rice Krispie treat.
Navid majored in music at SSU, where he met the three fellow members of the local indie rock band Trebuchet, and then went on to work in the restaurant industry—as a server at Ad Hoc in Yountville and then a few years doing wholesale for Cowgirl Creamery. After briefly working for his family's tech manufacturing business, he decided to make the leap from the front of the house into the kitchen.
"I've always been a home cook, but restaurant cooking is a different scale and speed," Navid tells me. So he recruited a few friends with restaurant experience to help him with Boro Baba's first pop-up: a two-night launch at Miracle Plum in Santa Rosa and La Dolce Vita Wine Bar in Petaluma. With about 130 orders to fill, they worked out some glitches with payments and timing, and learned a few key things—like to ditch the two-night model and stick with one-off dinners for now.
Navid's comfort in the spotlight was clear on a recent Sunday evening at La Dolce Vita. Joined by his wife, Danielle Wegner, they filled order after order as people mingled around, some sipping wine inside. At one long table sat Navid's grandmother speaking Farsi with a few chums, while his friend James Williams stood out on the sidewalk grilling saffron and yogurt- marinated chicken and petite filet kabobs, chatting with customers. Chef Danesh Vafadar worked the kitchen. Lured by the rich aromas and expectant energy, a few people wandered up and asked if they could order something.
Several sides accompanied the tender meat of the kebabs, including a refreshing fennel and feta salad with pickled baby almonds; noon barbari (bread of the barbarians), a thick flatbread with sesame and nigella seeds; kashk bademjoon, eggplant with fermented yogurt, walnuts, crispy onion, and saffron; even a jar of the wonderfully tangy Hot Baba sauce made with chipotle, barberries, and pomegranate molasses, the perfect foil for Persian horchata with cardamom and cinnamon. Dessert was Persian Ho-Hos made by friend Hillary Burdick of A Little Luster: delicate sponge cakes with cream, one chocolate pistachio, the other rosewater raspberry.
Boro Baba is a colloquial Farsi expression which literally means "Go Dad" and loosely translates to "Get outta here!" Navid came up with the name years ago, and liked how it was especially appropriate for take-out food. "Also it's a name that white people can pronounce," he says with a chuckle. Let's hope it's a name we all get to say more of soon. If the recent turnout is any indication, Navid's grandmothers are not the only ones who heartily approve of his food.
---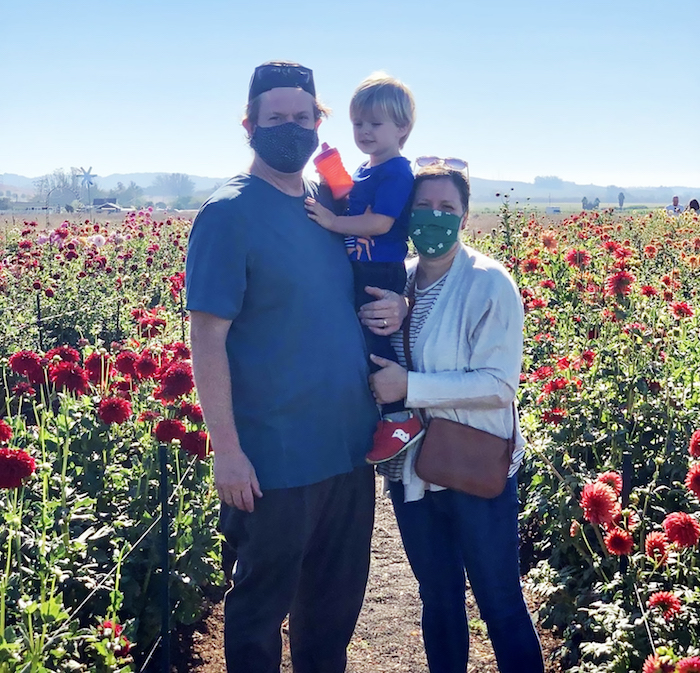 B e l f a r e
When Chef Erik Lowe moved to Petaluma last February from San Francisco, where he ran the restaurant Maybeck's for half a decade, he was hoping to open something new. With experience running the kitchen at Michelin-rated places like Bix, he envisioned another business opportunity.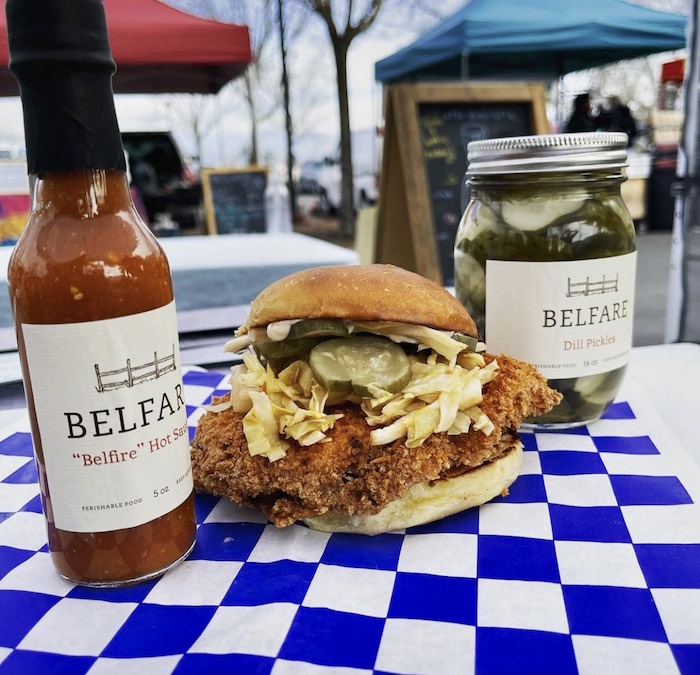 What he didn't envision was laboring first over a 70-page permit process and then over a propane deep fryer at a farmers' market, the wind blowing the take-out bags and napkins all around. "I've never done anything like this before," explains Erik, who, like so many in the culinary world, had to do a pandemic pivot last spring. He started selling his house-made hot sauce and pickles, and eventually, his fried chicken sandwiches at the farmers' market. Soon, his pop-up, Belfare, was born.
The wind notwithstanding, Erik loves the freedom of this new culinary adventure. He and his wife, Jennette, have two little ones—three-year-old Nolan and newborn Aubrey—but have made the time to embrace local purveyors, like Central Milling's flour for their buns and Petaluma Poultry's chicken for their wildly popular chicken sandwiches, which are piled with Cajun cabbage, dill pickles, and spicy sesame mayo. Erik sells about 100 of them in four hours. Fingerling fries sprinkled with the Japaneseseasoning Furikake, nori, and Cajun spice are the perfect mash-up of Asian and Southern flavors.
Years ago, Jennette, an accomplished pastry chef, developed a Parker house roll recipe. To scale it up for their signature bun, they found Alex Tishman of Fire Swamp Provisions in Novato—another pandemic-born business—who also improved the recipe. He sells his baked goods at the Farmers' Market and donates portions of his proceeds to the NAACP ($3,000 to date).
Find Erik on the grill Tuesdays from 10am to 1:30pm at the East Side Petaluma Farmers' Market. He also pops into Glen Ellen's Flatbed Farm and Little Vineyards Family Winery during their Sunday concerts, and Three Fat Guys Wines in Sonoma for Sunday brunch or Cuts & Cabs, where $50 gets you a glass of cabernet and a plate of steak frites.
"It would be cool to have a couple of little fast food places," says Erik, who's got catering gigs booked through July. "But for now I'm just letting the universe decide. When I hear some guy on the phone saying, I'm getting Belfare for lunch, I know it's become a real thing. And that's pretty great."