With their new cookbook, The Kosmic Kitchen aims to inspire you to bring joy, herbs, and ritual into the kitchen.
Magic isn't the first word that comes to mind these days when I think of my kitchen.
Dishes? Yes. Six months into the coronavirus pandemic, it's a place to churn out three meals a day. This means a lot of food, some of it processed and easy to get from stove to table, and a lot of cleaning.
And yet! According to the herbalists and trained Ayurvedic practitioners Sarah Kate Benjamin and Summer Singletary, the kitchen can be a place of healing, ritual, magic, and high spirits. They've been honing this work since 2012, sharing their enthusiasm for plant-forward recipes through a Tumblr, paper zine, Instagram, cooking classes and workshops, one-on-one client work, and The Kosmic Kitchen Cookbook (Roost Books, 2020).
"We want to get people excited about being in the kitchen" says Sarah Kate during an interview through Google Meet. "Especially if you don't feel confident, or you're really busy and have kids, or you don't have recipes to pull from. It's about allowing more space for the rituals and comforts that kitchens and food bring."
Brimming with color and light-drenched photographs by Anna-Alexia Basile, the cookbook teaches food and herbal preparations from the ground up. I spent a satisfying 20 minutes making the Wild Weeds Pesto (pg. 102) with ingredients that I already had and herbs from my city garden. I also made an herbal vinegar (pg. 104) between washing yet another load of dishes and bedtime routines.
"This book mirrors our practice," says Summer. "We're about creating a system and then having room to play. We want folks to feel confident in the kitchen as both cooks and herbalists."
Sarah Kate and Summer met through the community garden at their college in Central Florida. "Growing food and herbs to feed our loved ones is one of the richest human experiences, and since we learn by direct experience, we thought, what better way to learn about plant properties or food as medicine than to eat together?" they write in the book's introduction.
The two went on to study at the Florida School of Holistic Living. Later, Summer apprenticed with legendary herbalist Rosemary Gladstar while Sarah Kate interned at the Herb Pharm in Oregon and studied plants in Peru. Eventually, they landed in California, where Summer attended the California School of Herbal Studies in Forestville and Sarah Kate interned at Tassajara's Zen Kitchen. Together, they studied clinical foundations of Ayurveda at The Dhyana Center in Sebastopol. Sarah Kate still lives in Sebastopol, while Summer lives in Oakland.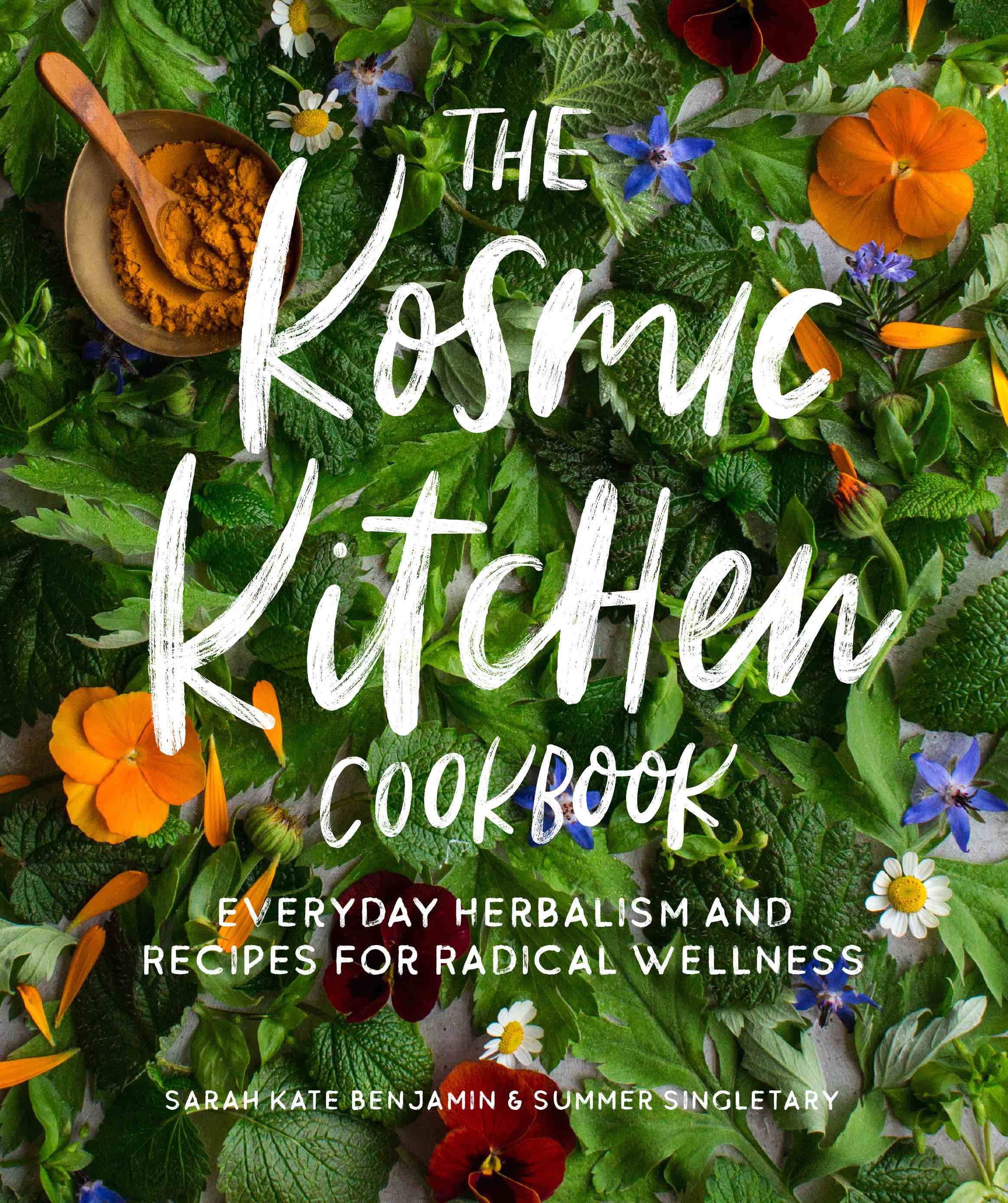 "Growing up in Florida, at the time, there weren't strong, organic local food systems," says Sarah Kate. "To be here [in Sonoma County] and be able to glean just about everything that you eat from this bioregion is mind-blowing. Every day I'm so inspired, seeing the beauty of the land, plants, and food."
Summer says she appreciates the level of care taken within the local herbalism community. "A lot of West Coast herbalists are really radical and have pushed the conversation forward," she says. "I love being surrounded by so many mentors that expand my mind every day."
To that end, one way they've been pushing themselves forward is by supporting Black Lives Matter, giving 100 percent of the pre-sale cookbook profits in June to the movement. You can read the entire statement of action at thekosmickitchen.com/black-lives-matter.
"We want to understand the bigger picture at play and how to support this movement," says Sarah Kate. "Not sitting back and hoping somebody else is going to say what you are hoping to hear. We want to be forthright and transparent while holding companies accountable in the herbal community, which is primarily a white space."
The tumultuous last few months of economic insecurity, uprisings, and pandemic have led to widespread overwhelm, uncertainty, and fear. Since the cookbook is rich with applications for self-care, I asked what the authors have been doing on that front. They both spend as much time as possible outside, in gardens and on walks.
"I also make medicine, even if it's simple," says Summer. "We talk about that a lot in this book. You can make a porridge, or congee, or grits with bone broth. All of these things can be easily adapted by adding an herbal powder, spice, or seaweed broth." She also recommends making a quart of nourishing tea in the morning. A favorite is the Lavender Chamomile Cooler (pg. 153). "If you have ongoing anxiety and nervousness, which I know many of us are having right now, sipping tea throughout the day is what's going to work on a deeper level and unwind the nervous system."
Launching a long-awaited cookbook during a global pandemic might be another source of stress, but the two are taking it in stride. Book events and promotion will be virtual. And Sarah Kate is continuing with the online one-on-one cooking classes, which started right before shelter-in-place.
So, is it possible to create magic, joy, and healing within the confines of our ball-and-chain kitchens? If the friendly, warm energy of the two women behind the Kosmic Kitchen is any sign, even across the cold medium of Google Meet, then all signs point to yes.
---
Date & Nut Apple Pie Bites
from the Kosmic Kitchen Cookbook
2 apples, cored and diced
1/2  tablespoon maca powder
1/4 teaspoon ground cinnamon
1/4 teaspoon ground ginger
1/8 teaspoon ground nutmeg
Pinch of ground cloves
Pinch of sea salt
1 tablespoon water
1 cup walnuts, toasted
1 cup dates, pitted and chopped
3 tablespoons raw hemp seeds, divided
Nothing says fall like apple pie, and apples are a big deal here in west Sonoma County. The heritage variety Gravenstein has been cultivated here for commercial production since the late 1800s and provides the Bay Area with fresh apples all season long. Instead of baking a pie with sugar and flour, we decided to make snack-sized versions to enjoy all the seasonal spices and sweet apples. Maca has a nutty flavor that plays well with walnuts, and is a warming and energizing adaptogen, great for the cooler fall months. You'll likely want to make a double batch of these for easy snacking throughout the week. Makes 12 bites.
In a small heavy-bottomed saucepan, add the diced apples, maca powder, spices, and water. Cover and cook over medium heat to let the apples soften, making sure to stir to prevent burning. Once apples are softened, remove from heat and let cool. Then add the mixture to a food processor along with the walnuts, dates, 1 tablespoon of hemp seeds, and a pinch of sea salt. Pulse until the mixture becomes doughlike. Add 1 teaspoon of water at a time if the mixture is too thick and hard to work with. Scrape down the food processor, removing the mixture and adding it to a mixing bowl. On a small plate, add 2 tablespoons of hemp seeds in an even layer. Wet your hands to make the bites easier to handle. Then scoop 1 tablespoon of the dough into your hands and roll it into a little ball. Once all the bites are made, roll one side in the hemp seeds. Serve immediately or store in the fridge for up to 1 week.