The grocery business is notoriously tough—and corporate. Two new locally owned markets prove that small business owners are still in the ring
If you'd asked me at the beginning of the 21st century whether small, locally owned businesses would still exist—much less be thriving—in 2018, I would probably have answered "no." At the time, corporate box stores seemed virtually unstoppable, gobbling up land across the U.S. and using their considerable buying power to keep prices low and draw in customers—without regard for existing community dynamics or economic welfare.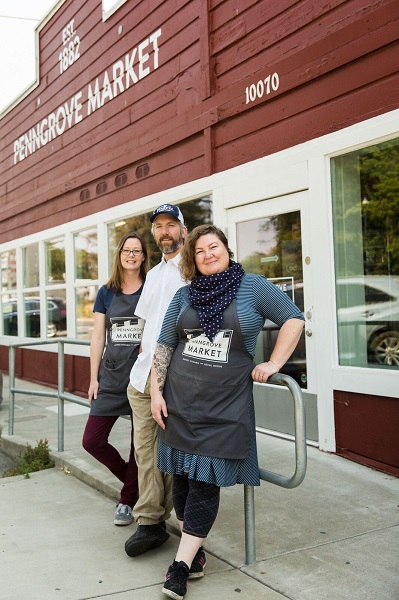 Hollywood even made an AOL-fueled rom-com about it—though let's pretend not to remember the mawkish and dated You've Got Mail. When a certain $685 billion-valued online behemoth purchased a flailing natural foods grocery chain in 2017 for $14 billion, the writing seemed to be on the wall: Corporate consolidation was the next frontier, and good luck to any company willing to stand in front of this economic bulldozer. In fact, according to The Atlantic, news of the merger sent stocks for the store's major competitors plummeting by six percent.
Yet, in that same year, the city of Cloverdale saw the doors open to Dahlia and Sage Community Market, the town's fi rst locally owned grocery store in years. This year, the town of Penngrove also got their own full-service grocer, meaning locals don't have to drive to Petaluma or Santa Rosa to pick up cooking essentials.
As the stories of these new markets demonstrate, getting into the historically low-margin grocery business isn't an easy proposition. And the competition for dollars is fierce. Still, some Sonoma County families believed enough in the importance of accessible, community-driven food hubs and did the work to make it happen. We took a look at how—and even more importantly why—they did it.
Made for Community
Penngrove Market
Community is written on the walls at Penngrove Market— literally. A large, colorful mural by artist Marla Peterson on wall facing the entrance celebrates the agricultural abundance of the surrounding land. A second mural honors the community donors who helped open their doors in May of this year.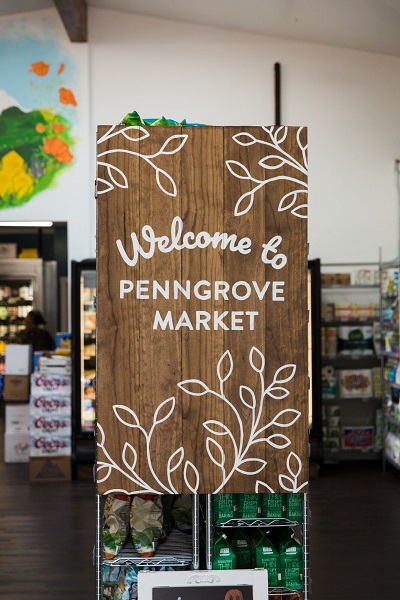 "The neighborhood grocery has basically gone extinct and we wanted to bring it back," says Shaina Ferraro, co-owner of the market with husband Joe Ferraro and Rebecca and Evan McDowell. Housed inside the historic Ronsheimer building, a landmark built in 1872, the space has formerly housed a railroad station, general store, post offi ce, convenience store, and a burger joint. When a kitchen fi re caused mass smoke damage in 2015 and the existing tenants moved out, owner Martin Sessi began the ambitious process of rehabbing the building and bringing it up to code. Rebecca, a Penngrove resident with years of grocery experience, spotted an opportunity to fi ll a void in the community, which lacked an actual grocery store, much less a place to buy fresh, locally sourced prepared foods.
"Penngrove needed food," says Shaina. "People were having to drive all the way to Petaluma or Cotati for grocery items. Plus, we wanted to create a place where we wanted to shop."
Sessi, who also lives in Penngrove, was on board. Rebecca reached out to the Ferraros to gauge their interest. Shaina had worked at multiple grocery stores, including Food for Thought, the Northern California natural foods chain that was bought out by Whole Foods in the 1990s. Joe, an avid home cook who worked in the restaurant industry, now leads the market's prepared foods department. The experience of a close family member with celiac disease, and the accompanying diet restrictions, means the department is well-stocked with glutenfree and vegan foods alongside regular items.
From the start, the four owners were dedicated to supporting the local food economy. The fresh produce department features products from Coast Range Seed and Live Oak Farm in Petaluma, Coyote Family Farm in Penngrove, and New Family Farm in Sebastopol. Working directly with the farms—and F.E.E.D. Sonoma—keep prices competitive and comparable to bigger grocery chains. "We focus on seasonal and supporting local farms," says produce manager Geoffrey Powers. "And we're very open to people bringing in small-batch products [for us to consider for sale]."
Across from the beets and lettuce, the fully stocked espresso bar serves organic coffee from Sunshine Roasters in Forestville. In the cold case, you'll fi nd a selection of bars from Mariposa Ice Cream in Petaluma, and on shelves are bottled sauces from Preserve Farm Kitchens and other local purveyors. Educating customers—if they are interested—in the role of local food purchasing to overall resilience is a goal, says Ferraro. That said, you won't get pedantry at the register. Customers can find Coca-Cola next to the kombucha, and Tootsie Rolls next to the cacao bars.
"We don't want to be seen as elitist," says Shaina. "We don't want to be pigeonholed as only selling organic or natural items. We have a little bit of everything. If people ask for a different product, we'll bring it in. If it works for Penngrove, we are without judgment!"
Penngrove residents and passing travelers on busy Petaluma Hill Road have answered the call. They drop in for cartons of milk or eggs, a roasted chicken to takeout for dinner, or a leisurely post-work beer and pizza on the patio just steps from tiny Penngrove Community Park in the heart of downtown.
"[This corner] just feels revitalized," says Ferraro.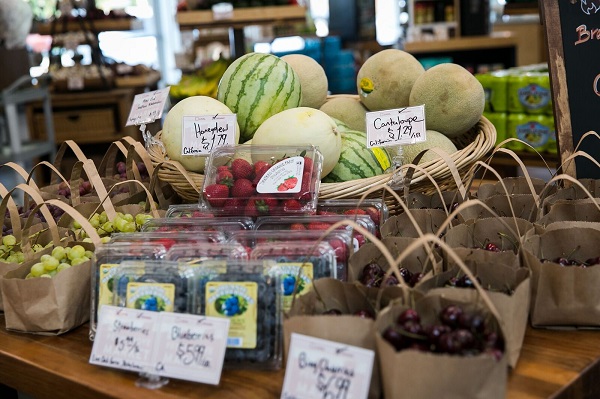 10070 Main Street, Penngrove; 707.753.4974
Hours: Monday through Saturday, 8am to 9pm; Sunday, 8am to 8pm.
Rural Revival
Dahlia and Sage Community Market
After running a spa in Healdsburg for over a decade, Tobi and Ryan Smukler were ready for something different. The couple turned their gaze to their adopted home of Cloverdale, where the options for grocery shopping were limited to one store owned by a small chain based out of Oregon. With backgrounds in culinary and wellness, the Smuklers saw a niche to be filled—a market focused on fresh, local, and seasonal. Dahlia and Sage Community Market, named for their children, opened its doors in March 2017. "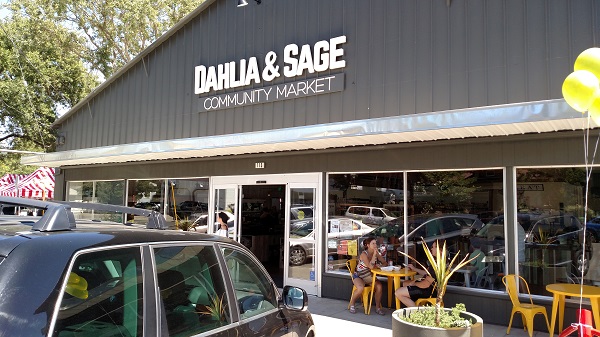 "There is a renaissance happening here," says Tobi. "We wanted to take part in the growth of the town in an authentic way. We saw Cloverdale as the next frontier for small-business owners."
Dahlia and Sage's beginning wasn't without challenges. First, there was a hurdle-fi lled permit process as the Smuklers negotiated with a town government that "wasn't ready for a new way of thinking," according to Tobi. Once the permits had been granted, came the daunting mission of turning an unused Napa Auto Parts warehouse into a gleaming, clean market—which called for literally building a building inside of a building.
Then there was the reality that with cheap and easy online access to food, it can be work just to convince people of the benefits of buying from a locally owned business—where less buying power means that chains can usually undercut a smaller business's prices. Tobi is upfront about all of this, along with the fact that Cloverdale is somewhat of a bedroom community where working residents drive out to jobs in Santa Rosa and other surrounding cities, with their plethora of large grocery stores. Ideally, Dahlia and Sage would be a go-to "secondary" grocer, where residents don't have to drive so far to pick up food for dinner and cooking staples. "We would happily fit into that niche," Tobi says. "Especially to allow people to stay in the community and not have to drive out."
"It's just a different time for small businesses," she adds.
The Smuklers have gotten creative to cultivate return customers, in part by emphasizing locally produced and locally farmed items not as easily procured online. A robust prepared foods department offers salads and organic, gluten-free, paleo, and vegan options—including baked goods. Delivered by F.E.E.D. Sonoma, the produce comes from Bernier Farms, Laguna Farms, Paul's Produce, Front Porch Farms, and Dry Creek Peach. In the meat department, customers can browse for pork and steaks from Marin Sun Farm, Niman Ranch, and Painted Hills Natural Beef. The former owner of Cafe Japan prepares fresh sushi for the deli every day. They also employ 16 people, many of whom live in Cloverdale.
"We turned an old, run-down auto parts warehouse in our community into a beautiful market," Tobi says, the satisfaction of realizing a dream apparent in her voice. Then she's back to a bustling morning of taking inventory and ordering new products—all in a day's work for the little local market that could.
115 E. 2nd Street, Cloverdale; 707.669.2320
Hours: 8am to 8pm, Monday through Saturday; 9am to 8pm, Sunday.