Leslie Goodrich left retired life to start a business. Now Lala's Jam Bar and Urban Farmstand is thriving on Petaluma's E. Washington Boulevard corridor
In the 1920s, Leslie Goodrich's grandmother landed on the shores of San Francisco with $5 in her pocket and a few treasured jam recipes sewn into the lining of her only bag. Decades later, the Scottish immigrant taught those recipes to her granddaughter, boiling fruit harvested from an orchard in the Santa Cruz mountains on an O'Keefe and Merritt stove.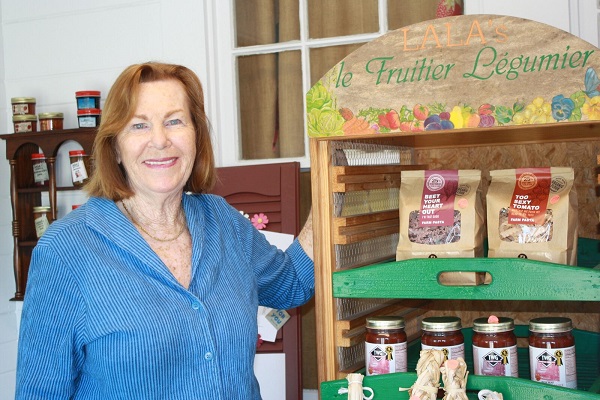 "We would pick the fruit in the morning and make jam in the afternoon," recalls Goodrich, on a break from making jam at her Petaluma kitchen and shop, Lala's Jam Bar and Urban Farmstand. "She would tell me stories about the old country. We did that for years, until she passed away when I was a sophomore in high school."
Goodrich went on to become a real estate broker in Marin County. In 2001, she retired to the Palm Desert and settled into her new life. She remarried. She became a docent at the Palm Springs art museum. Eventually, she and her husband bought a house in Petaluma's Oak Hill neighborhood. After moving to Sonoma County, Goodrich trained to be a Master Gardener. All the while she made jam as a hobby, giving the fruity concoctions away to friends and family. Then came the day when she realized she'd grown tired of volunteer work; the call to start a business was undeniable.
"I have a lot of energy and I've never stayed home," says Goodrich, her bright blue eyes flashing above a vibrant blue shirt. "I wanted to do something. I wanted to make something. And this is foodie heaven here."
She settled on jam, beginning with her grandmother's recipes. At the same time, the California Homemade Food Act (AB 1616) legislation became law in 2012, making it easier for homemade food producers to sell their products. When Goodrich accidentally attended an introductory class on how to become a cottage food processor (she thought it was a class on food preserving) the stage was set for her second act.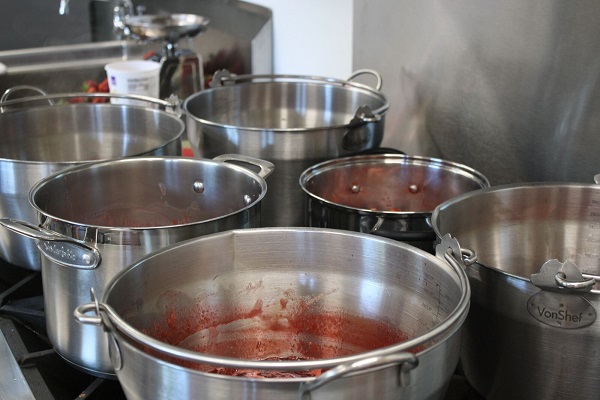 In 2013, with her newly minted cottage food license in hand, Goodrich set up a card table in the driveway of her home, selling homemade jam to neighbors and passersby. She called her business Lala's—her nickname coined by her now deceased brother.
Sales took off and Goodrich moved from the sidewalk to the carriage house, making jams out of her home kitchen until the space became overwhelmed with product. It was time to find a commercial kitchen, which happened to be hard to fi nd and expensive to rent.
Years of real estate experience had taught Goodrich that sometimes it made more sense to buy a building and transform it as desired instead of renting. She made the decision to reinvest money from her 401k into her burgeoning business by buying a building and creating her own commercial kitchen. After months of searching, she found the perfect spot, a bungalow and former home of an answering machine repair business on the busy E. Washington Blvd. corridor, the main thoroughfare between the 101 off ramp and the city's downtown district. She bought the building and launched into the tedious, hurdle-filled challenge of creating a commercial kitchen with a retail store, a city requirement since the building was in the business corridor. Renovations accomplished, the shop opened in July 2017. Whileretail initially felt like a chore, Goodrich says she has grown to love that component of her business.
"I love the store, much more than I thought I would," she says. The cozy shop's product list includes: Petaluma Toffee, Beet Generation Farm pasta, Big Bottom Biscuit Mix, Sonoma Portworks Vinegars, and more. And of course, lots of jam.
Past the storefront is a commercial kitchen. Today, Goodrich's kitchen assistant monitors bubbling pots of strawberries delivered that morning from Live Oak Farm in Petaluma. Goodrich had gotten a last-minute call from the farm. They had a surplus of freshly harvested strawberries: Did she want them? She did and they would become a summer jam. She also gets fruit from Green String Farm. Still, most of the materials for the jam come from backyard trees of friends and neighbors. The only requirement is that the fruit is pesticide-free.
"One of my Master Gardener friends has over 100 fruit trees up on the mountain here," says Goodrich. "She has Sevilla oranges—bitter oranges. They make an excellent marmalade."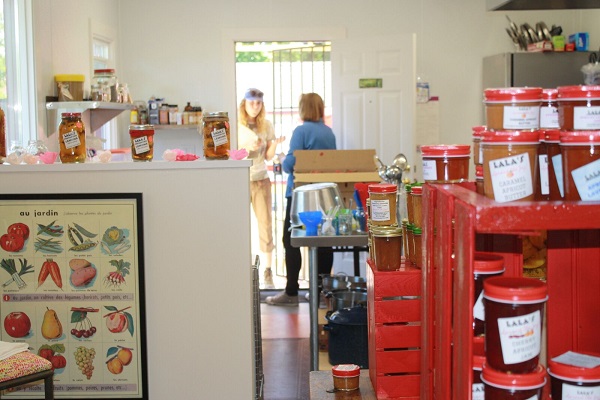 Some people have asked to be paid in jam, but Goodrich prefers to pay them dollars on the pound. It's more fair, she says. She makes jams for winter, and jams for fall. She experiments with flavors—like a Pear Sriracha— and sometimes tosses the failures with too much pucker into the bargain bin where they gain a new life ("Not So Great Persimmon Jam," for example). Lala's jams are also available for purchase at stores and shops across Sonoma County.
Ultimately, what keeps Goodrich going is love for those recipes that arrived in America, sewn into the lining of her grandmother's bag.
"Being a small business owner is not for everyone," says Goodrich. "People have to understand how hard it is. You have to love what you do. You have to like your product. I like the jam that I make and the marmelades and fruit butters. Plus, the creativity is there. The interaction with people that I really like. And the solitude, I need. Sometimes I'm alone in the store making jam and I really like that. [This business] takes into consideration everything I've done in my life."
720 E. Washington Blvd., Petaluma; 707. 773.1083;
Call for hours