A  new  Slow Food  certification  rewards local restaurants  for good, clean, and fair business practices. 
Daniel Kedan, chef and owner of Backyard, has no problem with people asking to see the inside of his refrigerator.
"At any point someone could come in here and I'd be happy to show them my walk-in," he says on a recent Friday afternoon, sitting next to fellow chef, co-owner and spouse Marianna Gardenhire in the restaurant's cheerful dining room.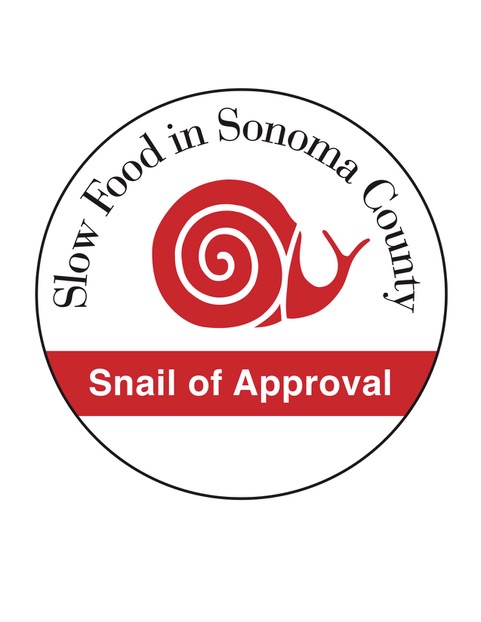 The Forestville restaurant's refrigerator was, in fact, toured recently by three representatives of Sonoma County's new Snail of Approval program—a local version of the international award administered by Slow Food. The Sonoma County Slow Food team didn't stop there. They also perused Backyard's kitchen and dry storage area, interviewed the owners about staff wages, and even dug through their trash cans.
The idea was not simply to invade Kedan and Gardenhire's personal space, but to certify that their business practices aligned with the snail's three core tenants: Good, clean, fair.
"Good means fresh, wholesome food that hasn't been processed and doesn't have additives—it's organic, grown locally, and doesn't have all the issues with carbon dioxide from shipping," says Peg Champion, a spokesperson for the Snail of Approval program. "Clean refers to clean business practices like composting and recycling. And fair means it's fair to the people who raise and produce the food, it's environmentally sustainable, and it protects biodiversity in the area."
In other words, the snail isn't just a good Yelp review—or even a Michelin star.
"It's meant to be much, much more," Champion says.
The history of the small red logo is synonymous with the history of Slow Food itself. While the phrase "slow food" is often tossed around to describe a set of principled gustatory choices, Slow Food (capitals included) is actually a well-oiled international advocacy group with a real, honest-to-goodness manifesto. It began in 1986 in Italy with the opening of a certain unnamed fast food restaurant in the snail's local press materials (referred to simply as "the one with the golden arches").
"A group of Italians said, 'We don't want fast food, we want slow food,' so they organized an "eat-in" in front of McDonald's and served pasta," Champion says.
Fast forward 22 years, and Slow Food has chapters in roughly 150 countries. Sonoma County boasts two: Slow Food Sonoma County North and Slow Food Russian River. In 2016, they joined forces to create a local version of the snail award. They wanted their program to emphasize nearby sourcing since Sonoma County chefs (unlike, say, chefs in Vermont) have a 365-day growing year at their menu-crafting fingertips. The first round of restaurants given the snail include Diavola Pizzeria and Salumeria, Estero Cafe, Healdsburg SHED, Patisseria Angelica, The Naked Pig, Zazu Kitchen and Farm, and Black Piglet, and Backyard.
The chapters believed it was important to offer a range of price points, to make good, clean, and fair food accessible to everybody, Champion says. Indeed, Black Piglet's $12 BLT or The Naked Pig's $16 frittata are no $500 tasting menu, but in a county with roughly 2,800 homeless people and 38,500 undocumented immigrants (the majority of whom are uninsured and make less than 200 percent of the federal poverty level according to statewide statistics), those prices may not actually be attainable for everybody.
And that, of course, highlights the big, thorny problem of the American food system. To be "good, clean and fair," means paying decent wages, and, often, paying the true cost of products that are subsidized in industrial settings so those prices inevitably bubble up to the consumer. Bacon from a local family farm is just going to cost more than a pack from Hormel, and while some can afford to buy ethically, not everyone can.
For that particular problem, Champion says, Slow Food turns to policy work.
"Our efforts are two-pronged," she says. "We do what we can locally [with the snail program], but we also work on the policy side with legislation that will help small, independent farmers. We help the Slow Food chapters in Washington while the Farm Bill is being discussed."
Access is part of Kedan and Gardenhire's mission as well. Because they own their small farm, they've been able to maintain their price points, Gardener says. But as the price of land in Sonoma County soars, the farmers and ranchers they work with have been forced to increase their prices.
"The food that we sell should sell for more—that's just the reality," she says. "But organic, ethical food shouldn't be elitist, and that's the struggle we have in the county right now."
Article  resources: