At three local spots, food, heart, and community come together as one. 
We all need that place in our life—more than ever, it seems—where everybody knows our name. A place where conversation and honest-to-goodness human interaction are the norm, where you never know if you'll walk in to a trivia night, a surf movie session, a political fundraiser, a literary reading, or a young band playing their first show— even better where there are tasty burritos to be eaten, organic coffee to be had, and Kombucha or beer on tap. Welcome to three restaurants and cafes in Sonoma County that aim to serve up strong community with a good dose of open-mindedness—along with a full menu of food and drink. Step right in: Be yourself, get nourished in body and soul, and make new friends in the process.
Papas and Pollo
Sebastopol 
You know a restaurant has a welcoming vibe when customers return again and again—sometimes multiple times on the same day. "We've joked about putting a bell in for repeat customers where they have to ring it if they've already been in once that day," says Nicholas Tappan, who owns Papas and Pollo with wife Maureen Purtill.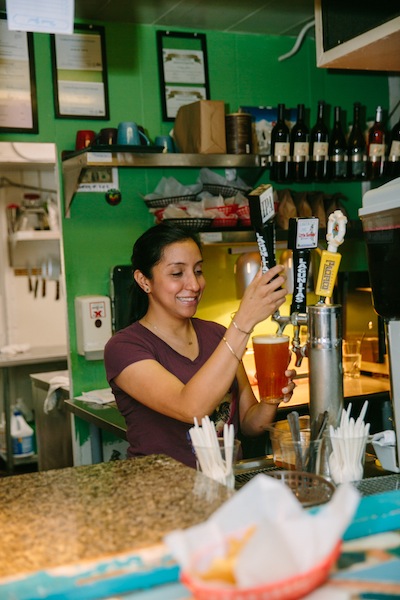 The energy at the restaurant, with its Baja decor and smiling employees, is feel good to-the-max. For anyone with children, the kid-friendly atmosphere, where you don't feel like a pariah for trying to go out to eat with a human being under the age of five, is refreshing. It's all intentional. From the start, says Purtill, they wanted to be a community hub, a place for families to gather, eat, and celebrate.
"We always think about the kids in the design," she adds. Tappan went so far as to eliminate high alcohol beers from the menu so as to keep down the drunk quotient.
The two have owned the place since 2011 when Tappan decided to buy it from an old family friend. He knew the space well. He'd been hanging out there since his days as a student at Analy High School, as had Purtill. Years of work in carpentry and restaurants had also prepared him for the challenges of running a small restaurant. And years of living in Baja and Latin America had left him with a taste for Baja-style food, soccer instead of football, and the laid back vibe you find at the ubiquitous beachy taquerias of the southern climes. It's a fusion of Sebastopol and Mexico that they call "Seb-Mex."
With her hands full raising their young son Ezra (and now nine-month-old Zara Sofia) and finishing up a Ph.D. all while working as a community organizer at the Graton Day Labor Center, Purtill didn't participate in the business at first. Five years later, it's all hands on deck. Purtill has helped Tappan infuse a lively community and social justice spirit. In January, she hosted a West County women's gathering, where picnic tables on the patio filled with more than two dozen women (and lots of kids) who listened to presentations by women from the immigrant community and discussed how to move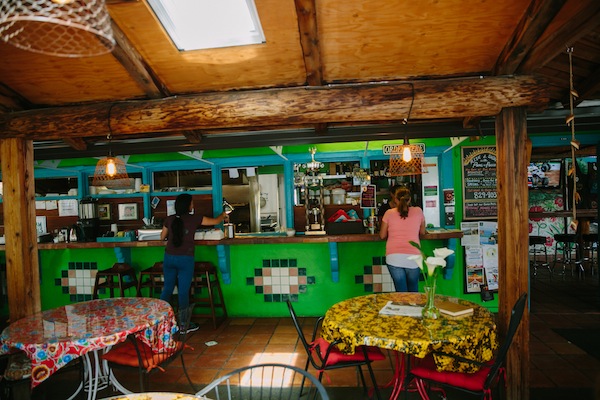 forward with grace and dignity in the new Trump America. Tappan's surfing, ocean health, and environmental passions find unity in monthly Surfrider meetings at the restaurant which is committed to serving food from local producers like Sonoma Meat Company, Bloomfield Organics, Revive Kombucha, Sunshine Roasters, Petaluma Creamery, and Andy's Produce. Every Tuesday, they provide lunches, at cost, to Sunridge Elementary School in Sebastopol, which sells the food to students as a fundraiser. And they've hosted and catered fundraisers for the Graton Day Labor Center (Purtill doesn't work there anymore but remains a board member), including a Dine and Donate series leading up to the nonprofit organization's annual fundraising event in November.
Fair wages and a positive work environment are also a priority. Employees start at $12 an hour and make upwards of $17 with tips. Raises are handed out every five months. Earlier this year, the employees voted to honor A Day Without Immigrants.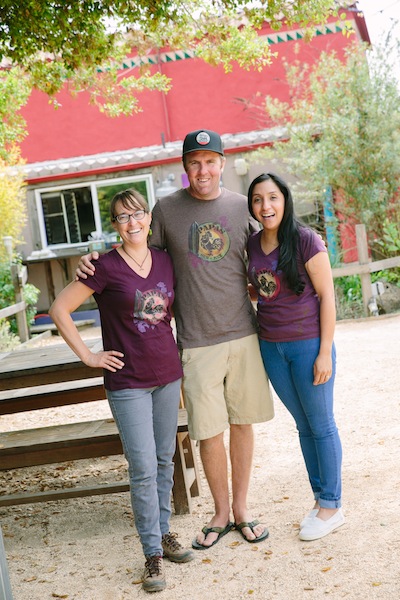 "Coming from a community organizing background, there's a tension owning a business and trying to make enough profit to make enough for ourselves while honoring workers' rights and a fair labor standard for them," says Purtill.
From a commitment to diverse hiring practices and paying a fair wage to the thriving community board just outside the restaurant's entry, Papas and Pollo has worked to cultivate an environment for customers and employees that feels welcoming, comfortable, and safe.
They also make sure to credit Ivis Sanchez, the restaurant's affable and efficient manager, as crucial to the restaurant's functioning. Sanchez, who is originally from Panama, worked her way up from a dishwasher while attending school at Santa Rosa Junior College where she received an associate's degree in human resources, (she also has a degree in finance from Panama). Sanchez enjoys the community at her workplace. She also loves telling moms they don't have to clean up after their kids or worry about corralling the children.
"I tell the moms, no, that's part of the deal," says Sanchez with a laugh. "It's nice. People feel like they can be comfortable."
915 Gravenstein Hwy South
Sebastopol | 707.829.9037
---
Brew Coffee and Beer House
Santa Rosa 
When Alisse Cottle and Jessica Borrayo opened the doors in 2015 to Brew, their colorful and artsy beer and coffeehouse at the site of a former doughnut shop near downtown Santa Rosa, they had no problem attracting customers. But, once they hung a large rainbow flag next to the front door, the spot sprouted into a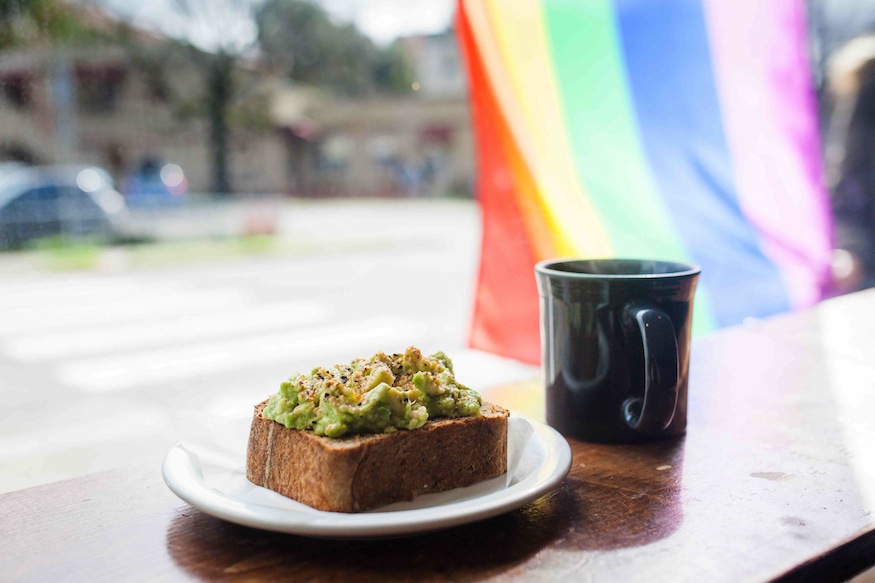 magnet for the LGBT (Lesbian, Gay, Bisexual, Transgender) community, along with artists, musicians, and anyone else looking for a space that serves up a nice dose of inclusivity alongside coffee, fresh food, and quality craft beer.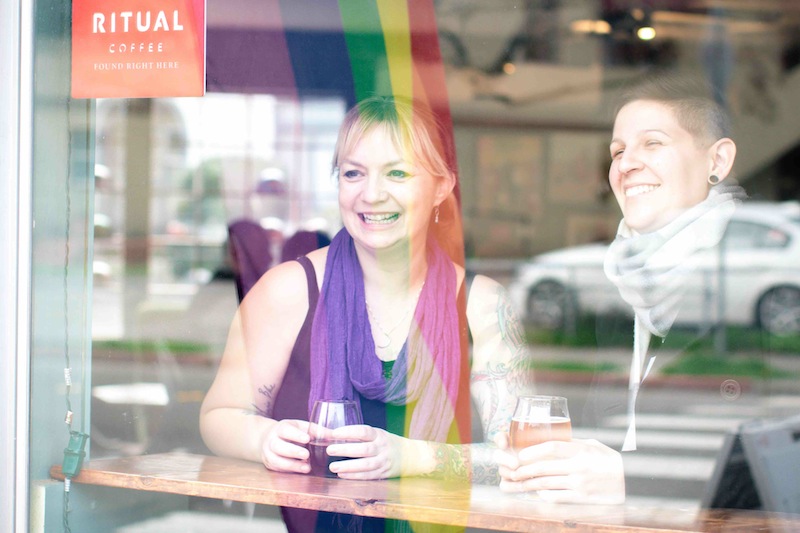 "I've lived here in Santa Rosa for twelve years and I was constantly looking for community," says Cottle over a hibiscus iced tea on the café's plant-engulfed patio. "We've made so many friends since we opened this place."
A lot of that is the result of just saying yes, she adds.
In addition to a full menu of food (don't miss the delicious Rainbow toast on locally baked Revolution bread, loaded with pickled vegetables and avocado), Brew is the only spot to get your fix of Ritual Coffee Roasters, the lauded San Francisco single-origin coffee company. The focus on quality coffee is no surprise; Cottle and Borrayo have 25 years of coffee experience between them, first at Starbucks and later at Taylor Maid Farms. In fact, the tagline on their website is: "Girl meets coffee. Other girl meets coffee. Girls fall in love, coffee included." Beer lovers aren't left out of the love equation with rotating taps of rare and local IPAs, sours, and Belgians.
For the last two years, Brew has hosted regular art shows like the current one curated by Free Art Fridays, the Instagram sensation that sends people out on scavenger hunts for hidden paintings by local artists. They also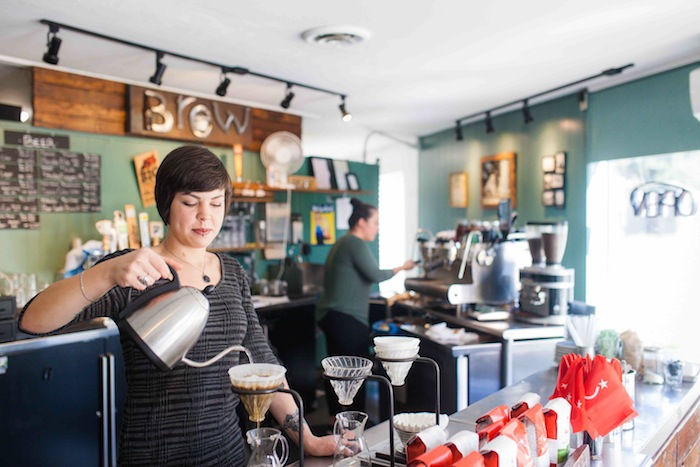 host Letter Mixers once a month, where LGBT professionals come to network. On Fridays, you'll find Gay Night with DJs and dancing. And need to get out your political ya-ya's? The last year has seen Planned Parenthood and Sexual Assault Awareness fundraisers, community organizing meetings, and a Roe v. Wade celebration. A packed event dance card also includes weekly trivia and open mic nights.
"We knew we didn't want a sterile coffee vibe," says Cottle as Borrayo nods in agreement. "We focused on the feel of an older school coffee house with music, poetry, and comfy couches and games. A place to drink a beer or coffee—without the sports bar energy. The vibe was important—a place for everybody." The nice thing about owning your own business, says Cottle, is how it can become a reflection of your values. "This is what we care about and are passionate about," she adds. "We are witnessing a lot of history these days. It's kind of intense and people want to be together to witness. Or just sit back and relax surrounded by a social community."
555 Healdsburg Ave. | Santa Rosa
707.303.7372 | brewcoffeeandbeer.com 
---
Aqus Cafe
Petaluma 
When John Crowley bought Aqus Cafe in 2006, he wanted to create a place where relationships and community building were woven into the everyday fabric of the business. The idea that a cafe was more than a place to fuel up with food and drink was seeded in Crowley's childhood in Dublin, Ireland.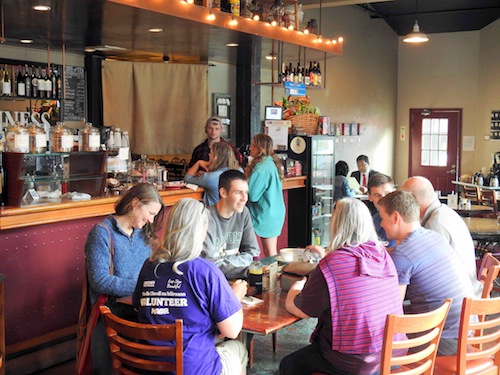 "I grew up in an Irish pub," says Crowley. "Pub is short for public house, and it was a place where everybody from the local parish came together to get to know each other—priests, plumbers, bankers, accountants, and their children. It was very much a multi-generational, multi-ethnic, multi-everything kind of space."
A computer programmer by trade, he decided to create something similar in Petaluma: a social and cultural center in his adopted hometown. Two years later, Crowley was joined by business partners Lesley and Michael McCullaugh (who happens to be Irish-American) who took over the cafe's daily operations, allowing Crowley to focus on the social capital element by way of Aqus Community, a nonprofit committed to community and dialogue building. Food and refreshment hasn't fallen by the wayside: The cafe serves a full menu from morning through evening along with a generous menu of local wine, beer, coffee, and more.
"We offer an American-style breakfast, and then a European-style lunch, into an Irish-style evening, it changes as the day moves," says Crowley. On any given day, you might walk into Aqus and see live music, literary, and poetry readings (Get Lit, the hip reading event and open mic hosted by Dani Burlison and Kara Vernor, moved to Aqus in April) or a lecture by a Santa Rosa Junior College professor. In March, there was "Where Do You Go From Here," an event that featured 20 speakers who were given three minutes each to speak about how to take effective post-election action to support different causes. More than 200 people showed up. Ongoing events include a newcomer's social where people can find out how to get involved politically, socially and actively in their new community. Crowley likens it to an "old-fashioned welcome wagon." Or a "multigenerational utopian bonding space" according to the cafe's website.
If that's not enough, Aqus Community also throws mixers for artists, writers, and film and video producers. If Aqus had a mantra, it might be: "Better living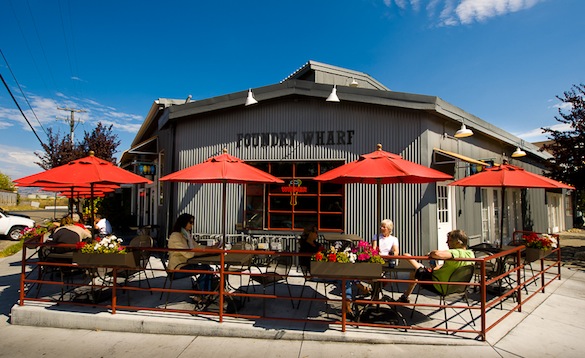 through community." "I jokingly say that our only competition is the television," says Crowley. "The whole idea is to get people involved. Get people civically engaged and involved in the community to have a fuller, richer life. It makes for a better place to live. Petaluma has become a very interesting place to live, where the normal thing is to be engaged."
189 H Street, Petaluma
707.778.6060 | aquscafe.com