A new book explores the life of Paula Wolfert, local cookbook luminary and renegade spirit.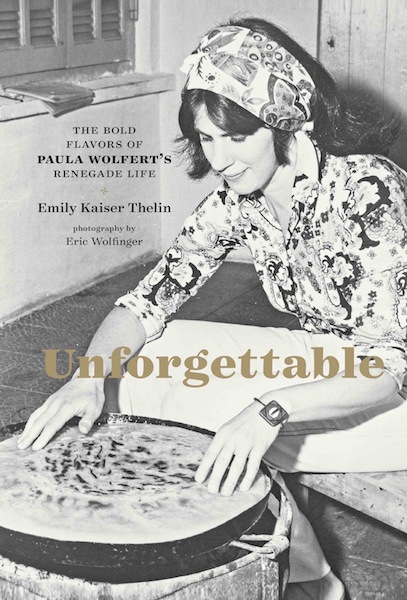 Sonoma County has its fair share of food luminaries, but few have the chops and pedigree of Paula Wolfert. The respected, if somewhat overlooked, cookbook author is best known for introducing many Americans to couscous, Aleppo peppers and other elements of Mediterranean and Middle Eastern cooking. She also happens to lives in Sonoma with her husband, author William Bayer. A veteran world traveler who was born in Flatbush and made her home in New York City for decades, Wolfert settled in Northern California almost 20 years ago.
Luckily for those, like myself, who had yet to discover the work of Ms. Wolfert, a new book by former Food & Wine editor Emily Kaiser Thelin has arrived to fill us in. Unforgettable: The Bold Flavors of Paula Wolfert's Renegade Life (Mortar & Pestle; 2017) takes readers for a wild romp through Wolfert's cooking adventures in Tangiers, Greece, New York, Turkey, Syria, Southwest France, Russia, and beyond. Each section is followed by some of Wolfert's favorite recipes from the preceding time period.
Unlike Julia Childs –who commended Wolfert on her first book saying, "I think it is an excellent book, the first one I've seen that really explains how to go about things"—and the waves of celebrity chefs that followed in her wake, Wolfert never had her own TV show and never achieved the level of fame of many of those chefs. For one, she isn't much of a self-promoter, a surprise in an era where everyone with good teeth and a knack with a pan aspired to be on the Food Network.
"There is something wrong with me," Wolfert tells Thelin. "I never did the right things to make money. I could have created a product, a line of cookware, or gone on television. I just did things that interested me." What really interested her was storytelling, sussing out the stories behind the recipes, while learning everything she could from the home cooks and chefs, some known but mostly not, across the Mediterranean and the Middle East. She never bought into trendy concepts like "nouvelle cuisine," preferring to focus her attention on foods that she loved to cook and loved to eat. Even if those recipes sometimes called for six different types of pork.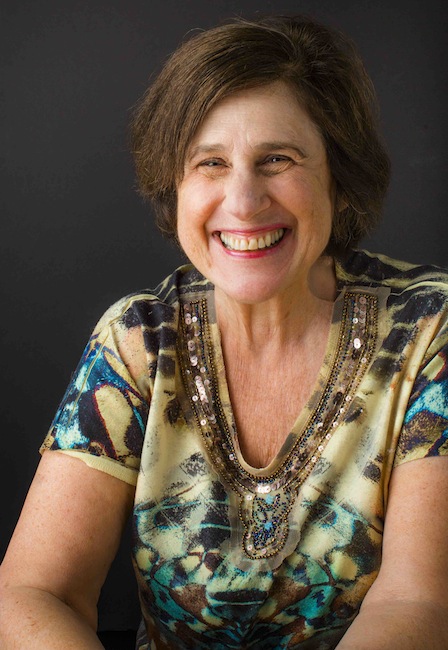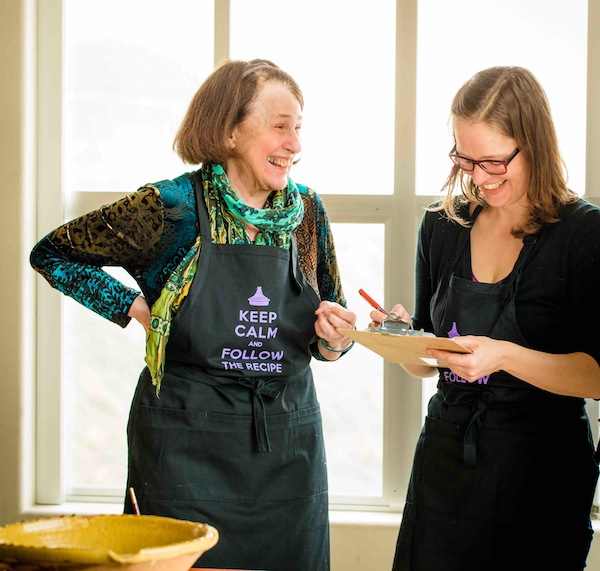 Wolfert also proves herself to be tough as nails, carving out a career in food in 1960s New York City as a young, single mother of two. She researched, cooked, and wrote with the fervor of the truly obsessed. She's was also incredibly resourceful: there was the time she spent three weeks living and cooking with Madame Khadija Jaidi, the Moroccan consul general's mother and a revered cook. Jaidi became Wolfert's mentor and friend after a whirlwind few weeks of lessons in the making of wild greens herb jam, tagines, and bastilla—a sweet-savory pie filled with braised pigeon and almonds. And then there was the instance when Wolfert wanted to travel to Armenia to do research for a potential cookbook in 1989, but conflict in the region prevented her from crossing over from Georgia. On returning to the U.S., she collected cookbooks from Armenian churches across America, and used those to learn the country's cuisine. Stories of tenacity and creativity like these abound in Unforgettable.
Now 78, Wolfert's travel and writing have been cut short by Alzheimer's disease. The diagnosis came in 2013 after episodes of memory loss and worrying lapses in comprehension. Things came to a head in late 2012 when Bill asked for an omelet for lunch. Wolfert had mastered the art of making omelets in the 1950s as a student of Dione Lucas, a lauded instructor of French cuisine. But, 50 years later, Wolfert turned to her husband and said: "Wait a minute, how do you make an omelet?"
From someone else, this might have seemed like just a blip. Not in this case. This is a woman whose first cookbook, written in 1973, Couscous and Other Good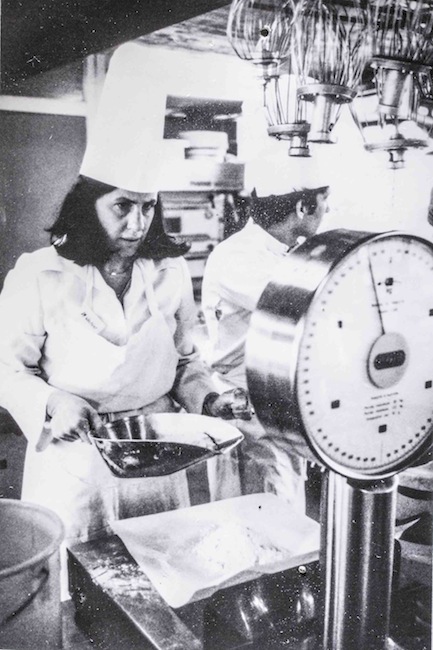 Food from Morocco, influenced the likes of Alice Waters, who incorporated couscous into the menu at Chez Panisse. Wolfert went on to write seven more cookbooks, beloved as much for the (often elaborate and complicated) recipes, as the storytelling.
The Alzheimer's diagnosis spurred Thelin—who met Wolfert in 2005 while on assignment for Food & Wine — to propose a book project. It was made all the more urgent with the reality that Wolfert might lose access to the thousands of memories from her remarkable life. Unfortunately, after writing up the proposal, they discovered that most publishers weren't interested, saying Wolfert's time had passed. Undaunted, Thelin turned to Kickstarter. With donations from the likes of chefs Mario Batali and Daniel Patterson, and Wolfert's numerous fans, Thelin was able to raise over $91,000, enough to to publish a beautiful, full-color biography with recipes and photos by talented food photographer Eric Wolfinger. You can see a sample of his work in the Mint and Egg Salad recipe below this article.
The result is a gorgeous hybrid cookbook and biography that reads like a page-turning novel. A feast not just for the eyes but for the senses, and one that'll get you revved up to step into the kitchen with a sand pot, a frozen duck, and a fistful of Marash red pepper flakes. That same moxy Wolfert has shown her entire life is apparent in the way she approached her Alzheimer's diagnosis. Rather than giving up, she's focused on what she knew best to halt her decline as long as humanly possible—food. "She has turned to food as medicine, and it has reinvigorated her," writes Thelin in the appendix, which focuses on Wolfert's current diet and Alzheimer's fighting regimen, a list that includes Bulletproof coffee with coconut oil and grass-fed butter, lots of berries and wild fish, and other brain-building foods.
"I like real food," Wolfert tells Thelin during one of their many cooking sessions. And, thanks to Unforgettable, we get to find out exactly what that food looks, tastes, and acts like.
 Article resources:
Unforgettable: The Bold Flavors of Paula Wolfert's Renegade Life is available locally at Reader's Books  and Copperfield's Books.
---
Mint and Egg Salad
Recipe and text excerpted from 
Unforgettable: The Bold Flavors of 
Paula Wolfert's Renegade Life 
by Emily Kaiser Thelin 
Recipe photo by Eric Wolfinger 
This is nothing like your grandmother's egg salad. Instead of a heavy mayonnaise dressing, eggs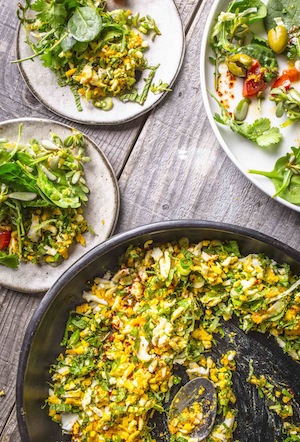 are tossed with vibrant slivered mint leaves and a light dressing of olive oil and lemon. What makes this salad unforgettable is Paula grates the eggs, so they are ethereally light. (As her longtime editor Fran McCullough notes, grating also makes traditional egg salad velvety smooth.) Paula offered this recipe as an accompaniment to köfte, Turkish grilled meat skewers. But it's so good, it's been doubled here to be enjoyed as a stand-alone or with a green salad as a light meal.
4 large eggs 
1 to 2 cups (30 to 60 g) slivered mint leaves (depending on 
the intensity of the mint) 
1 cup (90 g) thinly sliced green onions, white and 
green parts 
2 teaspoons mild red pepper flakes, preferably Marash 
2 tablespoons fruity extra-virgin olive oil 
Juice of 1/2 lemon 
Flaky sea salt 
Serves 4 as a first course or side dish.
 In a saucepan, combine the eggs with water to cover by 2 inches (5 cm) and bring to a boil over high heat. Lower the heat to medium-high and cook for 6 minutes.
Drain and place under cool running water to cool. Peel the eggs. 
Using the large holes of a box grater, and working over a large bowl, grate the eggs.
Add the mint, green onions, and red pepper flakes and mix well. In a small bowl, whisk together the olive oil and lemon juice to taste, then drizzle over the egg mixture and toss to coat lightly and evenly. Season with salt. 
Serve at room temperature or slightly chilled.