Drinking Atole and Champurrado in Roseland. 
On Saturday mornings, after dropping my father off at his job, my mother would crawl into my bed and ask: "Quieres champurrado?" She was speaking of the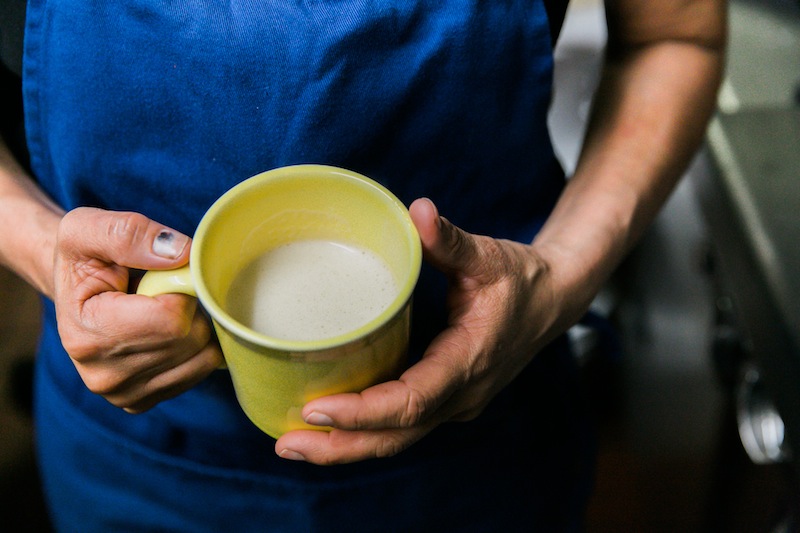 warm, cinnamon drink, thickened with masa (cornmeal dough used to make tortillas) and infused with vanilla, Mexican chocolate, and an unrefined sugar cane called piloncillo. It's a Mexican comfort food ladled lovingly into a styrofoam cup from a taco truck/food cart, otherwise known as a puesto, or if you're lucky, served to you in a clay taza from your Mexican grandmother or mother.
I was blessed to grow up enjoying champurrado from both. My mother grew up in Mexico City, where you can find every style of champurrado imaginable in the city of 20 million. She learned how to make atole—a milder sister of champurrado made without chocolate in vanilla and strawberry flavors—from her mother. Oftentimes, on Sundays, my mother would make vanilla atole and serve it with moyettes, toasted bread covered in black beans, melted cheese and avocado. It was a rich meal that we would eat as a family early in the morning before collapsing into a warm nap.
But on Saturdays, my mother and I would skip out on the kitchen and instead head out in the morning to Sebastopol Road in Santa Rosa's Roseland neighborhood in search of the perfect champurrado or atole. We'd pick it up from one vendor, then drive to El Farolito where we'd split a carne asada torta with extra avocado and pickled jalapenos. Then we would visit Pasteles Cristina for either a fruit basket cake, a pastel de tres leches topped with fresh strawberries and peaches, or a beautifully caramelized flan.
All the while, we'd sip on our champurrado, the warmth of Mexican spices and flavors reminding us of home.
An Aztec Tradition 
Andrea Lawson Gray is a food anthropologist, author of Celebraciones Mexicanas: History, Traditions and Recipes, and a private chef specializing in Mexican cuisine at Tres Señoritas Gourmet Mexican Catering. With coauthor, chef, and Mexico native Adriana Almazan Lahl, she traces the origins of traditional Mexican foods and the customs, holiday celebrations, and background from which they derive.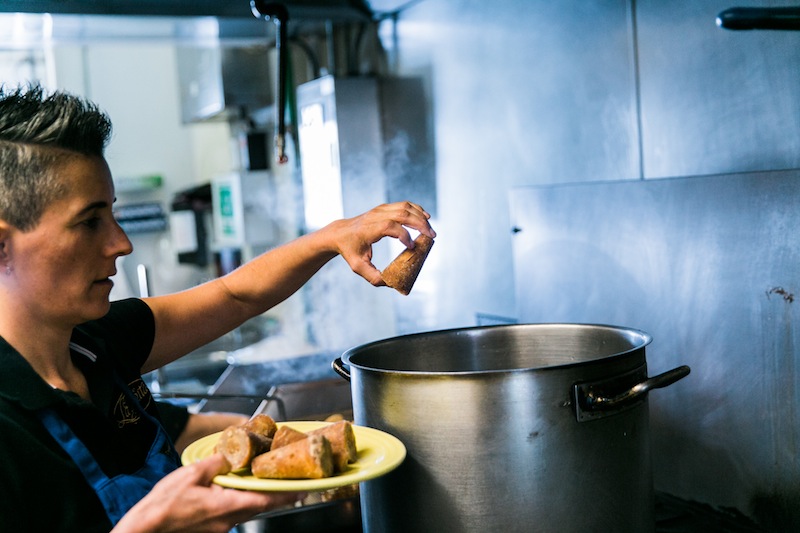 Champurrado, according to Gray, has been part of the lexicon of Mexican food since Aztec times. She traces the first writings on atole or champurrado to Francisco Hernandez, a Spanish botanist reporting back to Spain on his findings in Mexico in 1651. There are many different styles of making champurrado and atole. Due to the Spanish conquest of Mexico and its ensuing impact on food culture, some variations are made with milk, while others continue simply using water as the base.
Gray's first sip of the drink came from a street vendor in Tenango del Valle in Mexico.
"I really loved the champurrado," she says. "It was great because it wasn't too sweet, and it was really comforting; when I came back [to the U.S.] I found that there were people here [in San Francisco's Mission District] selling it on the corners. There were a couple of street corners where Mexican women would sell that same Mexican almuerzo to people who were laborers."
As she started investigating the origins of the drink, she learned that atole and champurrado were served during holidays like the Día de La Virgen de Guadalupe, which occurs on December 12 when millions make the pilgrimage to the Basilica de la Virgén de Guadalupe. On February 2, Día de la Candelaria, another popular Mexican holiday, people host parties, inviting friends and neighbors over to partake of atole and tamales.
After years of culinary training in central Mexico, Gray continues the tradition of making atole and champurrado for private catered events. The secret to making the best atole is fresh masa, she tells me. Her favorite is the fresh masa at La Palma in San Francisco. In Sonoma County, you can find it at El Molino Central in Boyes Hot Springs. If, however, you aren't able to get your hands on fresh masa, any Mexican market like Ranchero Mendoza Super Mercado or Lola's Market will have Maseca brand masa which is perfectly adequate.
"For me part of it [preparing champurrado] really is just the pleasure of making it, using the clay pots, using the old tools and methods," says Gray. "It makes it so much more special— it's more loving when you give it, you know?" Gray's attitude is similar to those I've encountered on my travels in Mexico, and within my own family. When you serve food or you give something, you serve it with love. In other words, there's joy in sharing a gift with someone. Even though champurrado is simply a drink, it is also an offering.
 Amor y Cinnamon 
Alma Mendez, the owner and chef of La Texanita (1667 Sebastopol Road), first brought atole to Roseland in 1998 with her food truck. At the time, unlike now, there wasn't much competition on Sebastopol Road. Alma had recently immigrated from Mexico, bringing with her culinary traditions from Jalisco. One of her neighboring food trucks sold champurrado—to offer something different, she specialized in a sweet, thick, cinnamon-infused atole based on her mother's recipe.
"The most important ingredient in champurrado is love"
"The most important ingredient in champurrado is love," Mendez says with a laugh. Back in Jalisco, where she grew up, atole was served with tamales during Christmas celebrations during the coldest months. In different states of Mexico, she tried a variety of atoles including chili and tamarind, but she prefers serving the style that she grew up with— traditional vanilla.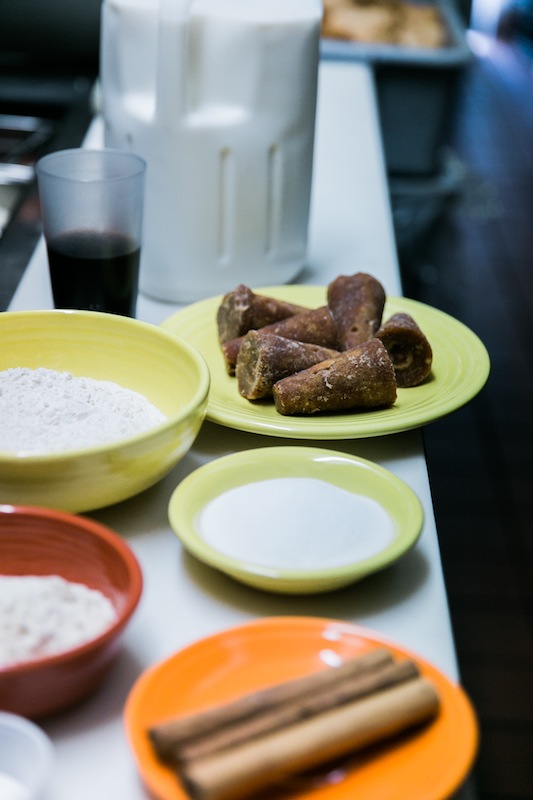 Wandering down Sebastopol Road past Mendez's restaurant La Texanita, you'll find a great variety in the champurrado served at different food trucks. One of my favorites was served in front of La Fondita (816 Sebastopol Road) where I discovered a champurrado that was thick, heavy on the cinnamon and the rich taste of piloncillo. Served in a styrofoam cup, it tasted similar to the homemade variety that I grew up with. After splitting it with my boyfriend, I wish I had ordered my own cup.
A truck nearby at the intersection of West and Sebastopol Roads served the style of tamales that are typically served with champurrado. I ordered a pork tamale that was doused in spicy red salsa with chunks of dried chile and covered in queso fresco. I could have eaten three of them, but I knew I needed to save room for more champurrado.
Zigzagging closer to La Texanita, near the Roseland Gas Mart, another vendor sells champurrado at a small food cart. This version is lighter and served in an enormous cup. Made with milk, the cinnamon flavors are very mild. It's a sweet complement to food from the neighboring food truck, in particular the sour orange and achiote and topped off with vinegary, pickled onions.
On weekends, when I'm feeling particularly homesick, I call my mom from Oakland where I live and ask her if she wants to grab a cup of champurrado. When I arrive at her house after the drive north, she'll sometimes surprise me by having already gone to Roseland for my favorite tamales and champurrado. We enjoy them together in my childhood home. Each sip reminds me of my favorite memories in Sonoma County—and that the gift of food and traditions really is in the giving.
Article resources:
---
How to Make Champurrado at Home
MAKES 6 SMALL CUPS
1 cup prepared tortilla masa (Maseca brand or 
equivalent—not tamale masa) 
1 cup milk 
5 cups water 
1 cinnamon stick 
1 disc Mexican chocolate (available in Latino markets 
under brand names Ibarra or Abuelita, but 
artisanal chocolate or chocolate from Oaxaca is best) 
6 oz. brown sugar or 
1.5 cones of piloncillo, grated 
Courtesy of Andrea Lawson Gray and Adriana Almazan Lahl from the book Celebraciones Mexicanas: History, Traditions and Recipes. 
Blend masa with a cup of water by hand or with a blender until there are no lumps left.
Add a second cup of water gradually and continue blending.
Heat the remaining water in a saucepan to boiling and then lower to medium heat.
Add the cinnamon, chocolate, and sugar or piloncillo.
Once the chocolate is dissolved and starts to boil, add masa mixture and stir constantly to avoid lumps and to keep from sticking to the bottom of pan. 
Lower heat to medium and continue stirring until masa is cooked (30 minutes), then add milk and stir for five