In which the editor brings you up to date on the happenings of some of our previously profiles people still doing awesome things and continuing to feed, beautify, and inspire our community.
---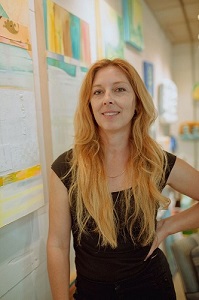 Sculptural painter Nell Hergenrather, Made Local Magazine's very first featured artist, has continued to expand her artistic ambitions and offerings. Find her at Art Trails from Sept. 30-Oct 1 and Oct. 7-8 in Studio #69 at 1365 Kowell Road, off West College in Santa Rosa. Her show, Coastal, is hanging at Spinster Sisters through October 7.
"I have been working in a new medium, encaustic, which has its origins all the way back in the sealing of ship hulls with beeswax," Hergenrather explains. "Pigment was then added to decorate the ship hulls and voilà, a paint that resists moisture and lasts literally ages! This ancient technique allowed for the perfect preservation of artwork over 2,000 years before Picasso was around. As an art and art history nerd, I find this to be a most impressive feat."
To sign up for her mailing list: nellhergenrather.com
Instagram @nellhergenrather
---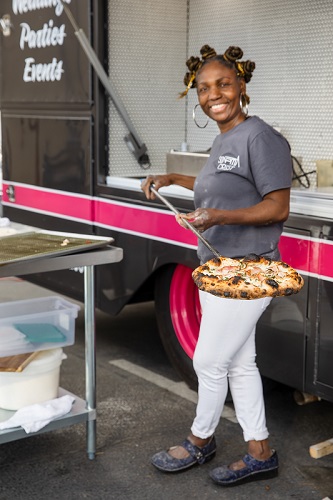 When it comes to the food she serves, Anne Sanusi of Sonoma Crust has always been a self-proclaimed control freak. "I'm not a one woman show, but it seems like it," she tells me. "I want things to be done the best way they can be." When demand for her coveted chicken and waffle sandwiches and beignets inevitably eclipsed her ability to keep up, she knew it was time to pivot. "I needed to be kind to my body, to make some time for self-care."
Upon the completion of her 1948 International dump truck transformed into a mobile pizza oven, Anne closed her small cafe and threw all of her abundant energy into catering. Although her offerings have shifted, her commitment to perfection and exacting standards remain. The pizza dough is a four-day process that begins with biga (an Italian starter) and bulk fermentation and ends in a 680-720 degree oven, rendering a crispy crust with that perfect toothy chew.
Examples of her signature pizzas, which she classifies as Neo Neapolitan, include Fungi Love on a cream sauce base finished with lemon zest and the 'Roni Beesting, which features Ezzo pepperoni, serrano, shaved red onion and a drizzle of spicy habanero honey. Besides catering events, Sonoma Crust has also been filling gaps at Cooperage Brewing Co. and doing pop-ups at the former Dutton Avenue location. Chicken and waffle lovers need not lament—when the scheduling stars align, they are also offered along with beignets at select pop-ups. "I said I'm going to slow down, but…not so much," she chuckles.
For pop-up dates and locations, follow on IG: @sonomacrust
For more information about catering and events: sonomacrust.com