Meet An Artist: Filmmaker Ian Nelson
While growing up in the beautiful and diverse landscape of Sonoma County, Ian began exploring his interest in creating various forms of art, from drawing to playing and writing music to filmmaking.
During his time at Santa Rosa High School, Ian learned and developed the basic skills of filmmaking and would often shoot and edit short videos with friends. His increasing passion for filmmaking led to his college education at the Academy of Art University in San Francisco, where he received a BFA in Motion Pictures & Television with an emphasis in cinematography.
Throughout his studies, Ian embraced his love of the outdoors and began creating wildlife and nature documentaries. These projects not only raise awareness of conservation efforts for threatened and endangered species but also convey the actions that can be taken to help protect the ecosystem at large.
Ian's latest documentary, Pepperwood: Rising from the Ashes, delves into the story of Pepperwood's experience with the devastating 2017 Tubbs Fire and 2019 Kincade Fire. The film artfully demonstrates how California's local ecosystem rebounds and even flourishes after a wildfire. Staff members from Pepperwood, including scientists, researchers, and Indigenous educators explain the benefits of cultivating a natural fire regimen on the land to nourish the flora and fauna, and how this can help to keep the surrounding communities safer from future wildfire threats. Pepperwood is actively working to restore this practice, among other methods, to better steward the land for future generations.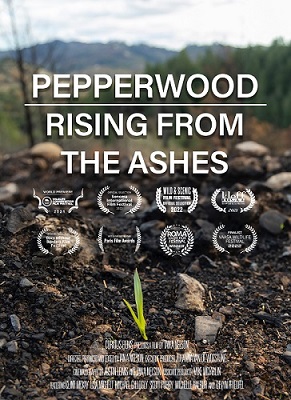 Ian continues to follow fascinating and important stories about wildlife, nature, climate science, and people's connection to the natural environment—all of which inspire viewers to become more aware and connected to our planet.
"Ian Nelson is a masterful visual storyteller with a unique talent for capturing the dynamics of the human-nature interface. His film, Pepperwood: Rising from the Ashes, is an astounding testimony to the resilience of the natural world.
His artful camera work captures the most delicate of natural phenomena, while he weaves his sensitive interviews representing multiple perspectives of our science and education team into a healing narrative. I await his future works with eager anticipation and am delighted he is committed to sharing our collective place-based learnings."
—President & CEO of Pepperwood Foundation, Dr. Lisa Micheli