Café Aquatica offers organic food, art and music with a view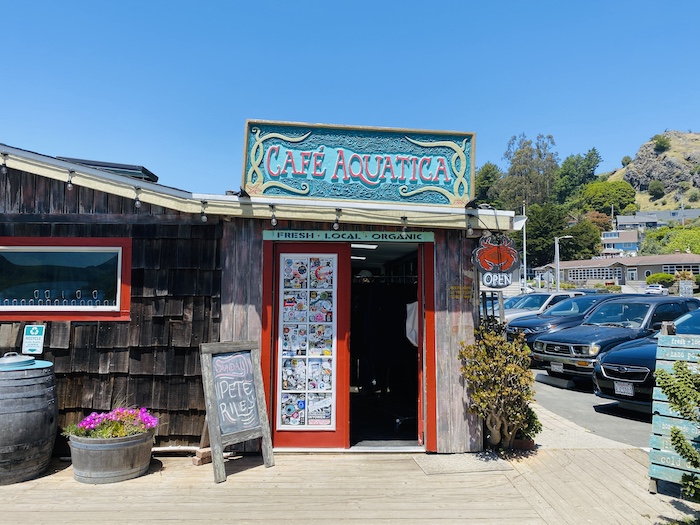 Like the oceanside hamlet it resides in, Jenner by the Sea, Café Aquatica is both a rest stop and a destination. Regardless of her customers' travel plans, however, owner Rachel Kulinski makes it feel like home to all. A self-described transplant from the Midwest, she moved to West County 10 years ago. "I was looking for that California Dream," she says. "As soon as I arrived here, I was like, 'Oh, I've found my people. I've found where I want to be established.'"
Rachel brought her farm-to-table sensibilities and grassroots values with her when she purchased the business five years ago come October. The cafe's warm, rustic interior has a distinct down-to-earth vibe with its wooden order counter, its hanging overhead chalk board menus, and locally made ceramics, T-shirts and art lining the walls. The building itself sits on the south end of town overlooking the water's edge, with seating outside on a covered deck or on weathered wooden lawn chairs, all with wide, calm river and ocean views.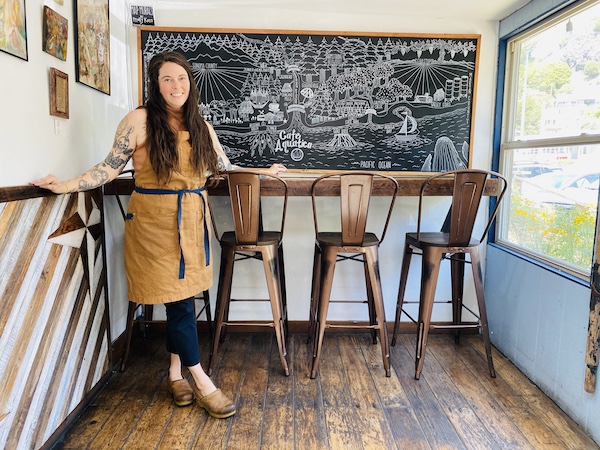 The cafe's food menu proclaims "Coastal Cuisine with a local twist" and includes, among other things, gluten-free clam chowder ($9), smoked salmon salad ($15), and seasonal local Dungeness crab and eggs ($20) — all made with organic ingredients. The drink menu offers a full selection of coffee-based beverages using coffee that is fair trade, single origin and locally roasted in Freestone by Café Aquatica's former owner, who now runs Ataria Coffee Collective. "We have a great relationship, and they still get to roast all the coffee," Rachel says. "So I can focus on the food and the day-to-day operations and things like that."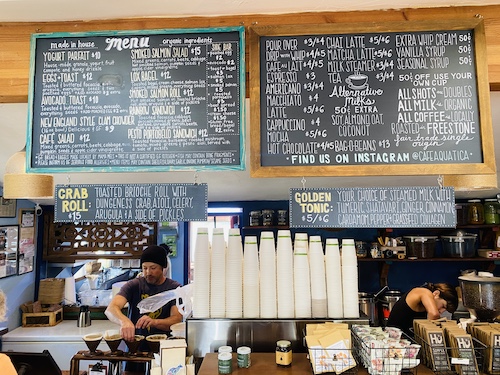 Supporting local and women-owned businesses is important to Rachel. Ten of the cafe's 12 employees are female. The wine the cafe now sells is canned and distributed by women-owned Maker, and one of the cafe's best-selling products is Sister Harvest Golden Tonic, locally made by herbalist Brittnie Hall. "That's her proprietary blend," says Rachel. "We sell a lot of it."
On a back wall hangs framed artwork by Maeve Riley, the latest local artist to be displayed in an ongoing rotating art show. On another wall hangs an eye-catching chalk mural Rachel commissioned from Sebastopol artist Molly Kars which depicts a lively Jenner/Russian River-centric mapscape of coastal Sonoma County emanating inland as far as Sebastopol. The map/mural seems to sum up Café Aquatica's good vibe in a single, wildly creative image.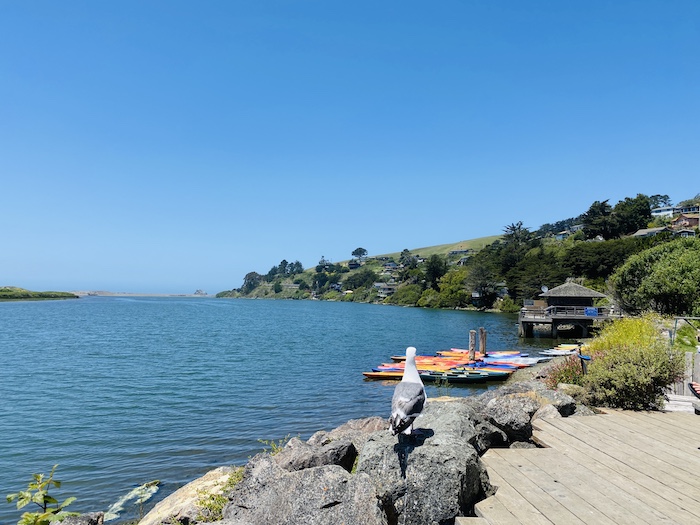 Café Aquatica is open seven days a week, 8 am to 4 pm, every day of the year except some holidays. There is live music every Saturday and Sunday from 11 am to 3 pm (weather permitting) and tarot readings by Made in Moon Medicine happen regularly as well as open mics and other events. "Now that it's getting nicer out and Covid is less of an issue, we're trying to do more pop-ups and community-based events," says Rachel.
Event or not, Café Aquatic is well worth the trip.
10439 Hwy 1, Jenner by the Sea
707.865.2251
Check out the website for the full menu and a calendar of events: cafeaquaticajenner.com
For more about the Ataria Coffee Collective:
facebook.com/cricketindustries
Local, female-run businesses mentioned above:
Instagram: @maevefloodriley
Instagram @madeinmoonmedicine
---