Down to Earth
Wine, cider, art, and community at Horse and Plow
---
You could ask Suzanne Hagins, owner of Horse and Plow in Sebastopol, why she chooses a new artist every quarter to grace the walls of her little winery's tasting room, or why every Sunday she books a different band to play right outside the roll-up door, or why she hosts poetry readings or schedules yoga classes in the small Redwood Grove a stone's throw away.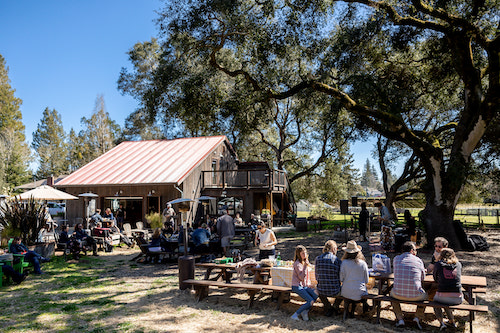 You could ask her why, in the midst of a global pandemic, she produced a play, which she had never done before, outdoors at the winery. You could ask, and she would simply answer that it's because she loves it.
"I just love art. I love it and I want to help local artists showcase their work for others to see." Her smile is genuine. She brings in a different local artist to feature and promote every three or four months because "I want to create a space for fostering creativity and a strong sense of community. I want to create a sense of place." In all her endeavors, again and again comes this singular expression. She has been growing and cultivating this "sense of place" for years.
From the food and beverage industry in the Carolinas and Georgia, she went to Champagne, Alsace and Burgundy, in France. There she worked her first harvest and solidified her interest in wine through food, enchanted by the alchemy that pours out of each bottle.
Suzanne had found her purpose. She felt alive, immersing herself in the study of terroir, how each wine "is a snapshot of a vintage, of a place at a certain time. It is a sense of place, there, in a bottle."
When she left France, she came straight out to California. "I was from South Carolina," she says, laughing and shaking her head. "After France, there was no going back to the frozen winters and wet rotten vines. No. It had to be California."
Armed with a BA in ecology from San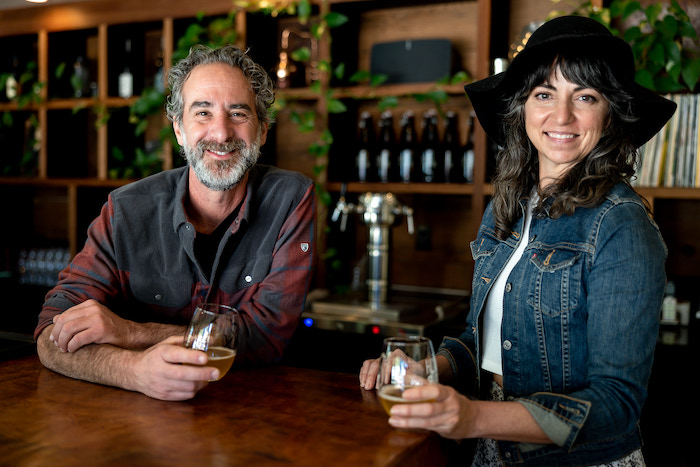 Francisco State, her California-born and -raised partner Chris Condor went on to Davis to earn an MA in ecology and viticulture. His father sold wine, so as a young child he had already understood that wine was a way of life.
Out of their shared loves—the planet and wine—Horse and Plow was born. Right off Hwy 116 in Sebastopol, on two acres nestled between an old farmhouse, several small groves of redwoods, a couple of ancient oaks, and some gnarled Gravenstein trees, sits the tasting room and gallery.
The small but extremely industrious winery opened the tasting room in 2008. There was an old barn, "so decrepit, we had to tear it all down," that was still destined to become the tasting room in some form: "In the spirit of sustainability, we repurposed much of the wood."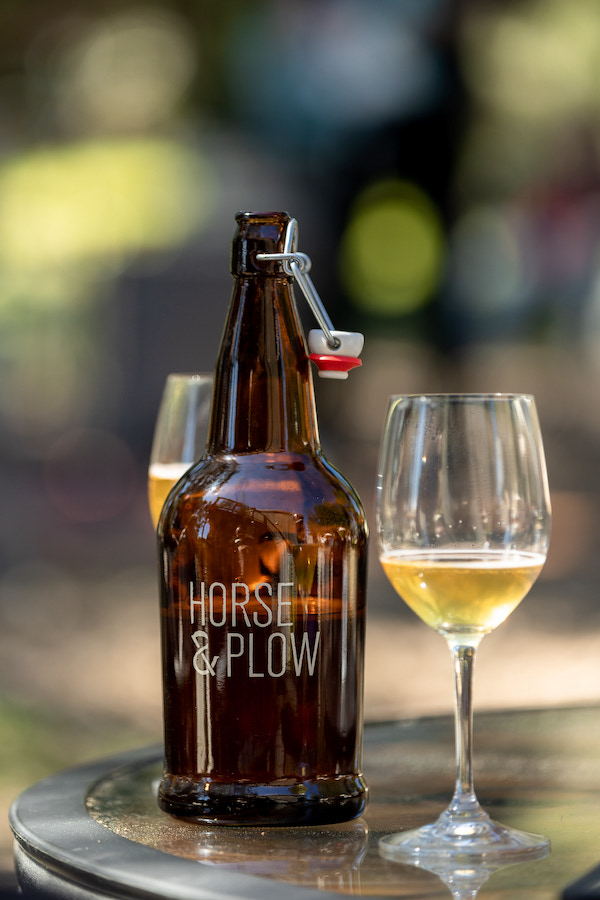 Suzanne loves to show the space, pointing out several wooden accents that stand out against the painted walls, made of beautiful old redwood, polished so that the deep reds and golds with gnarled black knots shine brightly even in the diffused light of a rainy mid-morning. She motions toward the main tasting room and smiles. "The bar," she says, shrugging, as if to say, can you believe it? I take in the long slab of wood, with multiple coats of varnish bringing out each knot, each ring, each ding and imperfection. "The wood was just there for the taking. It is still hard to believe that such beauty came from a barn teardown," Suzanne says.
Though Suzanne and Chris are no longer married, they are very much a team—devoted to their young son and dedicated to building community while continuing to grow their business.
"It is what holds everything together," she adds. "Not to mention that focusing on this community means we want to conserve, to reuse, to practice organic farming, everything we can think of—we insist on. From the grapes we buy to the apples we source, we demand that conservation be kept at the forefront of our minds."
They currently work with four Sebastopol-based orchards, in addition to sourcing from the small orchard on the property. Wines are sourced from all over the North Coast and Napa, and the wines are all vegan, with no GMOs and low sulfites. In the spirit of community, and as a nod to the French, patrons can buy one-liter growlers for between 20 and 30 dollars to fill and refill with a rotating selection of cider and wines. Refills are discounted 20 percent.
"Our goal, once sustainability is reached, is to make balanced, site-specific drinkable wines and ciders," she says. "And we aren't snobby about it, we just love it. We try to represent and showcase the beauty of West County in every wine and cider."
1272 Gravenstein Hwy
Friday-Monday, 12pm-5pm
Art opening for featured artist Wil Smith (see Meet an Artist) entitled Bits and Pieces on Friday, May 19, 5-8pm
---