Mixologist Milo Lawrence At The

Astro's Louche Lounge
---
As the clock strikes cocktail hour on St. Patrick's Day, I roll into the Astro Motel parking lot in my new-to-me car, the ink still wet on the papers over at a local dealer. Both of these businesses have been recommended to me by this magazine's graphic designer, Kernan Coleman. The man knows cars, he knows a good cocktail, and he most definitely knows the mid-century splendor of The Astro Motel, as his partner, Bob Guffanti, is the manager.
For a few months now, the Louche Lounge inside the Astro has been inviting people to take a much-needed respite from the 21st century. Walk through the doors and you are transported back to 1963, when the Astro originally opened, into what could be a living room out of Mad Men. A purple, black, and white geometric rug anchors the seating area, which includes a black leather couch, vintage Crown amplifier, and a Sputnik-style chandelier, most of it bought at auction by the owner and placed by Spring Maxfield, who also curates the rotating art collection.
Old ad signs share wall space with a framed photo of the Kennedys and the motel's original switchboard, retired in the 1980s after two decades of use. But the real draw is standing behind the impeccably organized bar: mixologist Milo Lawrence, serving up libations that are as modern as the space is retro.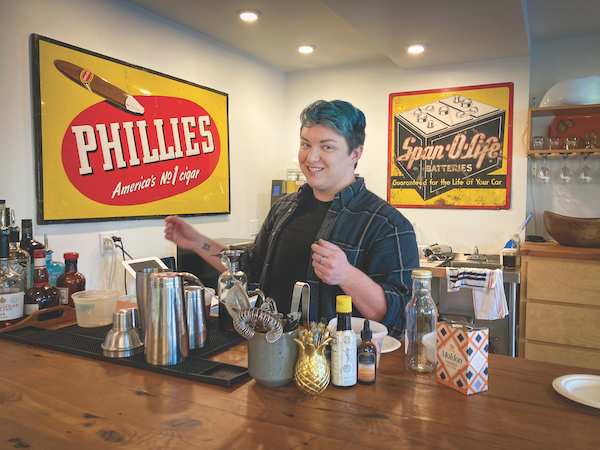 "I love doing small fiddly things with my hands," says Lawrence, a Santa Rosa native who graduated from Maria Carillo before going to NYU in 2009.
For the next hour, I sip my Pay the Piper—a delightfully sweet and spicy negroni with aperol, gin, lime, plum, vermouth, and crème de violette—and chat with Lawrence about all those small fiddly things, beginning with their career in theatrical design, making scale models of set designs. (So beloved was the Hogwarts Castle, involving months and months of work, that they went on to display it at Comic Con.)
After 12 years in New York, Lawrence came home. They found that "Santa Rosa had grown in exciting ways" and "was definitely more interesting." Needing something new to do with their hands, Lawrence started making stained glass art in the garage—slicing glass with a diamond cutter, rolling the pieces in copper foil, and then soldering them together.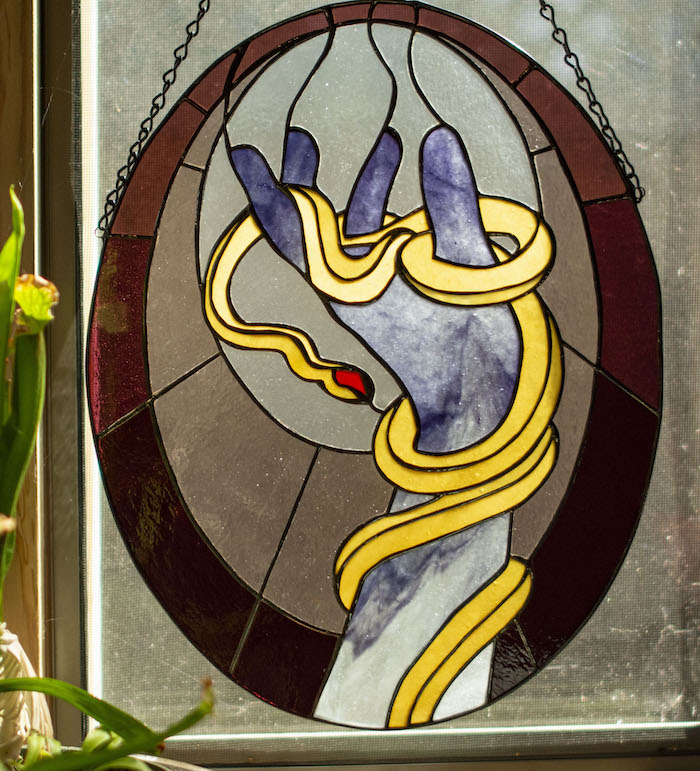 They sell lamps, light boxes, clocks and window hangings in designs that range from geometric to tidal to spooky, including skulls and serpents. The scraps find their way into earrings of every imaginable shape.
So how did they wind up creating cocktail art here at the Louche Lounge?
It started with Eric Anderson and Chef Liza Hinman, co-owners of the Spinster Sisters restaurant in the SofA (south of A) neighborhood, who bought the decrepit Astro in 2017 and, thanks to local artists, turned it into the kind of place a bride and her fiance host their meet-the-parents weekend instead of, as Lawrence puts it, "the place everyone was skeeved out by." Reborn from the ashes of its past, the motel housed fire evacuees and volunteers during the Tubbs Fire and unhoused seniors and others during the pandemic before officially reopening to the public in 2022 (it also opened its doors
and lowered its rates for flood evacuees this past winter).
Anderson knew Lawrence's theater boss in New York and also happened to go to high school with their aunt—so when a bartender was needed for his new cocktail bar, someone who could capture the nostalgia of Saturday morning cartoons and cereal milk in a grown-up beverage, they fit the bill perfectly. Lawrence's Lucky Charms cocktail begins with a nitrogen infusion of the cereal into Irish whiskey, which shares the glass with Drambuie, brown sugar, Bailey's Irish Cream, Grand Marnier, and is garnished with a sprinkling of marshmallows from the cereal box.
"I get really excited about beets," says the person who pairs beet juice with vermouth, rye whiskey, lemon and the Scandinavian spirit aquavit in the Jitterbug Perfume, described as "an earthy, caramelized whiskey sour." Also on offer tonight is the Horizontal Mambo, a smoky, spicy pineapple margarita with mezcal and chile-infused agave. (Most of the cocktails can also be made into mocktails.)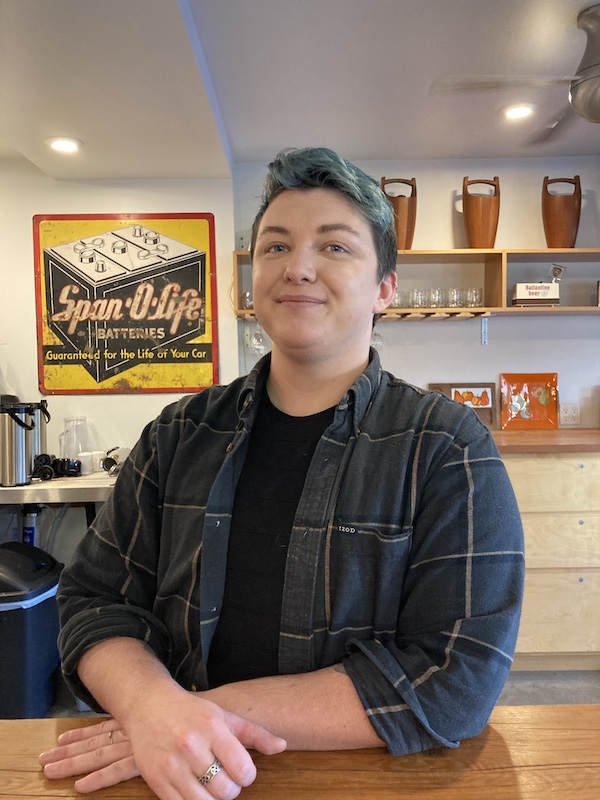 Chatting with Lawrence is as smooth and easy as my rapidly dwindling libation. We talk about thrift stores, kids today, cutting our own hair, the top-open notebook I'm scribbling in—another relic, this one from the '80s repository that is my childhood home. Just then the imminent bride, who'd borrowed six wine glasses for drinks with the parents in the outdoor garden area, swings back in: "You guys aren't gonna believe this. My mom brought her own wine glasses. I mean, who does that?"
We have a chuckle and bid her good luck, Lawrence gets back to behind-the-bar fiddling, and I feel a warmth suffuse my body. The cocktail didn't hurt. Nor the rare blast of sunshine in the midst of a most soggy season, or my new-to-me car with its pleasing leather scent.
But what's really lighting my internal fire is that I can't wait to introduce the Louche to people. Santa Rosa, my home for almost 20 years now, really is an interesting place—thanks in no small part to cool, innovative people like Milo Lawrence.
323 Santa Rosa Ave
707-200-4655
The Louche Lounge will be open Thursdays & Fridays, 5pm-10pm