What was once a Pontiac dealership, and so many other businesses, is now the home of Santa Rosa's first downtown community theater.
Photos by Paige Green Photography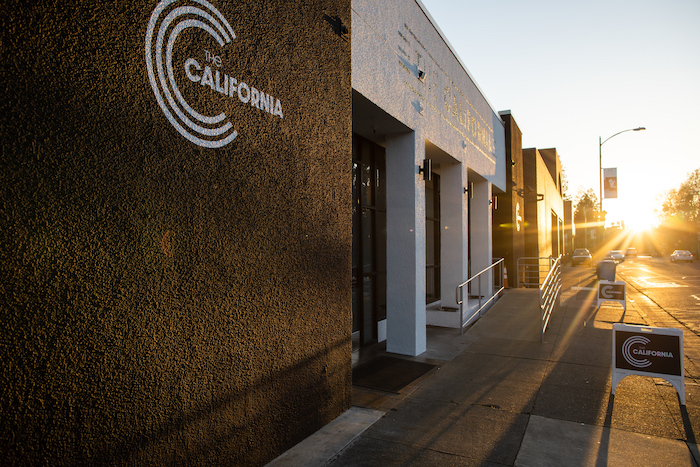 I walked into the new California Theatre last September with high hopes. A friend had invited me to see the musical Fun Home, based on the graphic memoir by Alison Bechdel, who produced the weekly comic strip Dykes To Watch Out For for 25 years. Bechdel's story about her relationship to her closeted, brilliant, likely suicidal father is tender, tragic, and at times hilarious, and its translation onto the stage earned it the Tony Award for Best Musical in 2016. Local production company Left Edge Theatre dazzlingly transported me into three different stages of Alison's life (played by three different Alisons), far from my red cushioned chair in the second row on Seventh Street in Santa Rosa, in the first downtown theater the city has ever had.
"It's been a dream of mine for years," said Chief Eternal Optimist of the theater, Argo Thompson.
Last April, Thompson, the artistic director of Left Edge Theatre since its inception in 2015, was planning its relocation from the Luther Burbank Center to the site of the former Gold's Gym on Fifth Street. Though the $150k they'd raised from pledges and grants would cover only a fraction of the $2 million needed for earthquake retrofitting that building, Thompson was excited.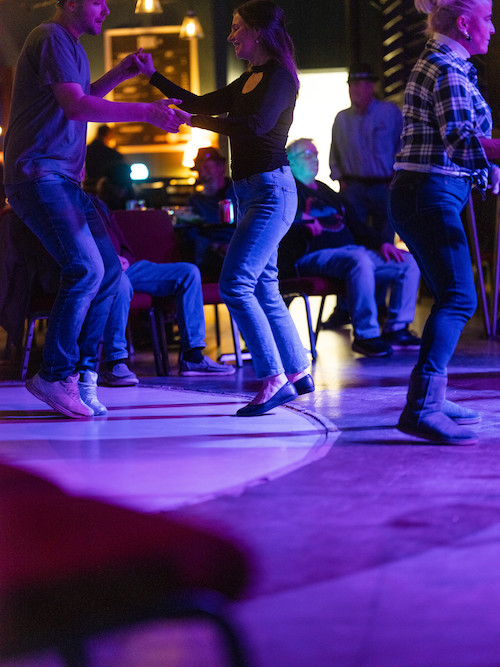 Then the deal fell through. The convergence of a fortuitous bike ride and a For Rent sign yielded something that turned out to be even better: a cavernous space with giant street-facing windows on Seventh that could be transformed, within budget, into the theater of his dreams.
Five months later, the California Theatre became the newest (and dare I suggest, most inspired) enterprise in a place that's housed a Burmese restaurant (wrong space, delicious food), Shuffles Magical Ice Cream Shoppe, a slew of night clubs, and in the 1940s, a Pontiac dealership. Former VIP rooms were converted into dressing rooms and a tech booth, accessible by a staircase that snakes up the left side of the stage (put to great use in Fun Home during a dance scene). The behemoth of a bar was torn out to make room for a dance floor, the walls painted a deep ocean blue. With its classic black and red décor and raised ceilings, the theater feels both airy and intimate.
"People here want the new, the sophisticated. No more Sound of Music," quipped Thompson, a fourth-generation Santa Rosan who was schooled at Piner High, Santa Rosa Junior College, and Sonoma State. So far, the California is proving to be exactly what local folks want; The One Act Play That Went Wrong broke all Left Edge ticket records, with Fun Home a close second.
Thompson's daughter Lulu serves as box office manager. In addition to Left Edge productions, the California opens its doors most nights of the week for comedy, vaudeville, cabaret, live music, and occasional private parties. A bar serves beverages and snacks, and soon they will offer the option of pre-ordering food from nearby Belly.
Wednesday nights are given over to weirdness—currently featuring Forbidden Kiss, created by long-time writer, director, and actor Cheryl King, who brought the show to Sonoma County from Manhattan, where it ran for 8 of the 26 years she lived there. Burlesque, dance performances, sketches, bawdy comedy—King creates a dynamic, ever-changing experience, and promises that no two shows are alike. "It's taken off like a rocket," she said, explaining how she enjoys finding ways to invite audience members, currently ranging from young 20s to young 70s, to participate. Recently, a naughty limerick contest garnered a dozen submissions from attendees, two of whom read their poetry onstage.
"There's no shortage of talent in the Bay Area," said Thompson, lamenting that their ideas sometimes outweigh their budget. "We're always sort of competing with ours
elves."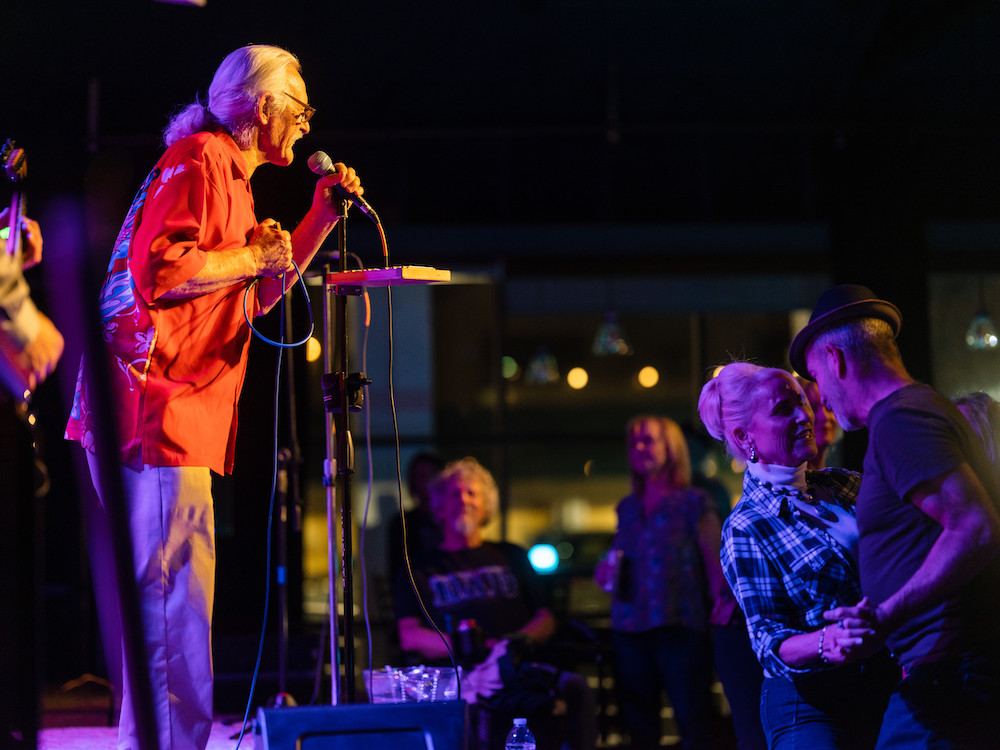 Then, there are the added challenges wrought by AB 5, passed three years ago, which ostensibly protects gig workers by mandating their employers pay certain benefits and limiting their contracted hours—a noble concept indeed. But when applied to smaller financially limited arts production companies like Left Edge, where rehearsals sometimes mean long hours, it can be crippling. "It makes it impossible for us to keep two dozen people officially on payroll, so they have to be categorized as volunteers rather than professionals, though they are paid the same," explained Thompson.
Though Thompson's acting career is now in the rear-view mirror ("I don't like how selfish I have to become to inhabit a new role," he admitted), he reminisced about the time he was playing dozens of roles in the comedic one-man play Fully Committed, answered the prop phone on stage—and totally forgot his lines. He chuckled at the memory: "What the audience experiences as a blip feels like an eternity when you're up on stage. There's no safety net."
Kind of like running a burgeoning nonprofit theater with razor-thin margins. Luckily, at the helm of the California is someone who can improvise, who invented a pizza guy on the spot and the audience, in thrall of the performance, was none the wiser.