Inspired by writer Rebecca Solnit's newest book, Not Too Late: Changing the Climate Story from Despair to Possibility, we are devoting this new section to spotlighting the people and organizations advocating for and enacting change—whether related to climate, economic, or other forms of social justice.
---
Meet Noelle Joh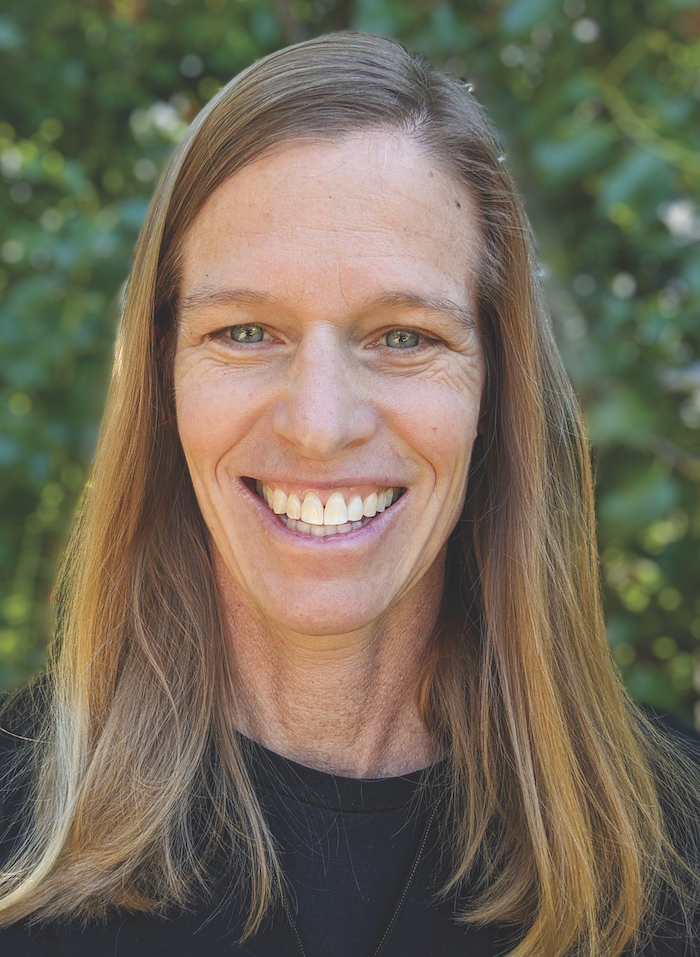 nson 
Deputy Director of The Gold Ridge Resource Conservation District
What is your organization's mission?
As a non-regulatory special district, The Gold Ridge RCD works to promote watershed and ecosystem health, climate change resilience, biodiversity, and water security on private and public lands by providing technical assistance, outreach, education, and project implementation.
What project(s) are you most urgently working on right now?
With our rapidly changing climate, it's hard to pinpoint which program is most urgent. We have a number of projects that promote community drought resilience and work to protect summer streamflow. Our forest health/fire preparedness program has been growing quickly. Our carbon farming program seeks to enhance soil health for carbon sequestration, and to promote climate resilience in our food supply and recharge groundwater by reducing storm runoff.
We work on pollinator recovery, including our beloved but imperiled monarch butterfly, and have a number of grants to enhance habitat for endangered salmon and other aquatic species. We are also launching a new program to support school gardens and to identify and address barriers to local produce procurement in our school lunch programs, both to help our farmers contribute to localized food security and to get healthier food to our kids. 
What measurable outcomes are you most proud of?
I've been at the RCD since 2008, so at this point, it's a long list. We've spearheaded the development of a website that tracks measurable outcomes for RCD projects across the state, called the RCD Project Tracker (https://www.rcdprojects.org/). It feels like we implement projects faster than we can update it, but it's a great tool for tracking things like acre-feet of water conserved and metric tons of CO2 sequestered. 
What I feel the most proud of, though, is our creativity in developing new programs to meet our region's changing needs. Our staff and geographic district are small, but we've been able to form a wide array of partnerships that have allowed us to spearhead regional initiatives and develop programs beyond our boundaries. While some individual projects offer some significant numbers (like a 513,000-gallon water storage tank under construction now at Salmon Creek School), it's the breadth of our work and influence that's most impressive. We generally have about 50 active grants at any given time, adding new ones all the time to address arising conditions that didn't even exist five years ago.
What are the biggest roadblocks/challenges to accomplishing your mission?
Although we are a public agency, we have no base funding and thus rely on an array of local, state, federal, and private funding sources to support our programs. So we have to rely on pulling in grant funds before we can act at scale. For example, we had very little funding for forest health and fuels management until the 2017 fires hit, and it's taken until recently to pull in significant implementation funding to move our planning work forward.
Another challenge is landowner awareness of our programs and willingness to participate: the RCD owns no land, so everything we do relies on broad participation on the part of the community. Our outreach is escalating, thanks primarily to AmeriCorps programs that have provided us with tech-savvy, early-career professionals who've been instrumental in helping us spread the word.
Our newest challenge, weirdly enough, is how funding agencies have tried to develop strategies to incorporate more equity considerations into their funding allocations. Many of these programs have relied on maps delineating Economically Disadvantaged Communities and prioritizing funding for their programs. But the strategy needs some fine-tuning, as the maps don't necessarily reflect reality—for instance, in Santa Rosa, much of Roseland is currently left off the map, while the MacDonald district is labeled "disadvantaged." (See the current map here: northcoastresourcepartnership.org/data/.) 
What do you wish local residents knew more about?
How small things can have a truly significant impact. 
A lot of people are following the plight of the western monarch butterfly, whose population, once numbering in the millions (or likely the tens of millions), plummeted to under 2,000 a few years ago.  We've since seen a substantial rebound, with preliminary results from the recent Thanksgiving counts at California's coastal overwintering sites putting them at over 300,000. 
I imagine there are various reasons for that recovery, but I think a primary factor is the sheer number of people who started paying attention and simply planted native milkweed, the monarch's sole larval food source. That very well may have proven to be exactly what the monarchs needed: a multitude of dispersed milkweed patches throughout their inland breeding areas. And in many ways, the monarch recovery is just what we needed: the rare (tentative) success story of a species brought back from the brink of extinction, an inspiring example of how the collective of small-scale actions can make a difference.
How can people support your work or get involved?
Sign up for our monthly e-newsletter, where we make regular announcements about new programs and opportunities. Of course, we love donations (there is a "donate" button on our otherwise outdated website). It's hard to fully express how wonderful it is to get even small amounts of flexible funding, as all our funds are tied to grant timeframes and deliverables. But the best way to support our work is to participate in our programs where you can, and to support legislative efforts or local measures that continue to fund our programs.
We have several programs to help rural residents with forest and grassland fuels reduction, including the North Bay Forest Improvement Program: 
afterthefireusa.org/our-programs/before-the-fire/
LandSmart Grazing: 
goldridgercd.org/htm/LandSmartGrazing.htm  
We also have a residential rainwater catchment rebate program: