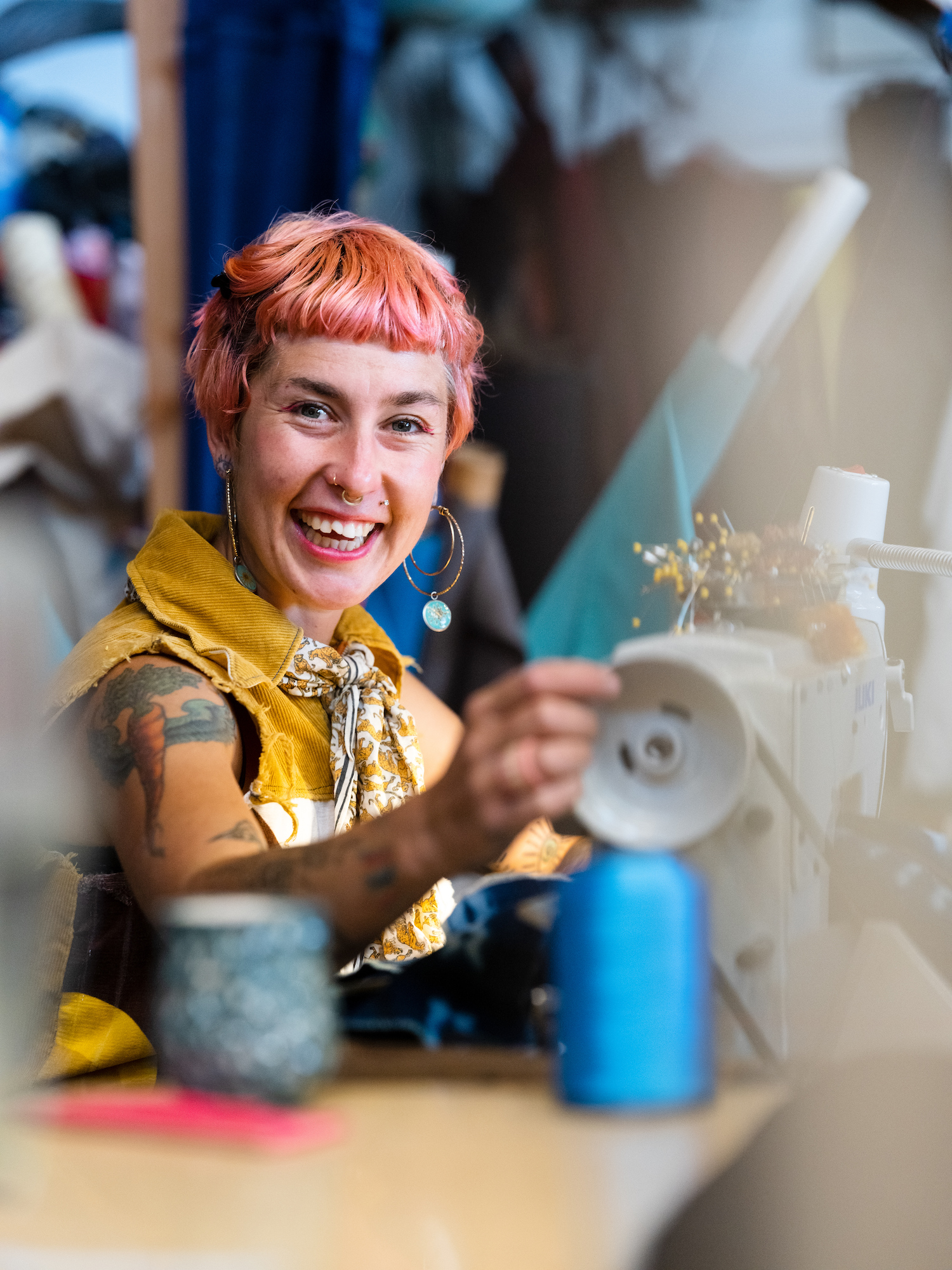 "Antiestablishmentarianism'' is a mouthful to say and a big concept to wrap your head around, but for a visual representation, you need look no further than Joshua Thwaites and Mathilde Amiot's Santa Rosa-based funhouse workshop BigMouthUnique.
Joshua was first introduced to the term, which he describes as a "business/life model," by a mentor, designer Mary Hogue of San Francisco's community and artist-fueled Mission Praxis, where he once sold his self-designed bags and hats. It is a concept BigMouthUnique has carried forward in nearly everything they do, with creations that are flamboyant, whimsical, uber-creative, and utterly defiant of categorization and conformity.
BigMouthUnique is the place to go for things you can't get. Impossible to miss at local craft fairs and pop-ups, their lively, parasol-bedecked booth can barely contain their one-of-a-kind creations. An eclectic patchwork of dramatic sleeves, ruffles, tassels and pom-poms in scores of mixed colors, patterns and textures, no two pieces of clothing are alike, due to the duo's firm commitment to using repurposed materials and Mathilde's self-taught, free-form creation style.
"I didn't do sewing school or formal education, so we wing it," she tells me. "I make things that I wish I had; I wish there were more bright, colorful, fun clothes available, so that's what I make. The fabric inspires the thing. I don't think about it ahead of time." The result is brilliant cohesive chaos.
"We are grouped with Burning Man constantly and that's just a coincidence. It's adjacent; we're reminding you of something that reminds you of something…" Joshua says—and it's true that BigMouthUnique's unabashedly bold style conjures a festy vibe, but to stop there would be short-sighted.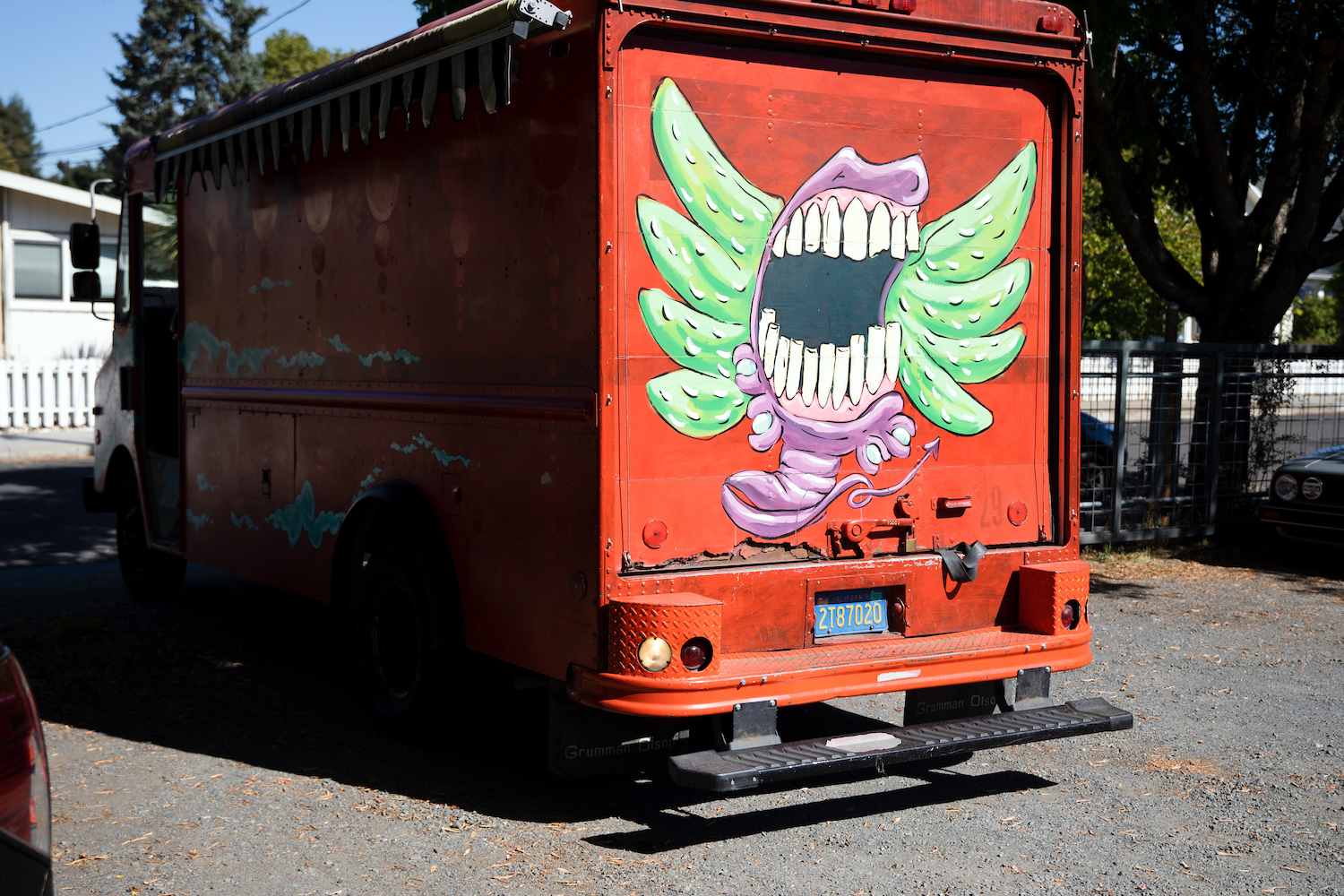 More accurately, they are dispelling the myth that you can't "dress up" every day. "It's not even dressing up, it's just dressing," Joshua insists. "People see us wearing what we do, on our cargo bikes with the dog heading to the grocery store, and assume we are going somewhere fun." Mathilde adds, "People say to us all the time, I wish I could wear stuff like that! Well, you can! These aren't clown clothes; you don't need to be a performer to wear them."
"Fashion and style are weird, made-up things and everyone interprets them differently," Joshua chimes in. "People think what we wear is risqué — we think wearing pajamas to Walmart is risqué. We are trying to encourage people to realize it's ok to relax, to wear whatever they want."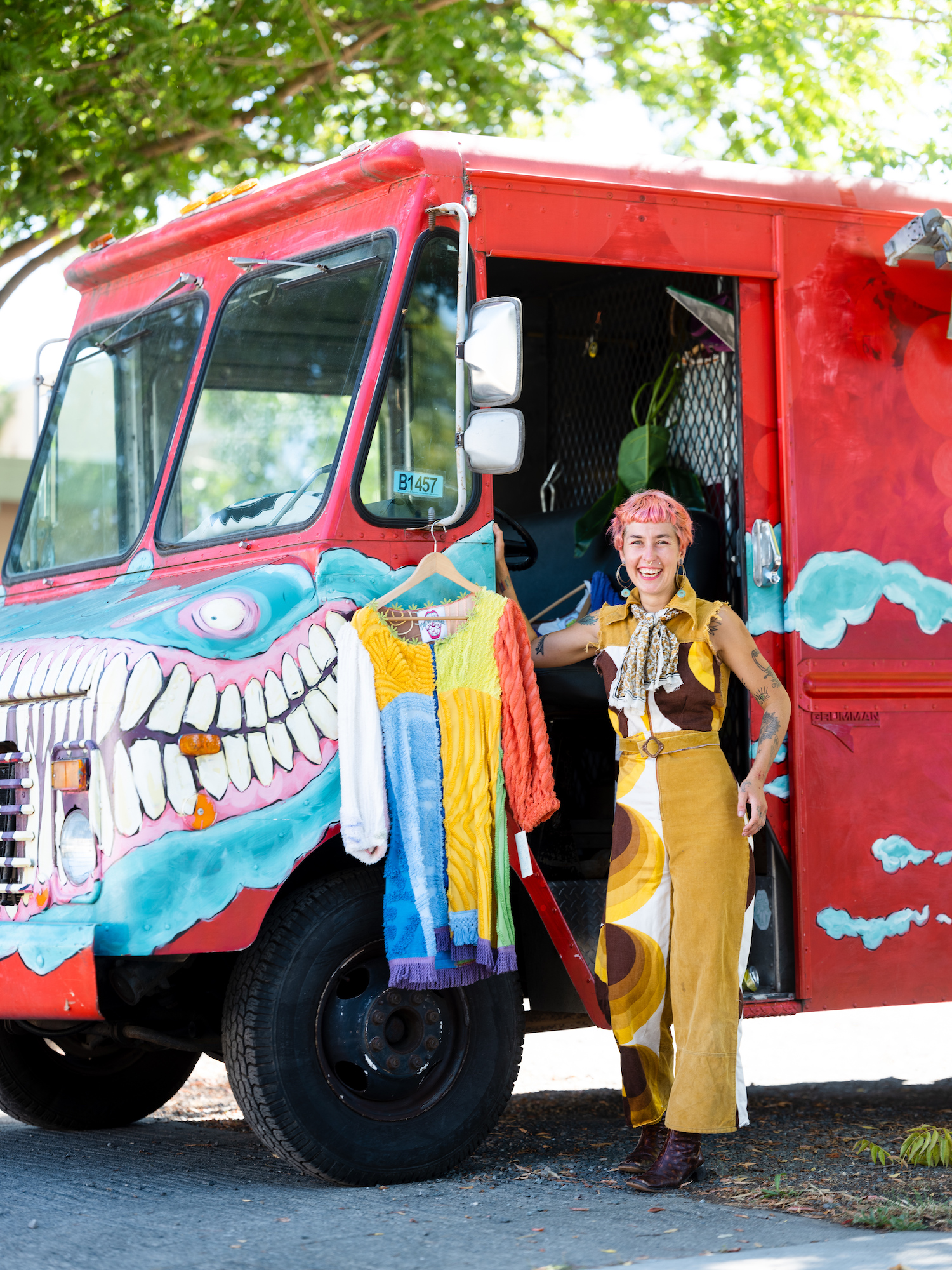 Joshua and Mathilde emphasize that they aren't anti-festival, it's just not their thing. "We go to bed early and get up early. We are workers and travelers, not festival-goers." And, for the record, they are never the people wearing pajamas at Walmart.
Although their clothing is possibly the most accessible of their creations, it is just "one tentacle of the octopus" that is BigMouthUnique. Partners in business and in life, Joshua is a "lifelong doer, maker and producer," and Mathilde was raised by local "junk art" royalty Patrick Amiot and Brigitte Laurent, which she conceptualizes as "art school all the time."
Lovers of challenges, Joshua and Mathilde tell me there are no limitations to the style and scope of projects they undertake, save two considerations: "Is it helpful, and is it fun?"
They tackle large-scale fabrications, ceramics, custom sewing projects and bespoke garments, jewelry and accessories with trademark fervor, and even custom paint cars in their unique, fun-loving style. When I ask them to describe some of their custom car paint jobs for clarity, Mathilde responds, "We have a box van painted with a bright red and turquoise clown face monster thing, and a pickup truck with a geometric sort of multicolored turtle." Difficult to describe, perhaps, but extraordinarily, unmistakably delightful when you see it, as is everything they do.
You can find BigMouthUnique's products online at their Etsy store and on Instagram  @BigMouthUnique. For custom clothing and project inquiries, email bigmouthunique@gmail.com
Photos: Bob Blick