In the studio with jewelry designer Georgia Fitt of Serpentine and Fair
by Jess D. Taylor
Have an arty start
"I've been drawing since I was five years old," says Georgia. Think high-fashion superhero rock-stars with huge colorful earrings. Macrame, crafting, sculpting, dancing, acting—you name it, she's done it. After graduating from UC Santa Cruz in 2006, Georgia started selling her first line of jewelry (mostly earrings made from leather and painted wood) while looking for an acting agent and waiting tables at a sushi restaurant. She also had an itch to expand into something new, like metalsmithing.
Find a mentor & keep practicing
Georgia credits Cabrillo College's metalsmithing class with teaching her essential techniques like metal forging, wax casting, soldering joints, and annealing—the process of softening metal in order to bend it to your creative will. "There was a real learning curve, but I found it satisfying and fun," she says. A few years later, she started apprenticing with award-winning fine jeweler Paula Brent: "She showed me that this could be a career."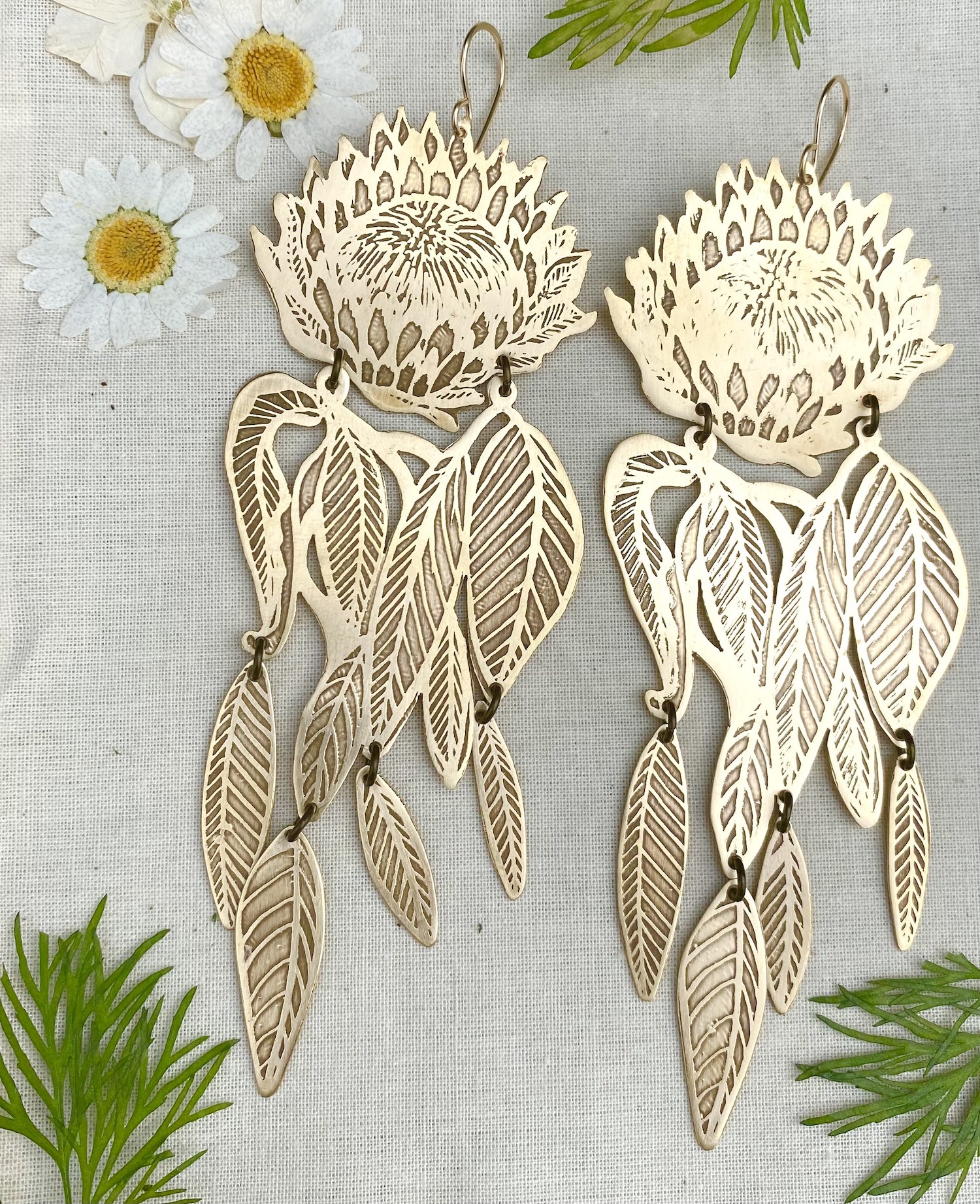 Spend time in nature
"I see colors and images and inspiration everywhere," says Georgia, who starts by drawing her designs on paper. In one method, she burnishes the design directly onto the metal and then etches it in an acid bath. "Every piece of jewelry is made from scratch."
Snakes, sunrises, sea life, flowers, and geometric shapes infuse her work. The mother of two-year-old River also draws inspiration from family, tradition, and the timeless aesthetic of antiques. Recent creations include gold serpent posts, a coastal swell bangle, and siren shell earrings.
Make a mess & appreciate the process
In Georgia's light-filled Sebastopol studio, chains and sheets of metal await their transformation via dremels, pliers, cutters, drill bits, saw blades, files, forming stakes, hammers, and torching, an old-world technique that mandates eye goggles, face mask, and good ventilation.
There's so much to see—jewelry at every stage, here a jar of pliers, there a metal cleaning station with a crock pot of mild acid called "hot pickle." "I break every piece down into steps," Georgia says. "It's a super slow, dirty, gritty process, but you come out of it with this incredibly delicate intricate treasure."
Favor quality over quantity
Serpentine and Fair jewelry is not cheap because Georgia's materials are not cheap. She uses ethically sourced materials—brass, sterling silver, 14 and 18 carat gold, or gold-filled—and makes everything by hand, even her jump rings (those tiny orbs that fasten bracelets and necklaces). A beaded pair of earrings is about three hours of slow, methodical, meditative work.
The tassels that hang at the bottom of her earrings? That's a 10-step process that begins with sheets of metal and involves much hammering and filing to get to the final product.
"It's all about timing, measuring, and muscle memory," Georgia tells me, describing the dark cherry opaqueness that gold turns once it's been heated just enough to work with. "Lots of science."
Hire your mom & sister to help
Both her mom Bonnie (a longtime photographer and art teacher), and sister Adeline (a hair stylist), lend a hand with production, packaging, shipping, and vending at larger shows. "They're both artists through and through," says Georgia. "They inspire me all the time." They also sometimes babysit River while his parents are working (Georgia's husband, Justin, is an environmental scientist).
Fight back against the copycats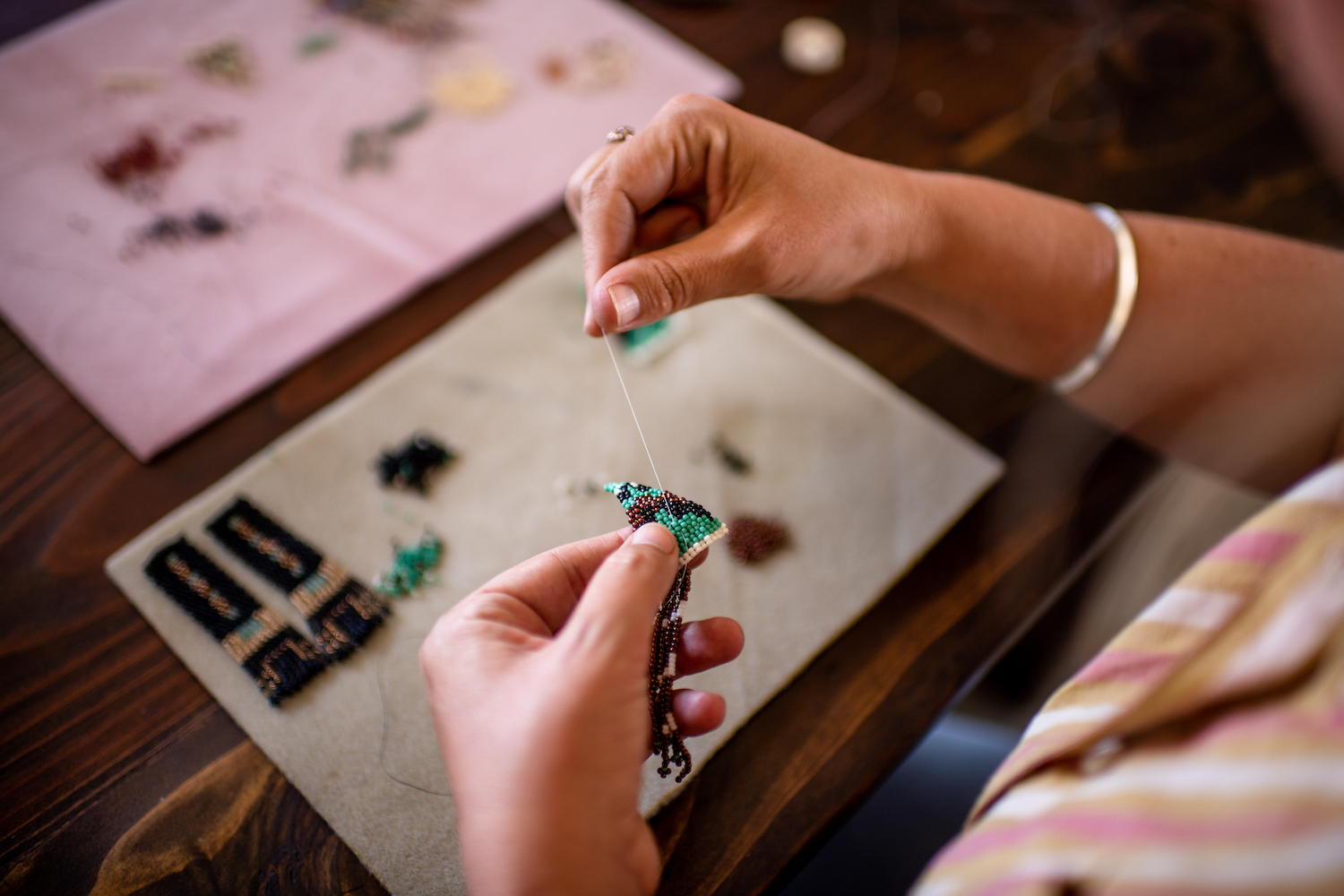 "There's so much commercial plagiarism, it's really upsetting," says Georgia, who's seen people browsing her booths wearing machine-made knock-offs of her designs. She shows me a picture of earrings intricately detailed with suns and moons, exactly like the ones she designed, being sold through online retail site AliExpress for 10 dollars a pair.
This well-documented thievery of small businesses is so ubiquitous that one Etsy shop owner compared going after Amazon like "whack-a-mole," a nearly impossible fight. (Just in case you need another reason to support your local makers and eschew the factory-produced schlock.) Georgia can't track them all down, but in this instance, she found and emailed the company in China, which was ripping off two dozen of her designs, asking them to stop.
Amazingly, they did.
Do something no one else does
In addition to her small capsule collections of elegant jewelry, Georgia has also started offering forever fit bracelets—ideal for those who want to ditch the clasps and wear their jewelry round the clock. Simply choose your chain type and thickness out of dozens of choices, and Georgia fuses the metal using a micro-pulse welder—"like a tiny lightning bolt."
Moving into 2023, Georgia will be doing more with wax casting, stone setting, inlay, and goldsmithing in order to release more fine and one-of-a-kind-jewelry.
"I look at each piece of jewelry that I create as a vessel," says Georgia. "The piece begins its journey in imagination and then is drawn and fabricated. When the jewelry passes to the wearer, it holds and transfers the intention, time, and energy that has gone into it. This happens again when the piece changes hands and can continue for generations. I believe this transfer of energy and creativity is an amazing gift to share."

Sold locally at . . .
Boho Bungalow
Hive Salon
Jam Jar
Electric Moon
Rust Boutique
Papillon Floral
Lucky Roots
Sparrow Salon
Find Serpentine and Fair, along with many other local vendors, at these upcoming markets:

Moon Market
6791 Sebastopol Avenue, Sebastopol
November 4, 3:30-Sundown
December 2, 3:30-Sundown

Head West Market
The Barlow, Sebastopol
November 12, 10-4

The Goddess Crafts Faire
Sebastopol Community Center,
390 Morris Street, Sebastopol
December 3 + 4, 11-7

The Occidental Crafts Fair
Occidental Community Center,
3920 Bohemian Hwy
Dec 10 + 11, 10-4
Photos: Dawn Heumann