A Tale of Two Asian Stores: 1
"Asia Mart"
by Jess D Taylor
At Asia Mart on Guerneville Road, you will not find milk, butter, or bread, but you will find Lay's potato chips imported from China in flavors like grilled squid, Texas barbecue, black truffle, cucumber, salmon chili lime, and my personal favorite, spicy crawfish. "We also have Chinese Skittles and Chinese Pepsi that you won't find anywhere else," says store manager, Philip, offering me a Pepsi with floral notes, which tastes better than it sounds.
"But what really sets us apart is our customer service, friendly as can be for people who don't know Asian goods," says Philip, who is recognized by some long-time customers as the kid who used to watch television in the store. After working in luxury hotels in San Francisco for many years—"I never wanted a 9 to 5 where I had to sit down"—Philip heeded his parents' call to come back to work at the store once the pandemic hit.
Lockdowns in China meant no more trinkets and statues to import and sell, but business still boomed, in part, Philip believes, because people started cooking more of their favorite take-out dishes—pad Thai, sushi, ramen, and spring rolls—coming in with long shopping lists. With an entire aisle devoted to noodles of every thickness and style, and freezers packed with things like giant octopus, fish collar, salted duck eggs, even imitation crab meat, Asia Mart is a cook's dream. The produce section is stocked with bok choy, Chinese broccoli, Thai basil, ginger, burdock root, and other cultural mainstays, much of it sourced from his father's twice-weekly trips to San Francisco's Chinatown, where he also procures special orders of classic dishes like roast duck and dim sum every Friday (customers must place orders 24 hours in advance).
Philip's parents, Ji Ma and Chao Dai, were childhood sweethearts in southern China who moved to the U.S. in the '80s. After working at G&G Market, the longtime beloved Chinese-owned market on College Avenue in Santa Rosa, Philip's mother decided she wanted to be a business owner herself. They opened the store on Piner Road in 1991.
Decades later, having moved to the current location in 2006, Asia Mart has become a favorite in Sonoma County, popular for its wide variety of ever-shifting goods. While they source mostly from China, Southeast Asia, and Japan, they also carry passionfruit honey puree from Korea, fufu flour from Africa, Hawaiian mochi cake mix, and yellow yams from Jamaica. Giant bags of bulk rice are piled near the front. For anyone looking to reinvigorate their condiment game, Asia Mart sells several varieties of furikake, the Japanese seasoning comprised of nori, sesame seeds, salt, and sugar, as well as the very popular spicy chili crisp.
In addition to food, the market sells huge Buddha statues and fancy vases, bamboo plants, incense, hair dye, scarves, woven plastic mats, baby blankets, Indian bindis, giant pickling jars, chopsticks, woks, plain white dishes ("Everyone loves these," says Philip), and a new selection of Japanese dishes every six months. Orders come in from all over the country, and they offer free delivery to anyone within a 10-mile radius with a minimum $45 purchase.
Behind the front counter hulks a huge wooden cabinet whose drawers are filled with things like lotus seeds, astragalus root, sea cucumber, red reishi mushroom, cardamom, and cinnamon bark that find their way into formulas prepared by Philip's mother who's been studying Chinese pharmacology for years.
Not for sale? The fish painting that's hung over the cashier since they first opened, a sign of good luck, that, clearly, continues to work.
707-542-3513
2481 Guerneville Road
Santa Rosa
Mon-Sat, 8:30am-7:30pm
Sunday, 9:30am-6:30pm
A Tale of Two Asian Stores: 2
"Asian Food Market"
by Teddy Cleek
When Tracy Duong and Quy Hoang first walked into the building on Marlow Road in Santa Rosa that would later become Asian Food Market five and a half years ago, it was completely empty. "My husband built it all by himself. It took a little over a year to do—not easy," Tracy remarks as she places a bag of longan, a small brown lychee-like fruit, near the cash register. Quy installed everything from fridges and plumbing to the floor tiles, with occasional help from their four kids, while Tracy painted the walls.
"I put a lot of hard work into it," Quy chimes in while ringing up a customer holding bottles of mango juice. "Sometimes I'd be here until two, three o'clock in the morning, sometimes I stayed all night… I'm glad I did it. A lot of friends of mine thought I couldn't do it, but somehow I did." He breaks into a toothy grin and laughs.
Quy and Tracy, who met here after both moving to the U.S. from Vietnam during adolescence, decided to open the store to escape less fulfilling and less steady jobs—Tracy as a hair salon owner that suffered from slow seasons, Quy working for his sister in her food market.
"We spent a lot of nights at the market putting everything into the system and getting piping done," says their 18-year-old daughter Christina, who remembers loading barcodes into the computer and labeling products. "I would write little labels with capital letters, right? When I got back to school, in all my essays, every word would start with a capital letter because I was so used to writing labels."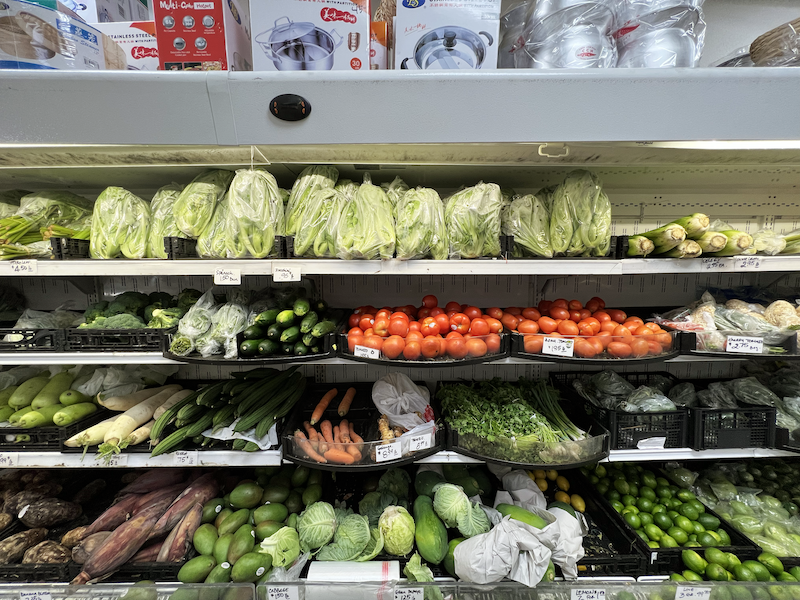 Today, Asian Food Market is anything but barren. Row after row of shelves densely packed with condiments, noodles, chips, desserts, and more run to the back of the store. Christina recommends Bongos, Fijian cheese chips. Fridges are chock-full of sodas from all over the Asian continent, including Ramuné, the Japanese soda famous for using a vacuum-sealed marble instead of a traditional cap. And in the freezer aisle, I noticed frozen garae-tteok, the long cylindrical Korean rice cakes often grilled in street food stalls.
At the back of the store is the butcher, where you can order fish like salmon, catfish or pompano with the option of having it fried to-go (their specialty). Crates of spiky durian (delicious despite their stink) and colossal jackfruit sit by the door.
Christina admires her parents' persistence and courage: "When they were having struggles in their old jobs, they didn't stay, they left and started something new." There have been multiple challenges, including losing power and all of their vegetables during the Tubbs fire six months after opening. They then had to shut down during the early weeks of the pandemic, but even with those hurdles, the store has been a success.
"Every day we get a lot of customers," she says. "Sometimes it can be really overwhelming, but I think that's a good thing."
707- 540-0499
3080 Marlow Road, Ste A13, Santa Rosa
8am- 8pm daily
Photos: Paige Green Photography