Harvesting Hope After the Fires: "A new mural pays tribute to the people who keep our economy strong"
by Jess D. Taylor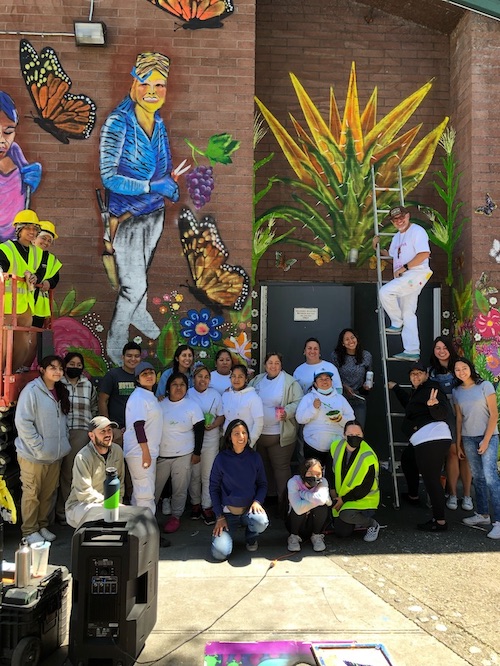 Anabel Garcia usually spends her days cleaning houses and advocating for the rights of migrant and domestic workers.
On a mild morning in July, she has also become an artist, painting large bright blue flowers on the giant brick wall of Third Street Aleworks in downtown Santa Rosa. Garcia is one of twelve women who planned, designed and executed this mural, called Harvesting Hope After the Fires, which pays tribute to the essential and invisible workers who don't stop working when most everyone else does.
"Any emergency is felt most by the migrant workers," says Garcia, who sometimes cleans disaster areas. "The lack of language justice makes it even harder for us."
For nearly a decade, Garcia has been part of Women's Action and Solidarity Alliance (ALMAS), the domestic worker organizing project of the Graton Day Labor Center. Last year, she started organizing with North Bay Jobs with Justice (NBJWJ), which continues to fight for farmworker safety and justice as we enter another fire season.
Music is playing as the women position stencils, paint, hold ladders, clean brushes, and chat with family members and comrades in the walkway—which they had to secure permission to occupy for these five consecutive days of painting. Two tents are set up, one filled with snacks and urns of coffee and atole, another piled with cans of paint. The energy is celebratory despite the grim circumstances underpinning the project.
"Rent is high, food costs are high, the water is at our necks," says Garcia. "So we are driven to advocate for ourselves."
"Sonoma County's economy has remained strong for the past five years, and it's no secret that it's because of the blood, sweat, and tears of our farmworkers," says Gabo Banski, program manager with the Raizes Collective, one of several nonprofits sponsoring the project. "The press, the people with mics, they don't humanize these workers," Banski continues. "This is their way of telling their own stories in a way that is visible to the whole community, not just their own people."
Together with artists Martin Zuniga and Jenn Ban, the 12 women (most are from Oaxaca) spent weeks planning and collaborating to make this mural happen. They met for three-hour sessions that started with stretching and an opening circle to share their experiences.
"I had nothing to do with it, not the design nor the picking of the colors," says lead artist Zuniga, who created his own version of art school, empowering the women to make this mural their own. "My part was running a team of artists, setting up ladders, mixing up paint." He taught them techniques like how to use a roller with three different colors, or how to create a flower with one unbroken move, dubbing them Fridas after the iconic painter. "Actually, we are Las Sufridas [the suffering ones]," said Socorro Diaz.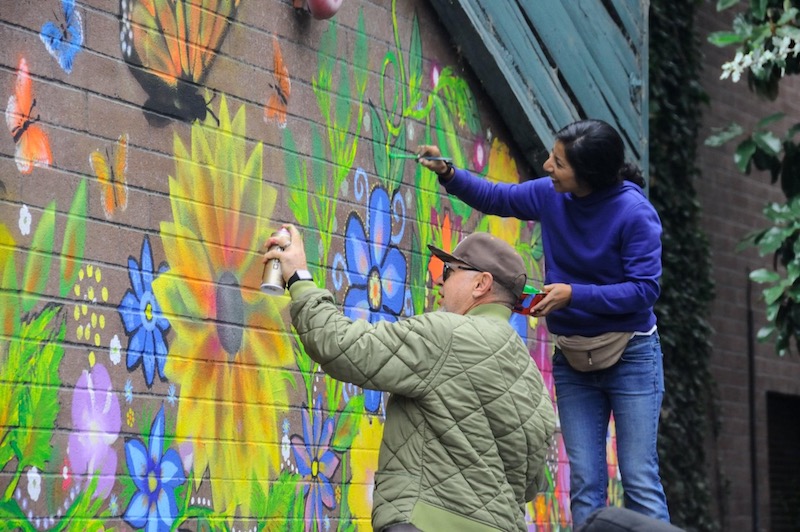 "The reason we have our wine and veggies is because of these farmworkers," says Isabel Lopez, founder of the Raizes Collective. Lopez became a citizen in 1987, thanks to the amnesty bill passed by then-president Reagan, and she believes there should be amnesty for the 11 million undocumented workers currently in the United States, some 17 percent of whom live in California—38,000 of those in Sonoma County. "They are the ones harvesting the crops in the smoky air every time a wildfire decimates the farms and fields,"       says Lopez.
In the event of fires this year, farmworkers at E&J Gallo Winery will get hazard pay (time and a half) when the Air Quality Index goes above 150, a recent significant victory for the United Farm Workers of America union—and a hopeful precedent. Vintage Wine Estates, one of the largest wine companies in the country, reported a net revenue of $220.7 million in 2021.
Community investment grants from Supervisors Chris Coursey, Lynda Hopkins, and James Gore, in addition to grants from Creative Sonoma and the Raizes Collective have provided the 12 women and two lead artists with stipends of $1,500 apiece for the mural.
"I transitioned from feeling alone to being part of a great team," says Diaz over Zoom on a Thursday evening, after she'd had a long day of Zoom meetings with the Department of Health and Safety. Together with Cal/OSHA, and representing ALMAS, she is advocating for legislation to protect domestic workers who often suffer injuries and are exposed to toxic chemicals while on the job.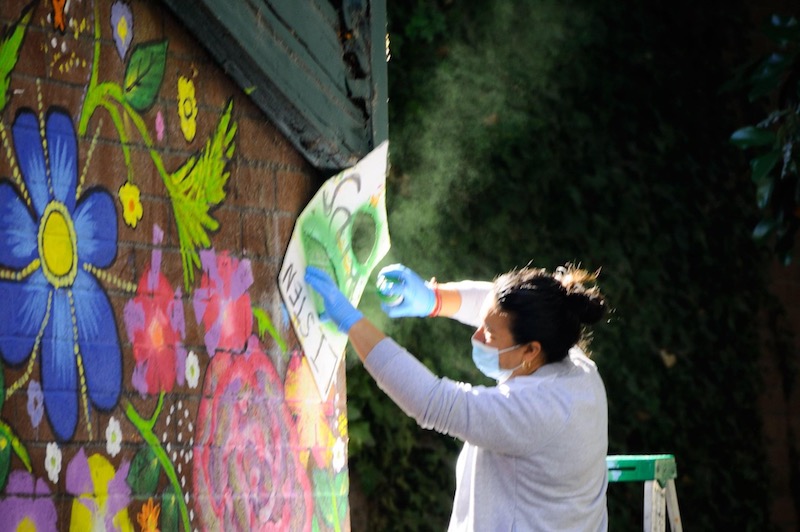 Irma Rodriguez, another woman involved with the mural, is an artist who makes traditional alebrijes, those brightly painted wooden sculptures popular in Oaxaca. "It was so beautiful and empowering to work with these women, learning about advocacy," she told me on that same Zoom call (made possible by Raizes Collective program coordinator April Reza, who translated for Garcia, Diaz, and Rodriguez).
The mural is comprised of workers from three fields—cleaning, construction, and agriculture—created by Zuniga from photos of actual people and painted amid a riot of bright flowers, vines, and butterflies. On their final day of painting, Zuniga tells me, many of the women spontaneously filled blank spaces with more and more color, sometimes tweaking his designs to better suite their own vision. Unsteadily at first, and then with more confidence, they stabilized ladders and climbed higher and higher up the wall.
Now they are fired up, sustaining their momentum: another mural, this one in Roseland, is already in the works. "If people really want to make Sonoma County Strong," says Lopez, "then we need to strengthen the livelihoods of the people sustaining our economy."
Donate to help send a few workers from ALMAS to Washington DC to advocate for immigration reform in a meeting with Congressional leaders: gratondaylabordonate.org

Photos by: William Lee, Ross Hardin