Confessions of a Germophile: Making Fire Cider with Sheila Shupe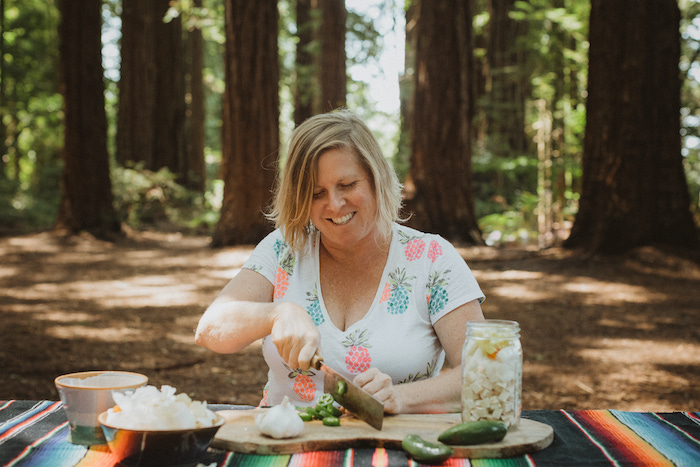 I'll admit it, over the first nine months of the pandemic I drank enough booze to inebriate a small blue whale. When the world turned on its ear, my autonomic nervous system kicked in, spewing cortisol and adrenaline through my veins day and night. "Fight!" it shouted. "Flight!" it bellowed. But like the rest of us, I couldn't go anywhere—so I tried to deafen the roar with beer, wine, or scotch.
By Christmas of 2020, I looked like I'd aged a decade, so I kicked up my yoga and meditation and cut back on the fire water. After a year of breathing deeply and clearing my mind, I realized that it wasn't the pandemic that kicked off the fear and uncertainty for me, but the moment in October 2017 that I woke up to the smell of smoke and a dozen alerts screaming across my phone.
Since the Tubbs Fire, my family has had to move three times—rental hikes and landlord reoccupation forcing us to pack up and search again in this insane housing market. I've watched people leave the county, I've hiked through blackened forests, I've had to hold my kids' birthday parties inside because of ash raining from the sky. The past five years have definitely burnt me to a crisp, but recently it occurred to me that there comes a point when you have to rise up from the ashes. You have to have hope for the future—even if it's clouded in smoke.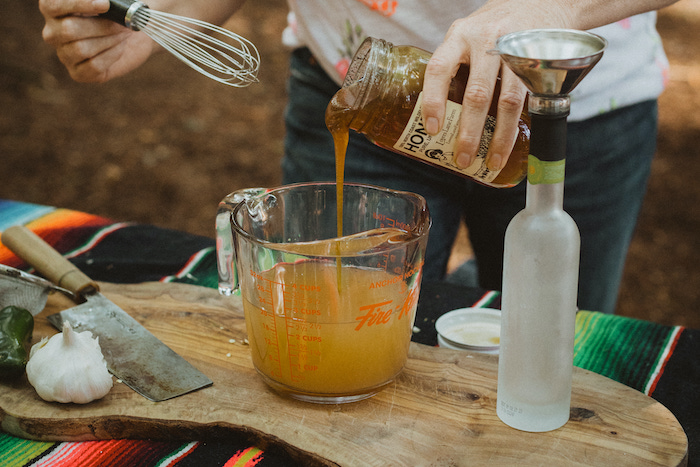 So in the spirit of rebirth and good fire, I bring you a tonic that will both stave off infection and light your pants on fire. First coined by Sonoma County's own Rosemary Gladstar at the California School of Herbal Studies in Forestville in the early '80s, Fire Cider is a mix of ancient healing herbs and traditions: horseradish to boost circulation and clear mucus, garlic as a natural antimicrobial, onion to strengthen your heart, turmeric to reduce inflammation, lemon for vitamin C, ginger for some natural pain relief, and jalapeño to make you sweat. Infused into apple cider vinegar (ACV), which strengthens the immune and digestive processes, and mixed with soothing enzyme-rich honey, this is one flaming shot that won't leave your head aching and your mind filled with regret the next day.
You can buy ACV for this recipe, and if you do, make sure it's raw with the mother to max out the benefits. Or if I've stoked your fermentation fire, you can make it yourself. Sandor Katz, father of the modern fermented foods revival in the US, has a recipe for hard cider in his book Wild Fermentation that's so easy your jaw will drop: leave an open jug of apple cider, covered with a towel, on the counter for seven days. You will have a hard, dry bubbly cider in a week, if you want a buzz; or let it continue to ferment for another three weeks and it will become sour, healthy, homemade apple cider vinegar.
Once you've got your ACV, you'll infuse it with some fiery goodness. Fire water but way better. At my house, we do shots of it when we're feeling low, and we also add it to dressings, marinades, and even hot tea. You can riff off the basic mix by adding rosemary or thyme, and if you can't find raw turmeric, use powder. Add things or take them out as you please, but whatever you do, make a batch right now. Fire season is upon us, and we all need something good to shoot.
Materials
glass jar or crock
tight-fitting lid
strainer
Ingredients
1 pint apple cider vinegar
1 onion
1 head of garlic
1 jalapeño
1 thumb-sized piece of ginger
1 pinkie-sized piece of turmeric
1 six-inch piece of horseradish
1 lemon
honey to taste
Instructions
Peel and chop roots—horseradish, turmeric and ginger—and add to glass jar or crock
Zest and juice one lemon and add to jar
Chop all other veggies and add on top of the roots to weigh them down
Cover with ACV and make sure everything is submerged
Close with a tightly sealed lid and let the herbs infuse the vinegar for 2-4 weeks
Strain, and add honey to taste (though honey is not strictly necessary)
Pro tip: after I strain off the vinegar, I like to process all the fiery leftovers to make an excellent prepared horseradish for eggs, sausages, prime rib, or whatever lights your fire.
Photos: Tammy Horton