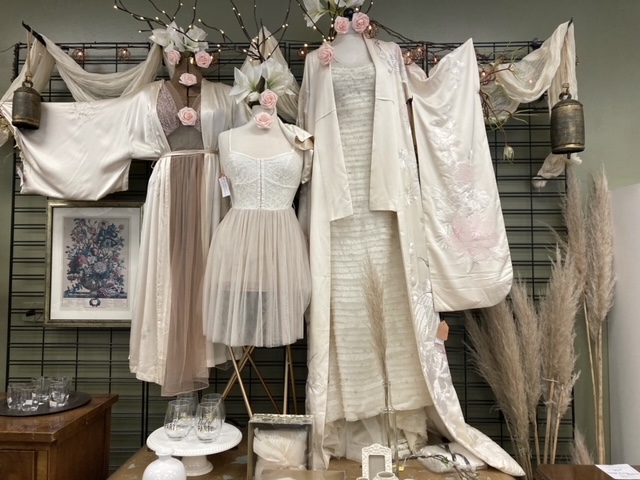 Why does Brian Benn's office contain, among other things, a bagful of a stranger's ashes and a spinning sex swing? There's also a bulletin board crammed with photos of people in varying degrees of blurriness.
Don't worry, this is not some freaky grisly exposé—it's the story of a thrift shop. Specifically, Pick of the Litter, which for three decades has been selling people's cast-offs to benefit the nonprofit Forgotten Felines and for six of the last seven years has won The Press Democrat's Best Thrift Store Award.
"Half of my job is getting rid of garbage," says Benn, who became manager of the store in 2016. Despite the fact that he's encountered such gross and befuddling donations as moldy gym clothes, albums filled with photos, expired medicines, used needles, and fungi-covered books, warranting a bi-weekly dump run, Benn is gracious about what is referred to as "wish-cycling" in the biz: "Most people are unaware that what they're donating is just junk. We're all the main characters in our own stories, after all."
Benn is not just filling shelves with junk, he's curating treasures and creating a pleasurable shopping experience for his customers—a few of whom shoplift (hence his bulletin board tracking system), but many regulars who also make donations (which is why the sex swing remains behind closed doors, where he suspects most people would prefer it).
Indeed, every thrift store manager I spoke with takes pride in the stewardship of stuff—creating less garbage, extending the life of still-useful things. Used linens aren't a hot item, so Benn either donates them to shelters, or rips them into strips to be used at Forgotten Felines' cat clinic. He's contacted a crematorium in Florida about the man's ashes and is still trying to find a place to turn ruined hardcover books into mulch.
I'm Gonna Pop Some Tags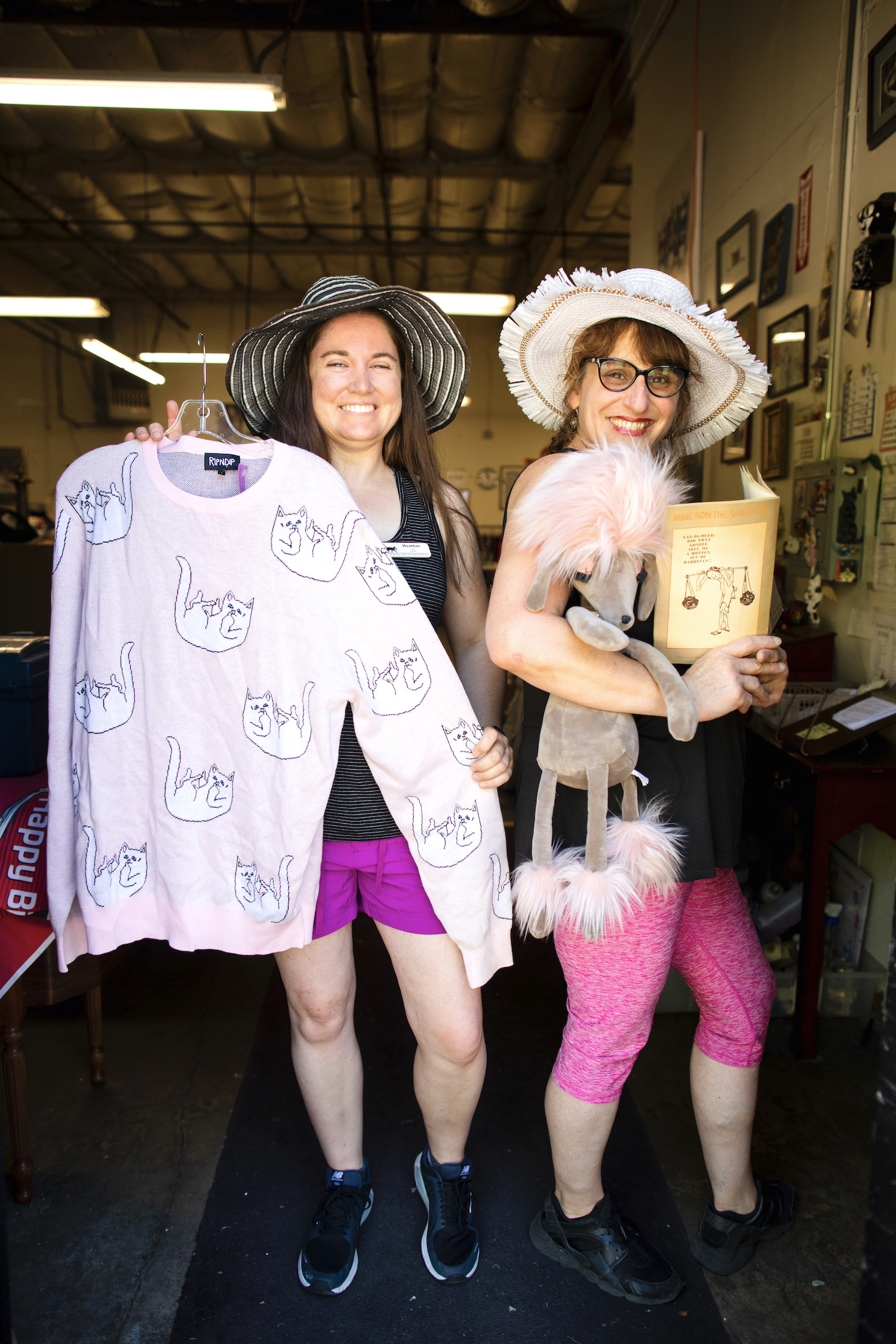 "Thrift stores are basically recession proof," claims Benn, a sentiment echoed by the National Association of Resale and Thrift Shops (NARTS), which tabulates that there are some 25,000 resale and consignment stores in the country, growing at a rate of seven percent over the past two years.
Though Sutter Hospice did have to recently close two of their four Sonoma County stores this past year—the small charmer in Rohnert Park and the popular Lewis Road location, shuttered the day before its 15th anniversary—a NARTS survey found that even during the 2008-2009 recession, two thirds of resale shop respondents saw an increase in profit. Benn says that May and June, usually slower months, have been continuously busy.
America's Research Group estimates that almost 20 percent of Americans shop at resale stores annually, a number likely to increase with the march of inflation. Fast fashion's detrimental effects on the environment have become common knowledge, and thanks in part to the proliferation of online resale shops like Thredup and Poshmark, buying used continues to become less stigmatized and more trendy.
Unlike the shuttering of behemoths like Sears and Macy's, a direct repercussion of increased online shopping, online resale shops might actually help their brick and mortar cousins. "We have a relationship with the online sellers who come looking for good deals to re sell," explains Sutter Hospice Thrift Store operational manager Hanna Larum. "It's a mutually beneficial arrangement."
And while there's no real standard for resale prices, thrift stores may be as close to inflation-proof as it gets. Larum tells me that 25 years ago, the average price per thrift store item was three dollars. Today it's four dollars. "Books will always be priced low," she tells me, "because we want to encourage reading and we value teachers who might be buying for the classroom."
Only Got 20 Dollars in My Pocket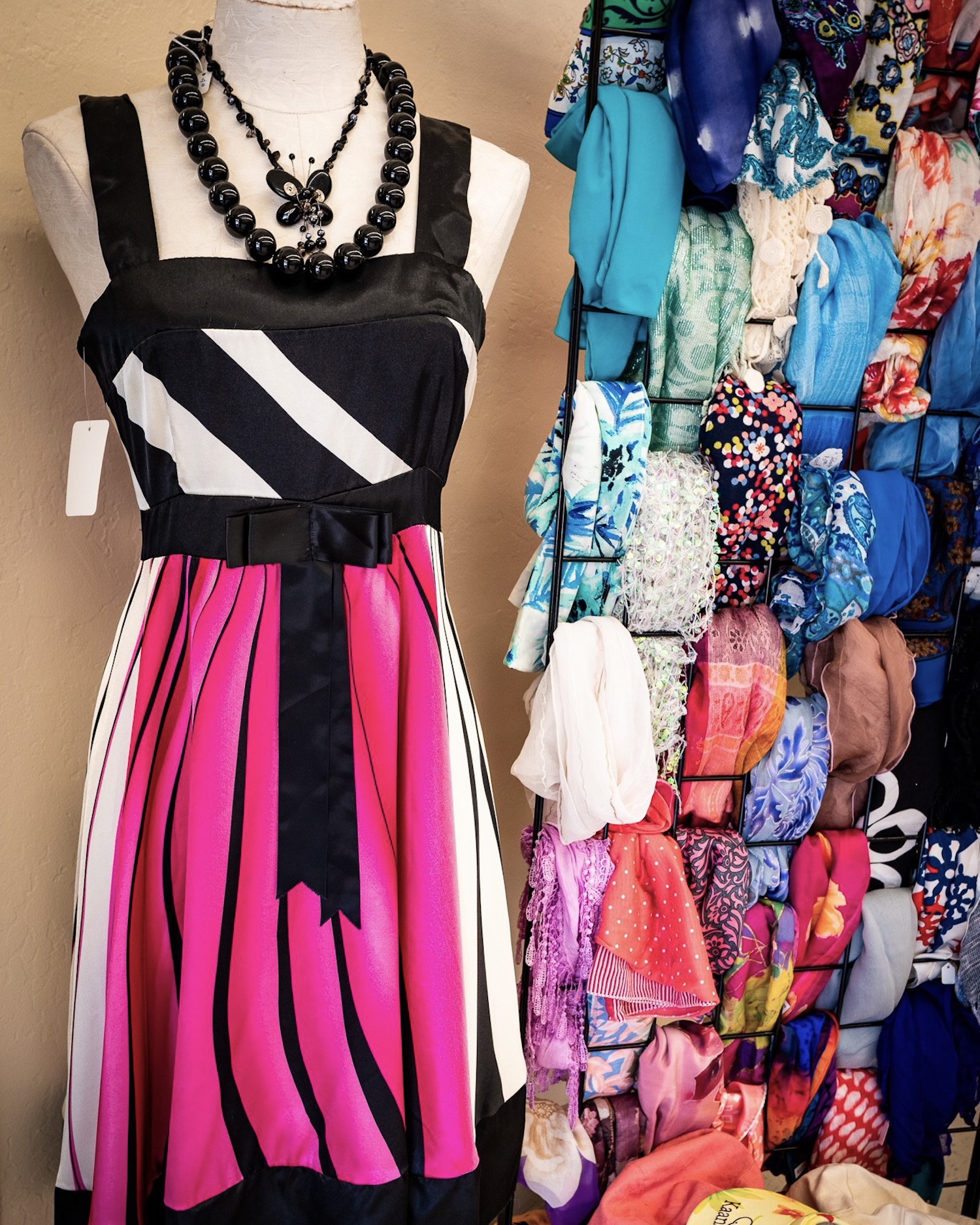 By now, much ink has been spilled about the nation's biggest resale company, Goodwill, which has eliminated sale discounts and adopted a uniform pricing system. Years ago, they were exposed for exploiting an archaic 1938 law that allowed them to pay disabled employees just pennies an hour while their CEOs reportedly still make upwards of half a million dollars annually.
In contrast, the 13 paid employees at Pick of the Litter make a living wage, as do the 8 staff members at Sutter Hospice Thrift. "This is definitely the best job I've had," says Benn. "To do something you love and be able to make a living in Sonoma County—what more can you ask for?"
Of course, volunteers account for the majority of staff at almost every thrift store dedicated to philanthropic endeavors—a real boon to their profit margin, and by extension, their altruistic goals. Both Pick of the Litter and Sutter Hospice Thrift have roughly 40 volunteers each.
In April, Pick of the Litter brought in an astounding $104k in revenue—which after operating expenses (including $11k in monthly rent) still allowed them to give over twice their minimum monthly donation of $27.5k to Forgotten Felines. The nonprofit serves cat owners with free health check-ups, flea medicine, shots, and microchipping—an increasingly essential service that helps reunification of pets with owners in the wake of disasters like wildfires. They will also spay/neuter between four and five thousand feral cats this year.
Both the Assistance League and Welfare League thrift shops are 100 percent volunteer-run in buildings that have long since been paid off. "After operating expenses, all of the money we make goes back into the community," Welfare League shop manager Sandy Harris tells me. Continuing a tradition that began in 1939 with women sewing layettes for babies, their biggest benefactor is Christmas Unlimited, a program that last year provided a nice toy,   a new outfit, and a classic book to each of 2,500 local kids under age 10.
I'm I'm I'm Hunting…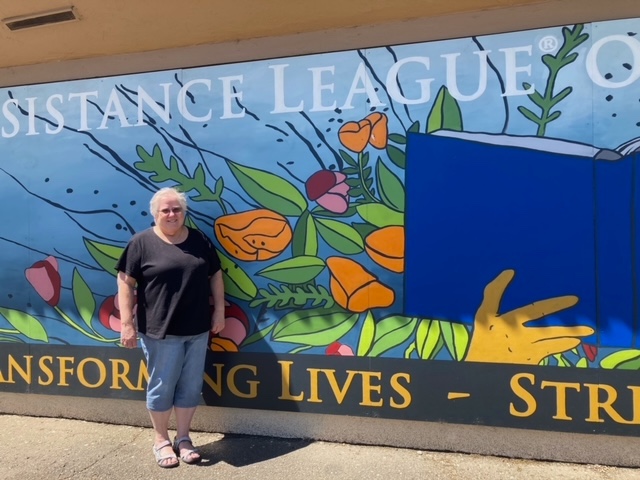 "We're known as the boutique thrift shop," says Cyndi Cunningham, president of the Assistance League, one of 120 nationwide chapters devoted to philanthropy. "Some people come in and say, it smells so good, looks so nice—this isn't a thrift shop!" She points out the color-coordinated paintings, vases, and repurposed fabric that volunteers have assembled in artful displays that showcase their merchandise, a far cry from the dingy, foul-smelling junk heaps of yore.
This level of care and devotion extends to their clothing donations—pajamas and swimsuits are washed before going out on the floor, wrinkled shirts are steamed—as well as to at-risk people. Given their location on West 6th Street in Santa Rosa, right next to the train tracks, they deal with folks rifling through and filling up their dumpsters, sometimes defecating on their doorstep, even once throwing a huge metal caster through the shop window.
"We exist to help those in need," says Cunningham without a shred of animosity. Decades of working as a psychiatric technician at the now-closed Sonoma Developmental Center in Glen Ellen was a good primer for interacting with sometimes desperate people in need of both compassion and warm socks—which she's more than happy to provide free of charge.
The Assistance League's philanthropic contributions are myriad, but a main focus is supporting women and children. Backpacks filled with personal hygiene products and condoms are distributed through SAY (Social Advocates for Youth) and baby supplies provided for teen mothers through Bright Beginnings.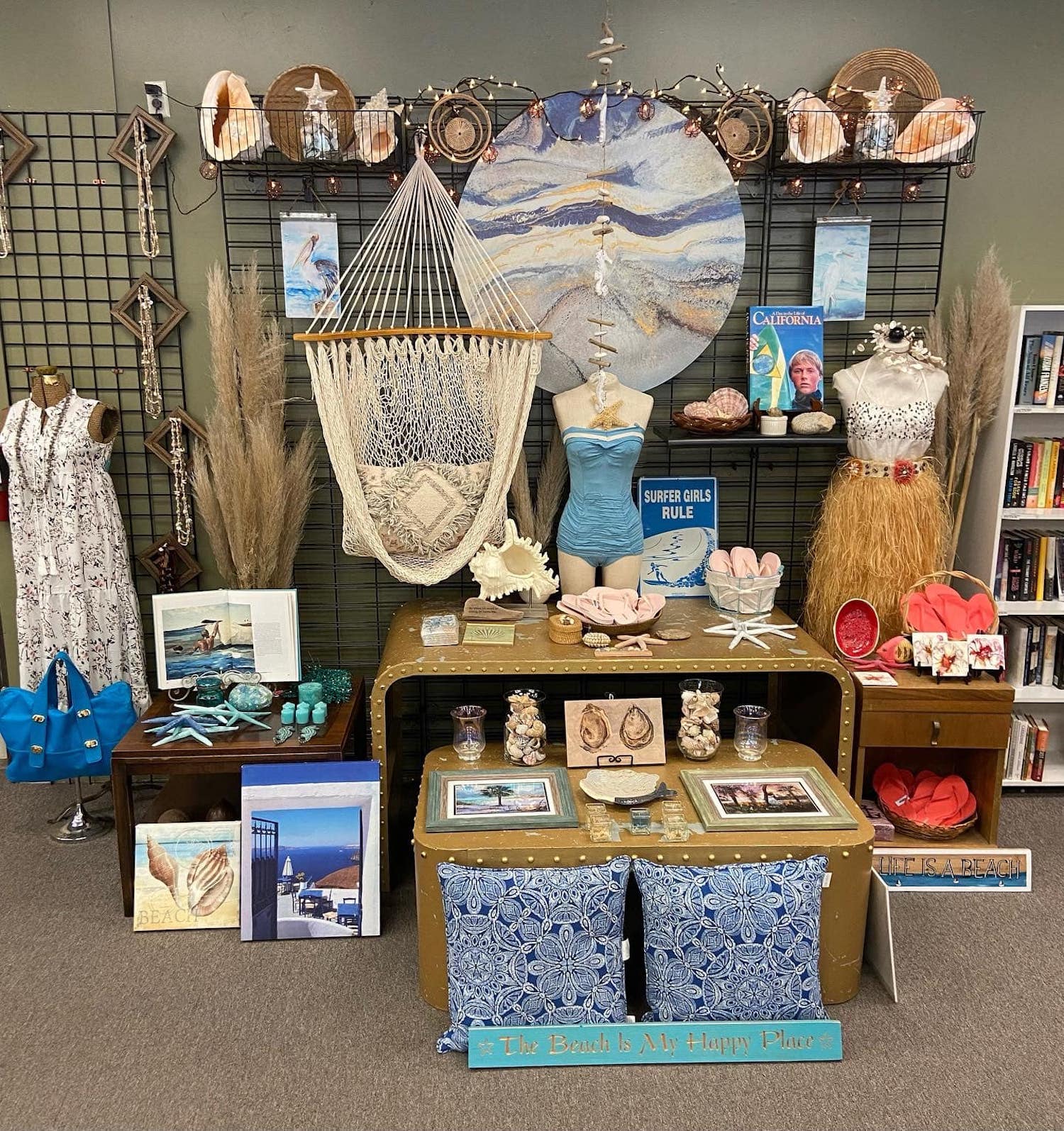 This Is ***king Awesome
The more time I spend with managers in storerooms, the clearer it becomes that to work in a thrift shop is to engage regularly with history. Tacked to Cunningham's bulletin board is a 1942 rations card that turned up in someone's donation (as well as an Ivanka Trump brand thong), in a building that, she tells me once housed a brothel, then a bowling alley. In the Sutter Hospice Thrift office, I admire an 11-year-old girl's cross-stitch from 1830, and Benn recently came across a Flemish tapestry that he may take to auction in Oakland.
The shops are also repositories of personal histories. "This store is a community," says Sutter Hospice staff member Wei-Lin Shaw, whose father spent six years, one of the longest-ever stretches, on and off hospice as prostate cancer eventually metastisized in his bones. She recalls the pens they used to collect for the guy who glued them all over his car (if you know you know) and the volunteer who was still working at age 104.
"I'll never forget a man named William who wanted to know if we'd take a dress with an unfinished hem," explains Larum, employed by Sutter Hospice Thrift for 27 years (having resisted Goodwill's attempt to poach her many years ago). William's wife had been on hospice and died before finishing the dress, and he, like many people, was looking for a place that would understand the value of something so hard to let go of. Larum was happy to take the dress, and to let William cry in her arms for a few moments.
"This is much more than a job," Larum tells me. "Our hearts are with this mission."
Pick of the Litter
1701 Piner Rd A, Santa Rosa
(707) 570-2590
Sutter Hospice Thrift Store
748 Gravenstein Hwy N, Sebastopol
(707) 824-4712
Welfare League Thrift Shop
126 4th St, Santa Rosa
(707) 542-7480
Assistance League Thrift Shop
5 W 6th St, Santa Rosa
(707) 546-9484
PHOTOS: Paige Green Photography