Confessions of a Germophile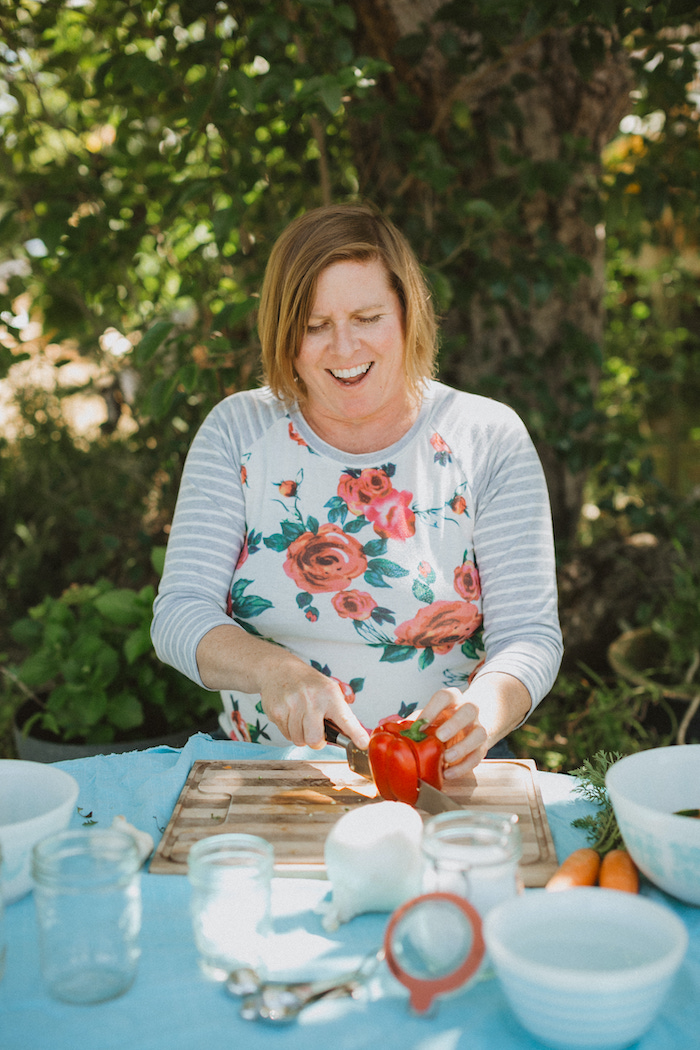 I'll tell you a secret. I'm a native Californian and I didn't eat a fish taco until I was 28. When I first met my husband, born in Southern California and reared on Mexican food, who would gladly take beans intravenously if it were possible, he was devastated by this oversight in my culinary development. Five months into our courtship, he drove me to Ensenada to right this egregious wrong. The pickle I give you now is a direct result of that first soft and crunchy, creamy and tangy, heavenly bite so many years ago.
As everyone knows, fish tacos are not fish tacos without cabbage salsa, which is where the magic happens. Trying to replicate that fresh, salty, citrusy adornment to those tacos brought me to the secret ingredient of good cabbage salsa: jalapeños en escabeche.
Escabeche, which means pickle or marinade, hails from the Persian word sikbaj—a 1,000-year-old meat dish simmered in vinegar. Brought to Spain by the Moors, so essential was it to a banquet in the Middle Ages that it was nicknamed "the father of hospitality," according to LA Times food writer Charles Perry. When it got to the New World, they ditched the meat and added chiles and onions. Now it is so essential to a salsa bar that I swipe a hard left if it's not there for my pollo asado burrito. Something about the mingle of the briny spicy pickle with the meat and the crema really tickles my taco.
Our obsession with the minglings of certain foods is more than just a sensual dopamine roller coaster ride. Turns out that things taste better together because they work better for our bodies. When we put olive oil on a salad, we can access the fat-soluble nutrients in the veggies more effectively. Same with vinegar or lemon juice on greens or lentils—the acid helps us absorb more iron. Condiments like pickles, whether made with vinegar or lacto-fermentation (like this one), make meats and fats more digestible by increasing our stomach acid.
Sauerkraut with sausages, kimchi with bulgogi and escabeche with al pastor: many fermentation enthusiasts live by the adage, "A pickle for every plate." And if you can swing it, it's not just your tacos that will benefit.
In Mexico, it's common to add cauliflower, radishes, bay leaves, or Mexican oregano, but I keep my pickled jalapeños pretty simple. They are great on tacos or nachos, and also sublime on a burger. Spin them through the food processor for an excellent spicy relish, or get serious and try my husband's legendary cabbage salsa. Just chop up the jalapeños en escabeche with some tomatoes, onions, cilantro and cabbage (the finer chopped, the better). Add lemon juice, salt, escabeche juice and voilà: a probiotic Baja-inspired salsa that works wonders on any fresh-caught fish. Seventeen years after that first carefree trip to Baja in a beat-up van, the escabeche is still keepin' things spicy.
Materials
Several glass jars or a crock
Coffee filter, paper towel, or clean dish towel
Rubber band
Weight to keep veggies submerged
Ingredients
3 tbsp salt
6 cups filtered water
4 jalapeños
1 onion
1 head garlic
2 carrots
1 red pepper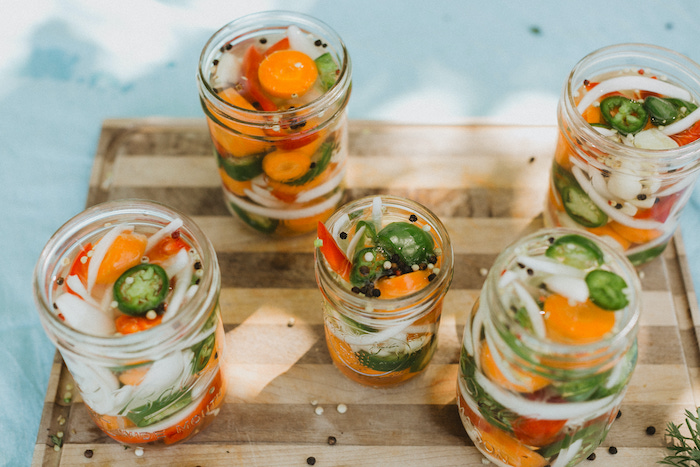 Instructions
Chop veggies however you'd like (thinly sliced, chunky or rough, anything goes)
Pack veggies in clean glass jars or crock
Smash the garlic cloves to release the flavor and add to the veggies
Make brine by adding salt to room temperature water and stirring until dissolved
Pour brine over veggies, making sure they are completely covered (use a glass fermentation weight, disinfected rock, or plastic baggie filled with brine to keep veggies submerged under water to prevent mold)
Be sure to leave at least half an inch of head-space at the top
Cover the jar with a coffee filter, paper towel, or clean dish cloth and use a rubber band to secure it
Leave in a cool dark place for 2-10 days (note that warmer weather will speed up the fermentation)
For saltier, crunchier escabeche, start checking after 2 days; the longer they go, the softer and sourer they will get
Seal with a lid and transfer to fridge
Enjoy on tacos, scrambled eggs, burgers, beans and rice . . . the list goes on
Photos by Tammy Horton