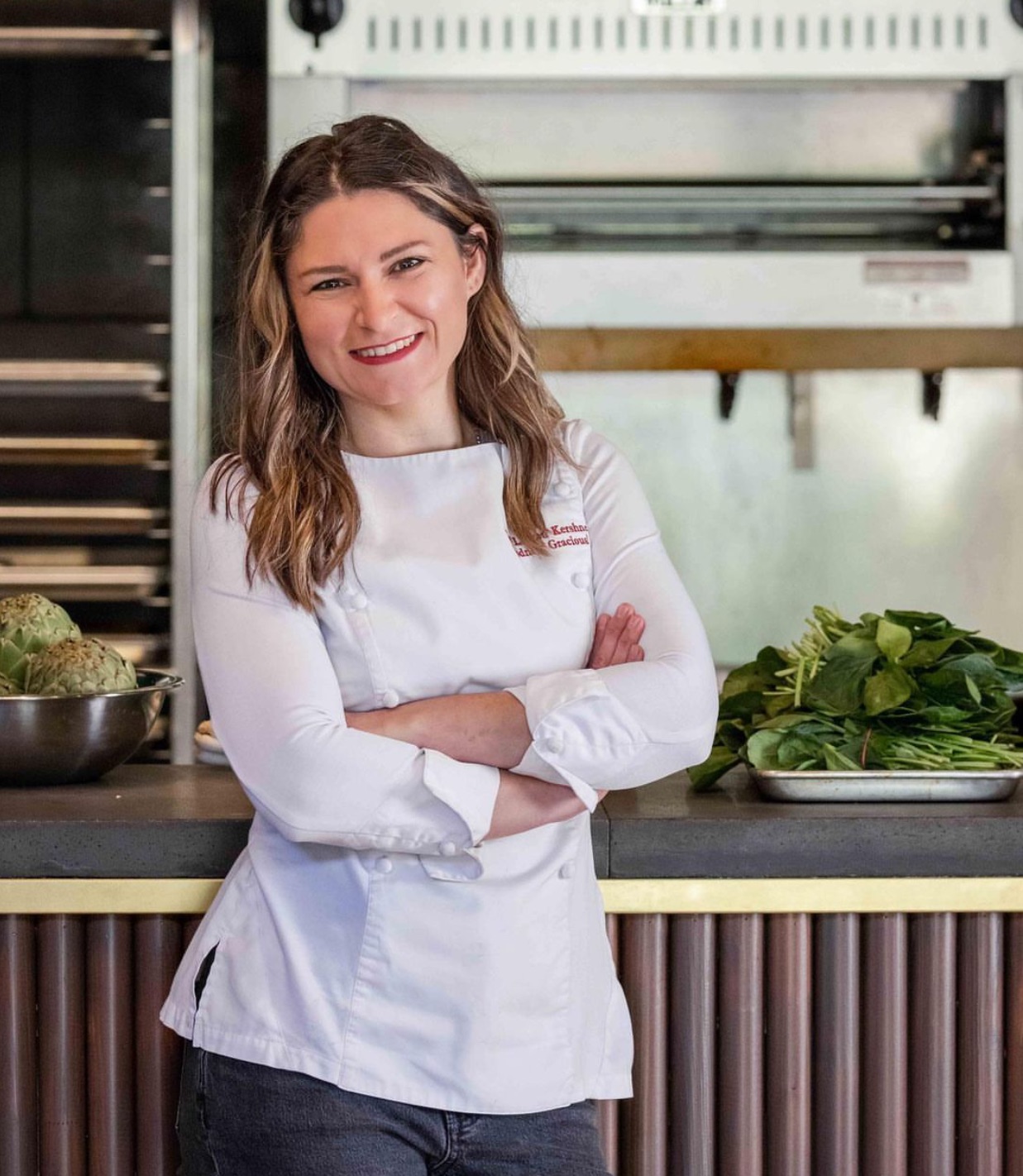 "I bought my first kombucha at a gas station in Mendocino County when I was a teenager and thought it was awful," Chef Lauren Kershner tells me. She's preparing artful trays of vegetables and fruits for her catering business Goodness Gracious Catering in Glen Ellen.
But luckily for her, and now for us, there are plenty of talented home kombucha brewers on the north coast. "Years later, I had one that a friend of mine brewed herself, and it was delicious. It was simple, too, made with just some local apple juice. But it made me realize how good kombucha could be."
Brewing and distributing under the name Valley of the Moon Kombucha Co. in batches of 10 gallons twice weekly, Kershner is currently supplying several stores in Sonoma, Napa, and most recently Marin counties with two delightful flavor combinations: carrot, orange, turmeric and red beet, apple, ginger. I decided the latter was my favorite after double-fisting a 16 oz. bottle of each while watching her knife blur through a pyramid of oranges, reducing them to a neat pile of segments in a flash.
"I don't drink soda and I don't drink coffee, so kombucha fills in that gap for me," Kershner explains. Both flavors are prepared using organic English Breakfast black tea, cane sugar, and of course, kombucha SCOBY. For the uninitiated, that's Symbiotic Culture of Bacteria and Yeast. If you, like many of us, took up breadmaking during the pandemic, it's similar to a sourdough starter. The interaction between all those good, probiotic bacteria and the sugary juices is what gives kombucha its characteristic effervescence.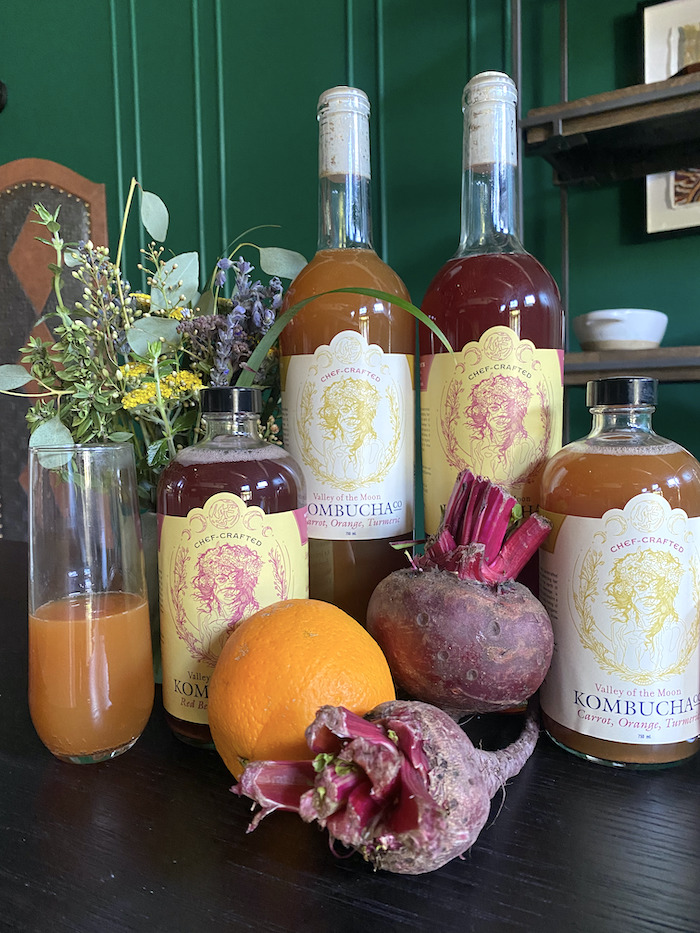 It's also an excellent alternative for folks who don't drink alcohol. All that prep I witnessed was for an event where many of the guests would require non-alcoholic beverage alternatives, and Goodness Gracious is happy to provide creative mocktails using their kombucha so people can still enjoy some bubbly. I would split the larger 750ml bottle with a friend sitting in the backyard on a hot summer day as happily as any bottle of wine. I found the carrot, orange, turmeric to be smooth, the flavors complementing rather than overpowering each other. The red beet, apple, ginger is earthier with a little more kick to it and reminded me of some of my favorite shrub-forward cocktails and mocktails.
The fruits and vegetables are sourced "hyper-locally," as Goodness Gracious Catering's general manager Brandy Ceremony-Aviña puts it. Sunray, Oak Hill, Green String, and Flatbed are among the farms that supply them with produce.
A vision of community is at the heart of Valley of the Moon Kombucha Co.'s philosophy, and not only through their dedicated support of other local businesses. A dollar on each bottle sold is donated to a yearly passion project. Last year, proceeds went to Black Girls Code, an Oakland-based organization that encourages and supports women of color pursuing education and careers in science, technology, engineering, and math. This year's passion project is a bit closer to home, with donations going to Cancer Support Sonoma, an agency which offers integrative therapies to cancer patients, including massage, acupuncture, reflexology, and counseling, on a sliding scale.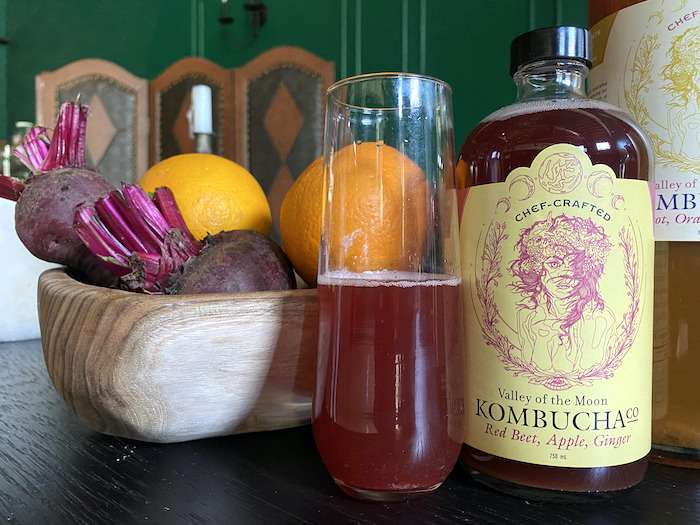 In Sonoma County, you can find Valley of the Moon Kombucha at Goodness Gracious Catering in Glen Ellen as well as Baker and Cook, Community Supply, and Darling, an ice cream shop, all located in the town of Sonoma. If you're still sticking close to home these days, you have the option of joining the Dream Team, a kombucha club that yields two 750 ml. bottles, one in each flavor, delivered to your door for only $20 a month. Quarterly, your bottles will be accompanied by a surprise gift: a crafted item or treat from other local, women-owned businesses.
Valley of the Moon Co.'s kombucha is a thoughtfully designed product, both inside the bottle and out. The label features a wild woman composed of flowing, swirling lines, under a corona of the moon moving through its phases. "I just told the artist I wanted someone who's naked and not afraid to put herself out there," says Kershner, "to be natural and beautiful." It's this kind of outside-the-bottle thinking that underpins her company's philosophy, which "envisions a world where women can thrive doing the things we love, living with overall health, happiness, and peace in a world that respects our worth and equality."
Goodness Gracious Private Chef and Catering
Valley of the Moon Kombucha Co.
14301 Arnold Drive #3, Glen Ellen
707-972-4029