FloraLuna Apothecary & Trading Co.
During the summer of 2015, Phaedra Achor was researching forgotten cocktails to serve at an outdoor party she was planning in a couple of months. Given that most of the recipes she settled on called for bitters, the flavor-loving former restaurateur decided to make her own. She already knew and loved botanicals, so she infused high-proof alcohol with various herbs, barks, roots, spices, and fruit, which macerated for a few weeks. At the party she found a friend of a guest nosing her tincture bottles at the bar cart. "These are far superior to any of the bitters we serve," said the woman, a local bartender. "You should sell them."
"So my business started accidentally," laughs Phaedra, "but to find a craft niche in a place like Sonoma County is practically unheard of. I had to go for it."
"People say bitters are the salt and pepper of the bar, but really, they're like the spice rack," says food writer Brad Thomas Parsons, author of Bitters, celebrating the way they give dimension and depth to cocktails. Though many people first discover bitters on the happy hour menu, they've been used medicinally for centuries—wine jars with traces of herbs inside were found in ancient Egyptian tombs, a medieval monk created the top-secret recipe for Benedictine in 1510, and the well-known Angostura bitters derive their name from the Venezuelan town where a surgeon named Dr. Siegert brewed up a stomach tonic for army troops in 1824.
Our bodies contain lots of bitter receptors (to keep us safe from poisonous stuff) which, when stimulated, increase digestive secretions that help us absorb nutrients, detoxify the liver, boost the immune system, reduce inflammation, and even curb sugar cravings. Phaedra likes to add a splash of cayenne ginger bitters to warm lemon water in the morning, and often cooks with savory elixirs like her bacon faux-bacco and celery horseradish. "They play equally well in salad dressings as they do in cocktails or mocktails," she tells me.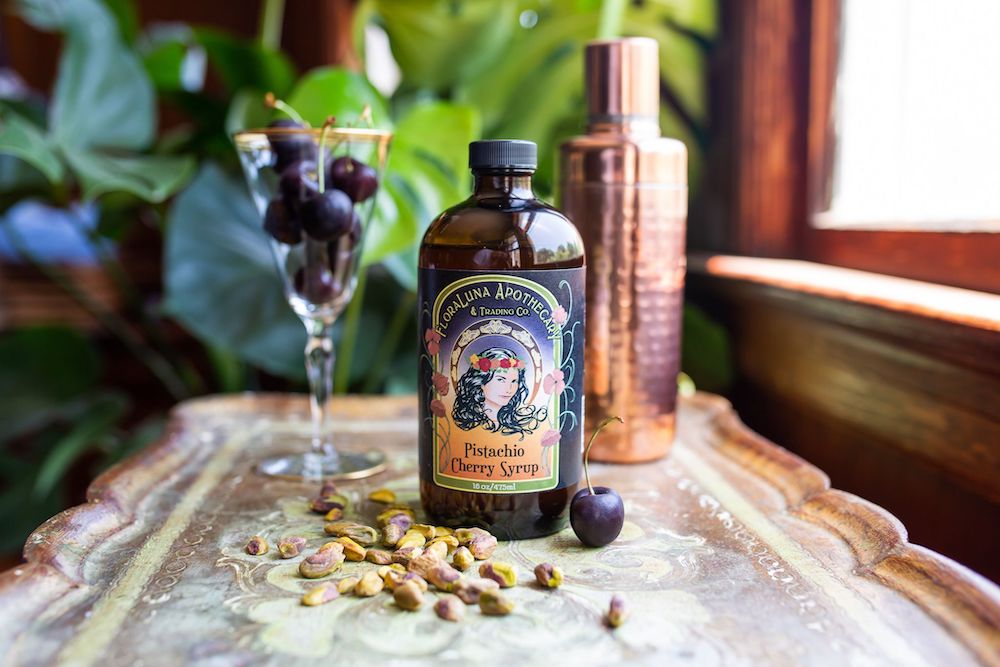 Phaedra submitted 10 products to the most recent San Francisco World Spirits Competition—and won 10 awards, including a double gold medal for her cardamom clove syrup, which can enliven a bowl of ice cream as decadently as an old-fashioned. A gold medal went to her coffee cocoa peppercorn bitters which evoke "snowy nights in need of a warm undertow." She uses only organic and non-GMO barks, herbs, fruits, and botanicals; some she forages herself, as in the wildflower syrup inspired by a hike out at the coast.
Originally Phaedra sold her infusions under the name Monarch Bitters, launched in 2017 to such acclaim that people kept asking when she was going to open a tasting room. That opportunity came a couple of years later when she was forced to re-brand after a snafu with an alcohol company called Monarch Spirits which mass-produces alcohol—the exact opposite ethos of her slow and deliberate bitters which take weeks to infuse.
"It was actually a blessing in disguise; I realized I'd pigeon-holed myself and would now be able to expand my offerings," Phaedra tells me, gesturing to the other small-batch products lining the shelves of her FloraLuna Apothecary, housed in a tiny shop adjacent to the Ethical Clothing Company on Petaluma's Kentucky Street.
The high-ceilinged, light-filled space showcases not only her dozen different flavors of bitters, but also half a dozen varieties of syrups like classic old-fashioned and the popular pistachio and cherry. She sells tea blends, salt bath soaks, facial serums, masks, and massage oil, all of which she cooks up herself in a commissary kitchen a couple miles away—and which she's been making since she was a teenager, sourcing herbs from Rosemary's Garden in Sebastopol.
"I never realized how much handwork is involved in running a business like this," says the former massage therapist. She does all of the bottling, capping, wax-sealing, packaging, and boxing, and is excited about the label machine she just bought in celebration of her first international distribution contract in Australia.
Phaedra, who's "always loved the healing world," sells some 90 varieties of bulk herbs, everything from calendula and licorice root to lesser-known barks like astragulus and galangal root, which she uses in her house elderberry syrup. In the pre-pandemic days, customers made use of her oil bar to craft their own creams and serums, their recipes kept on file for future reference. The apothecary is also sprinkled with delightful small- maker items like salt blocks for cooking, gourmet chocolates, greeting cards, beeswax candles, and earrings.
Seasonal bounties (rosehips and mandarins this winter) dictate the offerings in her quarterly subscription boxes, which come with recipe cards and a kit for crafting your own botanical-infused spirit, liqueur, cordial, or tea. Each box also contains a never-before-released 16 oz bottle of syrup and 2 oz bottle of bitters.
"These are one-offs," says Phaedra, whose elixirs were recently crowned third place in Best Craft Cocktail Mixers in the country by USA Today. "I'm having fun and experimenting, trusting my flavor wisdom."
After spending a couple of hours in her apothecary, so am I.
122 Kentucky Street
Petaluma, CA 94952
Wednesday-Sunday noon- 4pm
707-387-6766