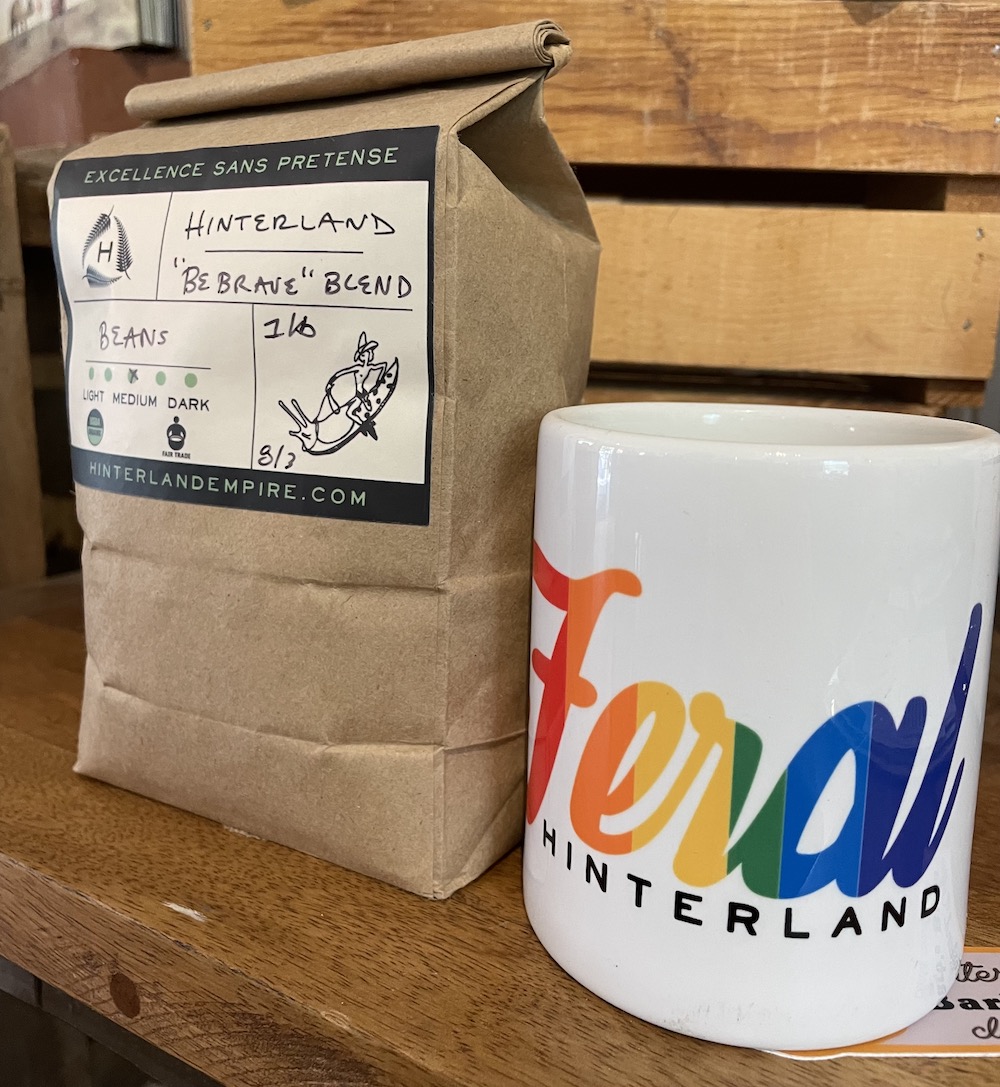 Hinterland Empire
by Ursa Born
Hinterland Empire and its sibling art gallery Neon Raspberry have long been a hub for their distinctively unapologetic progressive, feminist, queer-centric, radical economic and social justice-based ethos and aesthetic. The original shop, a local treasure in Occidental, is home to sassy custom designed screen-printed apparel and accessories, as well as unique no-holds-barred gifts and miscellany. More recently, Hinterland has branched into coffee roasting at their Portland location, which can be bought locally at the Occidental brick-and-mortar or shipped by the bag or via monthly subscription.
"When Hinterland made the decision to transition away from an apparel-centric business model to one that centers on coffee, we knew we'd be doing so in a very "Hinterland-esque" way: maintaining our unwavering ethics and commitment to doing the most good and, crucially, least harm possible, both socially and environmentally," they explain. Beans are fair trade and organic, most sourced from The Café Feminino Collective, which supports female-farmers throughout the world, giving these women control of revenue and land-ownership. Hinterland offers blends like Fully Feral Espresso, Take 'Er Easy Half-Caff, and the kitchen sink-esque Trash Panda Soup, as well as single-origin offerings.
Occidental, CA/Portland, OR
hinterlandempire.com
---
Eye Cyder
I was drawn to Eye Cyder's Fresh Tips by its pretty label boasting "both complex and quaffable, with a bone-dry finish and hints of a woodsy grove" — which is exactly what I've been looking for in a cider without even knowing it. Made by the biodynamic farmers and wine-makers responsible for both Radio Coteau and County Line Vineyards labels, Eye Cyder is native-fermented, sulfite-free, unfiltered, and rock-bottom dry. "Nothing added, nothing removed," promises owner Eric Sussman. 100% of the fruit used is grown locally, including the foundational Sebastopol celebrity Gravenstein apples harvested from dry-farm orchards.
Additions to their six varieties of cider include hops and oro blanco peels (a citrus similar to grapefruit), blackberries, satsuma plums, quince, and feijoas. You can find Eye Cyder in 750 ml bottles at Bohemian Market and Altamont General Store in Occidental, Andy's Market and Community Market in Sebastopol, as well as direct from the source by appointment in Sebastopol. Considering the seasonal nature of their super-limited production, don't wait!
Sebastopol, CA
eyecyder.com
---
Griffo Distillery
In 2013, Michael and Jenny Griffo realized that though they'd achieved success in their respective careers (he at NASA, she consulting internationally), they were miserable. "We were gone all the time, working in labs," Jenny tells me over the phone, and yearned to do something collaboratively and community oriented. Lucky for the rest of us, that turned out to be opening a distillery in Petaluma, where they moved to be close to Michael's mom during the last years of her life. Capitalizing on Michael's experience as a physicist, the couple released their first gin in January of 2015; they now have six spirits on the market, including several cocktails kits (which serve 12) that are shipped next day anywhere in California. Try kits like Winter's Remedy Old Fashioned with Griffo Stony Point Whiskey, Bittermilk #1 Bourbon Barrel Aged Old Fashioned Syrup, Dashfire's Chaiwalla Bitters, and Eggbert's Premium Cocktail Cherries or the Smoked Honey Whiskey Sour with Griffo Stout Barreled Whiskey, Bittermilk's #3 Smoked Honey Whiskey Sour Syrup, Floraluna Honey Aromatic Bitters and Fever Tree Soda.
They've also teamed up with local award-winning chocolatier Fleur Sauvage for a chocolate and whiskey pairing launching November 1. (Run by Chef Robert "Buttercup" Nieto, who's competed in several Food Network shows, Fleur Sauvage is opening their first brick and mortar in Windsor this holiday season.) Griffo's newly opened barrel room, furnished with both tables and cozy leather couches, is serving Swedish street food and Middle-Eastern fare from the beloved Stockhome restaurant, including kabobs, meatballs, bratwurst, pita wraps, and salads. "We love creating these experiences for people," says Jenny. "We're here because of our community."
1320 Scott Street Suite A, Petaluma
415.425.1935
griffodistillery.com
facebook.com/griffodistilling
@griffodistillery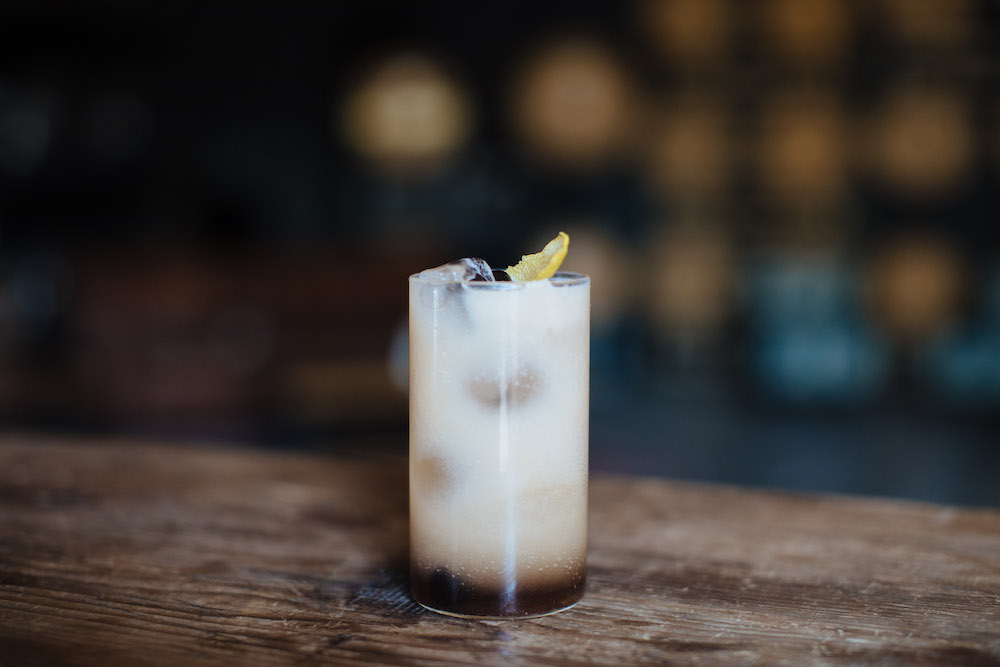 Amaretto Sour-ish Recipe
2 oz Griffo Stout Barreled Whiskey
1 oz Little Apple Treats Triple Citrus Shrub
0.5 oz Orgeat
2-3 oz Fever Tree Cola
Add ingredients to a cocktail shaker over ice. Shake, then strain into a glass over cola.
Garnish with lemon peel and cherry.