Tara Caplan once pissed off a bunch of Aussies over a didgeridoo. Or actually, her alter-ego Eaglesaunce, a faux-spiritual white hippie dude, did.
In response to a fake flier on Facebook advertising "Lower Chakra Didgeridoo Healings for Women"—Eaglesaunce is nothing if not smarmy—scores of Aussies decried the debasement of sacred culture by a clueless white person. "I was using satire to bring awareness to how creepy white dudes sometimes use appropriation to benefit monetarily and sexually," Caplan tells me, "but I guess it was too accurate!"
The Australian Facebook group, called "Sounds Like White People White Peopling, But Okay…" shared the post 210 times and sent scores of angry folks over to Eaglesaunce's Facebook page. That's the thing about Caplan's spoofs, which can be found in the slim and satisfying collection of comics entitled Hey Girls! Suspicious Guys You Should Be Extremely Wary Of…—they're so real and resonant, it's easy to get confused.
After living in West County for most of my 20s, I certainly recognize several of her 72 Suspicious Guys: from the "vacant-eyed, cult-vegetarians who always remember your name and want to know where you live" and the "drummer boys who openly proclaim that they are shamans" to the "middle aged coffee shop trolls who you notice sketching you, composing a poem in your honor, or trying to gaze deeply into your soul."
Perhaps unsurprisingly, there's been substantial backlash, mostly from older men who would openly balk at her booth at the farmers' markets. Online trolls bait her, claiming reverse sexism.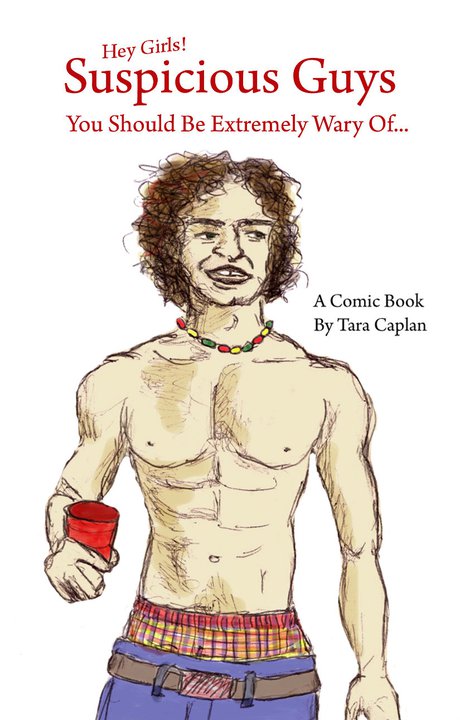 "In no way am I a malicious man-hater," says Caplan, who started printing comic zines in 2003. "I just enjoy making fun of a counter-culture that I've been part of. I'm really not trying to offend anyone." As we sip iced tea at Retrograde in Sebastopol, it's hard to reconcile the insults and vitriol she's provoked with this mellow soft-spoken artist who's soon donating 10 inches of her long hair and loves to bake raspberry thumbprint cookies.
"My first character was a form of therapy, a way to vent my irritation with men who think it's okay to harass women who are trapped behind a counter." The self-described "cynical hippie" had a 16-year tenure at the beloved and defunct Food For Humans, and in her early 20s worked at her father's Seconds First/Out of the Past, the eclectic hippie gift shop he's run since 1986 in downtown Guerneville with his partner Arrow.
There's no doubt that her West County roots grow deep: Caplan was raised in the hamlet of Cazadero, hanging out on the front porch of the local general store and swimming in Austin Creek. Her parents have been making tie-dye since the '70s, and her mother Nancy's vibrant work has been sold roadside in Monte Rio since the '80s.
"I had a pretty quiet childhood," says Caplan, an only child until her brother hit the scene when she was 11. "I spent a lot of time alone, observing, entertaining myself. I loved drawing people." A comic book collector and artist, her father David would also sometimes film the skits his daughter wrote, directed, and starred in.
Caplan draws with a cheap Bic, in a style that reminds me of the unrefined and exaggerated characters of the great Lynda Barry, author of the moving memoir One! Hundred! Demons! No matter how sinister the premise of their characters, there's an undercurrent of joviality that adds to their humanity and hilarity.
Fans of the original book, which Caplan self-published in 2009, are looking forward to the follow-up she's currently working on, titled Suspicious Women You Should Be Extremely Wary Of…. The woman who exploits spirituality in the form of thousand-dollar goddess workshops? Check. The woman whose "interesting" theories include government chem-trails and fluoride toxicity? Check. A recent Facebook post asking for ideas garnered nearly 100 comments.
Together with her longtime boyfriend, the "wizard of sorts" Benjamin Lenhard who recently published the whimsical and clever Illustrated Fictionary of Terms Abused, Caplan is working towards becoming a full-time artist. They created a Suspicious Guys card game and are looking for a producer. Also pressing is their search for the perfect Halloween costume; so far Portlandia's Women and Women First feminist bookstore owners are contenders.
In addition to her book, Caplan sells all manner of Cottagecore paraphernalia (read: Anne of Green Gables meets adorable woodland creatures), including jewelry, magnets, stickers, tote bags, and prints.
Just recently, Eaglesaunce—who was borne from Caplan messing around with a filter one day—has gotten a talking-to from his Aunt Karen (Caplan in a wig) who wonders when he will ever get a real job. But so far the avocado-lover and light-worker continues to spend his time sipping yerba mate and organizing clothing-optional cuddle parties for cosmic goddesses.
"There's an absurdity to humanity," Caplan says with a smile, "and I enjoy capturing it."
@tarasance on Instagram
facebook.com/caplan.comics
facebook.com/Eaglesaunce
tarasance.etsy.com
Find her books locally at Boho Bungalow, Gold Coast Coffee, Gryphon's Nest, and Seconds First, or through Facebook messenger