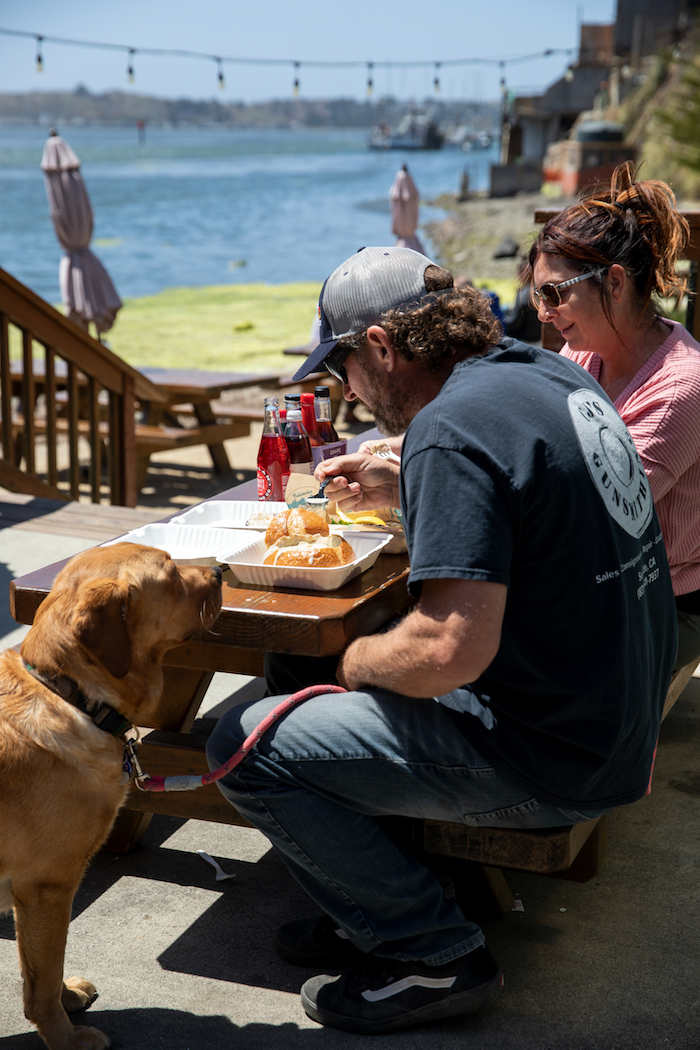 After a blustery hike on the bluffs of the fickle Northern California coast, as is our tradition, we claim the picnic table closest to the small cove next to Fishetarian Fish Market, legs nearly lapped by the gentle water. My kids dip sweet potato fries into their clam chowder-filled bread bowl while I peer through the binoculars that are rarely farther than arm's-reach from me, watching torpid sea lions loll in the calm waters of Bodega Bay.
I feel a kinship with these buoyant, well-insulated creatures calmly bobbing in the water, snacking on fresh fish, and barking at each other as they argue over the prime basking spots on the old Lucas Wharf pier. I bite into my fish taco feeling like I'm sharing a meal with old friends.
The pier's pilings are covered in perched seagulls that keenly eye my kids' fries, biding their time. On the far side of the bay the sun is pooling on the horizon, and the sky nestles into calming pink and orange hues that reflect off the dazzling silver surface of the tranquil water. If this was a movie, the soundtrack to this scene would be "Ripple" by the Grateful Dead. In reality, the song that happens to be playing is (you guessed it) "Ripple," by the Grateful Dead. Ripple in still water, when there is no pebble tossed, nor wind to blow . . .
Let There Be Songs to Fill the Air
Shane Lucas, owner of Fishetarian, father, husband, fisherman, and ex-seafood wholesaler is, first and foremost, a Dead Head. "We used to only play The Dead here, but some of the employees got kind of tired of it after working long shifts day after day, so now we pretty much just stick to classic rock," he tells me. On their spacious, covered outdoor dining patio, I strain to hear Shane talk about the history of Lucas Wharf over the rollicking sounds of Tom Petty imploring us not to do him "like that."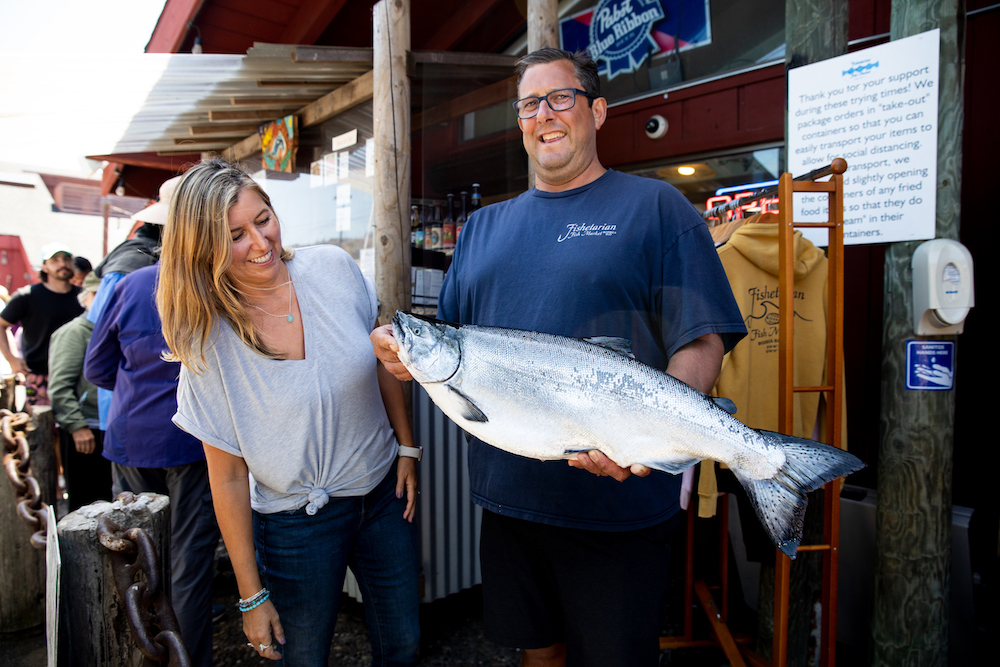 A family endeavor from the start, Lucas Wharf was bought by Shane's grandfather, a long-time local seafarer and fisherman, along with Shane's parents and uncle, in 1973. For many years the family operated the fishing vessel "The Silver Seas," which trawled for ground fish and pink shrimp up and down California's North Coast. The brothers, dubbed "The Shrimp Kings" thanks to their success, opened the Lucas Wharf Restaurant in 1984. "I grew up right here," Shane tells me, gesturing vaguely. "They taught me everything I know." 
Fishetarian opened its doors in 2012, when Shane and his wife Dana's son was just three months old. In fact, their famous gluten-free clam chowder, Charlie's Chowder, is named after their son, who was not able to tolerate gluten, and who spent long hours on his parents' backs as they worked.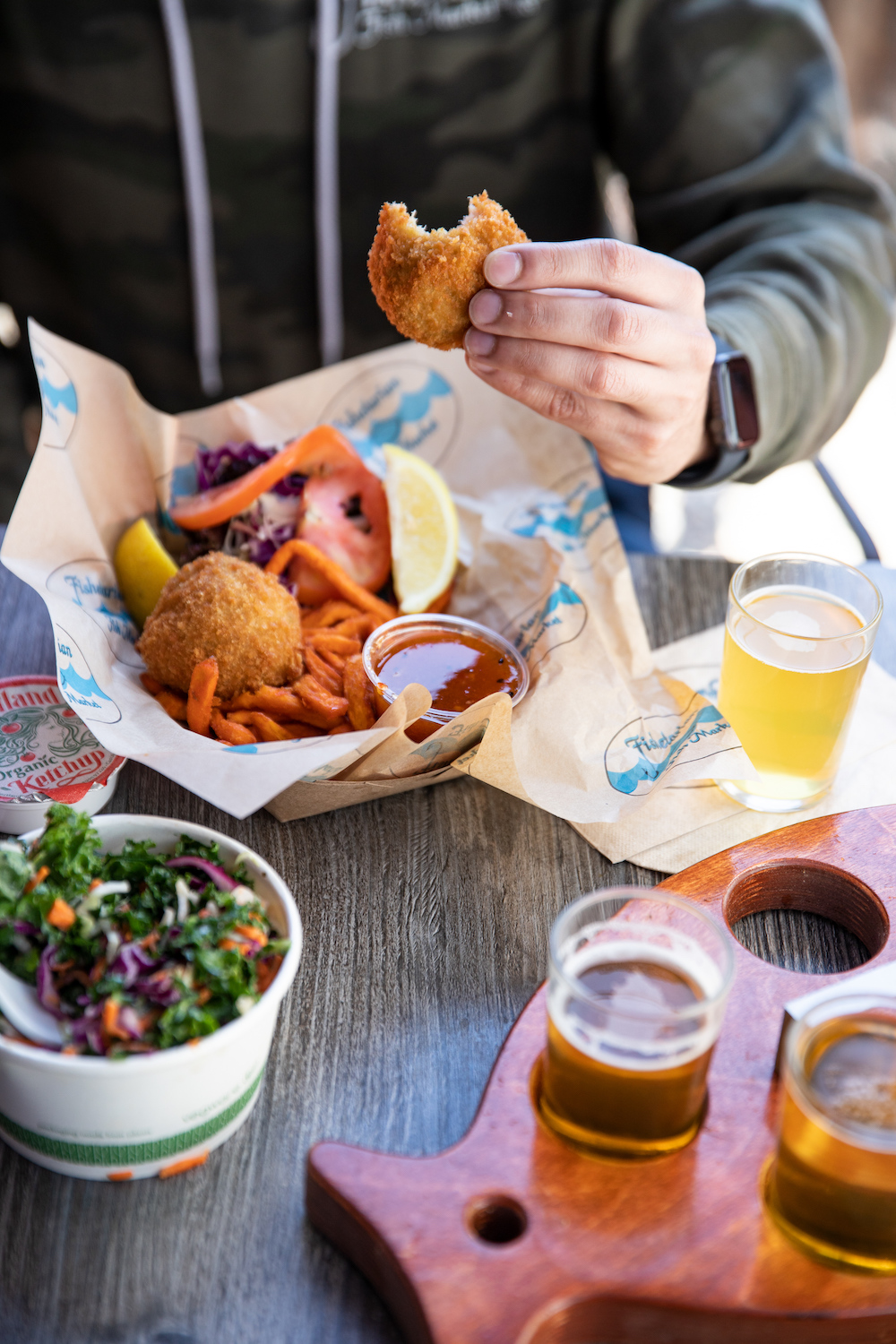 If My Words Did Glow With the Gold of Sunshine
As a born-and-bred Northern Californian, I always bristle when people refer to Bodega Bay as "the beach," which connotes bare skin slathered in oily suntan lotion and cool, swimmable surf, rather than frigid winds whipping over surging, hostile waters that bash against large rocky outcroppings. "It's not the beach, it's the coast," I'll retort in my most pedantically condescending tone. But at Fishetarian, the beachy vibe is unmistakable. "Flip-flop friendly, doggie friendly, come with the sand on your feet!" they announce. If not for the down-filled coat wrapped tightly around my shivering body, I could almost imagine myself lunching in a Southern California surf town, even more so as the fog lifts, revealing an azure sky.
"We call this a 'bummer-free zone,'" Dana Lucas, Shane's wife and co-owner tells me as I attempt and fail to demurely eat a generously portioned crab salad sandwich. The slogan reads, "The 'Bummer Free Zone' Guarantee: if you don't like your meal, we will 100% refund you, or re-make your meal until you are fully satisfied!" I can't imagine that the policy is often called into use. 
Fishetarian's commitment to exceptionally fresh, sustainably caught seafood is apparent in every delectable bite, and the long lines at the order counter are a testament to their bummer-free service. 
If Your Cup is Full, May it Be Again
After 40+ years in the seafood business, Shane really knows his stuff, and never skimps on quality, opting to support local fishermen whenever possible – to the tune of 1,500 pounds per week of local rock cod alone. Salmon and crab are bought right out the back door from their neighbors, The Dandy Fish Company. Shane and Dana also invested in state-of-the art fryers and very high-quality (and expensive) oil that does not overwhelm the delicate flavors of the seafood, allowing the freshness to come through in every bite.
Their beer batter is the foundation of all of their fried menu items, including their bestseller, the fish and chips. The signature texture is achieved by rolling beer-batter-dredged seafood in panko breadcrumbs, resulting in light, crunchy, not-too-oily delicacies. Everything on Fishetarian's menu can be made gluten-free by omitting the panko, and there are plenty of grilled seafood options if fried isn't your thing. Each fried menu item is served with a kale-based slaw that is dressed in vinaigrette rather than the typical mayonnaise, which makes you feel super healthy even when eating fried food—not an easy feat. They also offer vegetarian items for the few non-pescatarian customers, including an adult grilled cheese made from locally coveted Estero Gold with grilled onions and fig jam on fresh sourdough.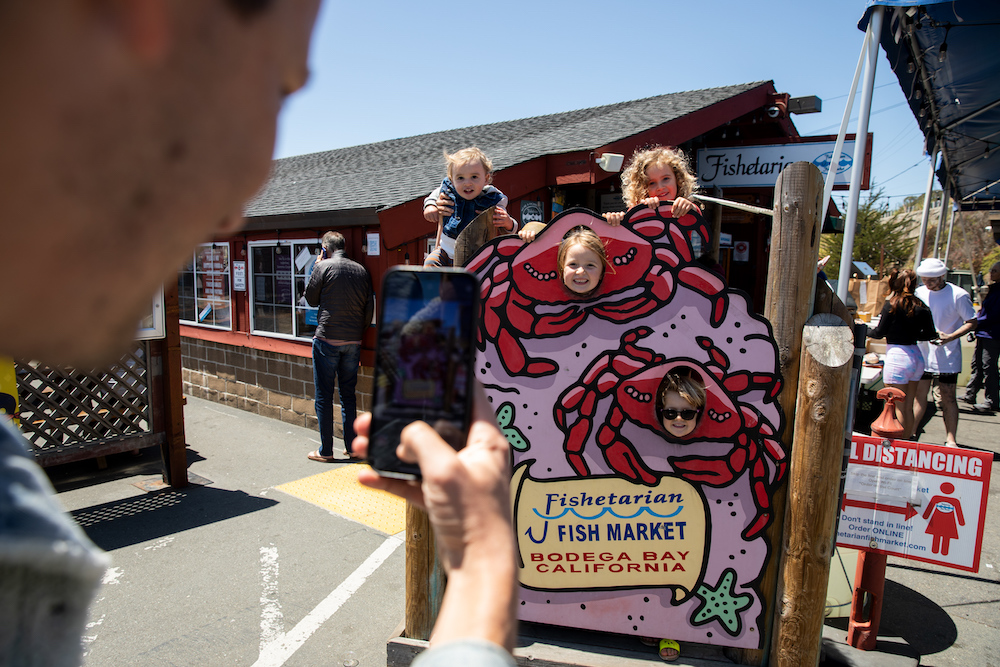 Bodega Bay eateries take their clam chowder very seriously, and Fishetarian is no exception. Theirs is an award-winning, Boston-style chowder garnished with fresh cilantro and green onion, thinner than their potato-laden competitors, with plenty of clams and not bogged down by flour. You can slurp it solo, but why would you when you can opt for a freshly baked sourdough bread bowl from Mariposa Bakery?
Besides their regular menu items, they also sell an assortment of fresh fish, which they ship all over the world, and an impressive selection of local beer, wine and cider to accompany your meal. Dessert selections include cheesecake and tarts—lemon, chocolate peanut butter, raspberry mousse. You can even get Deadhead-inspired Fishetarian merch, including hoodies for those frigid foggy days. And true to their family-friendly spirit, they have a perfectly portioned kids' menu to satisfy any picky eaters you may be dining with. 
Between the Dawn and the Dark of Night
Back at the picnic table on the cove, not a morsel of food left amid Fishetarian's recyclable, compostable and biodegradable tableware (sorry, seagulls), twilight is settling in. For just a moment, it feels as if the whole world pauses in the narrows of this transition from day to night, taking a collective deep inhale of the fresh sea air and holding it for just a bit longer than usual before exhaling. As the kids and I begrudgingly bid farewell to the sea lions, the last line of "Ripple" drifts sweetly over the water. If I knew the way, I would take you home.