Towards a Plastic-Free Bathroom
When I found out that China quit taking our recycling in 2018, and it's now piling up on docks, in landfills and on unsuspecting island nations around the world, I went a little nuts (Netflix, Recycling Sham). I read Zero Waste blogs obsessively. I labeled jars and filled them at bulk bins. I spent many meditative minutes in the shower staring at conditioner bottles and wondering how we could do it differently. I started buying Sappo Hill Soap from Oregon because they don't use packaging. I bought vegan dental floss in a paper container and started making my own toothpaste. Like one hardcore zero- waster friend said, "It's easy—if it's in a plastic package, I just don't buy it."
But is it so easy? How do you get lotion if you don't have time to make it yourself and you don't want the plastic container it comes in? Enter the refill store, which provides all of your liquid household goods (bath, body, and cleaning) in bulk. Bring them your old containers to fill with things like laundry soap, lotion, shampoo and dish soap, charged by weight. There were a few of these stores when I lived in San Francisco in 2006, but since moving to Sonoma County in 2008, I've been waiting.
HOMEBODY REFILL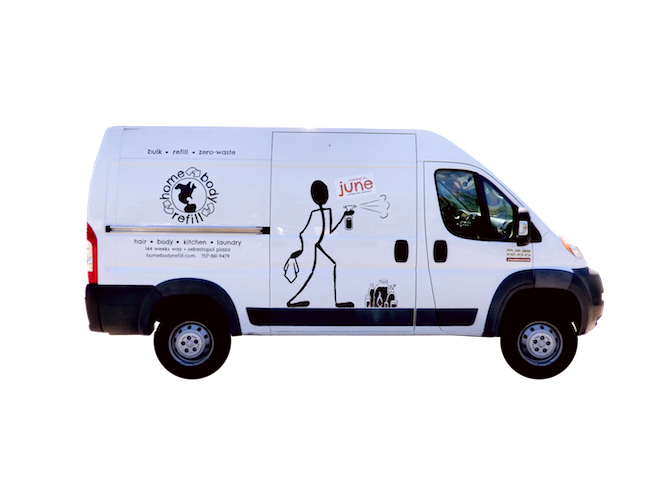 So when I first saw the big white Homebody Refill van at the farmers' market, I was elated. Joan Ayers' tables lined with one-gallon containers of soaps and lotions, and baskets filled with zero waste goodies like bamboo q-tips, toothbrushes and cutlery, were just what I was looking for. A California native, Ayers spent 30 years on the East Coast raising children and working as an escrow agent. When she finally landed back in Northern California, she was ready for a second career. After walking into a refill store in Ventura, Ayers said, "It was like this Aha moment for me because I realized I had been looking for a shop like this for a long time."
So she created her mobile van, committed to "organic and sustainably-sourced ingredients, environmentally-sound manufacturing, and no single-use plastic." Her items have little or no packaging, or packages that can be composted, like lip balms in cardboard sleeves, and her refill goods are unique in that everything starts unscented, with the option of various essential oil add-ins. My personal obsession is the sunscreen made by Copper Moon Apothecary in Santa Cruz, which contains titanium dioxide, safe for coral reefs. It rubs in clear, has a light feel, and my kids love it.
Ayers is aware that this movement isn't just about refilling, it's also about education. Years ago, while homeschooling her children, she started a program with a local 4-H camp called Pampered Campers, where she taught eight-year-olds how to make skincare products "with the intent to empower them to take care of their skin with products they could make
themselves." She hopes to host similar classes in heritage crafts and waste reduction at her new storefront on the square in Sebastopol. You can conveniently drop empty bottles and come back after shopping to pick them up.
And thanks to Rich Frattarelli, a loyal client and aspiring refill store owner, the Homebody Refill van will continue to frequent our farmers' markets around the county. Go to the calendar on her website to "find the van" on any given day.
144 Weeks Way, Sebastopol Plaza, Sebastopol homebodyrefill.com
REFILL MADNESS
Like Ayers and I, Jana Wang had also been waiting to see a refill store in Sonoma County. While teaching English in Taiwan, Wang was inspired by the efficiency of their composting and waste separation. Good friend Sloane Read opened Refill Madness in Sacramento in 2015, and watching the store's popularity grow made her even more confident that it could work in her hometown of Sonoma. Then the pandemic hit, and balancing two young children and three tutoring jobs pushed her and her husband Sam to take the leap. They opened the second Refill Madness in February of this year.
"Once you get the hang of refilling containers instead of buying new ones every single time, it gets easier, and habits can change," says Wang, who calculates that for every one gallon (128oz.) carboy of product you buy from them, 10 or more 12oz. plastic bottles aren't going into the waste stream. That's almost 75% less plastic in the garbage can. They reuse as many of their five-gallon buckets as possible, or offer them up on Craigslist.
The store also hosts a station by Terra Cycle, a national recycling solutions company that facilitates free recycling programs funded by large corporations looking to offset their plastic use. Here you can recycle "crack" plastic like razors, dental and deodorant containers, wine corks, pens, etc.
Wang acknowledges that the effort of creating a new habit can be hard, but with 100 product offerings including familiar brands like Ecos, Griffin Remedy, EO, Shikai, and Alba, it's not hard to find what you need. They also carry cutting edge products like Tru Earth package-free laundry sheets that dissolve in your washer and Azure Clean Live Enzyme stain and odor remover. On the shelves are whipped body butter and soap made by students who also grow the veggies and herbs at Yisrael Family Urban Farm in Sacramento, a nonprofit that builds gardens and supports sustainability in the inner city.
A teacher at heart, Wang sees her business endeavor as another way to educate those around her. "I'm just hoping it's like a domino effect, where people come in and see that this is a possibility."
HERITAGE ALCHEMY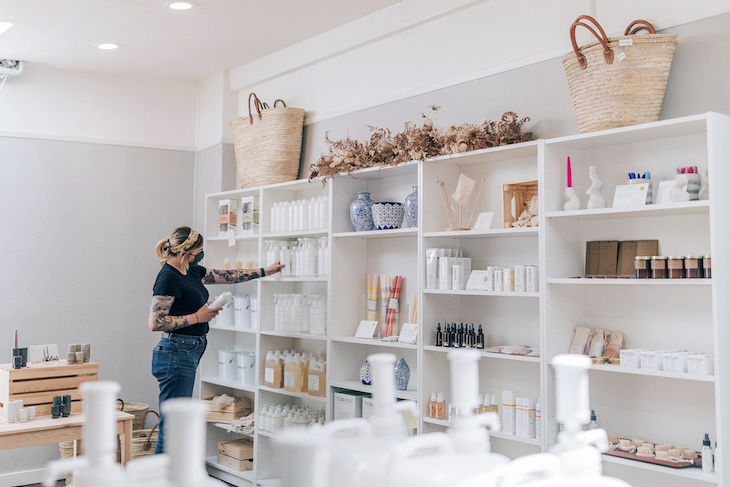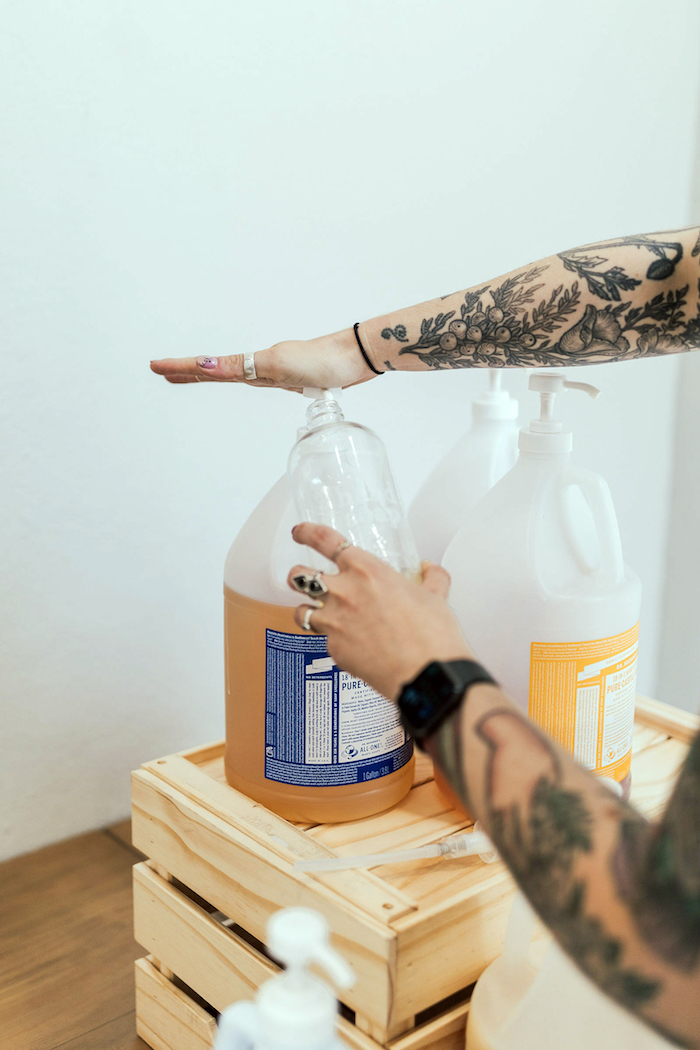 Heritage Alchemy, Santa Rosa's first refill store, was started by twin sisters Brianna Hanson and Brittany Westerman. After growing their event planning business Reed and James Events (named for Brittany's two children), the sisters were ready to have a footprint in town. Brittany envisioned a storefront that would promote eco-friendly ideals and a sustainable way of life. On the main strip in the SOFA neighborhood, the boutique has the light crisp feel of a wine country wedding, with high-end beauty products like the Kate McCloud Mama Body Stone, a lotion bar that melts into your skin.
"We want everything to be a good clean swap from something you already use in your home to something a bit more eco-friendly, whether it be the refill station, or silicone Stasher bags instead of Ziploc, or deet-free bug repellent in a refillable case," says Hanson, who has curated an eclectic array of home, body, and kitchen goods that are fun to browse. Find cast iron pans, books on DIY herbal infusions, hand-sewn kitchen scrubbers made with loofah and linen, bamboo plates and toothbrushes, tooth powder rather than paste, even compostable sunglasses for when they break or get too scratched up.
"Our biggest supplier for the refill station is a company called Common Good. Their mission is to reduce consumption of single-use plastic inside the supply chain," Hanson tells me, and then explains that her hours of research found that many companies spend so much money on designing their packaging, they prefer you buy a new bottle each time. In contrast, Common Good uses and reuses five-gallon carboys for their products (rather than the typical one-gallon bulk containers), and charge far less for bulk items.
According to the Natural Resource Defense Fund, "A whopping 91% of plastic isn't recycled at all." When I look around my bathroom at the increasingly refillable containers, I'm reminded that we need to focus on the other key Rs— reducing, reusing, and refilling. As manager of Heritage Alchemy Erin Sweeney points out, "We don't need a few people doing everything perfectly. We need a whole lot of people doing what they can, making small changes."
300 South A Street, Suite 1, Santa Rosa heritagealchemy.com