Skewer Winter!
Welcome to our regular recipe column from teacher and stand-up comedian Sarah Whitmore.
Story, recipe and photos by Sarah Whitmore.
How many times did you think about your lungs today? No, really. Twice? Twenty times? Eight million times? Because today, I thought about my lungs 37 million times.
Last year, on this date, I thought about my lungs no times. Last winter, I didn't think about my lungs until December 21 when I remembered—last minute—that I needed a gift for a holiday party.
Festive Fumes
It was an emergency so—oops—I walked straight into Satan's Waxworks, a well-known scented candle franchise. I'll call it Stankee Sandal (they sell no footwear.) The doors had barely closed behind me when a muscular gust of Xmas odor tore through my nostrils.
My halls were decked! Infected by The Holidays.
The danger hatches in my nose tubes slammed shut. Exactly what The Holidays (TH-19) wanted! TH-19 had been evolving for centuries—now it was deep inside my lungs . . . probably replicating.
I'm not a fan of rigorously scented gifts (besides garlic), however, I won't pass judgment on people who dig a super-aromatic candle. The nose wants what the nose wants.
I will question THE DECEPTIVE NAMING of those candles, though.
Smeller's Key
If the titles were truly descriptive I would never have let my snoot linger over The Reindeer's Gift (The Cow's Chip?)
Before you lower your mask and go a' test-sniffin' this holiday season, print this handy aroma title translation guide or Smeller's Key.
Candle titled Toasty Conifer? You might recognize this scent as Fire Season.
Winter Spice = Pepper Spray
Jingle All the Sleigh = Choking All the Way
Silent Night = COVID Swab
Cozy Pie = Tazered Eye
Reeling from fire/smoke season and with COVID-19 all  up in our aerosols, I Googled foods that support lung health. Beets.
I tried again. Nope—it's beets, folks. There's no skirting this. If you aren't already a fan, now is the time to get into this sweet, dirt-vibes (and delicious) internal organ look-alike. Pumpkin, ginger, rosemary and berries—also lung lifters.
This year, for the holidays, no one is coming over. So make something you actually want to put in your body—something yummy that makes you feel the opposite of stuffed and trussed.
Rosemary Skewered Beet Roast!
Finally, a recipe that encourages you to cut back that crazy rosemary bush on the side of your (neighbor's) house!
This dish can be served piping hot or salad-cold. Skewer the veggies with rosemary spears before or after cooking or lay the rosemary down and roast the veggies on top.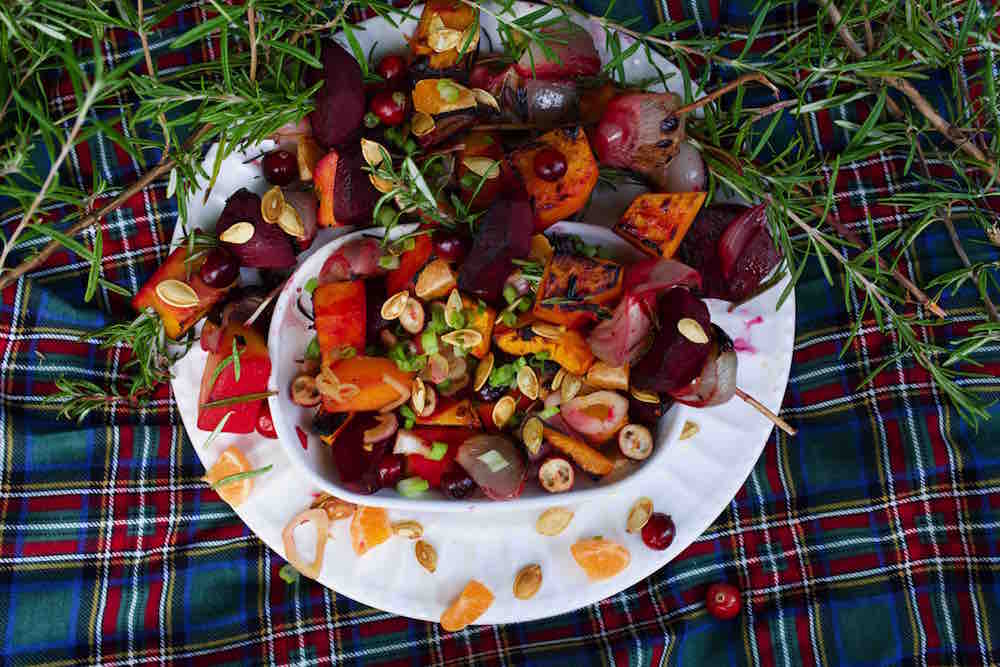 INGREDIENTS
6 medium-sized beets, peeled and quartered
2.5 cups pumpkin (1 sweetie pie) chopped into
1.5 x 1.5 inch hunks
Several spears of fresh rosemary—a big bouquet!
3 large shallots, divided
Marinade/Dressing
2 tablespoons medium brown rice miso paste
2 tablespoons tamari
3 mandarins, divided
2/3 cups cranberries, divided
1 tablespoon toasted sesame oil
2 tablespoons toasted pumpkin seed oil (or avocado)
2 tablespoons maple syrup
3 tablespoons apple cider vinegar
1 lemon, juiced
2-3 tablespoons fresh ginger, peeled, finely minced
1/2 teaspoon mandarin zest (2 mandarins)
1/2 tsp ground cloves
1 large shallot lobe sliced into thin rings
Garnish
1 mandarin, individual sections halved
1/3 cup cranberries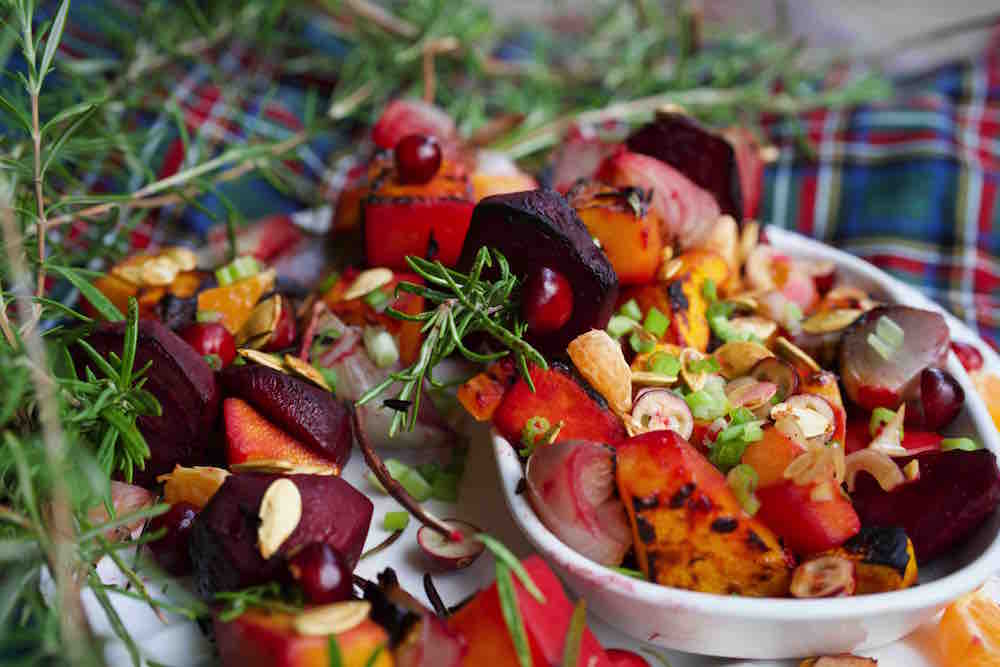 DIRECTIONS
Marinade/Dressing
Squeeze juice from 2 mandarins and 1 lemon into a medium bowl.
Combine and whisk together remaining marinade ingredients—except the 1 shallot lobe.
Divide marinade in half, about 1 cup each, in 2 separate bowls.
Add sliced shallot to 1st bowl
Slice 1/4 cup of the cranberries in half and add to 1st bowl
Combine and cover to marinate
Veggies
Clean, peel, halve beets, and place in a wide, shallow bowl
Peel and chop pumpkin, add to beets
Peel and separate shallots, and cut lobes in half
Add shallots to beet and pumpkin chunks
Pour marinade from bowl 2 over veggies
Preheat oven to 385 degrees
Marinate veggies about 20 minutes, turn occasionally
Lay thick bed of rosemary in baking pan
Save some rosemary spears for skewering
Spread veggies over rosemary bed
Roast on middle rack for 30-35 minutes, turning once mid-roast
When beets and pumpkin are tender, turn on the broiler and raise pan to mid-high rack to get even more browning and a little char on veggies—only 3 minutes, be attentive!
Remove and cool a few minutes
Toss in a bowl with remaining dressing or skewer with fresh rosemary spears and drizzled dressing over top
Optional: chill veggies and dressing for salad
Extra Credit: scoop pumpkin seeds and toss with tamari. Roast to garnish!