On a warm Thursday in June, I took my daughters to a sign-making gathering at Rincon Valley Park in Santa Rosa. It had been less than a month since those criminal 8 minutes, 46 seconds in Minneapolis had robbed George Floyd of his life. The gathering was a perfect socially distant kid-friendly activity. Stacks of poster boards, tubes of acrylic, cans of spray paint, stencils of righteous fists. It felt good to be doing something, however small, to contribute to the burgeoning Black Lives Matter movement.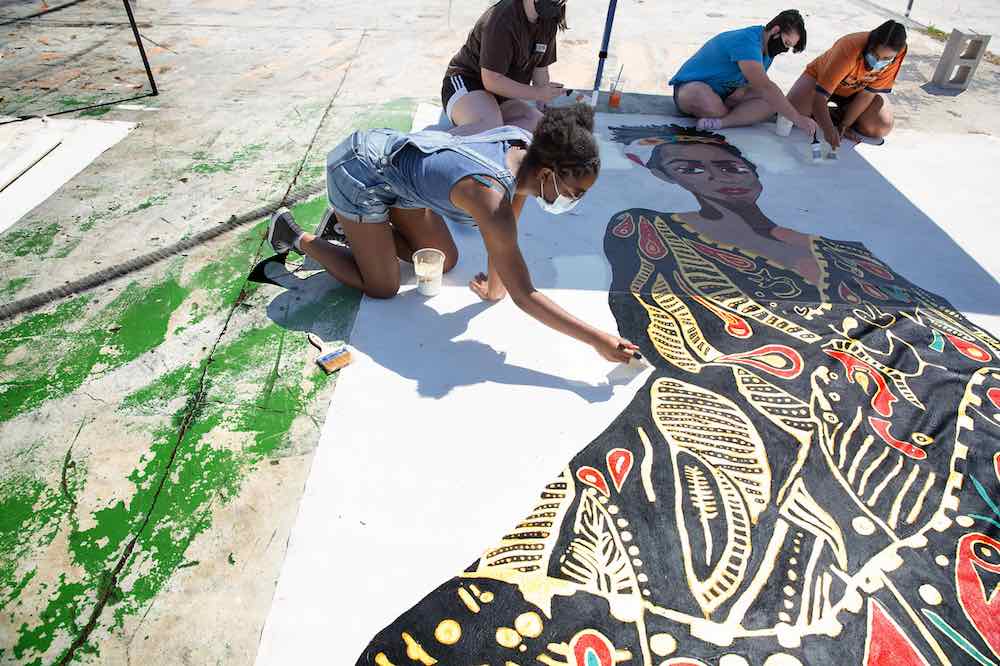 "Ally is a verb," asserts Remi Newman, the host of the event, who suggested they might hang the posters someplace visible. Within minutes, volunteer Lisa Batzdorff Kearns had secured permission from the principal of Sequoia Elementary to hang them on their fence that faces Calistoga Road. Little did I know that I was witnessing the birth of a local movement that would transform blank cityscapes into activist art by and of BIPOC.
Remi, a sexuality educator at Kaiser, and her friend and coworker, ob-gyn Cortney Harper, were inspired by the BLM murals being painted on boarded-up windows after rioting in Oakland and San Francisco. So they asked Mayor Tom Schwedhelm at a protest in Doyle Park to let artists paint in the street. He agreed.
The City of Santa Rosa offered up the whole street in front of City Hall, but with the idea to push the project through quickly, and thus without any funding for artists. "We realized we could have more artistic freedom if we worked on our own," Remi confessed, "instead of giving the city an opportunity to engage in performative allyship without doing much to enact the systemic change being demanded by the activist movement."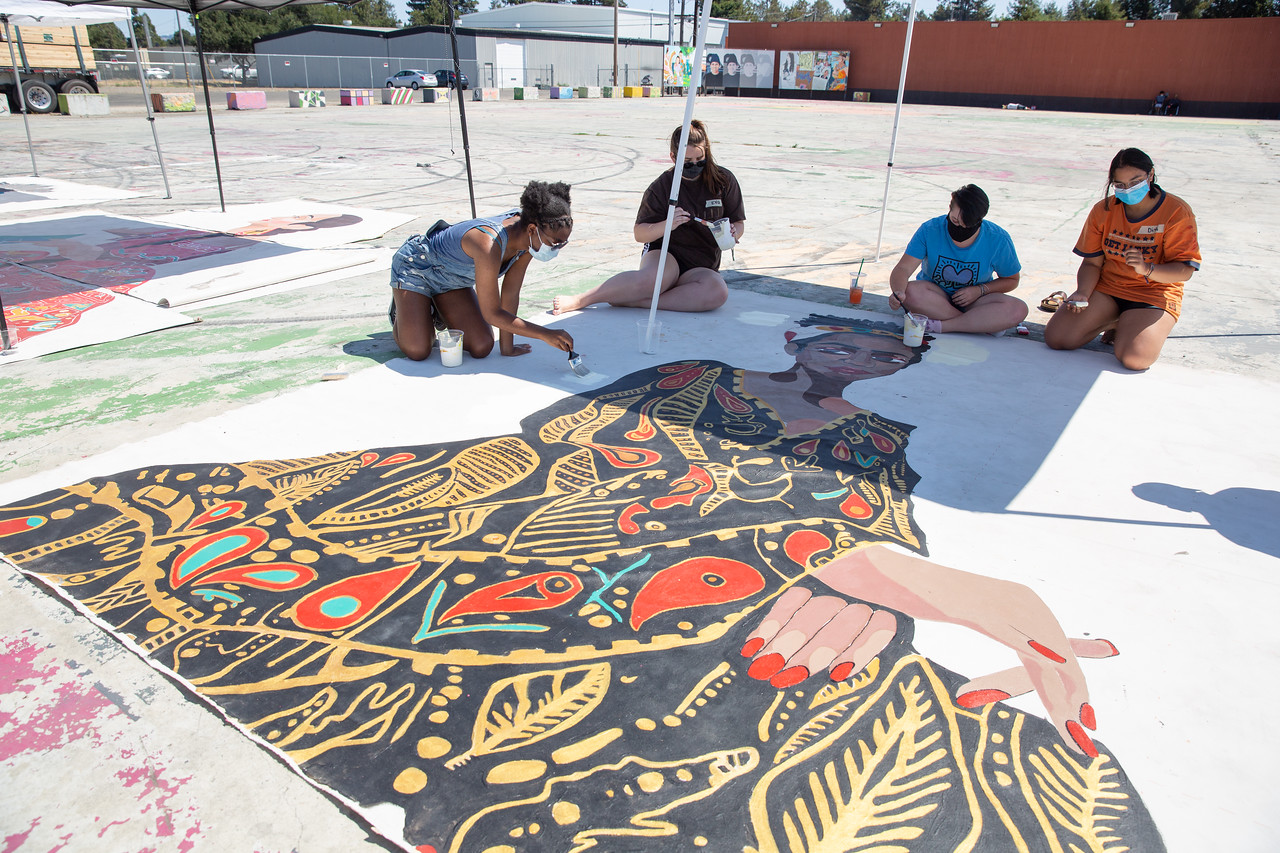 So they went through other channels: local artist Amanda Ayala suggested they contact Dmitra Smith, former chair of the Sonoma County Human Rights Commission, who put Remi in touch with artist and activist Rima Makaryan, founder of The Monarch Project, an Immigrant Rights group. Artist Feven Zewdi joined up at another protest, and soon after, they established their name, SCAPE (Sonoma County Artists Promoting Equity) and their first project: murals of boots-on-the-ground activist women.
"I was ready to tap into the intersectionality of justice work. So this opportunity was the perfect thing dropped into my lap," says Rima, who just started her first semester at Stanford online. "I knew I wanted to do portraits of living people, the bad-ass women doing the work. That's the ultimate honor."
Women Doing the Work
At only 18 years old, Rima is a force: she started a nonprofit before learning how to drive and has already evolved beyond her original artist handle, Crimativity (which is how she signed the much-lauded Dreamer mural at Montgomery High). Together with activist peer Joy Ayodele, she helped to organize Santa Rosa's first BLM protest via social media. Expecting a modest turnout, "We were so surprised and inspired when hundreds of people showed up," Rima tells me.
Given her leadership in the BLM movement and her creation of the group What We Are Fighting For, which advocates for ethnic studies courses, Joy was a natural choice for inclusion in the mural. "This past summer, I've found myself constantly doing work for my community," Joy tells me. "Each event has been focused on educating, bettering, and uplifting my people. When I was approached by the artists of the mural, I truly felt like my community was beginning to uplift me as well."
Rima's next idea was former public defender turned immigration attorney and spoken word artist Bernice Espinoza, who treated me to a performance right over the phone one evening. "I am not the voice for the voiceless," she tells me, "but the conduit to create platforms for the voiceless to be heard."
In a honeyed voice that belies the grave subject matter, Bernice unpacks the symbolism embedded into the mural of her: the dress that she wore to a fundraiser for The Schoolbox Project and to her 20-year high school reunion, imprinted with the scale of justice and caged butterflies that capture both her professional work and her identity as an "unbroken butterfly" who survived sexual violence; the cross as symbol of her faith on big bold earrings that fearlessly announce her presence. "And one thing Rima added, which made me cry when I saw it," she reveals, "are the chains on the shoulders of my dress," a nod to her work with the incarcerated.
"I don't just see myself in the mural," says educator and community resource Rosie Hammock, an indigenous woman of Pomo descent, who completes the triptych. "I see my aunties, my ancestors, the strong women I come from. And with roots in Mazatlan, Mexico, and Nicaragua, I also see parts of myself in the other murals as well."
The decoding of Rosie's mural provides another lesson in culture and history. The seven lines tattooed on her chin are the seven generations that came before her; the topknot on her head, worn only by women, made of turkey tail, hawk, and golden eagle feathers; her orange, black, and white dress, the colors of the flicker bird, whose feathers adorn the traditional regalia of her Pomo people—an umbrella term that encompasses 23 sub-groups living in Sonoma, Mendocino, and Lake Counties.
Even the designing of the mural represents diverse styles: Rima, who designs digitally, sent screenshots of her shapes and patterns to Feven, who drew the women in their triangular dresses by hand. Feven moved back to her native Santa Rosa after 15 years of living in Seattle and working with adults with disabilities. It was supposed to be a pitstop, a chance to "shack up with family, save some money," but then the pandemic grounded her. While she's been selling art since her teens, sometimes doing flash sales on Instagram to raise money for causes like The Innocence Project, this opportunity has given the talented painter "the chance to be more of a working artist than ever before."
Triangular Triumph
Harder to find was the place to paint. "I ran around downtown Santa Rosa, knocking on doors," says Rima, who finally lucked out when Three Disciples Brewing (on Mendocino Ave.) granted them "ultimate freedom" to paint their outside wall—with the caveat that the wall would not be permanent. So they decided to paint 10 by 12-foot canvases. Remi's partner James Mosier built special wooden frames so he could transport them in his truck.
For six days straight, they painted the triangular canvases in the huge parking lot next to Mitote Food Park, site of the former Dollar Tree store in Roseland, presided over by Mario Uribe's mural of Andy Lopez. A GoFundMe campaign netted $3,000, which mostly went to supplies, with the final quarter split between Rima and Feven. The day I stopped by, the fierce winds blew over a bucket of paint being used to secure a shade in the blazing 90-something degree heat. Feven and Remi grabbed paper towels, mopped up the mess, and then held the canvases down while people worked their brushes. When they were finished for the day, I watched volunteers gently sweep dust and debris off the giant canvases as they gingerly rolled them up.
Thanks to social media, several volunteers showed up daily to help out—among them this magazine's contributor Evan Wiig, preschool teacher Ellen Gordon, and Chris McKee, who stretched the canvases onto their frames until midnight on their final day. Volunteer Erik Martinussen is a veteran, construction worker, and artist whose love of detail work came in handy with sketching the intricacies of the women's dresses. Together with Chris and James, he hung the Trinity Mural on a strangely cool, misty Sunday morning. It had been just a few weeks since the sign-making event in the park.
A Tapestry of Our People
Building on their momentum, the City Arts Department encouraged SCAPE to apply for the Open and Out downtown art project. This time, they really did paint the street—specifically four giant mandalas on the block of Santa Rosa's 4th Street just east of Courthouse Square. A Tapestry of Our People also includes several more murals of local folks doing inspirational work, including Roseland native and activist Chantavy Tornado, SRJC's EOPS outreach specialist and advocate for Latinx students Rafael Vasquez, co-president of SRJC's Black Student Union and organizer Delashay Carmona Benson, and Ana Salgado, who helped ensure the creation of the Andy Lopez Memorial Park and advocates for police accountability.
I popped by one afternoon and was greeted by the warm and friendly Vanessa Wilbourn, bassist and singer of the Rainbow Girls. When she'd showed up to volunteer for the Trinity Mural and "saw all these women of color and this blue-haired lady [Remi], I knew I wanted to be part of it." And so entered their fifth member—another artist whose gigs were stymied by the pandemic, who feels that "art is the purist form of activism. Art in the streets is a sign of a healthy city."
Vanessa handed me a brush and a shallow dish of green paint and instructed me to clean up stencil lines of butterflies, lotus flowers, fists, and chains in one of the huge mandalas. A cacophonous construction worker nearby made it hard to chat with fellow volunteers, so I relaxed into the soothing repetition of brushstrokes on rough concrete.
No Stopping Now
It's head-spinning how SCAPE went from idea to execution in days, their second major public artwork finished at midnight after a 112-degree smoky Saturday in early September. Next up is a collaboration with VOICES, a nonprofit that serves foster kids who've aged out of the system.
"No job is too small," affirms Cortney, who has five kids ranging in age from 5 to 13. "Bringing food and coffee, asking my husband to run to Office Depot, I do what I can do. Even if I was an artist, I wouldn't want to be in the spotlight. I'm happy to do the grunt work behind the scenes so that BIPOC artists can be highlighted."
Though some of those original signs at Sequoia have been taken down or vandalized over the past couple of months, Lisa and Remi always get them back up—and have publicly pledged to donate money to BLM each time they are messed with.
"I made more new friends and connections in the past four months through the activist movement and SCAPE than I have in the whole 15 years I've lived here," says Remi. "People who show up to protest and make art for justice are really cool people. People of all ages, races, genders came to paint with us—it was beautiful. To be a part of art with a powerful message of anti-racism and social justice is empowering and uplifting."
And its effect is already palpable. "I never saw anybody who looked like me growing up, outside of my own family," Rosie tells me, her voice thick with emotion. "So I see these murals and think, look how far we've come. What a beautiful representation of us as women—and in a public place. We are not hidden away or silenced. I hope other young native girls, nonwhite girls, see those murals and think, That looks like someone in my family. That could be me.
Donate to SCAPE: gofundme.com/f/sonoma-county-social-justice-mural-project
The Monarch Project: socoimm.org