In the face of sudden loss, the family behind The Tamale Factory continues a tradition of handmade tamales handed down through generations.
When her grandmother Mary died suddenly last March after suffering a bad fall, Elva Nùñez and her family were faced with a difficult decision. Should they keep going with their recently relaunched tamale business, or should they shut it down before languishing without the guidance of their 93-year-old matriarch?
"It was heartbreaking to make the tamales for the first time without our grandma," says Elva, on a Wednesday afternoon at The Tamale Factory's production kitchen in Santa Rosa's Skyhawk neighborhood. "We doubted ourselves as there is no written or oral recipe." And yet, they couldn't stop, driven by some sort of ancestral drive to make tamales for their established customers and friends, and for themselves. The instructions were etched in their minds, a result of generations of perfecting for taste, aroma, and composition.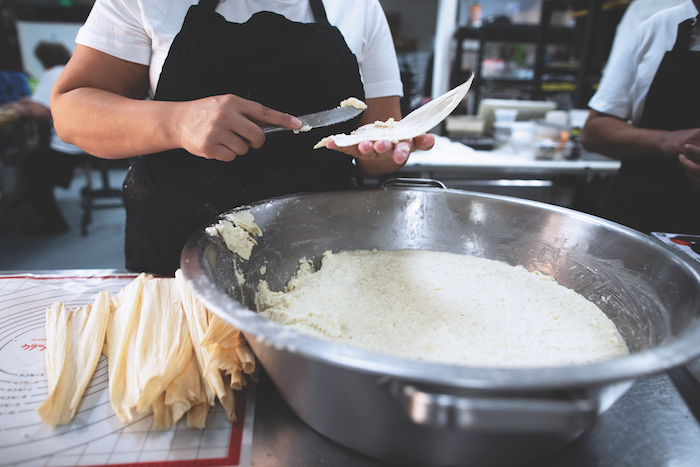 "We could hear her voice guiding us, as she had in person so many times prior," says Elva. "It was in these moments, after her passing, that we were able to understand the love that had been passed down for so many generations. Our grandma spoke of her mother when she made tamales, as I speak of her and my mom now."
Old Becomes New
The Tamale Factory officially relaunched as a business in 2018, with the blessing of Mary Nùñez. A collective effort supported by Elva's husband, cousins, siblings, children, and nieces and nephews, the business remains small—with the tamales available at farmers' markets across Sonoma County. The drive to make a perfectly delicious tamal spans five generations, says Elva. These roots stretch back to Juarez, on the northern border of Mexico. There, Elva's great-great grandmother, Julia, made tamales and sold them to her community, earning her enough money to create a small real estate empire.
Great-grandmother Antonia migrated from Texas to California in the early 20th century, where her husband worked in agriculture in the Central Valley. As he worked in the fields, Antonia made tamales to sell and she did well, opening three restaurants in Bakersfield. The tradition continued when her daughter Mary Nùñez moved to Sonoma County with her husband, forging a career in the 1960s as a Headstart director. Trying to drum up more parent participation at school fundraisers, Mary started making tamales for the events. People couldn't get enough them, handmade from scratch. Nùñez nixtamalized the corn (see sidebar on next page), just as all the matriarchs had done before her. She made her own chile and wrapped each tamal by hand.
In 1984, Mary opened Nùñez Tamale Factory on Old Redwood Highway in Windsor. The restaurant ran until 1993, serving tamales and menudo to a host of regulars. But when Mary's husband Manuel died, she struggled to run the business solo and decided to shutter it. Still, she continued to make tamales out of the family kitchen, training her children, grandchildren, and great-grandchildren to make them in a very specific manner, passed down for generations.
"Making tamales is such a labor-intensive task that everyone has a role," says Elva. "In our family, it was usually directed by our grandma. She ran a tight kitchen. There was an order in tasks, and no one could move on to another role until they mastered the most basic of steps."
Elva's niece Briana, a senior in high school who helps out with the family business by running the cash register at the farmers' market on the weekends, recalls her grandmother's challenge to take the work of soaking corn husks seriously.
"She told me: 'If you are going to do something, do it right," Briana recalls. She also admits that she loves tamales and could eat them all day, which makes working at the farmers' market more of a treat than a chore. Elva's daughter, Tatiana, 14, agrees.
Breaking Away
The newest iteration of The Tamale Factory did stray from the family recipe in one way. While Mary Nùñez had offered a vegetarian version of her tamales, way back in the 1980s when "Where the Beef?" rang out on televisions across the nation, Elva decided to take it a step further. She created a vegan tamale, made with organic, non-GMO corn and a squash filling. Local olive oil from Eyrie replaces the naturally rendered pork fat used in the traditional version.
The inspiration for a plant-based tamale arose from Elva's own health struggles a couple of years ago. As she worked to regain wellness, she studied food labels and learned the difference between industrially produced, conventional corn and hand-ground organic corn. "I was so blinded before," says Elva. "Now, I'm truly a believer that food can heal. And I thought there might be other people out there like me."
Mary didn't immediately get on board with the idea. "I ran the vegan idea past my grandma and she thought it was kind of weird, quirky," says Elva with a laugh. Eventually, she came around to the idea of plant-based tamales, driven by excitement over the prospect of relaunching the business that had brought her so much joy decades before. (They also still make "traditional" tamales with maiz fresca or fresh corn, an organic chili blend, naturally rendered animal fat, and pork or chicken.)
Return Trip
In 2018, the family secured a booth at the Windsor Farmers' Market. They posted an announcement on Nextdoor.com, selling out within a couple of hours. It was just a trial. And it stuck.
Already in her early 90s, Mary jumped back in with unbridled enthusiasm. She wasn't able to attend the launch at the farmers' market, but she loved hearing the stories of the returning customers, and their fond recollections of Nùñez Tamale Factory.
"I saw the gusto in her," says Elva. Mary even came out to help make tamales in the commissary kitchen at Druid's Hall, where they did production before moving to the location on Skyhawk.
So, when Mary died in March, the family was left without a map. Should they keep going? "My grandmother was a huge part of my life," says Elva. "We saw her every day. It was a huge loss for us."
Instead of giving up, the stories and the connection with the past, the process of making tamales allowed them to move forward without their beloved matriarch. As a collective, the family also wanted to fulfill commitments made to customers. "It was truly a healing process," says Elva.
When she mixes the masa in the same stainless steel bowl passed down from great-grandmother Antonia, Elva feels that connection to family and story, a lineage that transcends time. As a distant cousin put it, "In the aromas, the ancestors are present." Of course, the challenges of running an artisan food business is real. Organic corn can be challenging to grow, making it expensive and sometimes frustrating to source, for one. For now, the family is satisfied to function at a small scale, selling locally and growing slowly. They also continue the family tradition of donating or selling tamales at a low price point for local fundraisers.
"We feel blessed and honored to be able to share our culture and share something that's been passed down for so many generations," says Elva. "It absolutely is a business, however, each batch of tamales is made with love, culture, and tradition."
What's the Deal with Nixtamal?
The Tamale Factory doesn't buy a ready-made masa harina (corn dough) for their tamales. Like their grandmother Mary Nùñez, they cook, cure, and grind the corn themselves—a process that takes two days to complete. The key lies in the "nixtamal," or dried corn treated with slaked lime that's then ground to make the masa used for tamales, tortillas, and other foods. The labor-intensive process involves thoroughly washing and drying the corn kernels, then slaking them with the lime, and grinding the corn by hand in a mill to produce the flour. Elva Nùñez points to chefs at restaurants like Thomas Keller's La Calenda in Yountville, where the chef employs the process of nixtamalization. "It's interesting because it's kind of becoming trendy again, but it's something we've done for so many generations," she says.