Sonoma County's employee-owned Oliver's Market has released their first Social Purpose Corporation Annual Report. The report is available for download or viewing at oliversmarket.com/mission-esop/
Oliver's became a Social Purpose Corporation (SPC) in 2017 when Oliver's founder and president Steve Maass opted to concurrently make this change and establish an Employee Stock Ownership Plan (ESOP). These changes were made to preserve Oliver's independence for years to come and reward the employees who have worked to build and sustain the company.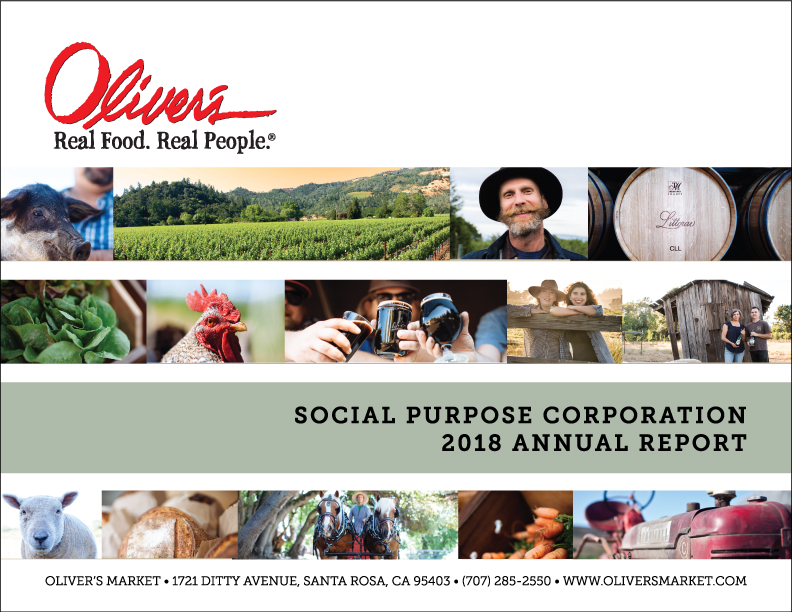 Filing with the state of California as a Social Purpose Corporation did not pose a huge cultural shift for the company, because the stated goals have been key pieces of Oliver's culture since the first store was opened in November 1988. In summary, the Articles of Incorporation state that Oliver's is committed to serving "our employees, suppliers, and customers…as well as the Sonoma County community, including its people, businesses, agriculture, and environment."
As a Social Purpose Corporation, Oliver's is required to complete and post an Annual Report. The goal for the initial 2018 Annual Report is to present the company's achievements and advancements related to its Social Purpose Corporation tenets, and use these accomplishments as a baseline for new 2019 goals related to these areas.
"Becoming a Social Purpose Corporation, or SPC, has provided us with a great opportunity to think about the things that are important to us in a more quantifiable way," said Steve Maass, Oliver's Market founder and president. "We will use this SPC Annual Report to share our progress in sustainability, serving our community, our partners, and most importantly, our employees. I hope it will help everyone learn more about the many ways we are working to serve Sonoma County and be sustainable."
Download the Oliver's Market Social Purpose Corporation 2018 Annual Report here: oliversmarket.com/mission-esop/
---
About Oliver's Market
Established in 1988, Oliver's Market is an employee-owned, independent grocer serving Sonoma County, California from four locations in Santa Rosa (2), Cotati and Windsor. Oliver's Markets strive to offer customers the finest selection of natural, conventional, and specialty products. This mission begins with a commitment to support the community through hundreds of local partners including farmers and producers of food, beverage, and wellness products. Oliver's carries over 6,000 locally produced products, which account for 26% of sales annually. A member of the Sonoma County GoLocal Cooperative, Oliver's received "Green Business Certification" from the Sonoma County Green Business Program (2011) and a "Best Practice Award" from the Business Environment Alliance (2007). National recognition includes the Specialty Food Association's "Outstanding Retailers Award" in 2005 and 2013. Additionally, Oliver's was the featured Store of the Month in the December 2016 issue of Progressive Grocer Independent magazine and earned the 2017 Progressive Grocer Outstanding Independent Award in the multi-store category. In 2019, Oliver's won the Progressive Grocer Outstanding Independent Award for Local Focus in the multi-store category.
Locally, Oliver's has been named "Best Grocery Store" by North Bay Bohemian readers annually since 2000, and in 2015, 2016, 2017, and 2018, Oliver's won the "Best Local Produce" category in the Press Democrat's "Best of Sonoma County" awards program. In 2017 and 2018, they added "Best Local Grocery Store", "Best Butcher", and "Best Deli" to their "Best of" honors. Oliver's was named one of the "Best Places to Work in the North Bay" by North Bay Business Journal in 2016, 2017, and 2018, and received the "Inclusive Employer Award" from Down Syndrome Association North Bay in 2016. Oliver's Market became an Employee Owned Company (ESOP) and a Social Purpose Corporation in 2017. Learn more at www.oliversmarket.com.