Downtown Santa Rosa is getting happier by the hour.
Downtown Santa Rosa has brightened up considerably in just the last year, with several drinking and dining establishments newly opened, every one of them determined to give you a deal. Let's call it "Happy Hour." In this hard-hitting journalistic investigation of downtown happy hours, we restricted ourselves to the downtown corridor, from Fourth Street west to the mall and east just past Brookwood, north to Seventh Street — an easy walking rectangle of killer food and drink specials.
Ausiello's Bar & Grill
If you like to watch an epic amount of sports TV while building your own burger and wantonly throwing peanut shells upon the very floor you walked in on, Ausiello's is your extremely convivial place of Happy Hour Worship each weekday from 4 to 7pm. The only packed place on a recent downtown Thursday crawl, Ausiello's has $3 Beer of the Day specials, pulled pork tacos after 4pm on Fridays, and low-priced Bloodys and Mimosas all day Sunday. Ausiello's is the          perfect comforting friend, the one who understands you basically need a TV to yourself and a few good suds to nurse at least through third quarter.
609 Fifth St., Santa Rosa 579.9408 | ausiellos5thstreetgrill.com
Beer Baron
Owned here by the Chandi Restaurant Group (which also has Bollywood, Stout Bros., and Mercato in downtown Santa Rosa with Mountain Mike's pizza joints all over Sonoma County), Beer Baron celebrates a recent collaboration with Sebastopol's Spirit Works Distillery to create a "cask strength" wheat whiskey now available at all locations. Which only makes sense because, while it's named for beer, this joint is a baronial home for over 300 whiskeys. Weekdays from 2 to 5pm, take $2 off any of the 25 craft beers on tap and grab a plate of their crispy duck fat fries for just $5. Guac, a chicken taco duo, and chicken wings are also just $5 each, but our favorite Happy Hour deal is a Baron burger, pilsner, and bourbon or tequila shot combo for a cool $22.
614 Fourth St. 757.9294 | beerbaronbar.com/santa-rosa
Belly Left Coast Kitchen and Tap Room
Knowing the day of the week is paramount at Belly as Monday night is a Happy Hour just for hospitality folks from 6pm; Taco Tuesday begins at 2pm sharp with street tacos just $1 each and continues until closing; Wednesdays find select wine bottles at half off—and you can take 'em to go; Thursday has $20 pitchers from 3 to 6pm; and Sunday is the ye olde bottomless Mimosa pour until 3pm. We love that you can buy a beer for the cooks in the kitchen for just a buck!
523 Fourth St. 526.5787 | bellyleftcoastkitchen.com
Bird and the Bottle
"For your own good," the menu warns, you may only have two Tito's Martinis at $4 during Happy Hour, but the rest of the spicy TexMex menu is open to pure indulgence, including the $4 Espolon margaritas. Paired with a good beer or extremely respectable $5 house wines (try the 2010 Argentine red blend), there are pastrami, pork shoulder, cheese curd, and chicken thigh tacos for just $2 a piece, each stuffed with the house's signature bean sprout and black-eyed pea slaw and spicy mayo. Try the upstairs patio on warm afternoons. Happy Hours are Monday through Thursday, 3 to 6pm.
1055 Fourth St. 568.4000 | birdandthebottle.com
Photo Credit: Paige Green
Bollywood Bar and Clay Oven
Another offering from the Chandi Hospitality Group, this Southeast Asian-themed hits it out of the park with a cocktail program designed by famed mixologist Scott Beattie and a Punjabi-influenced menu by Group chef Niven Patel. Curry scents the air and the long bar remains a refuge for solo drinkers and couples Tuesday through Saturday, 4 to 6pm, to share naans ($3-$5), house-made pickles and chutneys ($2 each), and such light plates as tandoori chicken wings ($6) and vegetable pakora ($8). Well drinks are just $5 and non-drinkers can enjoy a fresh seasonal lassi ($13) or house chai tea ($6). Two words: Date Night!
535 Fourth St. | bollywoodbar.net
El Coqui
If you've only stopped by this excellent Puerto Rican restaurant for      lunch, it may have escaped your notice that the room is ruled by a magnificent bar. Come Happy Hour time (Monday through Friday, 3 to 6pm), this length of polished wood is a lot easier to see as it's packed with folks enjoying $5 drinks (just $3 for draft beers) and $5 bites hugely involving plantains. The mood is jovial, the music excellent, and the soccer constant.
400 Mendocino Ave. 542.8868 | elcoqui2eat.com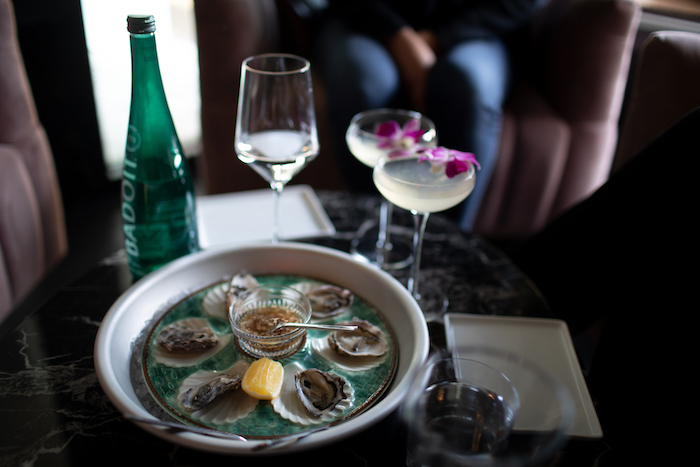 Photo Credit: Paige Green
The Jade Room
After months of anticipation, this delightful new wine bar and "oysterette" is finally and stylishly open. Inspired by the glamour of Santa Rosa's former haunt, the Topaz Room, the Jade Room's paean to neon and Champagne is plush, luxe, and accessible—all at once. Cheese, charcuterie, whimsical waffles and plenty of bivalves highlight a menu meant to be shared, a place where date night can be reinvigorated. Happy Hour is Wednesday through Friday, 4pm to 6pm, with $4 on all "snacks" (the house-cured olives are exceptional), and oyster specials. For a hit of instant nostalgia, don't miss the old-fashioned cheeseball rolled in crushed almonds.
643 Fourth St. 543.1553 | thejaderoomsr.com
Gerard's Paella y Tapas
A fast-casual rice mecca with six fresh beers and a variety of unique wines on tap as well as wine-based cocktails devised by master bartender Frank Dice, Gerard's offers a changing array of tapas made from seasonal California ingredients arranged in a decidedly urban—and Iberian—way. Happy Hour reigns daily from 3 to 6pm with all beers just $4, sangria $5 a glass, various tapas (check the chalkboard for specials) and reduced prices, and a market board of Serrano ham, chorizo, anchovies, olives, and bread for just $7. Don't forget to save room for paella from the regular menu. Sublime served fresh, it's also the ultimate leftover, making tomorrow nearly as grand as today has been, at least as seen from a seat at Gerard's comfortable bar.
701 Fourth St. 708.8686 | gerardspaella.com/restaurant
Local Barrel
With local artists' work on the walls and air hockey and ping-pong tables abutting the video games, this comfortable room offers something more to do than just drink. Happy Hour beer and wine discounts are on 3 to 6pm, Monday through Friday and 4 to 6pm, Saturday and Sunday. They don't serve food but encourage you to bring your own or have it delivered.
490 Mendocino Ave. 890.5433 | facebook.com/thelocalbarrel
Perch + Plow
From its aerie overlooking the downtown plaza, Perch + Plow runs a heady Happy Hour from 3 to 6pm, Monday through Friday, featuring extremely adult $7 cocktails (think: Old-Fashioneds, Manhattans, Gimlets, Sidecars) and such swap-for-dinner specials as fish tacos, house-made tater tots, and mac 'n' cheese for just $5 a plate. With its view to the west, Perch + Plow is a sophisticated setting for the transition from late afternoon to early evening, Gimlet in hand.
90 Old Courthouse Square. 541.6896 | perchandplow.com
La Rosa Tequileria & Grille
With a comfortable bar decorated with jeweled lanterns we secretly wish to wear as earrings, La Rosa has Happy Hour margaritas from $6, shots for just $5, and small bites starting at $3.50. This is definitely the kind of place where you can accidentally stay through dinner and be glad of it. Even an ahi tostada is just $5!
500 Fourth St. 523.3663 | larosasantarosa.com
Russian River Brewing
With the opening of their new Windsor location, a BeerLandia of          sorts, pressure might loosen on the original downtown location,       which regularly sees wait times of 45 minutes for a seat at the bar. Happy Hour is Monday through Friday, 4 to 6:30pm and famously,       all day Sunday.
725 Fourth St. 545.BEER | russianriverbrewing.com
Stout Brothers
Another Chandi Hospitality offering, Stout Brothers recreates the Irish pub experience down to the heavy wooden paneling that make traditional pubs feel so cozy. Happy Hour runs Tuesday-Friday, from 3 to 6pm and features Guinness and Harps beer for just $4 as well as $6 Irish Car Bombs, and a side of bangers and mash for just $5. A recent visit found an older crowd enjoying Motown music at Stout Brothers while younger folks partied next door at Belly. Go to both!
527 Fourth St. | stoutbrospub.com
Third St. Aleworks
Established in 1995, Third Street has a great rotating tap list of fresh drafts, both from their own casks and those of local friends, and a friendly sports-forward environment. Happy Hour is Monday through Friday, 3 to 6pm with pints at $3.50 and food specials; Tightwad Tuesday has $2.50 pints all day and night. The outdoor patio is a sweet spot to visit on warm afternoons, and the vibe here is friendly and welcoming, like visiting someone else's family.
610 Third St. 837.4027 | thirdstreetaleworks.com
Three Disciples Brewing
Opening in February, the three owners, or "disciples," of this brewery each have Old Testament names with a decidedly new-fangled take on brewing hops. Interrupted while polishing glassware days before their opening, Luke (Matthew and John are the other two) gave us the word on their Happy Hour: Monday through Friday, 4-7pm, and all day Sunday.
501 Mendocino Ave. 978.2459 | 3disciplesbrewing.com
Wilibees
A liquor store with a happy hour? Welcome to Wilibees, where a wine bar and a deli, a chocolate counter and a humidor snuggle in amid the aisles of bottles and fridge cases. For those taking a seat, Happy Hour runs 4 to 7pm, Monday through Friday and noon to 6pm, Saturday and Sunday. The capacious board listing wines by the full and half glass, highlights discount wines in yellow. Somehow this little glug shop also produces $1 tacos on Tuesdays from its deli counter. A recent visit found the wine bar hopping with couples perched at tables and regulars hanging out with the barkeep. It's a liquor store with a happy hour!
700 Third St. 978.3779 | wilibees.com