I'm convinced that food—when chosen expressly with your giftee's particular taste buds in mind—is the very best holiday gift. It doesn't have to be stored for long periods of time, and it offers an opportunity to surprise people with unexpected tastes and products that they might not have discovered on their own. Finally, buying food for others is another chance to explore and celebrate the best of our local food economy. Just in time for the holidays, I've compiled a list of five intriguing products released over the last couple of years. You can find most of these products at local independent grocers, but when in doubt, look on their website to get a full list of availability.
Happy gifting!
---
Smash Mallow Snackable Marshmallows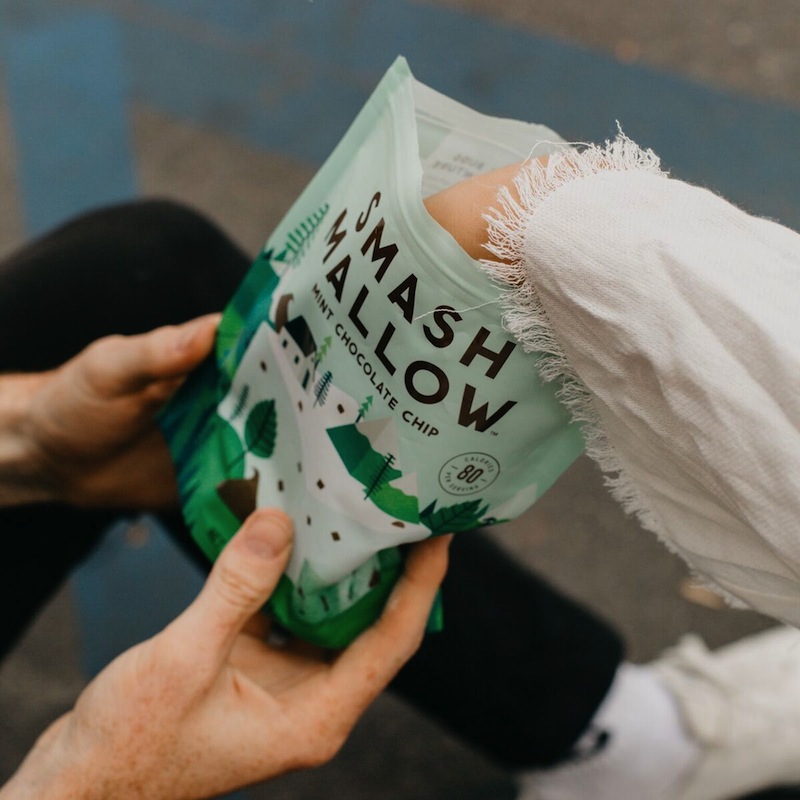 In 2016, local food incubator Sonoma Brands, which was founded by Jon Sebastiani after he sold KRAVE jerky for millions, launched a new product called Smash Mallow. Precious to the extreme, the pillowy, bite-sized treats are now available locally and across the country. As a confessed marshmallow enthusiast—whether they are homemade from pristine ingredients or packaged by Kraft—I was excited to try something with somewhat cleaner and simpler ingredients than the other version. And, what's not to like about the prospect of a marshmallow as snack? I'm partial to the Toasted Coconut Pineapple version, though the Mint Chocolate Chip or the Cinnamon Churro seem tailor-made to dunk in a winter hot chocolate. On the other hand, my preschool-aged kid loved the Strawberries and Cream. However you spin it, it's hard to eat just one—which is probably the point.
• Gift to kids and adults alike.
• Find at Molsberry's Market and other independent grocers.
• $4 for a 4.5 oz bag
---
Kiss the Flower Wildflower Mead
When I think of mead, I inevitably recall Ms. Vucovich, my high school English teacher and an unabashed lover of the sweet, ancient honey wine. I still remember an afternoon, decades ago, as our small class of stoners and misfits muddled through Hamlet, and Ms. Vucovich, with her dark spiky bouffant hairstyle started to regale us with stories of traveling to England with her best friend, how they drank mead and visited the Globe Theater, where many a Shakespeare play was performed. From the happy glint in our late middle-aged teacher's eye, much mead was drunk and much mirth was had. Ms. Vucovich is long gone from this earth, but I'd like to think that she'd much appreciate the new mead from Kiss the Flower Honey Company. The light and mildly effervescent mead is made from California wildflower honey collected by local beekeeper and honey purveyor Dewitt Barker. For this venture, Barker partnered with Doug Hackett, an award-winning wine maker at Spicy Vines in Healdsburg. The resulting mead resembles a Belgian Blonde Ale with floral notes of honeysuckle, orange blossom, and lavender.
• Gift to your literate, sweet wine, and pollinator-flower loving aunt
• Find for purchase at Spicy Vines (441 Healdsburg Ave., Healdsburg)
• $25 a bottle
---
Botanical Cocoa
We can all agree that cocoa is an excellent cool weather treat, right? But, take a look at the back of a Nestlé hot chocolate packet, the kind I personally used to love as a child, and you'll see a host of scary ingredients. Didn't Michael Pollan tell us to quit the corn syrup aeons ago? Enter Sister Harvest Botanical Cocoa. Local herbalist and self-described "plant medicine geek" Brittnie Hall has come up with something she calls "botanical cocoa." It's basically cacao blended with coconut sugar, turmeric, shatavari, ginger, cinnamon, and cardamom. Plus, adaptogens like Ashwagandha and cordyceps (mushroom). Hall calls it "self care through plant medicine." I can't attest to the nutritional benefits (you'll need to talk to a trained professional for that), but I will say that a few sips of a hot cup of Sister Harvest cocoa at Santa Rosa's Criminal Bakery and Noshery felt very luxurious and relaxing for a few brief, lovely minutes.
• Gift to your healthy, yoga-loving friend who likes her sweet treats infused with an herbal touch
• Find Sister Harvest botanical cocoa at Criminal Bakery and Noshery by the cup, or order directly at sisterharvest888@gmail.com
• $18 for an 8 oz. bag/$12 for a 4 oz. bag
---
Chevoo
Marinated Chevre
By the time you read this sentence, fig season will have come and gone, but I'll still be dreaming fondly of my absolute favorite fall treat—Chevoo's Tupelo Honey and Lime marinated goat cheese on a piece of toasty Franco-American sourdough, topped with ripe Black Mission figs. So delicious that I would literally sing after taking a bite. You can also add heat and depth to a salad by adding a touch of Chevoo's Aleppo-Urfa Chili and Lemon, which sees the soft, creamy rectangles of goat cheese marinated in a lemon-infused extra virgin olive oil blend. Created by Gerard and Susan Tuck, an Australian couple who brought this style of marinated goat cheese with them when they transplanted to Northern California, the cheese is produced in their Healdsburg facility. The various flavor combinations start with a base of goat curd, hand-blended with combinations of spices, herbs, chilis, and pollens, and then added to EVOO infused with botanicals.
It works.
• Gift to your cheese-loving mom who wants to try something a little different. Toss in a baguette from Red Bird Bakery for maximum happiness
• Find at your local independent grocery store or order online
• Around $6 for a jar
Wildbrine
Spicy
---
Kimchi Sriracha
According to the latest Bon Appétit magazine, "tang" is having a moment. Which means Wildbrine, the family-owned Santa Rosa purveyor of all things fermented, must also be having a moment. I leaped mouth first into the trend after stumbling upon the Wildbrine booth at the Sonoma County Fermentation Festival on a hot (so hot) Saturday afternoon in early September. They were sampling tiny crisp rice crackers with a dot of spicy kimchi Sriracha dabbed on top. I ate one. And then, without a pause, I ate another. "Would you mind if I had just one more?" I sheepishly asked the man working the booth. The next day, I rushed out to Oliver's Market to get a bottle of the spicy, red, twice-fermented sauce for myself. Since then, I've squeezed it onto eggs, tacos, rice bowls, and noodles, and it never fails to add a delicious tang, and a dose of healthy probiotics, to it all.
wildbrine.com
• Gift this to adventurous eaters with a palate
for spicy, fermented, Asian flavors
• Find it at Oliver's Market and other local
grocers (check online for full list)
• $4.99 for an 8.5oz bottle
---
Jewels of the Forest
 Shroom Snacks
I first sampled Jewels of the Forest spicy mushroom jerky at a DIY workshop run by Wyatt and Hunter Bryson, two Occidental brothers who know mushroom cultivation inside and out. At the end of our session on how to grow oyster mushrooms at home, the brothers tantalized the class with samples of their new food product line: a delightfully umami mushroom jerky. To be honest, I was expecting to gnaw on a flavorless, bland hunk of whatever—but the shroom snacks provided a burst of savory, flavorful goodness. I'm partial to the sweet chili flavor made with organic oyster mushrooms, organic cane sugar, tamari, and red pepper flakes. Also available in sesame.
• Gift this to your vegan friend who secretly misses the savory mouthfeel of meat
• Find it locally at Oliver's Market on Stony Point Road or at Community Market in Sebastopol
• $7.99 for a 2.5 oz bag