Americans are moving faster than ever and the options for fast food are plentiful but rarely nutritious. And the sad truth is that healthier to go options sometimes lack in flavor and satisfaction. Chef Rob Hogencamp is well aware of this dichotomy. As the owner of Three Leaves Heritage Foods in Santa Rosa, he'd like for his customers to eat well—even when they're crunched for time. In 2016, he and partner Celosia Arcadia took over ownership of Sonoma County's first community supported kitchen, driven to tackle the challenge of combining the convenience of grab-and-go takeout with nutritious and flavorful food. 
So what is a community-supported kitchen? Similar to community-supported agriculture (CSA) farm box subscriptions, Three Leaves offers members a weekly "share." For $80 a week, customers get a main entree, soup, salad, a side, a condiment, and a gluten-free dessert. A one-time $25 membership fee covers the deposit for reusable glass containers, an insulated tote, and administrative fees. Depending on how much an individual or family eats, the food might stretch across two to three meals.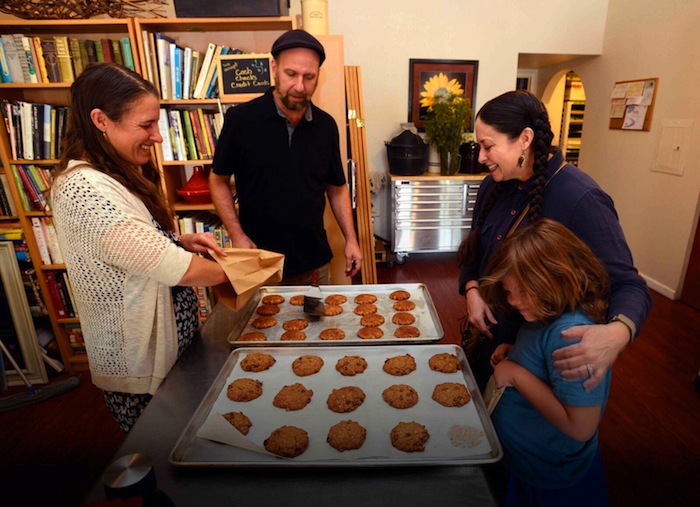 In addition, there's the option to drop into the Three Leaves storefront for a la carte items (additional entrees, sides, and desserts) and larder items like bone broth, lacto-fermented sauerkrauts, and "Life-Changing Nut & Seed Bread." Other items for sale include cassava tortillas, nut butters, and ghee. While Hogencamp creates the menu and leads the kitchen brigade, Arcadia—an herbalist and nutritionist—stocks the store with handcrafted herbal remedies like fire cider vinegar and elderberry syrup. 
With a degree in hospitality management and stints as executive chef at Sonoma West Medical Center and Ceres Community Project, Hogencamp has the chops for a whole-foods-centered business. These experiences have taken him worlds away from the barbecue joint in his native Alabama where he scored his first cooking gig. It wasn't until later, when he worked in the kitchen at summer camps in California and Virginia, that he realized the importance of connection to the food we put in our bodies. 
"I saw the difference it made to pick a row of tomatoes and then come in and make a salad, versus buying something at the store and it's not fully ripe," recalls Hogencamp. He happily tended the camp kitchen's garden and discovered the trick to getting kids to eat kale: let them pick it. After moving to Sonoma County, he enrolled in the sustainable agriculture program at Santa Rosa Junior College. There he fostered an interest in growing food and supporting local farmers, a value that he says is one of the pillars of his business.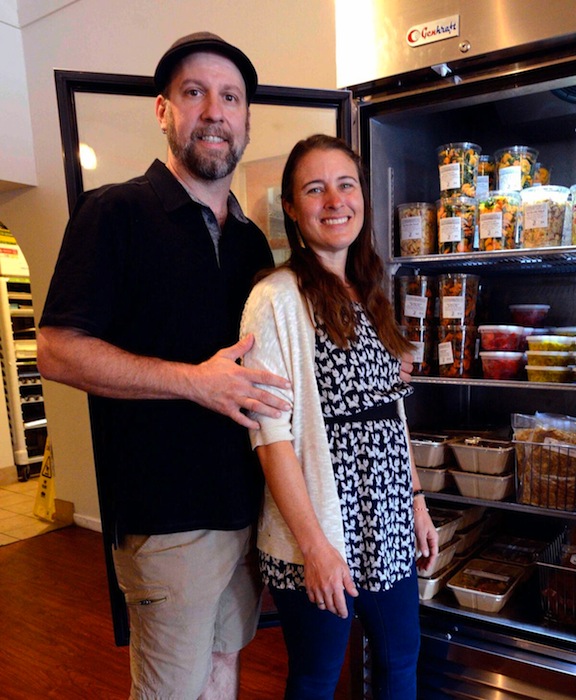 According to Hogencamp, Three Leaves sources ingredients locally whenever they can, getting their eggs from a small farm in Sebastopol, pork from Marin Sun Farms, beef from a farm on Occidental Road in Santa Rosa, and produce from Tierra Vegetables, a farm about five miles away from the store's kitchen. At the end of the Thursday pickup window, Hogencamp often gives away remaining food to kitchen staff and brings a box of salads and entrees back to the farmers from which he sources. 
It was at Ceres that Hogencamp developed the foundation for the cooking philosophy he'd grow into as a business owner. "I really embraced food as medicine and saw how much it directly affects [health]. Interacting with clients at Ceres made me realize that the ingredients and the attitude you put into the food affects the way people receive it. [They] would come in and say, 'I taste the love in the food and it's making me feel so much better.' I'm getting the same reaction from our clients here at Three Leaves." 
Three Leaves Heritage Foods is located in the Big Oak Shopping Center. 2484 W. 3rd Street, Santa Rosa. Open Wednesdays, 3pm to 7pm and Thursdays, 11am to 2pm. 707.595.0316. 
Article resources: