On a recent Wednesday morning, the Sonoma Flower Mart, which exclusively features locally and domestically grown flowers, was abloom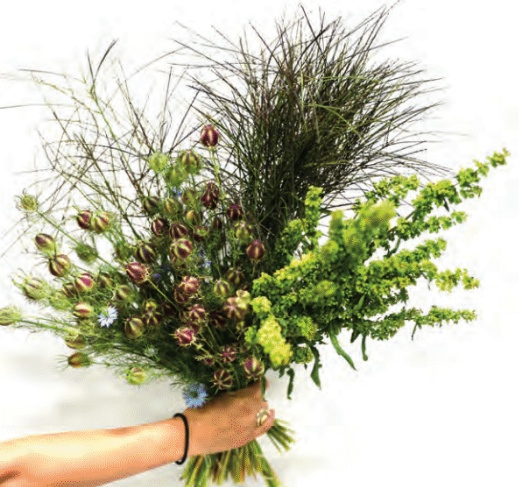 with a dazzling, kaleidoscopic array of blooms. Located inside The Barlow in Sebastopol, the wholesale flower mart is open to the public and sources to florists with wholesale accounts. They are on a mission to "grow and support our local flower economy in Northern California and foster a spirit of collaboration between flower farms and the local floral industry." We spoke to Hedda Brorstrom, the farmer/florist behind Full Bloom Flower Farm in Graton. A member of the North Bay Flower Collective, Brorstrom has been growing and designing with chemical-free flowers for five seasons. Surrounded by buckets of freshly harvested zinnias, sweet peas, and roses, she shared her recipe for a perfectly lovely fall bouquet sourced exclusively from North Bay farmers.
---
grasses
Serenity Farm | South Sebastopol facebook.com/serenityflowerfarm
"This farm has the most unique grasses, foraged items, and vines like hops and passionflower. You might not normally see these in an arrangement. The designer's job is to build a bouquet so unique and beautiful that people stop in their tracks and want to have a moment. You do that by putting in things that they've never seen or that they want to touch, eat, or smell."
---
clematis
Sonoma Flower Mart booth | various
"This booth buys from lots of different farms. Buy clematis from them. It's airy, whimsical, with a periwinkle color. I buy it for almost every wedding because it's so pretty."
---
eucalyptus
Oak Hill Farm | Glen Ellen oakhillfarm.net | 707.996.6643
"They have the most beautiful eucalyptus, an enormous field. Good greenery is the bread-and-butter for floral designers. For events, bouquets about 80 percent greenery. Eucalyptus is in demand because it holds out of water. If I grew just a farm of that, I could sell every stem; mine already sold out this morning."
---
celosia
Front Porch Farm | Healdsburg  fpfarm.com | 707.433.8683
"Front Porch has lots of heat and heat-loving plants like an incredibly gorgeous celosia, a velvety brain-like flower. You can't not touch it when you see it. It stops people in their tracks. Go for one in a ruby color."
---
rudbeckia and chocolate cosmos
Full Bloom Flower Farm | Graton fullbloomflower.com | 707.591.6968
"Rudbeckia is a fun annual flower that's nice for fall. I would choose a unique color like brown. For fall, it's fun to pepper in darker colors and to start playing with burgundies, too. I'd also add in chocolate cosmos—I have a lot of those this year. These are both smaller flowers so they are considered fillers."
---
heirloom chrysanthemums
B-Side Farm | Sebastopol b-sidefarm.com | 619.407.9272
"I would use B-Side mums as a focal interest element because of their unique shape. Lennie Larkin grows spider-shaped chrysanthemums in cool colors. Stuff that you're not going to get at the grocery store."
---
---
ammi
JoLee Blooms | Occidental joleeblooms.com | 707.775.0101
"I would fill in the rest of the bouquet with ammi, a lacy flower and a member of the carrot family. It's another filler flower. I like to put them in because it gives the bouquet a little bounce. It's airy and makes the bouquet look cloud-like."
---
dahlias
Aztec Dahlias | Petaluma aztecdahlias.com | 707.543.5283
"This would be my focal flower in the arrangement. They have them in all sorts of colors. Perhaps a dark black ball-shaped one, which last so long. Or a dinner plate dahlia with a blush tone. They are showstoppers!"
---
roses
Garden Valley Ranch | Petaluma gardenvalley.com | 707.795.0119
"I add roses to every fancy bouquet. A market bouquet might only contain annual flowers, but as soon as you want to up the level of fancy, include one perennial flower. Whether the customer realizes it or not, by adding one perennial, like roses, you are adding time."
---
tips for preserving your bouquet :
Store flowers out of sunlight.
Monitor the water daily.
Change the water after a few days.
Keep away from fruits and vegetables.
Article resources:
The Sonoma Flower Mart is located in The Barlow behind Taylor Maid Coffee. 6790 McKinley Street, Sebastopol. Open to the public on Wednesdays and Thursdays, 7am to 1pm.  707. 888.0313. sonomaflowermart.com.