Stories from the people who make our food system go.
MAI NGUYEN
Heirloom Grain Farmer 
Mai Nguyen farms heirloom grains on three leased plots in Sebastopol, Two Rock, and Bodega. She's also the cofounder of the California Grain Campaign, which launched in October 2016. Originally from San Diego, Nguyen has been outspoken in her support for the Farmer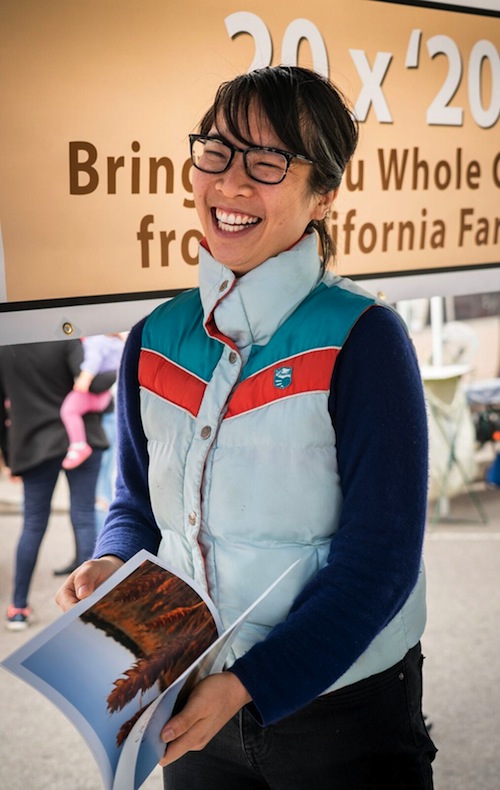 Equity Act (AB 1348). The proposed legislation would support the California Department Food and Agriculture to provide resources, outreach, technical assistance, and decision-making power to farmers and ranchers of color who have been historically underserved by the government. We spoke with Farmer Mai about heirloom grains, local food economies, regenerative farming, and why California needs farmer equity legislation. 
How did you get into farming? 
My farming is informed by my background as a climate scientist and a social justice activist. I did climate change modeling and field work and that got me acquainted with how water, plants, and the atmosphere relate to each other. As a farmer, I must understand what we need to do to try and stabilize the system as the climate changes and how to adapt. In terms of social justice activism, a lot of that has to do with food access and food systems. I look at my own farm from an ecological systems perspective as well as how people are involved in it. Are people's food needs being met? Can the people working on the farm afford to eat that food? Do they have working conditions that allow them to live a healthy life? Which has led me to be a solo farmer because until I can pay someone else a living wage I need to pay myself one. I've grown from a five-acre operation back in 2014, and over time have leased from multiple properties. It's been hard to get a stable long-term lease, but each year I manage to piece together some land. I used to grow southeast Asian crops on a larger scale, but I was hit by a semi-truck while out on delivery two years ago, so that low-crop side of things has been scaled down. I still grow some of the crops out for seed as a way to keep that seed viable; some have come from family members who brought it after escaping Vietnam by boat. It's precious to our communities to keep that seed alive and non-hybridized. 
Can you talk more about your work with heirloom and heritage grains? 
One major element of heritage grain production is trying to stabilize or secure my source of seed. Heritage grain seed isn't available through commercial seed catalogs. You can't look in Johnny's [seed catalog] for 500 pounds of Red Fife or Sonora Wheat. The scarcity has led me to grow out whatever little seed I can find. Over time, I've saved it so I can do a larger commercial grow. I have to be a grain farmer for production, but also this "petri-dish" to grow out different varieties and see if they even do well. There isn't a lot of grain grown in Sonoma County and there hasn't been for a long time. But it used to be grown all over in the 19th century. With that large gap, we've lost not only the seeds, but the knowledge of what kinds of grain varieties do well here. Grain farmers around the state are acting as citizen scientists to try and figure out what grains do well in our particular regions. In a lot of ways, we have to start from scratch. 
How are you connected to the California Grain Campaign?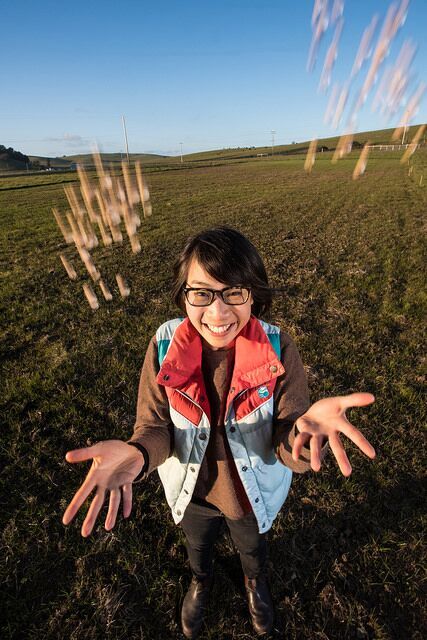 I cofounded it with my friend Dave Miller, a very seasoned and experienced whole-grain baker out of Chico. We were inspired by Green Market New York, a nonprofit that runs farmers' markets in New York. They created a rule that farmers' market vendors had to use 15 percent local grain. That rule created a big boom for grain farmers and boosted the grain economy. Unlike vegetables, grain requires many more actors in the food chain: seed cleaners, mills, bakers. We thought that if New York could do this, California could too. The difference is that we've upped it to a 20 percent, whole-grain rule. We'd like to get all California farmers' markets to take on the challenge. Our slogan is 20 by 2020. In Sonoma, you already have bakers who have this as part of their ethos, like Mike Zakowski (The Bejkr) and Eli Colvin (Revolution Bread). They both walk the talk. We have had questions about the cost. So we created a pricing chart that says: "If you add 20 percent, this would be the potential changes to your cost." People have seen that it's not that much and we're helping connect them to the farmers. 
How can people support the campaign? 
At farmers' markets, customers can tell bakers that this is something that they want and that they would pay for. Consumers need to have the willingness to pay more for local, whole grain products. And they can root on the people who are already doing it. Home bakers can go to our website and look into our catalog to see which farmers are from Sonoma County and who they can buy from. Most will do direct-to-customer or online sales. 
Switching gears a little, the Farmer Equity Act went before the California Senate this summer. Why do you support this legislation? 
I've been to a lot of farm business trainings where they talk about the marketplace as though it's very homogenous. They don't consider what it's like depending on your identity. I've been at a farmers' market and had people pass up my produce and say that, "Asians don't grow organic." Or they don't think that I speak English. When you are farming at a small-scale, farmers' markets are important avenues. If people read me in a particular way as different or not worth supporting, it feels unsafe for me to be there and it's not very cost effective. If someone had said to me that this was a consideration, I would have thought about that, and maybe I would have made other plans or thought about which market I wanted to go to. Maybe the market that's closest to me with the least travel time is also the one where I encounter those kinds of comments more and I have fewer sales. But if I travel further, to a market that's supportive of a diversity of farmers, then maybe it's worth that drive for greater sales and confidence. 
Our 2016 presidential results and the ensuing threats to immigrants, people of color, and women, made people want to do something. Because of this shock to the system, it was easier to build a cross-section of organizations that supported the Farmer Equity Act. The Trump administration has already put into its White House budget plans to cut funding to the Rural Cooperatives Program where the socially disadvantaged groups grant is housed. It's very likely that federal funding to these groups will be cut. It's also a good time to acknowledge how our racist history has played out in tangible ways. This is important to me because I've only recently come to internalize and fathom the depth to which the exclusion of people of color from the political process has barred us from having power to determine our own lives and health. Not being able to have technical assistance that acknowledges our crops as important and healthy for our cultures and communities is a part of a slow genocide. That's why I think this equity act is very important. 
Article resources: