Becoming Independent and SMART partner to build work skills through local food concessions.
As the SMART (Sonoma-Marin Area Rail Transit) trains start running on a regular schedule, ferrying passengers from north Santa Rosa to San Rafael, the views of rolling dairy fields, breweries, and vineyards will probably stoke up thirst and appetites. With that in mind, train passengers will be able to purchase locally sourced food and beverages from a modern concession stand. Not only will some of these gustatory sensations be homemade in the North Bay, the "concessionistas" themselves will be local thanks to a partnership between SMART and Becoming Independent (BI), a nonprofit that supports people with learning disabilities to step into active adult lives. Each train includes a concession bar designed specifically for BI's use, including a shiny logo on the wall and dubbed BI Buzz. 
The partnership places participants on the employment track with a foodservice job on the daily trains, according to JayJay Rico, head of BI's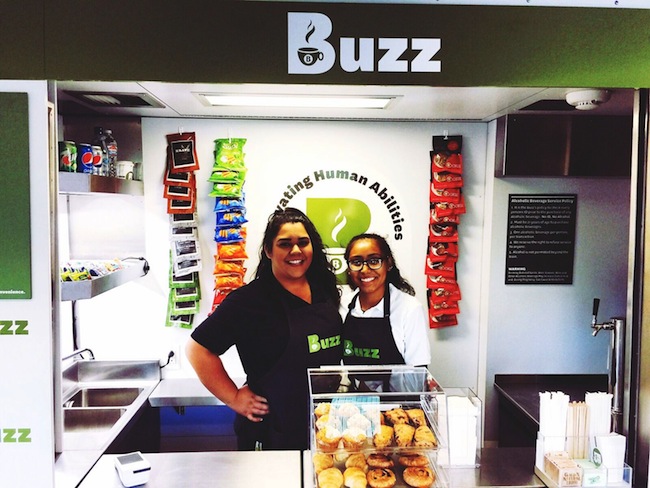 social enterprise division. "SMART gave us the space and what we did was up to us," he said. "The focus will be on locally made products as much as possible—that makes sense for us." 
"It's great for the local economy," said SMART spokeswoman Jeanne Mariani-Belding. 
BI Buzz will serve up hot Taylor Maid organic coffee in the morning and cold-brew coffee on tap available all day. The coffee will pair well with croissants, muffins, and other fresh-baked goods from Costeaux Bakery in Healdsburg. Not to mention cookies from Santa Rosa-based Cookie…take a bite. Fans of savory protein can pick up a packet of Krave Jerky, based out  of Sonoma. 
Passengers might also get thirsty on the Petaluma leg of the train route upon whizzing past the tall, shiny beer silos at the backend of Lagunitas Brewery. No worries. Lagunitas Pils and IPA figure prominently on the concession's menu. Wine lovers can choose from a glass of red blend or sauvignon blanc from Longboard Vineyards for $7 a glass. The varietals will rotate on a seasonal basis, said Rico. "We've been open to customer feedback so we can provide the riders with what they really want," he added. "It's Wine Country, so we're looking to bring on a premium wine [later] at $10 a glass." 
Other beverages will come from Pepsi and Arrowhead suppliers. Sun Chips are on the menu, and BI Buzz is looking for a local granola bar and trail mix to offer, and considering options in tea and cocoa. In addition, BI Buzz practices sustainable foodservice methods like recycling and composting. 
This fall, BI employees will serve in the concessions as participants undergo job training in customer service, inventory management, merchandising, and job safety. 
By Spring 2018, the newly trained BI participants will work solo as concessionistas, earning $13 an hour to start. Shifts will range from 10 hours to 37.5 hours a week. Part-time employees who meet certain requirement levels will be eligible for medical, dental and vision coverage, and retirement plans. "The people we serve [at Becoming Independent] are often invisible contributors, and this partnership allows them to be at the forefront," said Luana Vaetoe, CEO of Becoming Independent. 
If the response from riders during the free July preview rides is any indication, the concessionistas are off to a fine start. "Our passengers gave the service high marks," said Mariani-Belding. "They were also impressed with the concept of giving back to our community—    it's a great community-based partnership." 
Article resources: