Horse & Plow
Toss an empty wine bottle into the recycling bin and it makes a satisfying clink. Job well done! Less satisfying are the economics of recycling glass compared to other materials——even the can and bottle pickers who comb the streets at night eschew wine bottles, which don't match the redemption value of beer bottles.
Wine bottles are solidly built, so why not just reuse the bottle? Bright idea, and people have tried it, but the project of retrieving and sorting through the variety of shapes, styles, and tints on the market is quite the logistical challenge.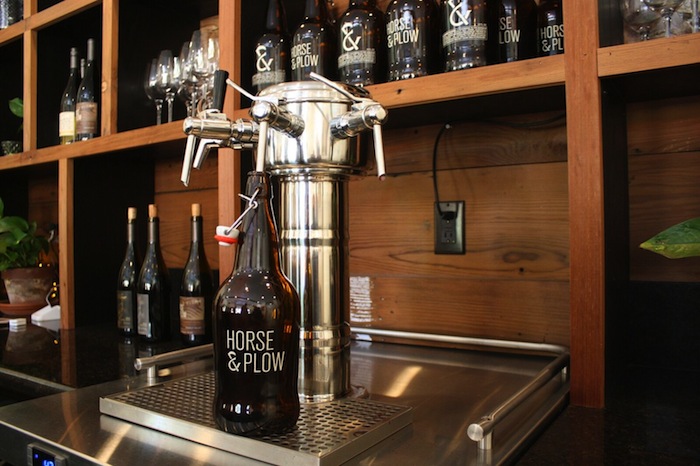 Sebastopol's Horse & Plow, which was started in 2008 by Suzanne Hagins and Chris Condos, is one of only a handful of Sonoma County wineries to hit upon the concept of simply reusing the same bottle. With roots in the past, when jugs of robust red blends could be refilled at the local winery or corner market, the updated concept takes a cue from today's craft beer scene. Horse & Plow charges $10 for a one-liter glass "growler" with a flip-top lid, plus $14 to $35 for the wine to fill it. Not bad, considering you shouldn't be surprised to pay $14 for a single glass at restaurants that sell wine on tap via several kegging service companies that have sprung up to fill the on-premise niche.
Horse & Plow kegs their own and offers a rotating selection on tap at their "tasting barn," which opened last year.  In late summer, the lineup included Chardonnay, Grenache, a Rhôone-style blend, and cider.
A rustic wagon in front of the barn greets visitors with a farm stand—an idea from another entrepreneur, the couple's school-aged son, —where you might find tomato starts, chicken eggs, or fresh produce from the garden for sale. Pleasantly removed by a screen of redwood trees from the buzz of traffic on Highway 116, a two-acre garden and orchard surrounds the patio. Whiling away a sunny West County afternoon with a glass of wine is as popular as sampling a traditional flight. And the owners have consciously cultivated a space that is kid- and dog- friendly, so bring the little ones.
Built on the footprint of an old barn, the tasting room incorporates recycled wood into the warm, rustic-chic design. Another reason they've been accepted in Sebastopol, where "vineyards are villainous," Hagins says—only half joking—is for their commitment to organic grapes. Recently, they've ventured into organic wine, which means that not only are the grapes certified organically grown, but the wine has less than 10ppm sulfites— and is ideally served fresh from the tap.
The very diversity on their organic properties, says Hagins, led them to discover heritage apple trees and get into the cidermaking business as well. Their Gravenstein-heavy Farmhouse cider is more like the dry, rustic ciders of the past  than today's brands—another great idea brought deliciously into the present.
Horse & Plow is located at 1272 Gravenstein Hwy. N., Sebastopol. Open Thursday–-Monday, 11am–-5pm. First Fridays, open until 9pm with live music. Tasting fee, $15; by the glass, $4-–$10. 707.827.3486. horseandplow.com.