California Farmers Climate Pledge
As California farmers and ranchers, our livelihoods as well as the ability to feed America entirely depends on the climate. Workingclose to nature, we are the first to notice shifts in weather. On our land and in our harvests, we bear the brunt of floods, drought, and rising temperatures.
We are soil stewards who belong to a community beyond our own fields; we don't plant for seasons but for generations. It's with this legacy in mind that we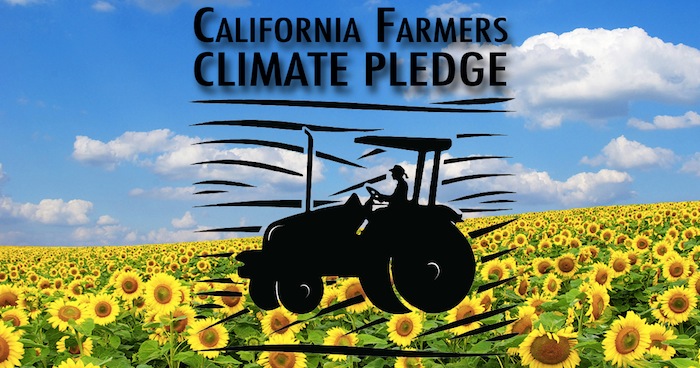 pledge our support for the science, commitment and goals outlined in the Paris Climate Agreement.
We vow to continually improve our own on-farm practices to conserve energy and sequester carbon, but we also believe in the dire importance of a collective, worldwide commitment by all nations—including our own—to meet the 1.5 degrees Celsius target stated in the Paris Climate Agreement, all while building a cleaner, 21st century economy.
As members of the agricultural community, we are concerned by our president's decision to pull America out of this agreement. We disagree with the current administration that this international accord will harm our economy without mitigating the climate crisis.
We ask that our leaders return America to its role as a collaborative, global leader in combating climate change. And in the meantime, we support state-based initiatives as well as citizen-funded programs—unbeholden to federal policy shifts— that recognize not only the dire consequences that inaction will have on our farms, ranches and food supply, but also the regenerative role that we farmers and ranchers can play in reversing these dangerous trends and restoring a healthy carbon cycle.
America depends on farmers. And farmers depend on the climate. Now is the time to act.
SIGNED . . .
Caiti Hachmyer | Red H Farm
Paul & Elizabeth Kaiser | Singing Frogs Farm
Guido Frosini | True Grass Farms
Amythst | One Family Farm
Jesse Pizzitola | First Light Farm
Joey Smith | Let's Go Farm
Misty Gay | Freestone Ranch
Deb Rock | Darling Farms
Tucker Taylor | Jackson Family Gardens
Julia and Andy Henderson | Confluence Farm
Aaron Gilliam | Monkey Ranch
Chris Jaster & Kadie Jacques | Woven Stem Farm
Lennie Larkin | B-Side Farm
Andrea Davis-Cetina | Quarter Acre Farm
Deb and John Kiger | Kiger Family Vineyard
Aubrie Maze & Scott Kelly | Brambletail
Suzi Grady | Petaluma Bounty
Hedda Brorstrom | Full Bloom Flower Farm
Libby Batzel | Beet Generation Farm
Marie Hoff | Capella Grazing
Ryan Johnston | Ethic Ciders
To see the full list of California farmers, or to sign 
your farm to the pledge, go to . . .
farmersguild.org/climate-pledge.html.