Job skills take seed at SAY's Sunflower Garden.
Six months ago, Aryella Mahony moved from Southern California to Santa Rosa to escape from a living environment she describes as "unhealthy." Mahony, 18,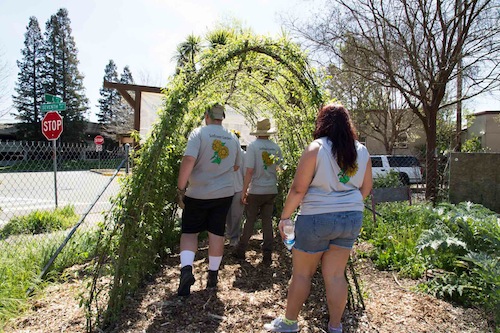 was able to find housing at Social Advocates for Youth (SAY) Dream Center, which provides emergency short-term shelter for young adults between the ages of 18 and 24. SAY also set Mahony up with a job at their Sunflower Community Garden, a working urban farm and part of the nonprofit's job skills program. The work has given Mahony a sense of family and purpose at a time in her life she needed both.
"Everybody here is my family," says Mahony. "It's just how it is."
Mahony had a hard time finding a job when she first moved to Santa Rosa, a pattern that began in San Juan Capistrano.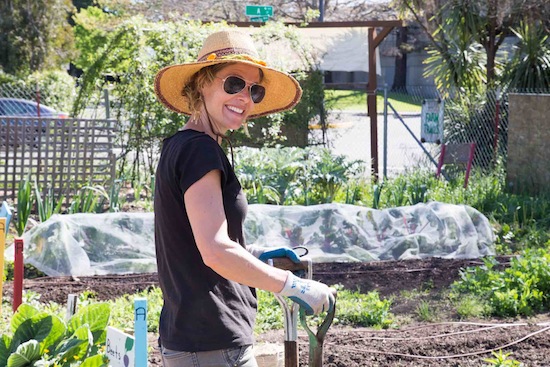 "When I was younger, I was rambunctious and not a very good worker," she says. A struggle with drug addiction and meager job references didn't help. Sober for almost two years, she was connected with her job at the Sunflower Garden through SAY's employment services. Each person accepted for the SAY housing program must complete a 20- hour productive activity requirement, a list that includes enrolling in school, work, or volunteering.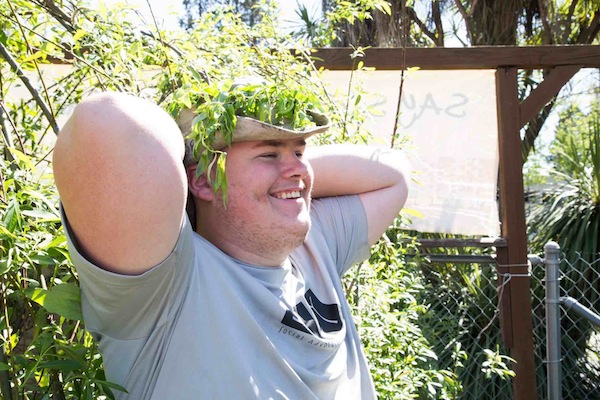 On just a quarter acre in downtown Santa Rosa, and surrounded by a chainlink fence on an unassuming street corner, the Sunflower Garden grows up to 1,500 pounds of vegetables and herbs each year. The produce is donated to nonprofits such as Catholic Charities— conveniently located just across the street—and St. Vincent de Paul Sonoma County, a nonprofit that serves free meals to anyone in need. In addition, some of the bounty goes to local restaurants. The experience, says garden supervisor Sorrel Allen, helps the youth experience the trajectory of food from farm to market and make big picture connections about the food system and their place in it. Allen gets a kick out of seeing kids gain an understanding of where food actually comes from, like the fact that artichokes are produced by large-leaved plants.
"Some of the kids are blown away by what the actual plants look like," says Allen.
As part of their job, Sunflower Garden employees learn all about organic farming. They build soil and learn natural methods for protecting plants from insects and fungal disease. The youth also learn about insect netting, mulching, crop rotation, and the nutrient needs of different plants. They use the clippings from a medicinal herb plot to make tinctures and tea. This is a dream come true for Mahony, who would like to learn more about healing with herbal remedies.
"I've always wanted to be an herbalist," says Mahony. "Working here has helped me realize that this is a realistic goal."
According to Caitlin Childs, SAY's communication and marketing manager, Mahony's sharpened skills and focus are exactly the point. "Our overall goals are to help young people become stable and financially independent through housing and career services," says Childs.
The jobs are a stepping stone for youth who are tasked with overcoming obstacles like poverty, young parenthood, and homelessness, which has hindered them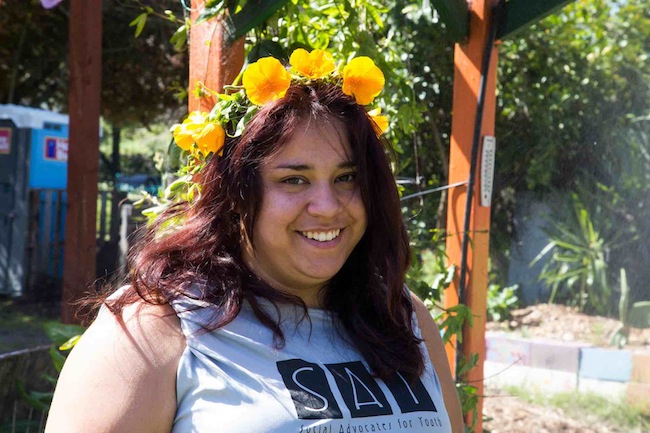 from finding employment. Childs adds that she enjoys watching youth connect with the community through their work at the Garden.
"They're not just helping themselves, they're helping other people," she says.
Jordan McCrea, another garden employee, enjoys the community service aspect of the work. The 22-year-old currently lives at the Tamayo Village, an affordable housing program administered by SAY for young adults who are transitioning out of the foster system. McCrea became a ward of the state at the age of four and lived in group homes throughout his teens.
"I've been in the foster system for basically my whole life," says McCrea. "I would have been a very different person if my mom hadn't given me up."
In the past, McCrea worked at fast food places like Burger King or as hotel staff where he "could earn a quick paycheck and then quit." Now, he prefers to work outdoors with his hands—and he wants to make a difference in the world. Though most of the jobs at the Sunflower Garden are seasonal, McCrea says he'd like to stay on the farm after the summer and plans to apply for a job extension. It's given him a new lease on a tough life.
"I like being able to work with my hands, make a change in the environment and the community, while leaving my mark on the world," he adds.
 Article resources: