Miriam Volat, director and designer of Farm School.
Miriam Volat is the director and designer of Farm School at the Permaculture Skills Center, which is committed to supporting new farmers in to be successful in their regional food economies.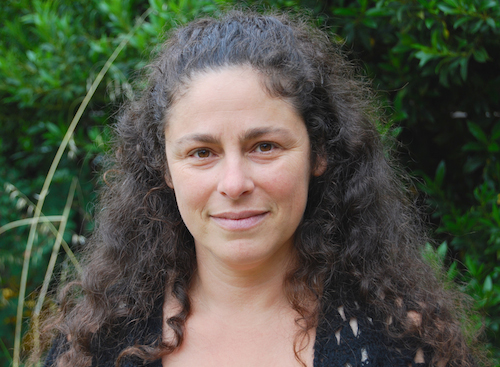 For over 20 years, Miriam has worked directly to ensure access to healthful food for all in an ecologically sustainable manner. As a graduate student at UC Davis, she studied sustainable farming systems and groundwater pollution reduction from agriculture sources. She has worked with many of California's food systems and farm organizations as an educator, organizer, and facilitator. Miriam currently works at the Occidental Arts and Ecology Center as a policy project facilitator and soil scientist and acts as Board Chair for the Petaluma nonprofit Daily Acts. She previously designed and led the New College of California's Ecological Agriculture Program and serves on the advisory team for the California Farm Academy.
Miriam's work with Farm School caught our attention because of its emphasis not only on imparting agricultural skills but also on the business of farming.
What is the impetus for Farm School?
The impetus is really twofold. First, as we navigate how to cultivate healthy communities in a time of global climate change, population growth, and stress on our basic ecosystem and social functions, we as a society need more farmers. We need farmers who can thrive personally, function as part of their local economies, and work to regenerate our soils and water systems. At Farm School, we are heeding the call that the United Nations and UN Conference on Trade and Development made in their report, "Trade and Environment Review 2013: Wake Up Before It Is Too Late," that small-scale regionalized agriculture is what can feed the world.
Second, Farm School helps to fulfill the mission of the Permaculture Skills Center to support the professional training and success of people committed to livelihoods based on sustainability and community resilience. We knew that to do this we would need to provide many types of support. This is why Farm School is housed not just at our Farm and Learning Center in south Sebastopol, but our teachers, mentors, teaching farms, and available practice lands are the farmers, farm support organizations, and farms of the North Bay area, primarily Sonoma and Marin counties. We were inspired by the incredible regional food and farming economy here and will use it as our classroom.
The emphasis on business operations at Farm School is unique. What prompted it and what are the expectations surrounding it?
This is one of the key pieces that farmers and food businesspeople need in order to successfully farm for the long haul. As people who are drawn to working with soil, water, animals, seeds, plants, and customers—the business of marketing, keeping records, and other operations can sometimes seem beside the point, at least in the early stages. But our aim is to give participants enough skills, knowledge, and connections in this area so they can grow food for many years to come. With this in mind, of the eight four-day sessions in Farm School, one day each session is focused on Farm Viability. Students will produce not just a business plan, but gain training on effective operations management, labor practices, how to receive permits, certifications, loans, and grant money, manage leases and land access and get support from appropriate organizations. Each participant in Farm School will leave with hands-on farming skills and knowledge, support relationships, and a Farm Design and Plan that includes the business and operations components.
How does Farm School fit within the larger Sonoma County Food Action Plan (FAP)?
Multiple goals from all four Pillars of the Action Plan are embedded in the Farm School curriculum. Just a few of those goals are:
• To protect and enhance agricultural land base, farms and ranches
• To encourage sound resource management
• To support local food system jobs and commerce
• To increase education about local agriculture, nutrition, and the impact of food and beverage choices
• To address root causes of hunger and food insecurity
• To create opportunity and justice for farmers, farm workers, and food system workers
• To increase community resilience
Some of our farmer instructors and mentors helped to conceive of and review parts of the FAP. Working with Ag Innovations Network, I had the honor to serve as facilitator to the Sonoma County Food System Alliance during the creation and adoption of the FAP. Now I am able to continue this systems approach in weaving our Farm School training activities into the local food system, from production to processing, distribution to marketing. Farm School and the FAP know that farmers are a cornerstone, and are often the leaders, of a healthy community.
What has your experience led you to understand about the refreshed interest in entering farming as a business?
There are many indications that young people and people seeking their next fulfilling career are considering farming and food as a way of making a sustainable livelihood. Agricultural programs at universities are growing; new farmer training programs and grants are getting more interest. Demand for local and organic food continues to grow. Farmers' markets and the interest in direct access to fresh food are increasing, and being integrated into social programs like WIC and SNAP. They're being taught in K-12 education and are a regular social media topic for young people. The local and healthy food movements are beginning to have an effect, inspiring people who didn't grow up farming to consider it a respected and important career choice. This doesn't mean there aren't substantive barriers to success. A primary goal at Farm School is to support people who are part of this movement to navigate the hurdles of gaining practical experience, accessing land, capital, and markets so that they can realize their dreams for a fulfilling integrated work life.
If I had my druthers, in five years, Farm School would . . .
. . . have been a part of increasing the resiliency of our North Bay food system while highlighting our place as an effective model and inspiration for healthy community food systems. It will have served as the key training to help launch 20 to 60 viable food and farming operations in regional economies across the United States. The instructors and mentors would still be farmers and organizational leaders of our North Bay region, but some would now be former students. Many will be in business together or in partnership with existing farms, ranches, and food businesses. Farm School participants will be part of building economies with citizens who have the experience of growing up and living in communities with access to abundant healthful food, will know their farmers, will have spent time on farms and regularly cook and eat fresh delicious meals while living in ecosystems not polluted or overused by the process of growing our food.
Article Resources:
The first eight-week session of Farm School at the Permaculture Skills Center begins Aug. 16. permacultureskillscenter.org/#!farm-school/c1ete