Sister of Perpetual Indulgence
Araya Sunshine
The Sisters of Perpetual Indulgence was established in 1979 in San Francisco, with a focus on supporting people with HIV. The organization has since expanded to become a worldwide force for social justice. Despite their global reach, the Sisters remain deeply connected to their local communities and rely on them to help fund their charitable efforts. This support is a testament to the impact the Sisters have had on the lives of marginalized individuals. Over the years, the Sisters' message of love, tolerance, and acceptance has resonated with people all over the world.
Having experienced homelessness for two years, I am passionate about helping the unhoused, and am proud that the Sisters of Perpetual Indulgence distribute essential items such as gloves, socks, rain parkas, flashlights, and beanies to those who need them.
Describe your idea of perfect happiness.
My idea of perfect happiness is a world where love, self-expression, and acceptance are cherished values. In this world, everyone can confidently embrace their most fabulous, glittering, and glamorous selves without fear of judgment or discrimination. In this world, the celebration of the boundless variations of gender expression and identity would replace labels and limitations.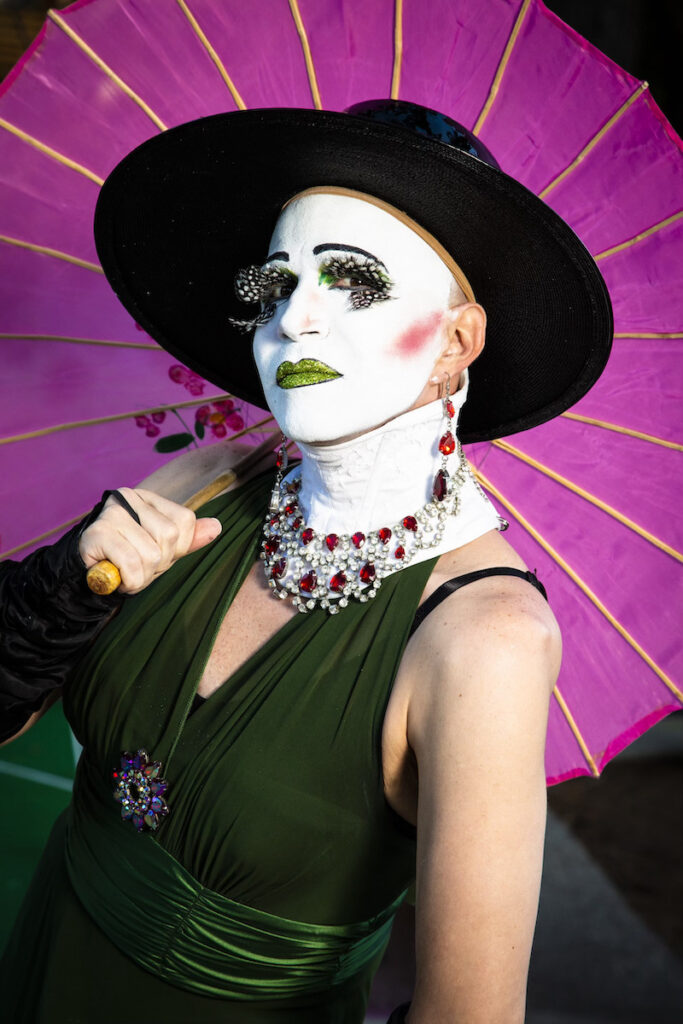 What is the trait you most deplore in yourself, and why?
Eating cereal at midnight.
What is your greatest extravagance?
Makeup and candy. Makeup allows me to explore my creativity and manifest a different persona. It's not just about looking fabulous but also about celebrating the endless possibilities of self-expression.
Candy speaks for itself.
Explain what you consider to be your greatest achievement.
My greatest achievement has been my commitment and service as a member of the Sisters of Perpetual Indulgence. Having worn the black veil for over nine years, I have had the privilege of deploying compassion, humor, and love to uplift the spirits of those in need and to create a more inclusive, understanding world. Throughout my journey, I have dedicated myself to serving marginalized communities, advocating for LGBTQ+ rights, and spreading joy and acceptance wherever I go.
Who are your heroes in real life?
A hero of mine is Maya Angelou, an influential poet, writer, and civil rights activist who used her words to inspire change and promote understanding. Her resilience and strength in the face of adversity, having overcome numerous challenges in her early life, serve as a powerful testament to the human spirit.
Sister Sparkle is also a hero. She is my drag mother and one of the founders of the Russian River order. I admire her unconditional love for others and her perseverance.
Generally, my heroes are anyone who gives back, whether through donations, volunteer work, or philanthropy. A hero could be anyone, it could even be you.
What is your motto?
Treat others as you would like to be treated.
What are your three favorite things about living in Sonoma County?
Its beauty, location, and people. Our natural beauty is simply breathtaking, and I like being close to San Francisco, the beach, and the redwoods. But perhaps the most lovable feature of Sonoma County is the people—we have a warm and welcoming community that takes pride in this area.
What local business would you like people to be more aware of, and why?
Positively 4th Street in Santa Rosa is a unique and charming store that showcases handmade products from talented local artists as well as a collection of fascinating treasures sourced from around the globe. And for a great cup of coffee, go to Crooks.