In which the editor brings you up to date on the happenings of some of our previously profiled people continuing to do awesome things like beautifying, inspiring and feeding our community.
---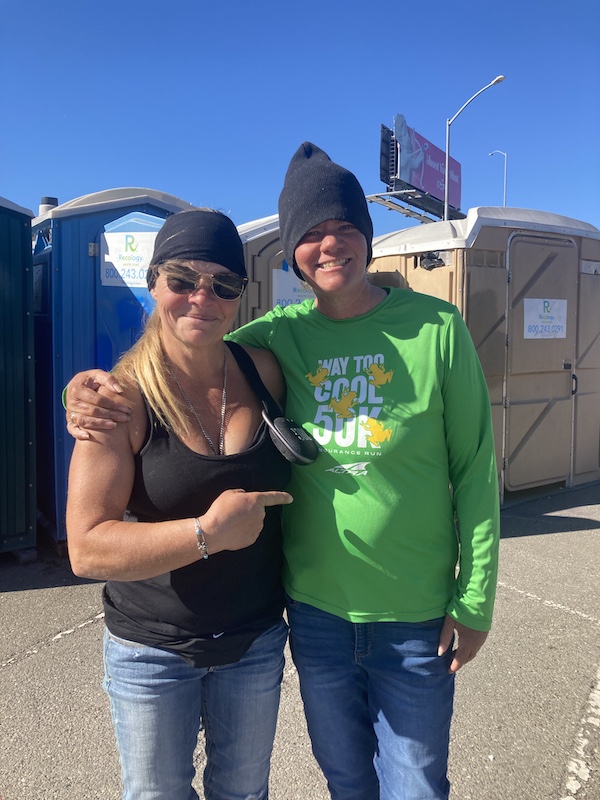 Where some people see inequity, a warming planet, and other structural problems as too big to fix, Green Mary sees an opportunity to ask, "What CAN we do?"
And so, where some people see an opportunity to eat crab for a good cause, Green Mary sees an opportunity to keep waste out of the landfill. On a Friday night in February, she brought an assortment of some 300 ceramic coffee mugs and vats of utensils that she's collected over the years to the Veterans Building in Santa Rosa. Assembled at rows of tables were scores of Sonoma County Democrats, gathered for their annual crab feed fundraiser.
Two dozen volunteers, students from Elsie Allen High School, cleared the dinner dishes into a back hallway, where Team Green sorted everything into recyclables and compost. The only things bound for the landfill: bibs and butter pat wrappers. Thanks to Green Mary's reusables, compostable plates, and rented wine glasses, the compost bin filled up exponentially faster than the recycling and trash bins next to it.
All leftover crab, dinner rolls, and dessert were loaded into a refrigerated truck bound for local shelters, including the Redwood Gospel Mission and the Roberts Lake encampment in Rohnert Park, where Mary also facilitates deliveries of water.
"She's a vortex of energy," says Erica Wolfson, who delivers water weekly with husband Barry Green, a retired optometrist. Together they arrive at Green Mary headquarters in Sebastopol to drive Mater, an orange Scottsdale truck that's seen better days but is sufficient for hauling a 250-gallon tank, to the Roberts Lake encampment. It takes about an hour for their tank to empty into the one onsite, where the dozens of residents can fill cans for drinking, washing, and cleaning.
During a quick reprieve from sorting with her manager Anthony, Mary, wearing a sweatshirt gleaned from the refuse of a local half-marathon, grinned and told me, "We're going nowhere but up."
---
The Healdsburg Prune Packers are swinging again! Over 40 Prune Packer players have been drafted into the major leagues over the past 9 years, coached by former pro baseball player Joey Gomes for the last decade. Longtime supporter and volunteer Natalie Norman urges people to watch these back-to-back champs in action as they defend their title this summer, with games nearly every day in June and July, held at historic Recreation Park in Healdsburg.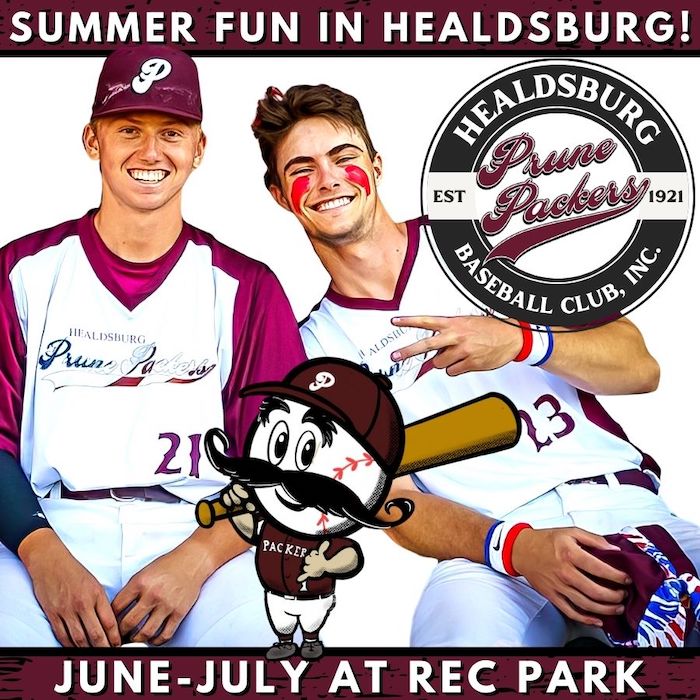 "As a lifelong avid baseball fan, I feel incredibly fortunate to get to quite literally witness the future of Major League Baseball right here in our backyard," says Norman. "Fans decked in authentic Packers gear fill the stands and cheer like crazy for this incredible team, and local bands even come out to play between innings. The team mascot, Packer Pete, dances and greets fans young and old, and Packer players always take the time to sign autographs for the little ones in attendance. Every 4th of July is a blast, literally, with a fun fireworks show and plenty of excellent local food vendors supplying tasty grub and beverages the fans really line up for."
"There is something profoundly special about rooting for your local team that's been entertaining fans and playing top-tier baseball here for more than a century," Norman continues. "We are all so lucky to have the Prune Packers in our community and to watch them set new records during this chapter in their local legacy. Go Pack!"
Find 2023 season passes and tickets at prunepackers.org/tickets
Find the most current game schedule at prunepackers.org/game-schedule
Follow them on IG, FB and Twitter @prunepackers for updates and more.