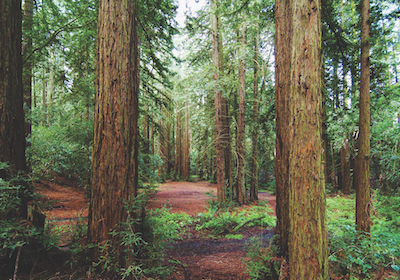 Whenever I visit Humboldt County, I like to take a meandering detour along the Avenue of the Giants to visit my favorite redwood tourist tree. Dubbed the "Immortal Tree," its accompanying informational sign touts some astonishing stats about this marvel of nature, including its age (950-1000 years!), its height (once 298 feet, now 248 feet after enduring a direct lightning strike), and how it has survived for nearly a millennium despite said lightning strikes, fires, floods, and the logger's ax. One fun fact has always given me pause, however: "Total volume board footage is 104,380, enough to build several homes."
Sigh, I think. Must a market-based mentality encroach on everything that is sacred?
Back home in Sonoma County, with over one million acres between the beaches and estuaries of the Pacific Ocean and the oak-sprawled woodlands of the Mayacamas Mountains, property values  are at a premium, and there's the ongoing danger of developmental and extractive encroachment on our natural resources. Thankfully, most residents of Sonoma County recognize that our vast open spaces are fundamental to the county's character, climate change resilience, and economic diversity as well as the health and well-being of all inhabitants great and small. 
We know that the value of our land far exceeds any dollar amount attributed to it—and in 1990 we proved it by overwhelmingly voting in favor of a quarter-cent sales tax measure to create the Sonoma County Agricultural Preservation and Open Space District. The measure was reauthorized in 2006, garnering 76% of the vote to extend funding through 2031, easily eclipsing the two thirds majority needed to pass the measure.
At its core, the aim of Sonoma County Ag + Open Space is preservation of land in perpetuity, whether that be working land, recreational, rural or urban, public or private, via conservation easements and matching grants. Special attention is given to geographically mapped areas that have been deemed high priority due to ecological value such as greenbelts, wildlife corridors, biotic resources, and water permeability. Precious farm and grazing land not only preserves scenic vistas and our agricultural identity, but it also promotes ecological diversity and creates income and food security for the county's near 500,000 residents.
General Manager Misti Arias joined Sonoma County Ag + Open Space in 1996, fresh off of receiving her degree in environmental studies and urban planning from Sonoma State University. "It was the perfect fit of thinking about human need and planning for that, and for conserving the natural world," she told me. After 27 years, Misti feels like her work is more important and more urgent than ever, particularly in the face of current threats like the climate crisis, soaring property values, and sharp declines in the economic viability of ranching and farming.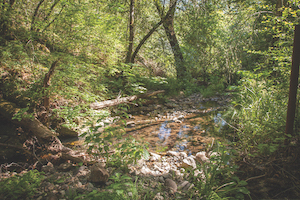 Today, Sonoma County Ag + Open Space has preserved more than 120,000 acres, approximately 12% of the county, funded by an average annual sales tax revenue of $30 million that has been historically matched by public and agency grants. The ability to acquire lands outright that are passed on to be stewarded by cities, Sonoma County Regional Parks, California State Parks, and private nonprofit entities has resulted in the protection of nearly 20,000 acres of publicly accessible open space. Their efforts have effectively doubled regional park properties in Sonoma County. 
Four new parks are slated to be open to the public in the near future, including Calabazas Creek, 1,290 biodiverse acres located at Nun's Canyon Road in Glen Ellen. Formerly part of Beltane Ranch, which was once owned by civil rights leader, abolitionist, and arguably the first African-American self-made millionaire Mary Ellen Pleasant, the property was bought by Sonoma Ag + Open Space in 2004 and transferred to Sonoma County Regional Parks in 2021. Once open, a challenging hike from the valley floor to the towering 2,000-foot ridgelines of the Mayacamas will reward visitors with stunning views of the Sonoma Valley and beyond.
Farmland For All
"A lot of land owners are multi-generational and want to conserve the legacy of the land as it is," Misti said. But desperate times can call for desperate measures, usually resulting in sale of parts or all of their land either due to financial stress or as a result of succession. A conservation easement means cash for landowners; the deed stays firmly in their hands and can be passed on to heirs without the threat of the property ever being parceled off and paved over. Misti calls it, "a really unique opportunity to generate revenue and still keep the land intact."
Ag + Open Space has kept some 50 farms and ranches throughout the region out of the reach of non-agricultural development. "Easements on agricultural properties are less restrictive," explained Misti, adding, "They allow for commercial agricultural use, so those easements tend to be between 30-60% of the value of the property, but easements that protect natural resources and only allow for maybe one parcel, one house, they can be 50-70%, even 80% of the property value. I love the idea of the intrinsic value of nature, and it's hard for me to think of everything in that monetary context, but I understand it is compelling."
Putting aside, for now, the inherently problematic nature of land ownership and succession in general, it's also true that the majority of landowners in Sonoma County, the ones who are directly benefiting from these easements, are white folks with varying degrees of privilege and generational wealth. All taxpayers do benefit, albeit more indirectly, but there remains significant equity issues when it comes to the ability to access and work land, particularly for BIPOC farmers—an issue that Sonoma Ag + Open Space is confronting with its burgeoning Farmland for All program. Creating opportunities for diversity, equity, and inclusion is a nuanced challenge, but the agency has committed to piloting additional sites in 2023 with plans to expand the program.
It is heartening, indeed, that in a county where an acre of vineyard may sell for upwards of $200,000, Sonoma County taxpayers, even those of us who are not landowners, prioritize its protection. Misti told me, reverently, "I don't say this lightly; I feel so lucky not only to work for this organization but to live in a county that is      willing to tax themselves to do this work. It's not common to have publicly funded open space preservation on this scale, and the fact that the folks here are willing to look at, and vote for, the big picture is hugely encouraging."