Meet a Local Cartoonist — Brian Fies
I've been a cartoonist my entire life. Through many careers—newspaper reporter, environmental chemist, freelance writer, science writer—my creative passion involved combining words and drawings to tell stories in a way that neither words nor drawings could by themselves: comics.
It's a difficult field to make a living in. I tried and failed in the usual ways: comic books, comic strips, freelancing. I got other jobs, married and raised two children, but always kept working on my cartooning skills so I'd be ready for whatever opportunity came my way.
That opportunity presented itself in an unexpected and sad way: my mother was diagnosed with cancer, and I set out to tell our family's story. Drawing on my journalism experience, I thought I might write something like a magazine article. However, one day while accompanying Mom to chemotherapy, I did a quick sketch of her and realized that single drawing said more about the day's experience than I could have written in a thousand words. I began work on a webcomic titled Mom's Cancer, which was published as a graphic novel by Abrams ComicArts in 2006, was printed in seven languages, and won many honors including an Eisner Award, the Oscar of the comics industry.
I followed Mom's Cancer with my graphic novel Whatever Happened to the World of Tomorrow?, a pop culture history of the Space Age, and a webcomic titled The Last Mechanical Monster, which will be published as a book this fall.
With that background, when my home burned down in the Tubbs Fire on October 9, 2017, I realized I'd stumbled into the center of a historic disaster. As a former journalist, I felt obliged to report it. The day after the fire, I went to a Target store to buy shoes, food, clothes, and art supplies to start drawing.
"On Monday, my house disappeared." I uploaded that first line of A Fire Story, and 16 quickly drawn pages that followed, three days later. The webcomic went viral. Within a couple of weeks, approximately 700,000 people read it. Many said the same thing: "I saw the firestorm on the news, but your story was the first thing I saw that made me feel what it was like to be there." That was enormously gratifying. That's why I created it.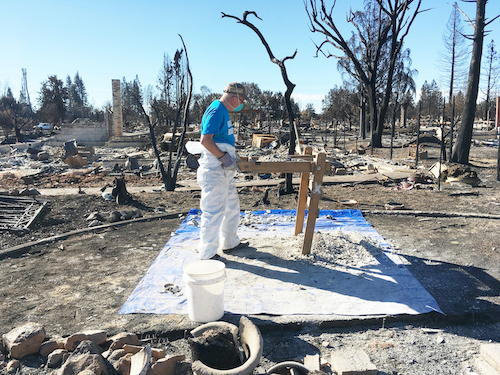 At the same time, the comic was not the most important thing in my life. My house had just burned down, along with 5,000 others, and my wife Karen and I were immersed in the aftermath. Insurance, utilities, banks, housing, FEMA. Tracking down neighbors we'd last seen fleeing into the night. Shock and trauma.
Independent of me, A Fire Story took on a life of its own, garnering local and national press. KQED wrote to ask if they could make an animated version of it. Since I surely wouldn't, I said they were welcome to try, and their story went on to win a regional Emmy Award for Best Current Affairs Feature. In time, my publisher, Abrams, asked if I wanted to expand A Fire Story to book length for publication. I did.
I talked to a lot of readers after A Fire Story was published—either in person before and after Covid, or virtually during the worst of the pandemic. I met people who'd lived some version of my story in Mendocino, Napa, Monterey, Los Angeles, Oregon, Washington and Colorado. Every year seems to set new records for wildfire destruction, size and intensity. Over time, I've come to see A Fire Story as an early example of literature about living in a climate-changed world. There will be more.
One reason I love making comics is that the medium lends itself to intimate stories about people and their lives. Asking readers to glean meaning by combining text and images in their minds draws them deeply into a story. They become a part of it. If a comic works right, it can feel almost like telepathy between the author and the reader. When readers empathize with a character—when they really care about what happens to abstract scrawls of black ink on white paper—that's the magic and power of comics.
Photos courtesy of Brian Fies
Locavortex: Social Sparks
IDEA LOUNGE
Sponsored by the Petaluma Arts Center, this event brings together two unrelated speakers for an evening of audience-driven discussion. One speaker is always from the arts, the other is not. After speaking for roughly 20 minutes each on whatever they'd like, the audience (limited to 40 people) sparks connections between the two. Past pairings include a filmmaker and a skipper, a dancer and a jellyfish expert. Tickets are $12 for PAC members, $15 for non-members.
WHEN: Wednesdays, September 28 and October 26. Drinks and mingling at 6:30pm, program from 7:00-8:00pm
WHERE: Barber Lee Spirits, 120 Washington Street, Petaluma
For speaker info and tickets, go to petalumaartscenter.org
BAYER FARM HARVEST FESTIVAL
LandPaths, a nonprofit devoted to fostering appreciation and stewardship of our local environment, founded Bayer Farm in Roseland in 2007. Join them in celebrating 15 years of this community hub and garden with live music, workshops, garden tours, dance performances, and a salsa competition (the food, not the dance!) Admission is free.
WHEN: Saturday, October 1, 10am- 3pm
WHERE: 1550 West Avenue, Santa Rosa